Botany
Gypsophila paniculata is a perennial herb growing to a height of 1.5 meters, Roots are ramified with long thick branches. Stems are stiff, erect, and forking. Leaves are narrowly linear and pale green, reduced to an enlarged and flattened petiole. Flowers are borne on profusely branching panicles, small, white , 2-4 millimeters, with a very faint fragrant smell. Fruit is a capsule, oval or rounded, opening at valves, containing several brown or black kidney- or snail-shaped seeds.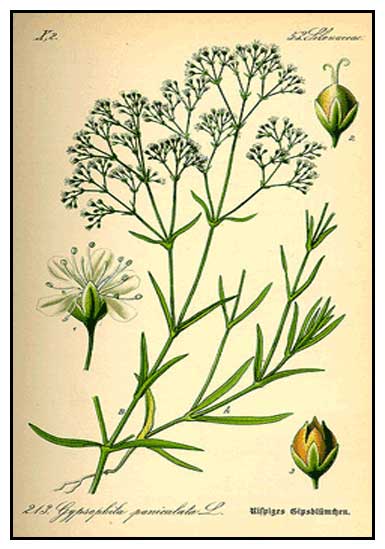 Distribution
- Native to East and Central Asia.
- Recently introduced to the Philippines.
- Cultivated for ornamental use as decorative trimmings in bouquets.
- Considered a noxious weed in some places, almost impossible to eradicate, each plant possibly producing over 13,000 seeds which are easily dispersed by winds. Seeds escape from flower arrangements and are often found downwind from cemeteries. Some florists in Calgary have banned the bud. (5)

Constituents
- Well known for its saponin content.
- G. paniculata has been shown toe synthesize gysopenin saponins, both in undifferentiated callus and multiple shoot culture. (6)
- Gypsogenin () is the main pentacyclic triterpenoidal aglycone of the saponins. Bidesmosidic saponins are saponins substituted on the OH3 and on the COOH 28 by two chains of glycosides, considered among the highest glycosylated. (6)
- Gypsoside () is a saponin containing nine glycosides, appear to be the same "gypsophila saponin" first described by Van der Harr in 1927. (60)
- Study isolated eight known triterpenoid saponins from the roots of G. paniculata, all were isolated from the roots for the first time.

Properties
- Purgative, spermicidal (attributed to triterpenoid saponins).
- Mixture of triterpenoid saponins increase toxicity of anticancer drugs.
- Studies have suggested

Uses
Folkloric
- No reported medicinal use in the Philippines.
- Used as purgative.
- Decoction of roots used as expectorant. (10)
Others
- Washing: Roots used for washing hair and clothes.
- Ornamental: Cultivated for use in flower arrangements.
- Saponin source: Genus is a source of saponins with various commercial applications like the manufacture of photographic film and hemolytic lab reagents. Its detergent property makes it useful for making soap and shampoo.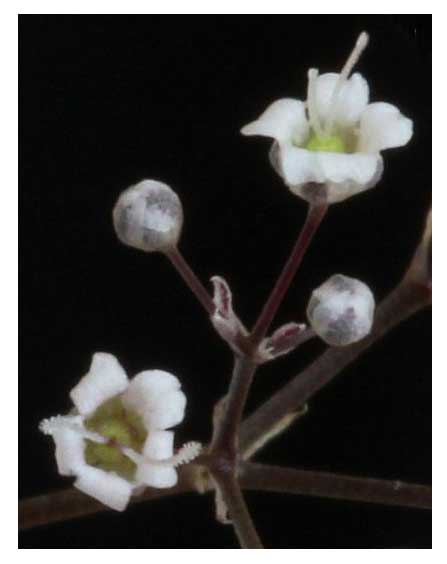 Studies
• Saponins Potentiate Cytotoxic Activity of Saporin-Based Immunotoxic for Human Lymphoma Cell Line: Study used a protein synthesis inhibition assay to demonstrate the G. paniculata saponins potentiate the cytotoxicity of anti-CD19 and CD38 saporin-based immunotoxins against human lymphoma cell line Daudi. While the study clearly demonstrated the G. paniculata saponins significantly potentiate IT activity, the effect may be only partially immunospecific. Nevertheless, the dramatic improvements that saponins confer on IT activity argue in favor of in vivo experiments in transgenic animal models of human lymphoma to further explore other strategies to improve the immunospecific effect achievable. (7)
• Saponin Extraction / Targeted Toxins and Tumor Therapy: Saponin album (SAP) is a complex mixture of triterpene saponins from G. paniculata. SAP has been shown to drastically enhance the cytotoxicity of a chimeric toxin of N-glycosidase saponin and human epidermal growth factor (Sap-EGF) in cell culture experiments. Study isolated a single saponin by simple chromatographic method. The isolated saponin was shown to enhance the cytotoxicity of Sap-EGF on HER14 cells. (8)
• Report of Occupational Asthma due to Baby's Breath: Study reports on a florist who developed symptoms of rhinitis, conjunctivitis, and asthma on exposure of baby's breath. Pin prick skin tests produced an immediate response. The asthmatic response was confirmed by bronchial challenge with immediate fall in FEV1. Immunoblotting demonstrated IgE binding to 13 protein bands. Report concludes the patient developed IgE-mediated sensitivity to multiple allergens in baby's breath and confirms the potential of the plant as a cause of occupational asthma in the floral industry. (11)
• Saponins / Treatment against Two Nematode Vectors of Grapevine Fanleaf Degeneration: Xiphinema index and X. diversicaudatum are nematodes that transmit the grapevine fanleaf virus and Arabis mosaic virus, two agents responsible for the disease that cause the most economic damage to grapevines worldwide. Study evaluated the nematicidal effect of saponins from G. paniculata roots against the two nematodes. Results showed the G. paniculata saponins are an efficient and eco-friendly alternative treatment against the two nematodes that transmit grapevine leaf disease. (12)
• α-Glucosidase Inhibitory Activity / Triterpenoid Saponins / Caryophyllacosides: Study isolated two triterpenoid saponins, caryophyllacosides A and B from the roots of G. paniculata. Both were found to have potent evaluated α-glucosidase inhibition activity. (14)
Availability
- Wild-crafted.
- Cultivated.