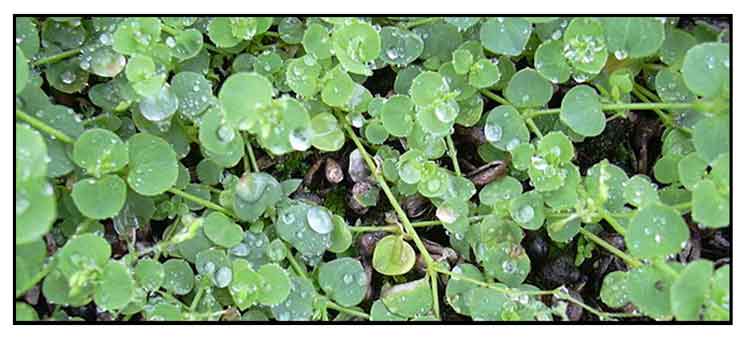 Botany
Bakalanga is a creeping herb rooting with numerous glandular hairs, branching at the nodes, with a smooth stem, and simple, orbicular to reniform, and opposite leaves, 1 to 1.5 centimeters wide, short-stalked. Flowers are small, white, borne at the end of branches that a supported by a long stalk. Fruit is a dry capsule containing many rounded, compressed, roughly coated seeds.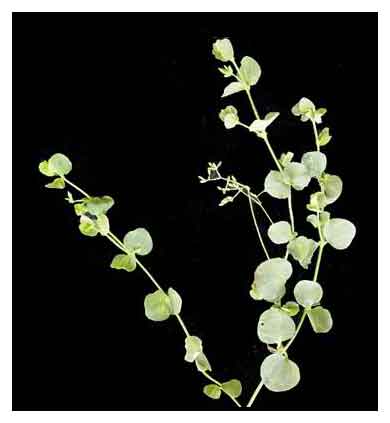 Distribution
- Common in moist areas, clearings, and grasslands.
- Competes with annuals, forming a thick mat on regeneration.
- Widely dispersed in damp places all over the tropics of Africa, Asia, and the Americas.
Constituents
- A hydroethanolic extract yielded triterpenes, diterpenes, steroids, and tannins.
- Study isolated and characterized sever major glycolipid classes: stigmasterol, acylated stigmasteryl glucoside, stigmasteryl glucoside, monogalactosyldiacylglycerol, digalactosyl-diacylglycerol, cerebroside and glucocerebroside.
(12)
- Preliminary phytochemical screening of leaves yielded glycosides, tannins, diterpenes, alkaloids, and flavonoids. (13)
Properties
- Considered antidote, appetizer, depurative, emollient, febrifuge, laxative and stimulant.
- Studies have suggested antitussive, anxiolytic, antibacterial, analgesic, antipyretic, and anti-inflammatory properties.

Parts used
Whole plant, leaves.

Uses
Edibility
- Leaves and young shoots are eaten.
- Mild flavored leaves are added to salads and other dishes.
Folkloric
- No reported folkloric medicinal use in the Philippines..
- In African traditional medicine, used for painful and febrile conditions.
- In India, plant is made into a paste and applied on the forehead to cure headaches. Paste of fresh leaves applied to itches, ringworm, and scabies. In Assam, plant is roasted in banana leaves and used for gastrointestinal troubles.
- Used for toothaches, dysentery, burns, snake bites, cough fever, headaches, pneumonia, sinusitis, nephritis, female infertility, convulsions.
- In India, pounded leaf applied to scorpion bites. (9) Used as antidote, appetizer, depurative, emollient, febrifuge, laxative. (12) Leaves and stems are rolled in banana leaf and heated on cinders, then, while hot, transferred to a thin cotton cloth, and the vapors inhaled to relieve nasal blockade or cure sinusitis. (14) Pounded leaves applied to snake bites. (16)
- In West Cameroon, used for peptic ulcer, headaches, nephritis, and female infertility. (12)
- In Nigerian folk medicine, used for convulsions, sleeping disorders, febrile conditions in children. (12)
- In Ethiopia, leaves applied topically to relieve arthritic pains. (15)
- Nepali tribe traditional practitioners of Sikkim Himalaya use the whole herb for treatment of diabetes.   (17)

Studies
• Antitussive: A methanol extract was studied for its effect on a cough model induced by sulfur dioxide gas in mice. Results showed significant dose-dependent antitussive activity, comparable to to codeine phosphate. (3)
• Anxiolytic: A hydroethanolic extract showed anxiolytic effect in different models of anxiolytic activity: Hole Board, Open field, Elevated Plus Maze, and Light/dark Exploration models. The presence of triterpenes and tannins might have contributed to the anxiolytic activity through interaction with natural endogenous mediators. (4)
• Anti-Inflammatory / Leaves: A methanolic extract of leaves was studied for anti-inflammatory effects using a carrageenan paw edema model in rats and mice and formalin-induced paw licking in mice. Results showed dose-dependent effect comparable to standard drug indomethacin. Activity was attributed to flavanoids, alkaloids, and steroids. (5)
• Analgesic / Antipyretic: Study of an aqueous whole plant extract showed analgesic and antipyretic properties mediated through peripheral and central mechanisms. (6)
• Analgesic / Leaves: Study evaluated the analgesic activity of methanolic extract of D. cordata leaves on non-narcotic models like acetic acid induced writhing test and narcotic models like hot plate and tail flick models. Pretreatment showed significant (p<0.01) peripheral analgesic activity in acetic acid induced writhing syndrome. In the narcotic model, the effect was insignificant. (13)
• Anti-Inflammatory: Study evaluated an aqueous extract of D. cordata for anti-inflammatory activity using the carrageenan, egg albumin, xylene induced edema models and pleurisy test. Results showed anti-inflammatory activity possibly mediated by the inhibition of one or a combination of mediators like histamine, serotonin, kinins, and prostaglandins. (8)
• Antibacterial / Aerial Parts: Study evaluated aerial parts for antibacterial efficacy against S. aureus, E. coli, B. pumilis and P. aeruginosa. While all extracts showed significant effects against all tested organisms, a methanol extract showed most efficacy. (12)
• Cytotoxicity: Study evaluated the cytotoxic effect of Drymaria cordata hydroalcoholic extract on HeLa (cervical adenocarcinoma) cell line. Results showed potential cytotoxicity with over 50% activity at 500 µg/ml. Study also isolated an anti-leukemic compound (C17H22O2) found effectively inhibitory to primary cultures of human encomia cells. (12)
Availability
Wild-crafted.