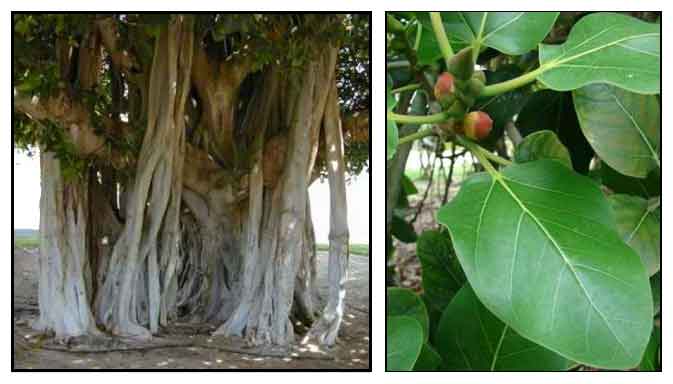 Botany
Baleting-baging is an erect, smooth tree, 4 to 12 meters high, with spreading branches and many aerial roots. Leaves are leathery, elliptic-ovate, 5 to 12 centimeters long, shining, smooth, with entire margins, and narrowed at both ends. Petioles are 6 to 12 millimeters long. Receptacles are nearly spherical, about 1 centimeter in diameter or less, axillary, solitary or in pairs, stalkless, dark purple and fleshy when mature, smooth, and the base with three small ovate bracts.
Distribution
- At low and medium altitudes throughout the Philippines.
- Also occurs in Assam and Burma to Malaya.
Constituents
- Bark contains tannin, wax, and caoutchouc.
- Fruit contains oil, albuminoids, carbohydrates, fiber, and ash.
- Bark analysis yielded tannins, saponins, flavonoids, steroids, terpenoids, cardiac glycosides.
Properties
- Bark is tonic, astringent, and diuretic.
- Fruit is cooling and tonic.
- Young buds and milky juice are astringent.
- Milky juice is aphrodisiac, tonic, vulnerary, and maturant. Seeds are cooling. Aerial root is styptic and aphrodisiac. (20)
- Traditionally used as antioxidant, anti-inflammatory, anti-asthma, anti-diabetic, analgesic.

Parts used
Bark, fruit, sap.

Uses
Folkloric
- In the Philippines, the Negritos and Mangyans pound and clean the bark of F. indica (Baleteng-baging) to cover their private parts.
- Milky juice used as external application to pains and bruises and for rheumatism and lumbago.
- Heated leaves applied as poultice to abscesses to promote suppuration and discharge of pus.
- Internally, used for dysentery and diarrhea.
- Bark infusion used for diabetes.
- Decoction of bark, which is about 10% tannin, used as astringent lotion in leucorrhea.
- Leaves that have turned yellow used in decoction with toasted rice as diaphoretic.
- Decoction of root-fibers, with or without honey, used for gonorrhea.
- Infusion of small branches used in hemoptysis.
- Tender ends of hanging roots used in obstinate vomiting.
- Young buds, like the milk juice, used as astringent in cases of dysentery and diarrhea.
- Combination of the concentrated juice and fruit used as aphrodisiac; also used in spermatorrhea and gonorrhea.
- For toothaches, latex applied to the tooth or gums.
- Latex also applied to the soles of feet when cracked or inflamed.
- In Kerala, India, bark used in treatment of ulcers, erysipelas, vaginal disorders. Milky juice used for piles and gonorrhea, and applied externally for rheumatic pains and lumbago. Decoction of leaf buds used for hemorrhages. Leaves applied as poultice to abscesses. Aerial roots used for gonorrhea, syphilis, dysentery, and liver inflammation. (20)
- In Ayurveda, used as bowel astringent, for treatment of biliousness, fever, ulcers, erisypelas, vomiting, gynecologic complaints, fever, inflammation and leprosy. Aerial roots used to boost the immune system in various diseases.
- In Unani system of medicine, latex is considered aphrodisiac, tonic, vulnerary, and maturant. Used for inflammation, piles, gonorrhea.
Others
Timber: In India, Used for furniture making.
Paper: In India, used for making paper pulp.
Fodder: In India, leaf with its crude protein of 9.63%, lopped for fodder.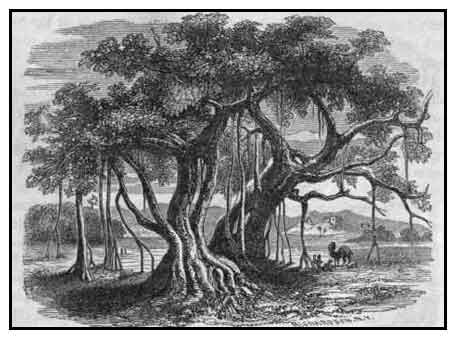 Studies
• Anthelmintic / Latex: Study of F. religinosia, F. elastica and F. bengalensis showed the three plants possess anthelmintic activity against Indian earthworm Pheritima posthuma. Results showed F. religinosa showed more activity than the other two. (2)
• Hypoglycemic Activity: Study in alloxan diabetic albino rats of 30 hypoglycemic medicinal plants selected from studies of indigenous folk medicines, including Ficus benghalensis, 24 samples showed definite blood glucose lowering effect within 2 weeks. In decreasing order, F. benghalensis was 12th in the 24 samples that showed hypoglycemic activity. (3)
• Hypoglycemic Activity / Bark: Study of crude extracts of the bark of FB showed pronounced hypoglycemic effect. The partially purified compound was several times more active than tolbutamide. (9)
• Hypoglycemic Activity / Inhibition of Carbohydrate Hydrolyzing Enzymes: Study evaluated the effect of FB stem bark on porcine pancreatic a-amylase, rat intestinal a-glucosidae and sucrase. Aqueous extracts exhibited significant dose-dependent inhibition of a-glucosidase and sucrase. Results demonstrated carbohydrate hydrolyzing enzyme inhibition as one of the mechanisms for the bark's hypoglycemic effect. (4)
• Immunomodulatory Activity: An aqueous extract of F. benghalensis was found to stimulate both cell and antibody mediated immune responses and also stimulated the proliferation of lymphocytes responsible for orchestrating immune responses to an antigen/disease. (5)
• Biofuel: Study of aerial roots suggests F. benghalensis may be an additional efficient biofuel with a calorific value comparable to conventional sources.
• Transdermal Patch Mucilage / Glimepiride: Study showed glimepiride can be developed as a transdermal patch with Ficus benghalensis fruit mucilage. (8)
• Anti-Inflammatory: Study in experimental animals evaluated the anti-inflammatory property of aqueous extracts of leaves and fruits of Cassia fistula and aerial roots of Ficus benghalensis. Preliminary pharmacologic screening of the extract showed significant dose-dependent anti-inflammatory profile. (10)
• Antihelmintic: Study of anthelmintic activity of the roots of F. benghalensis using methanolic, aqueous, chloroform, and petroleum ether extracts showed all extracts were found to both paralyze and kill the earthworms. The aqueous and methanolic extracts were more effective in vermicidal activity. (11)
• Wound Healing: Study evaluated the wound healing efficacy of ethanolic and aqueous extracts of F. benghalensis in excision and incision wound models. Results showed both extracts possess significant wound healing activity, evidenced by decrease epithelialization, increase in rate of wound contraction and skin-breaking strength. (13)
• Transdermal Patch Mucilage / Diclofenac: Study evaluated the possibility of developing transdermal patches (matrix type) of diclofenac potassium using various ratios of F. benghalensis fruit mucilage. Results showed satisfactory pre-formulary and formulary characteristics, with proportionate release of drug as the proportion of F. benghalensis increased. (14)
• Antiulcer / Bark Extracts: Study investigated the antiulcer activity of the bark of F. benghalensis. Phytochemical analysis yielded flavonoids, tannins, phenolic compounds, saponins, and carbohydrates. A methanolic extract showed better antiulcer activity compared to other extracts. Flavonoids may be responsible for the antiulcer activity of the bark. (15)
• Antimutagenicity Against Cyclophosphamide-Induced Genotoxicity: Study evaluated a bark extract against cyclophosphamide-induced chromosomal abbreviation and micronucleus formation in rat bone marrow cells. Results showed dose-dependent preventive potential against CP-induced mutagenic effect in rat bone marrow cells. (16)
• Roots / Wound Healing Potential: Study investigated the wound healing activity of aqueous and ethanolic extracts of roots in three wound models ie. incision, excision and dead space wound. Results showed both extracts with activity in all three models, with the aqueous extract more effective than the ethanolic extract. (17)
• Hepatoprotective / Leaves: Study investigated the hepatoprotective potential of ethanolic extract of leaves against CCl4- and ethanol-induced liver damage in rats. Results showed amelioration of effects of hepatoxins and significantly reduced the elevation of biochemical marker enzymes. (18)
• Antibacterial / Aerial Roots: Study investigated the anti-bacterial activity of various extracts of aerial roots. Extracts showed significant antibacterial activity against selected organisms. Flavonoids may be the responsible active principle. (19)

Availability
Wild-crafted.