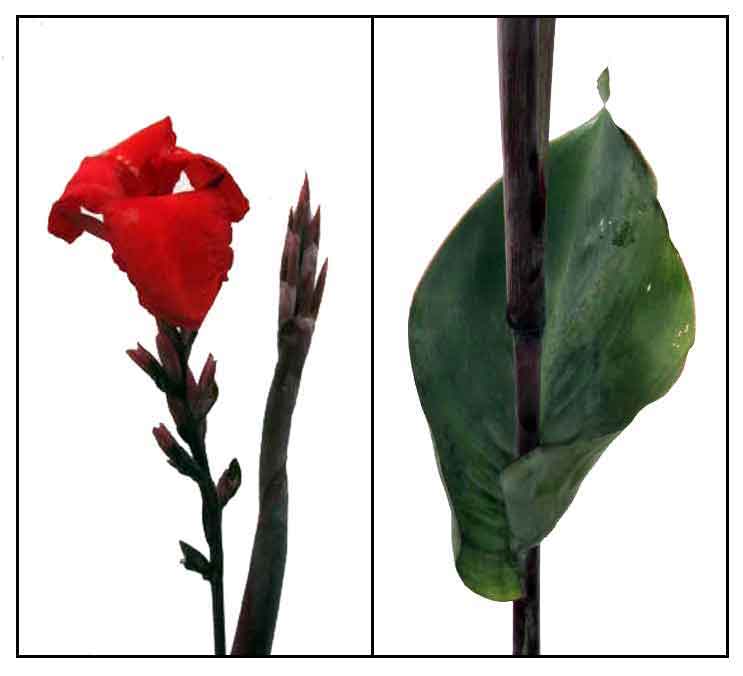 Botany
Canna lily is a perennial succulent herb with unbranched stem. Leaves are oblong, acute or acuminate, bright green or tinged with maroon or red, with entire margins. Inflorescence is terminal. Flowers are irregular, showy, red, yellow, or pink, plain or with tiny blotches on petals. Fruit is a 3-valved capsule.
- Most Cannas cultivated in Philippine gardens are the results of hybridization between species, notably C. indica, C. flaccida, C. glauca and C. coccinea. Hybridization has led to the use of names like Canna x indica, Canna x glauca, etc. For simplicity, some prefer to call all ornamental hybrids as Canna x generalis.
- Note: Modern canna are hybrids between many species and were once lumped together as Canna x generalis. This species name is now considered invalid among the taxonomists. (8)
- Because of complex hybridization species are classified into cultivated plant groups with similar morphological characteristics i.e., large colorful and showy foliage or grouped by geographical origin or use, including human or livestock consumption. (8)
Distribution
- Most Cannas cultivated in Philippine gardens are the results of hybridization between species, notably C. indica, C. flaccida, C. glauca and C. coccinea.
- Now common at roadsides and waste places in the Tiaong, Quezon area.

Uses
Folkloric
- No reported folkloric medicinal use in the Philippines.
- As hybrid, see folkloric uses of Tikas (Canna indica).

Studies
• Wastewater Duress: The resistance of wetland plant species is the key to ecological wastewater treatment technology. In a study of four plants showed Canna generalis and P. communis to have stronger anti-stress capability. As wastewater duress time increased, the anti-stress capability of Canna generalis increased. (2)
• Canna Gum: In search of an acceptable alternative pharmaceutical gum, Canna gum, an exudate from the stalks, was studied. It was found to be an efficient, non-toxic, emulsifying agent, and a potential substitute for foreign-produced gums. However, the production methods failed to produced desired quantity of the gum. (3)
• Phytoremediation / Cadmium Pollution: Study showed Canna generalis to have phytoremediating properties in cadmium pollution. (4)
• Phytoremediation of BTEX Contaminated Soil: Study showed canna (Cannax generalis) can accumulate BTEX (benzene, toluene, ethylbenzene, and xylenes) from root zone and rhizome zone soil and translocate the compounds to the shoot. Removal content of contaminated soil with 40% water content was a little higher than 20% soil water content, suggesting soil water content should be a consideration in phytoremediation. (5)
• Phytoremediation / Phosphorus and Nitrogen in Domestic Waste Water: Study reports on phytoremediation of excessive phosphorus and nitrogen using CxG reeds through a constructed wetland in domestic wastewater. Results showed the Canna plant was very efficient in remediating Nitrogen contaminants, fairly effective on Phosphorus and incapable of removing Phenolic compound pollution. Results recommend C. x generalis for Nitrogen bioremediation in domestic wastewater. (6)
• Phytoremediation / Copper and Zinc from Pig Waste: Canna x generalis was one of five plants found with the ability to accumulate Cu and Zn from the soil applied with pig manure. Roots were the main site for accumulation followed by stems and leaves. (7)
Availability
Wild-crafted.