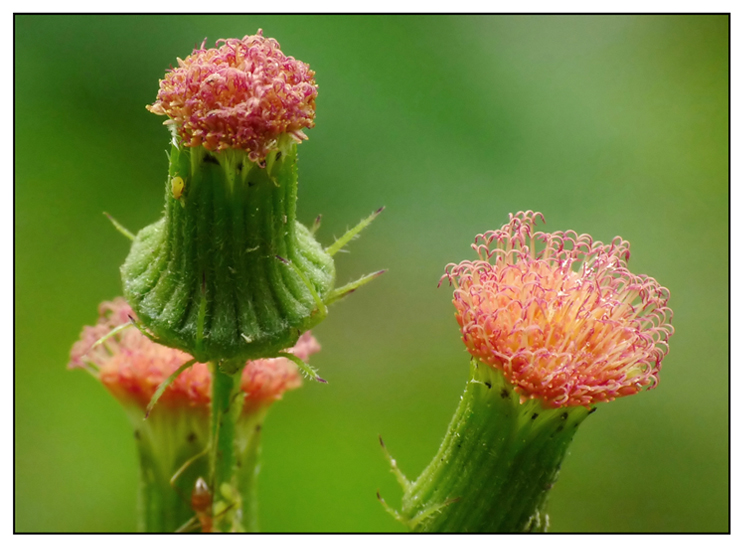 Botany
Borbotak is an erect annual slightly succulent little-branched herb growing up to 1 meter tall. Leaves are fleshy and mucilaginous. and many parts of the plant have medical uses. Flower heads are cylindrical, green, with red florets visible on top. Seeds are floating balls of numerous silky white hairs.
Distribution
- Native to much of Africa.
- In tropical Asia, found in the Indian subcontinent (Bhutan, India, Nepal, Pakistan, Sri Lanka), Indo-China (Cambodia, Laos, Myanmar, Thailand, Vietnam) and Malesia (Indonesia, Malaysia, Papua New Guinea, and the Philippines).
Constituents
- Phytochemical screening yielded tannins, coumarins, combined anthracene derivatives, C-heterosides, flavonoids, mucilage, reducing compounds and steroids. (5)
- Study of essential oil of roots yielded 47 compounds, representing 93.2 % of the total oil. The main constituents were were (E)-β-farnesene (30.6%), α-humulene (10.3%), β-caryophyllene (7.2%), cis-β-guaiene (6.1%) and α-bulnesene (5.3%). The oil was constituted mainly of sesquiterpene hydrocarbons (77.6%), followed by oxygenated sesquiterpenes (8.7%), oxygenated monoterpenes (3.5%), monoterpene hydrocarbons (2.8%) and phenyl derivatives (0.6%). (4)
- Essential oil of flowers and aerial parts yielded monoterpene hydrocarbons (82.0%; 70.8%) with myrcene (45.3%; 46.1%), β-phellandrene (20.2%; 31.0%) as major constituents. Flower oil also yielded dauca-5,8-diene (6.9%), trans-β-farnesene (4.8%) and daucene 3.6%), while the aerial parts yielded allo-aromadendrene (4.9%), α-muurolene (2.6%) and β-panasinsene (2.4%). (8)
- Essential oil of leaves yielded α-caryophyllene (10.29 %), β-cubebene (13.77 %) and α-farnesene (13.27 %) as major constituents, while stem oil yielded thymol (43.93 %), α-caryophyllene (15.16 %) and 4-cyclohexybutyramide (20.94 %) as dominant constituents. (7)
- Leaves yield per 100 g of edible portion: water 79.9%, energy 268 kJ (64 kcal), protein 3.2 g, fat 0.7 g, carbohydrate 14.0 g, fiber 1.9 g, calcium 250 mg, phosphorus 52 mg. (Leung, W.-T.W., Busson, F. & Jardin, C., 1968). (10)
- Study of leaves for secondary metabolities yielded gallic tannins, cathetic tannins, flavonoids, steroids,mucilage, coumarins, reducing compounds, and combined anthracene derivatives C-heterosides. (12)
- Water extract of C. crepidioides yielded isochlorogenic acids, quercetin and kaempferal glycoside as active components. (see study below) (15)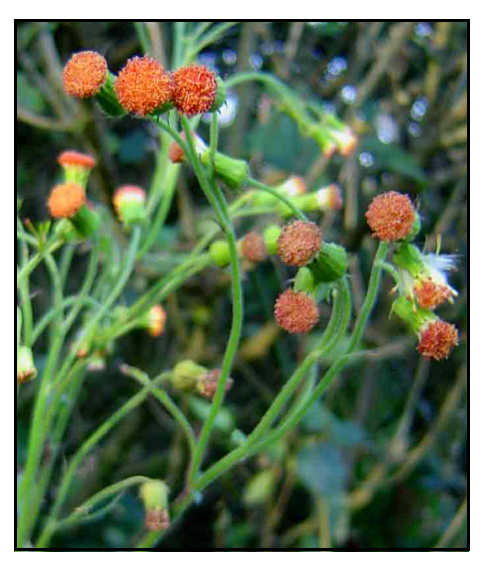 Properties
- Wound healing, anti-diarrheal.
- Studies have shown anti-tumor, antioxidant, antidiabetic, hepatoprotective, radical scavenging properties.
Parts used
Leaves, whole plant.

Uses
Edibility
- In Africa, fleshy mucilaginous leaves and stems are eaten as vegetable.
- A highly consumed leafy vegetable in Benin.
- In Nigeria, lightly blanched leaves are cooked with pepper, onions, tomatoes, melon, and fish or meat to makes soups and stews. In Sierra Leone, leaves are grounded into paste to make a sauce.
Folkloric
- In India, Nepal and China, plant used for wound healing and to treat diarrhea.
- In Gbolo used as antimicrobial, anti-diabetic and anti-inflammatory.
- In Nigeria, leaf decoction used for headache. In Tanzanea, a mixture of leaf sap of C. crepidioides and Cympogon giganteus used orally and externally for treatment of epilepsy. Also, leaf powder used as snuff to stop nose bleeds and smoked to treat sleeping sickness. (3)
- In southern Nigeria, leaves used to treat indigestion. In the Congo, leaf sap used to treat stomach upsets. In Ugnda, lead sap used to treat fresh wounds. In Tanzania, dried leaf powder used as snuff to stop nose bleeding and smoked to treat sleeping sickness. Roots used to treat swollen lips. (10)
Others
- Fodder: Plants used by livestock; also useful green fodder for poultry. (10)
- Used as trap plant to collect adult corm weevils in banana plantations. (13)

Studies
• Anti-Tumor: Study evaluated the in vitro and invivo antitumor activities of C. crepidioides on murine Sarcoma 180 (S-180) and related mechanisms. Results showed oncolytic and immunopotentiation properties mediated through NF-kB-induced release of NO from macrophages. (2)
• Renal Histo-Toxic Effects: Study evaluated the effects of oral consumption of aqueous leaf extract of Crassocephalum crepidioides on the frontal cortex, kidney, liver and testes of Sprague Dawley rats. Results showed no deleterious effect on the cytoarchitecture of the frontal cortex, liver and testes. Histopathological alterations were observed characterized by histological damage to kidneys of the rats which may be the result of direct toxicity, effect of released of toxic substances from other organs, or deleterious effects of a plant phytochemical. Results suggest further studies to isolate the specific component responsible for the kidney toxicity. (3)
• Cytotoxicity Testing: Cytotoxicity testing was done using the brine shrimp lethality bioassay. LC50 value of leaf extract showed to be 0.901 mg/ml indicating non-toxicity. (5)
• Hepatoprotective / Free Radical Scavenging: Study showed C. crepidioides to be a potent antioxidant and protective against galactosamine (GaIN) plus liposaccharide (LPS)- or CCl4-induced hepatotoxicity. Isochlorogenic acids, quercetin and kaempferol glycosides were identified as active components. (6)
• Antibacterial: Study evaluated the antibacterial activity of hot aqueous extract of C. crepioides and C. odorata against three bacterial isolates i.e., S. aureus, K. pneunonia, and E. coli. All three were sensitive to both, however K. pneumonia was most sensitive to C. crepioides with MIC of 15 mg/ml while S. aureus was most resistant. (11)
- Toxicity Study as Leafy Vegetable: Study based on LC50 and toxicity table showed non of the species of vegetable Gboli investigated was toxic to shrimp larvae as their LC50 are greater than 0.1 mg/ml. Taking in account established correlation between toxicity of shrimp larvae and that of human cells, study suggests the two species of Gbolo can be considered as leafy vegetable with no risk of toxicity. (12)
• Renal Effects: Study evaluated the effects of oral consumption of aqueous leaf extract of Crassocephalum crepidioides on frontal cortex, kidney, liver and testes of Sprague Dawley rats using anatomical studies. Results showed no deleterious effects on the cytoarchitecture of the frontal cortex, kidney, liver, and testes of rats. It showed histophathological changes in the kidneys of treated rats suggesting it may affect the functional activities of the kidney. Authors suggest isolation of specific components responsible for renal toxicity to standardize plant preparations for maximum culinary and therapeutic benefits. (14)
• Antioxidant / Hepatoprotective: Study evaluated the free radical scavenging and protective actions of Crassocephalum crepidioides against chemically induced hepatotoxicity. Results showed C. crepidioides is a potent antioxidant and hepatoprotective against GaIN plus LPS- or CCl4-induced hepatotoxicity. (see constituents above) (15)
• Anti-Diabetic / B-Cell Protection: Study in wistar albino mice evaluated the B-cell protection and anti-diabetic activities of Crassocephalum crepidioides by pancreatic B-cell culture and α-amylase inhibition technique. Results showed significant (p<0.05, p<0.01) effect on hyperglycemia compared to standard (Gliclazide) in OGTT. Plant showed efficient protection of pancreatic B-cell death in INS-1 cell line by significantly reducing levels of alloxan-induced apoptosis and intracellular ROS accumulation. (16)
• Cadmium Accumulation / Phytoremediation Potential: C. crepidioides has been identified as a cadmium accumulator plant in heavy-metal polluted environment. Study showed the plant has strong potential for use in phytoremediation in farm fields contaminated with Cd. (17)
• Anthelmintic / Leaves: Study evaluated the in vitro anthelmintic activity of aqueous leaf extract of C. crepidioides against Haemonchus contortus on three development stages. Results showed concentration-dependent anthelmintic activity. Levamisole (500 µg/ml) killed 100% worms while the plant exhibited only 16.67% inhibition at highest concentration (2400 µg/ml). Activity may be due to secondary metabolites i.e., saponins, flavonoids, and tannins in the extract. (18)
• Antioxidant / Antihyperlipidemic / Aerial Parts: Study evaluated the antioxidant and antihyperlipidemic activities of methanol extract of aerial parts of C. crepidioides. Results showed significant dose-dependent antioxidant activity. In high-fat diet induced hyperlipidemic rats, the extract significantly reduced (p<0.01 or 0.001) serum TC, TG, LDL-c and VLDL-c, and significantly (p<0.05) serum HDL-c level. (19)
Availability
Wild-crafted.