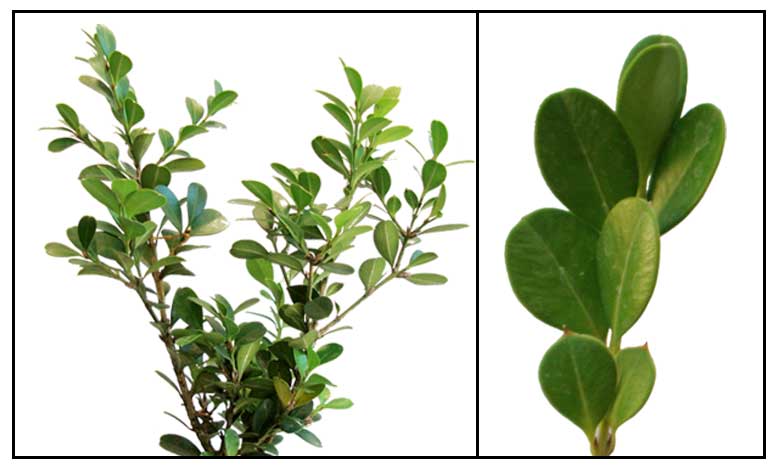 Botany
Common boxwood is a woody evergreen shrub growing to a height of 5 meters, densely branching, with a trunk up to 20 centimeters in diameter. Leave are in thick masses, arranged in opposite pairs along the stems, green to yellow-green, oval, 1.5 to 3 centimeters long, and 0.5 to 1.3 centimeters wide. Flowers are monoecious, inconspicuous, greenish-yellow, with no petals. Fruit is a three-lobed capsule containing 3 to 6 seeds. (6)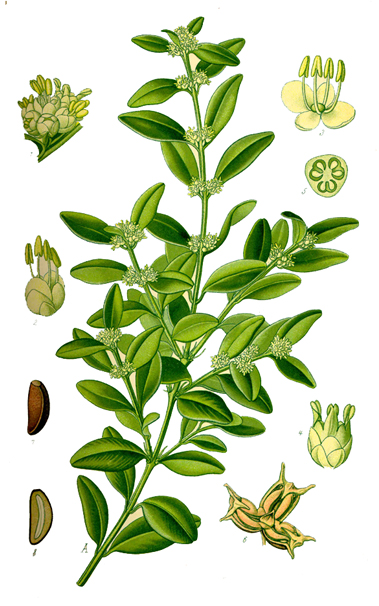 Distribution
- Recently introduced.
- Native to southwest Asia, Europe, northwest Africa.
- Used as a border plant.
- Popular indoor plant, especially for bonsai.
Constituents
- Contains the alkaloid buxine which causes nausea, vomiting and diarrhea. (See Toxicity below)
- Cycloprotobuxine, another alkaloid present in small amount, is being investigated as an anticancer agent.
- Aqueous extract of leaves yielded alkaloids, phenolic compounds (flavonoids, tannins, and cyanidins), carbohydrates, reducing sugars, and mucilage. (see study below) (9)
- Study of EtOH-soluble extract of roots isolated three new steroids alkaloids, (+)-semperviraminol (1), (+)-buxamine F (2), and (+)-17-oxocycloprotobuxine (3), along with two known steroidal alkaloids, (+)-buxoxybenzamine (4) and (+)-buxapapillinine (5). (see study below) (16)
Properties
• Considered alterative, antiperiodic, antirheumatic, cathartic, cholagogue, diaphoretic, febrifuge, narcotic, odontalgic, oxytoxic. (5)
• Studies have showed antioxidant, analgesic, anti-inflammatory, antidiabetic, anticholinesterase, lipid lowering, anticancer, antiprotozoal, and antitrypanosomal properties.
Uses
Folkloric
• No reported folkloric medicinal use in the Philippines.
• In Tunisia, considered antineoplastic.
• In Italy, employed as antimalarial.
• Used for rheumatism. Plant essential oil used in dentistry. (5)
• In Pakistan, whole plant, leaves and stems used as febrifuge, purgative and diaphoretic; also used for rheumatism. (18)
Others
• Superstition / Witches: Believed to prevent witches from entering households. Because of its compactness and smallness of leaves, witches, with their penchant for counting leaves and twigs of trees, are stymied trying the count and recount the number of leaves.
• Wood: Wood is very hard and heavy, ideal for cabinet making, crafting clarinets, engraving, wood-turning, tool handles. (6)

Studies
• Phytochemicals / Steroidal Alkaloids: Phytochemical investigation of roots of B sempervirens isolated seven new steroidal alkaloids. (1)
• Butyrylcholinesterase Activity: Chloroform extracts from the plant species of eight families were screened for their anticholinesterase activity on AChE and BChE enzymes. Three extracts, including Buxus sempervirens, were the most active against butyrylcholinesterase enzymes. (2)
• Analgesic Activity: In a study of extracts of B sempervirens for analgesic activity, the aerial parts showed varying degrees of analgesic activity while the roots showed highly significant analgesic effect in a dose-dependent manner. (3)
• Antioxidant / Lipid Lowering: Study of an aqueous extract of B. sempervirens in diabetic rats exhibited significant antioxidant activity by DPPH and FRAP assay. Extract caused a significant decrease in serum total cholesterol and LDL-C levels, with no change noted in triglyceride and VLDL-C levels. (8)
• Antidiabetic / Leaves: Study evaluated the antidiabetic activity of aqueous extract of leaves of Buxus sempervirens in streptozoticin-induced diabetic rats. The extract reduced blood glucose of both healthy and diabetic rats, with improvement of oral glucose tolerance in diabetic rats. There was no amelioration of hepatic histology. (see constituents above) (9)
• Anticancer Towards Five Breast Cancer Cell Lines: Study evaluated the cytotoxic activity of acetonic extract of Buxus sempervirens on five breast cancer cell lines viz. MCF7, MCF10CA1a, T47D, BT-20 and MDA-MB-435. The extract showed cytotoxic activity towards all the five breast cancer cell lines with IC50 range from 7.7 µg/ml to 12.5 µg/ml. The extract induced cell death and cell cycle arrest in G0/G1 phase in 4 of 5 cancer cell lines. Results suggest promising anticancer activity by triggering both autophagic cell death and apoptosis.  (10)
• Antibiotic Adjuvant / Antibiotic Synergism: Study evaluated 28 plants from different families for antibacterial activity and as adjuvants in antibiotic therapy against Staphylococcus aureus, including MRSA. B. sempervirens was one of five methanolic extract that showed an antibiotic potentialing effect. Further investigation of B. sempervirens identified betulinic acid as a major component, along with other terpenoids. Oleanolic acid showed synergism when combined with tetracycline and erythromycin. (11)
• Laxative / Spasmolytic / Prokinetic: Study investigated the spasmolytic and laxative properties of Buxus sempervirens in rabbits and mice. Extracts significantly inhibited the rhythmic contractility of jejunum. The aqueous methanol extract produced significant (p<0.0001) laxative and prokinetic effects at 250 and 500 mg/kg doses, comparable to carbachol. Acute toxicity showed the AqMeBS was associated with one mortality at highest test dose of 12,000 mg/kg. Results support traditional use pf Buxus sempervirens as laxative and prokinetc remedy in the management of constipation. (12)
• New Triterpenoidal Alkaloids / Antibacterial / Roots: Study of roots of B. sempervirens isolated two new triterpenoidal alkaloids, (+)-16α, 31- diacetylbuxadine (1), (-)-Nb-demethylcyclomikuranine (2) along with three known natural products, (-)-cyclomikuranine (3), (-)-cyclobuxophylline-K (4) and (+)-buxaquamarine (5). Compound 2 exhibited antibacterial activity against human pathogenic bacteria and weak phytotoxic activity against Lemna minor Linn. (13)
• Antiprotozoal / O-tigloylcyclovirobuxeiine-B Alkaloid / Plasmodium falcifarum: A CH2Cl2 extract from leaves of B. sempervirens showed selective in vitro activity against Plasmodium falcifarum with IC50=2.79 vs 20.2 µg/ml for cytotoxicity against L6 rat cells. Activity of the crude extract was attributed to alkaloid constituents. Further subtraction isolated the most active fraction, the cycloartane alkaloid O-tigloylcyclovirobuxeine-B, which showed the most significant antiplasmodial potency of the crude extract. (14)
• Selective Cholinesterase Inhibitors / Alkaloids: Study isolated two alkaloids, (+)-buxabenzamidienine (1) and (+)-buxamidine (2) from B. sempervirens. The compounds showed selective inhibition of AChE. Molecular docking studies reports on the interaction of compound 1 with acyl-binding pocket of huAChE and other hydrophobic interactions. (15)
• Steroidal Alkaloids / Phytotoxicity: Study of extract of roots isolated three new steroidal alkaloids along with two known steroidal alkaloids. Compounds 4 and 5 exhibited phytotoxic activity against Lemna minor. (see constituents above) (16)
• Anti-Trypanosomal Activity / Alkaloids / Leaves: A previous study reported on the antiplasmodial activity of Ch2Cl2 extract from leaves. In the same study, some subfractions were found to have specific anti-trypanosomal activity. Further study isolated subfraction E9 which showed an IC50 of 0.18 µg/ml and good selectivity index of 26.2. (17)
Toxicity
• Livestock: Anecdotal reports of poisoning to farm animals. Accidental grazing may cause respiratory failure and death.
• Buxine: Buxine, the principal alkaloid, can cause respiratory paralysis in humans and livestock.
Availability
Wild-crafted.