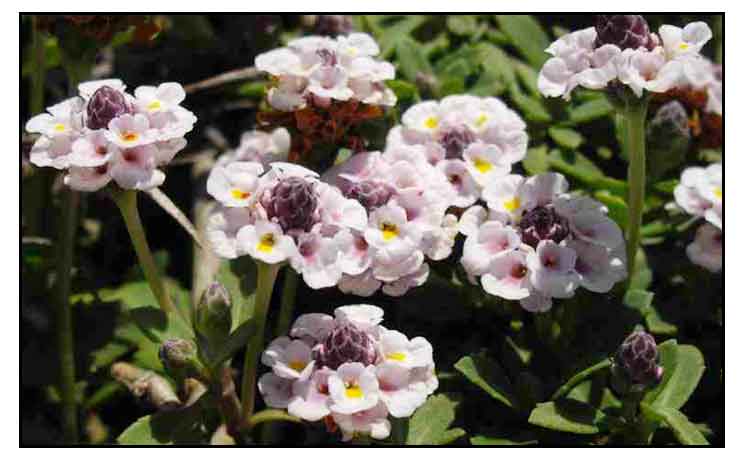 Botany
Busbusi is a creeping, minutely strigose herb. Stems extend from 15 to 30 centimeters, much branched and rooting at the nodes. Leaves are numerous, nearly without stalks, obovate, 1 to 2.5 centimeters long, with blunt or rounded tip and wedged-shaped base; margins on the upper half are sharply toothed. Flowers are very small, pink or white, crowded in ovoid or cylindric spikes, 1 to 2.5 centimeters long and about 6 millimeters in diameter. Corolla consists of a slender and cylindric tube, about 3 millimeters long, with a limb 2.5 millimeters wide, opening at the apex as it lengthens. Spikes appear at the ends of stalks, growing singly from the axils of the leaves.
Distribution
- A common weed throughout the Philippines, in open, waste places at low and medium altitudes.
- Pantropic in distribution.
Properties
- Bitter, anodyne, antibacterial, carminative, deobstruent, diuretic, emmenagogue, parasiticide and refrigerant.
- Considered analgesic, anti-inflammatory, antioxidant, nociceptive, antimicrobial, antipyretic, antitumor, lipid peroxide scavenging and free radical scavenging.
- Studies have suggest antibacterial, antifungal, antioxidant, diuretic, anticonvulsant, anxiolytic, hepatoprotective, antiurolithiatic, anti-tumor, anti-inflammatory, antihypertensive, antimelanogenesis, anti-tyrosinase, renoprotective properties.
Constituents
- Plant yields triterpenoids, flavonoids, phenols, and steroids.
- From the aerial parts were isolated new triterpenoid lippiacin and a benzofuranone rengyolone (halleridone), flavonoids, flavone aglycones, and flavone sulphates.
- Ethanolic extract of dried plant yielded two glucosidic coloring matters - nodiflorin A and nodiflorin B.
- Aqueous extract yielded free lactose, maltose, glucose, fructose, and xylose.
- Yields flavone, nodifloretin, a mixture of glucosides of ß-sitosterol and stigmasterol, two flavone glycosides (lippiflorin A and lippiflorin B), nepetin and batatilfolin.
- Flowers yield flavone glycosides, nepetin and batalifolin.
- Dried powdered leaves yielded hallerione and hallerone.
- Study of essential oil of leaves yielded nodifloretin, ß-sitosterol glucoside, stigmasterol glucoside, nodifloridin A, and nodifloridin B.
- Phytochemical analysis of aerial parts yielded primary metabolites (proteins and carbohydrates) and secondary metabolites (alkaloids, flavonoids, saponins, steroids, terpenoids, and glycosides). (see study below) (28)
- Phytochemical screening of aerial parts yielded flavonoids, steroids, glycosides, alkaloids, terpenoids, tannins, and phenolics. Quantitative analysis of methanolic extract showed high phenolic compounds (98.31 ± 0.004 mg GAE/g) followed by total flavonoids (60.88 ± 0.001 mg QE/g) and flavonols (27.46 ± 0.002 mg QE/g). Total tannin and saponins were 5.97 ± 0.021 mg TE/g and 3.52 ± 0.017 DE/g, respectively. GC-MS of ME yielded major components of 2, 7-dioxatricyclo [4.3.1.0 (3, 8)] decan-4-one (35.75%), stigmasterol (16.86%), benzoic acid, 4-etoxy-, ethyl ester (13.73%), azacyclotridecan-2-one (11.86%) and n-hexadecanoic acid (10.12%). (36)
• Study of methanolic extract of aerial parts yielded ten compounds, namely, 3,7,4′,5′-tetrahydroxy-3′-methoxyflavone (1), nodifloretin (2), 4′-hydroxywogonin (3), onopordin (4), cirsiliol (5), 5,7,8,4′-tetrahydroxy-3′-methoxyflavone (6), eupafolin (7), hispidulin (8), larycitrin (9), and β-sitosterol (10). (see study below) (43)
- Study of ethyl acetate soluble fraction of ethanolic extract of Lippia nodiflora isolated a compound designated as LN-1, which was determined as 3 ́ ́ ́ acetyl verbascoside, chemically β (3, 4 - dihydroxy phenyl) ethyl) 3 - O α - 3 ́ ́ ́ acetyl rhamno pyranosyl) 4' - O caffeoyl β - D glucopyranoside. (44)
- Elemental analysis of powdered whole plant showed calcium, potassium, and chlorine to be the major elements, in concentrations of 33,400 ppm, 15,440 ppm, and 14,460 ppm, respectively. (45)

Parts used
Leaves, roots, whole plant.

Uses
Edibility
- In the Philippines, fresh leaves used as tea substitute; hence referred to as "chachahan."
Folkloric
- In the Philippines, Infusion of leaves and tops used as carminative and diuretic.
- In India, used as demulcent in gonorrhea. Also, paste of leaves applied to swellings and wounds.
- Toasted tender stalks and leaves, in infusion, used for children's indigestion.
- Juice of roots used for gastric problems.
- Used for treatment of hookworms.
- Used by women after childbirth.
- Hindus used it for fever and as diuretic. Applied as paste to promote suppuration.
- Infusion used in colds with fever; also as diuretic and for lithiasis.
- Poultice of fresh plant used to hasten ripening of boils.
- Used for liver disorders, dandruff control, and indigestion in children.
- Plant used for joint pains, constipation, ulcers, boils, swollen cervical glands, and gonorrhea.
- Used for asthma, bronchitis, diseases of the heart, blood, and eyes.
- Plant vapors inhaled to treat coughs and colds. Root juice used for gastric problems.
- Paste or poultice of plant applied to swollen cervical glands, erysipelas and to chronic indolent ulcers.
- In Sindh folk medicine, ground leaves are applied on face for treatment of acne. (34)
- In Pakistan, crushed fresh plant mixed with water and drained, taken on an empty stomach daily for about one week for hemorrhoids. (41)
Studies
• Antioxidant / Free Radical Scavenging: Study on the methanol extract of Lippia nodiflora exhibited potent total antioxidant activity increasing with concentration. It has effective reducing power, free radical scavenging, superoxide anion radical scavenging and concentration dependent total phenolic content.   (2)
• Antifungal / Elemental Composition: Study on the antifungal activity of various extracts of L nodiflora was tested against human pathogenic fungi – A flavus A niger, P varioti, M. gypseum and T. rubrum. All the extracts showed high activity against the test organisms; the ethanol and aqueous extracts showed the best activity. Concentrations of Al, Ca, Cu, Fe, Mg, Mn, P, S and Zn were studied and showed considerable amounts of elements which are important components of skin care formulations. (3)
• Diuretic Potential: Study yielded steroids, alkaloids, carbohydrates, flavonoids, essential oil, tannins and potassium salts. The methanol and aqueous extracts exhibited significant increase in urine volume and electrolyte excretion. Both extracts showed significant diuretic activity. (5) Study evaluated the diuretic potential of methanol extract in rats. Results showed a significant increase in volume of urine with increase in excretion of Na, Ca, Cl, and K excretion in a dose dependent manner with a similar diuretic effect to that of furosemide. (29)
• Antidiabetic / Hypolipidemic / y-Sitosterol: Study screened y-sitosterol isolated from L. nodiflora for anti-diabetic activity in streptozotocin-induced diabetic rats. Results showed a significant decrease in blood glucose and glycosylated hemoglobin with a significant increase in insulin level, body weight, and food intake. There was also an antihyperlipidemic effect with decrease in total cholesterol, LDL, and triglycerides with an increase in HDL. (8) Study of a methanol extract in STZ-induced diabetic rats showed significant antidiabetic and hypolipidemic effects. (29)
• Neuropharmacological: Ethanolic and chloroform extracts showed central inhibitory (sedative) activity, anticonvulsant, and anxiolytic effects in mice. The central inhibitory effect was attributed to flavonoids.      (9)
• Hepatoprotective / Antioxidant: Study on a methanol extract of Lippia nodiflora in rats with acute experimental injury induced by paracetamol showed good hepatoprotective activity probably through antioxidant activity on the hepatocytes. (10)
• Antiurolithiatic / Calcium Oxalate Stones: An ethanol extract of the whole plant was studied for antiurolithiatic activity against most common types of renal stones. The extract significantly prevented calcium oxalate stone formation and also dissolved pre-formed calcium oxalate stones in the kidney along with significant effect on both in vitro and in vivo antioxidant parameters. (11)
• Antibacterial / Seeds: A methanol extract of seeds was screened for in-vitro antibacterial activity against gram positive and gram negative bacteria by cup-plate method. The seed extract significantly inhibited growth of bacteria as compared to standard bactericide Streptomycin. (12)
• Antimicrobial / Leaves / Aerial Parts / Flowers: Chloroform leaf extract showed activity against E. coli, and an ethyl acetate extract was effective against Salmonella typhi. (15) Screening of crude extracts from aerial parts showed inhibitory effects against both human pathogenic bacteria and fungi. (see constituents above) (28) Study evaluated methanolic extracts of leaves and flowers for antimicrobial activity against B. subtilis, B. cereus, Micrococcus luteus, S. aureus, P. aeruginosa, K. pneumonia, K. oxytoca, and E. coli, as well as fungi such as Aspergillus niger and Candida albicans. Results showed antimicrobial activity against all the test microorganisms with activity increased with concentrations of the extracts. Bacteria were more sensitive than fungi. (37)
• Antitumor Activity/ Seeds: Study evaluated the antitumor activity of a methanolic extract against Ehrlich's ascites carcinoma on Swiss albino mice. Results showed antitumor activity with significant decrease in tumor volume, packed cell volume, increase in life span of tumor bearing mice, etc. The activity was attributed to increased antioxidant activity. (14)
• Anti-Inflammatory / Cyclo-Pentano Phenanthrenol: Study evaluated the anti-inflammatory potential of cyclo-pentano phenanthrenol isolated from L. nodiflora. Results showed anti-inflammatory activity via inhibition of MAPK phosphorylation and NF-kB translocation. (16)
• Antibacterial: Study described the extraction, fractionation and antibacterial activity of Phyla nodiflora. An ethyl acetate and chloroform fractions showed excellent activity against Bacillus subtilis, Staphylococcus epidermis and S. aureus. (19) Study showed antibacterial activity against E. coli, Pseudomonas, Staphylococcus. (20)
• Anticancer Effect / Breast Cancer Cell Line: Study investigated the potential anticancer effect of P. nodiflora in MCF7 cells. Results showed all the extracts exhibited antiproliferative results, inhibiting MCF7 breast cancer cell growth via apoptosis. (21)
• Melanogenesis Inhibitors: Overexpression of tyrosinase can cause excessive production of melanin and lead to hyperpigmentation disorders, including melasma and freckles. Study showed treatment with P. nodiflora methanol extract showed significant dose-dependent reduction of cellular melanin content and tyrosinase activity. The extract also showed significant antimelanogenesis effect. Results suggest a potential use as cosmetic skin-whitening agent and clinical use to cure or prevent hyperpigmentation.   (22)
• Antihypertensive: Study investigated the antihypertensive effect of a methanolic extract of Lippia nodiflora on uninephrectomized DOCA-salt-induced hypertensive Wistar rats. Results showed a significant decrease in blood pressure. (23)
• Eupafolin / Skin Whitening: Eupafolin is a functional flavonoid isolated from Phyla nodiflora. Study evaluated its antimelanogenesis effects in B16F10 mouse melanoma cells. Eupafolin treatment significantly reduced cellular melanin content and tyrosinase activity in a dose-dependent manner. No cytotoxic effects were noted. Inhibition of Akt and activation of phospho-ERK or p38 MAPK may lead to suppression of melanogenesis in eupafolin-treated B16F10 mouse melanoma cells. (24)
• Central Inhibitory Effects on Motor Activity: Study showed an ethanolic and chloroform extracts produced central inhibitory (sedative), anticonvulsant, and anxiolytic effects in mice. (25)
• Antioxidant Activity / Aerial Parts: Study of methanolic extract of aerial parts showed antioxidant activity attributed to flavonoids. (26)
• Apoptotic / Human Breast Cancer Cell Line: Study of leaf and stem extracts of P. nodiflora in MCF cells showed inhibition of cancer cell growth via apoptosis. (27)
• Antidandruff Activity: Study evaluated the antidandruff properties of ethanolic extract and isolated compound of E. alba and Lippia nodiflora against Malassezia furfur. Results showed M. furfur was more sensitive to all concentrations of ethanolic extract and isolated compound from the two tested medicinal plants. The activity could be due to the presence of flavanoids, terpenoids, sesquiterpenes, phenolic acids, and alkaloids. Clotrimazole was used as standard drug for comparison. (31)
• Anti-Hepatotoxic / Ethanol Induced Liver Injury: Study evaluated the hepatoprotective effect of crude flavonoid fraction of aerial parts of L. nodiflora in ethanol induced oxidative stress in liver using experimental animal models. Results showed a protective effect through amelioration of oxidative damage through antioxidant activities. (32)
• Antihypertensive / Renoprotective: Study evaluated the efficacy of different fractions of whole plant of LN on uninephrectomized DOCA-salt hypertensive rats. Among all the extracts, the methanolic extract significantly reduced systolic blood pressure. Creatinine level as renal marker and histopathology of the kidney confirmed the biochemical findings. (33)
• Antibacterial / Hepatoprotective Against Lipopolysaccharides on HepG2 Cell / Leaves: Study of methanolic leaf extracts of Lippia nodiflora against lipopolysaccharide (LPS) induced hepatotoxicity on liver cells. The LN extracts reduced reactive oxygen species (ROS) production against LPS induced toxicity on HepG2 cells and decreased apoptotic gene expression. (38)
• Antifungal on Human Nail Fungus / Leaves: Study evaluated five medicinal plants (Phyla nodiflora, Lawsonia inermis, Cassia fistula, Vernonia cinerea and Aristolochia bracteolate) for for antifungal activity against fungal pathogen isolated from infected nail. All tested ethanol extracts of leaves exhibited complete inhibitory effect against the tested nail fungus. (39)
• Anticancer / Apoptosis Induction / Human Lung Cancer Cell Line / Leaves: Study evaluated the in vitro anticancer effect of L. acutangula and L. nodiflora leaf extracts in human lung cancer cell line (NCI-H460). Paclitaxel was used as positive control. The leaf extracts sowed high antiproliferative activity against the tested cell line with growth inhibition at 50% (IC50) of 10µg/mL for L. nodiflora. (40)
• Anticancer / Antioxidant / Stem and Leaves: Study evaluated the anticancer properties of P. nodiflora after solvent partition extraction of methanol extracts. Both stem and leaf extracts showed profound inhibition and also caused DNA fragmentation in MCF-7 cells. (42)
• Antioxidant / Anti-Tyrosinase Activity / Aerial Parts: Study of methanolic extract of aerial parts yielded ten compounds, namely, 3,7,4′,5′-tetrahydroxy-3′-methoxyflavone (1), nodifloretin (2), 4′-hydroxywogonin (3), onopordin (4), cirsiliol (5), 5,7,8,4′-tetrahydroxy-3′-methoxyflavone (6), eupafolin     (7), hispidulin (8), larycitrin (9), and β-sitosterol (10). Onopordin, cirsiliol and eupafolin (Compounds 4, 5, and 7) showed strong antioxidant activity by free radical scavenging assay. On antityrosinase activity evaluation, onopordin (4)showed an IC50 of 65.8 ± 3.2 µM, as mixed-type inhibitor, while eupafolin (7) showed competitive inhibitory activity, and strongly inhibited the activity of mushroom tyrosinase with an IC50 of 56.0 ± 5.0 µM. Compounds 4 and 7 may compete with tyrosine and L-dopa as substrate. The replacement of substrate and inhibition of tyrosinase activity might inhibit melanogenesis. (43)
Availability
Wild-crafted.