Botany
Cabello de angel is a slender, twining, smooth vine growing 4 to 6 meters or more. Leaves are ovate, 4 to 7 centimeters long, dark green, and pinnately divided into numerous, linear, distant segments. Cymes are axillary, containing few, erect flowers; the peduncles are 4 to 9 millimeters long. Corolla is deep red and salver shaped; the tube about 2 centimeters long and slightly enlarged upward; the limb spreading, 1.5 to 2 centimeters in diameter, and distinctly 5-lobed. Fruit is a capsule, ovoid, 7 to 8 millimeters long, with smooth, black seeds.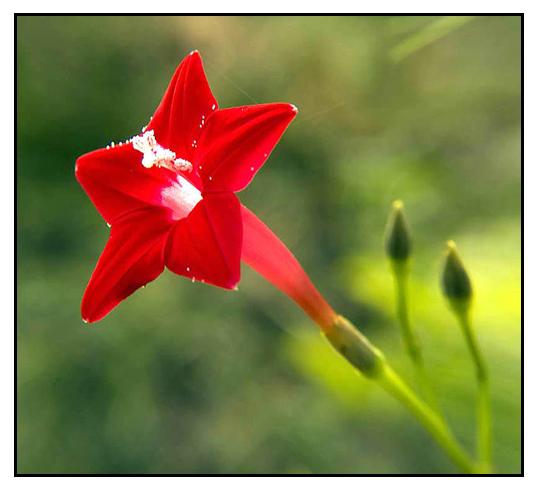 Distribution
- Found in Ilocos Norte, Bontoc, Nueva Viscaya, La Union, Pampanga, Bulacan, Rizal, Bataan, Laguna, Camarines, Albay, and Sorsogon Provinces in Luzon; and in Panay, Negros, Cebu and Mindanao, in thickets at low and medium altitudes.
- Ornamental cultivation.
- Cultivated in urban gardens.
- Now thoroughly naturalized.
- Native of tropical America.
- Now pantropic.
Constituents
- Leaves are reported to contain small amounts of alkaloids.
- Traces of hydrocyanic acid are also present in roots, stems and flowers.
- Resin glycoside (convolvulin) fraction of the seeds provided five new glycosidic acids, quamoclinic acids B, C, D, E, and F, along with six organic acids, isobutyric, 2S-methylbutyric, tiglic, 2R,3R-nilic, 7S-hydroxydecanoic, and 7S-hydroxydodecanoic acids. (See studies below) (3)
- Phytochemical analysis of whole plant yielded alkaloids, carbohydrates, saponns, phytosterols, phenolic compounds, tannins flavonoids, proteins, amino acids, terpenoids, gums and mucilages. (see study below) (8)
- Proximate analysis of whole plant yielded 9.68% total ash, 3.57% acid insoluble ash, 2.95% water soluble ash, 3.49% sulphated ash, 12.92% alcohol soluble extractive value, 9.45% water soluble extractive values, 5.41% ether soluble extractive value and 5.25% moisture content. (9)
- Phytochemical screening of ethanol extract revealed the presence of alkaloids, tannins, saponins, flavanoids, glycosides, phytosterols, carbohydrates, amino acids, phenolic compounds. (see study below) (11)

Properties
- Considered cooling and purgative.
- Roots are considered an effective sternutatory.
- Hindus consider the plant to have cooling properties.
- Studies have suggested antioxidant, antiproliferative, antidiabetic properties.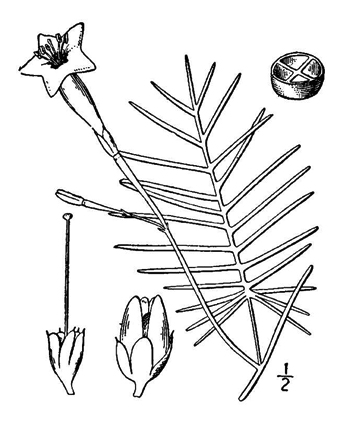 Uses
Folkloric
- In the Philippines, leaves are used as poultices for bleeding hemorrhoids.
- Crushed leaves used for carbuncles.
- Seeds reportedly used as laxative by the Sino-Annamites.
- In Queensland, used as purgative, as snuff, and for snake bites.
- In India, powdered roots given as sternutatory; pounded leaves applied to bleeding piles. Considered cooling and purgative. Used for chest pains.
- In Spain, powdered roots used as sternutatory; pounded leaves used for hemorrhoids, ulcers and breast pain.
- In Brazil, aerial parts used as depurative or antibiotic.
(5)
- Kani tribe in Kerala, apply leaf paste over the throat for splinters. (6)
- In the Antilles, roots are considered an effective sternutatory and the latex used for coryza.
- In Siddha medicine, leaves used for piles and diabetes; the leaf and stem decoction used for fever.
- In Ayurveda, leaves are used for stabilizing the gravid uterus.
- In Siddha medicine, decoction of leaves and stems used for fever and diabetes. In Thailand, used for snake bites and hemoptysis. (11)
Studies
• New Glycosidic Acids: Study isolated two new glycosidic acids, quamoclinic acids G and H from the glycosidic acid fraction. (2)
• Glycosidic Acids: Alkaline hydrolysis of the ether-insoluble resin glycoside (convolvulin) fraction of the seeds yielded five new glycosidic acids, quamoclinic acids B, C, D, E, and F along with six organic acids. Quamoclinic acids E and F are the first examples of heptaglycosides of glycosidic acid. (See constituents above) (3)
• Anti-Diabetic: Study evaluated the anti-diabetic activity of whole plant of I. quamoclit against STZ-induced diabetic rats. A hydroalcoholic extract of whole plant showed significant reduction in blood glucose.(see constituents above) (8)
• Antiproliferative / Leaves: Study evaluated the anti-proliferative effect of various extracts of Ipomoea quamoclit leaves against MCF-7 (breast adenocarcinoma), HeLa (cervix adenocarcinoma), CNE-1 (nasopharyngeal carcinoma, HT-29 (colorectal adenocarcinoma) and 3T3 (normal mouse fibroblast) cell lines. The methanol leaf extract showed the highest anti-proliferative activity against the tested cell lines. (9)
• Antioxidant: Study evaluated the antioxidant activity of P. paniculata and Ipomoea quamoclit whole plants. Ipomoea quamoclit yielded total flavonoids of 49.26 (quercetin) and total phenols of 39.32 mg/g (gallic acid). Both plants exhibited significant antioxidant activity by various assays. (10)
• Antioxidant / Antimicrobial / Anticancer: Study evaluated an ethanolic extract for antioxidant, antimicrobial and anticancer activities. Antioxidant evaluation by IC50 values and gallic acid were 68.4 µg/ml and o,82 µg/ml for DPPH method, and 96.4 and 2.44 µg/ml for nitric oxide method. Antimicrobial activity by agar well diffusion method showed good activity against gram positive S. aureus, S. werneri and gram negative Pseudomonas putida, E. coli, P. aeruginosa, P. mirabilis, K. pneumonia and fungal strain Candida albicans. Cytotoxicity evaluation showed dose dependent inhibition of CaCO2 (colon cancer) cell viability. (12)
• Antioxidant / Aerial Parts: Study of aerial parts of I. quamoclit for antioxidant activity using DPPH assay showed IC50 of 25.96 µg/ml. (13)

Availability
Wildcrafted.
Cultivated.
Seeds in the cybermarket.