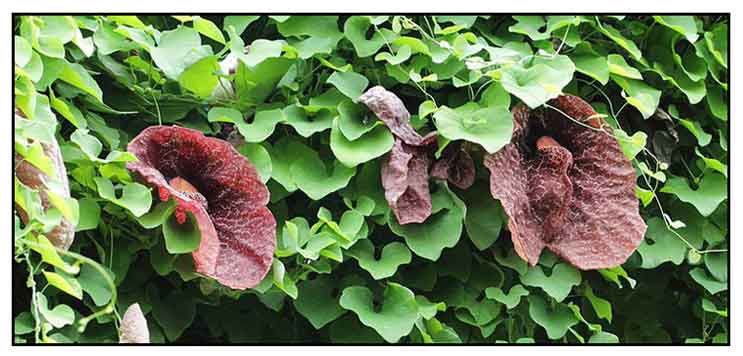 Botany
Calico flower is a slender, woody perennial climber. Leaves are kidney-shaped, up to 7 centimeters long and up to 7 centimeters wide. Flowers are solitary, with inflated and sharply curved calyx tube, the limb nearly orbicular and entire, with numerous purple spots outside and deep purple-brown marked with white inside.
Distribution
- Introduced to the Philippines in the 1920s.
- Native to Brazil.
- Rare in cultivation.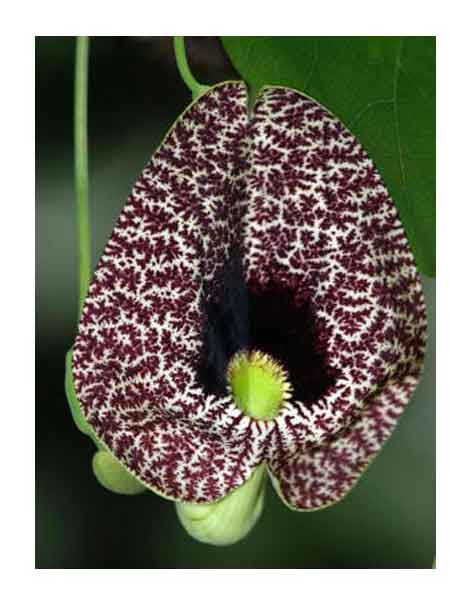 Constituents
- Study have isolated biphenyl ester, porphyrins and alkaloids from the leaves.
- Study isolated a new sesquiterpene, aristololide, from the stem and root, and even known compounds from the fruits.
- Study of roots and stems yielded four new tetratones, aristelegone-A, aristelegone-B, aristelegone-C, and aristelegone-D; one new isoquinoline, pericampylinone-A; four new biphenyl ethers, aristogin-A, aristogin-B, aristogin-D, and aristogin-E; three new lignans, aristelegin-A, aristelegin-B, and aristelegin-C; and a new dimer, aristolin.
- Leaves yielded one new biphenyl ether, aristogin C (1), and two new porphyrins, aristophylls A (2) and B (3), as well as 11 known compounds.
- Study isolated 4 known neolignans: Eupomatenoid-7 (1), licarin A (2), licarin B (3), eupomatenoid-1 (4) and other new neolignan which was characterized as 2-(3′-hydroxy-4′-methoxyphenyl)-3-methyl-5-[(E)-α-propen-γ-al]-7-methoxy-benzo [b] furan (5). (see studies below) (10)
Properties
- Traditional use for it antivenom and antimalarial properties.
- Studies suggest antiprotozoal, antimycobacterial, antivenom properties.

Parts used
Parts used.

Uses
Folkloric
- No reported folkloric medicinal use in the Philippines.
- In Mexican traditional medicine, plant has been used to treat scorpion bites.
- In Africa, used in the treatment of malaria.

Studies
• Antiprotozoal / Antimycobacterial / Eupomatenoid-1 / Rhizomes: Study of hexane extract of rhizomes yielded pure compounds eupomatenoid-1, fargesin, and (8R,8′R,9R)-cubebin which were active against M. tuberculosis. Both extract and eupomatenoid-1 were very active against E. histolytica and Giardia lamblia.
(1)
• Scorpion Antivenom Effect: Study showed methanol extracts of aerial parts and roots of micropropagated plants have antitoxin activity against scorpion poison similar to the antitoxin activity of the hexane extract of wild plants. (3)
• Toxicology Study: Investigation on the toxicology of Aristolochia elegans, prevalent in some pastoral areas, show ingestion of the toxic plant causes changes in mammals, including a major effect of the toxin on the kidneys. (4)
• Anti-Malarial / Potential Risks of Gastric Cancer, Hepatic and Renal Diseases: Study investigated the toxicological and pharmacological properties of ethanol and ether crude extracts dried seeds on 45 males Balb c mice. Results showed highly encouraging effectiveness against malaria, with less likelihood of relapse compared to conventional antimalarial drugs. However, histopathological studies on both crude extracts showed severe damage to the kidney and liver of Balb c mice. Four of 10 developed stomach hemorrhages suggesting a gastric carcinogenic property. (6)
• Cancer Risks: Study evaluated the safety and effectiveness of traditional dosage forms of dried seeds on 20 respondents using it for over 1.2 years against malaria. Results showed encouraging results against malaria. However, laboratory mice died with a single dose of crude extracts at 1000-5000 mg/kg within 4-5 days. Histopathological study showed severe damage to the kidney and liver of Balb-c mice; 4/10 developed stomach hemorrhages, suggesting carcinogenic property. Study concludes with a higher risk for stomach cancer and renal and hepatic diseases with the herbal preparation use. (9)
• Neolignans / Antagonists of Neutropic Scorpion: Study investigated an n-hexane extract of A. elegans roots for compounds with activity against scorpion venom. Study isolated 4 known neolignans and a new neolignan, 2-(3′-hydroxy-4′-methoxyphenyl)-3-methyl-5-[(E)-α-propen-γ-al]-7-methoxy-benzo [b] furan, designated as eleganal. Neolignan 1 (Eupomatenoid-7) and 2 (licarin A) displayed antagonistic effect against Centuroides limpidus scorpion venom. (10)
• Antibacterial / Anti HIV-1: Study investigated the anti-HIV1 and antibacterial activities of crude leaf extracts. In evaluation of efficacy against growth of HIV, results showed inhibition of p24 antigen's expression. On antibacterial testing, an ethyl acetate extract was most effective against the tested bacteria. (11)

Availability
Wild-crafted.