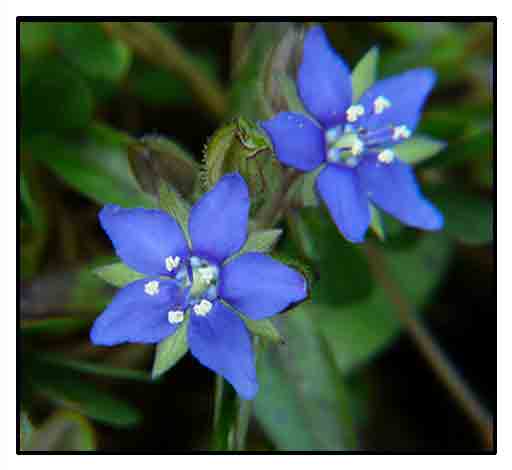 Botany
Hydrolea zeylanica is an annual, ascending or procumbent, sparingly branched, nearly smooth herb, a few centimeters to 1.2 meters in length, and rooting at the lower nodes. Leaves are lanceolate, 2 to 12 centimeters long, 6 to 12 millimeters wide, and pointed at both ends. Flowers are very numerous, bright blue, and borne in racemes. Sepals are hairy, green, oblong-linear, and about 5 millimeters long. Corolla is 8 to 10 millimeters in diameter, with ovate lobes. Fruit is a capsule, ovoid, 4 millimeters long, surrounded by the persistent calyx-lobes, and contains numerous, minute, oblong seeds, less than 0.5 millimeters long.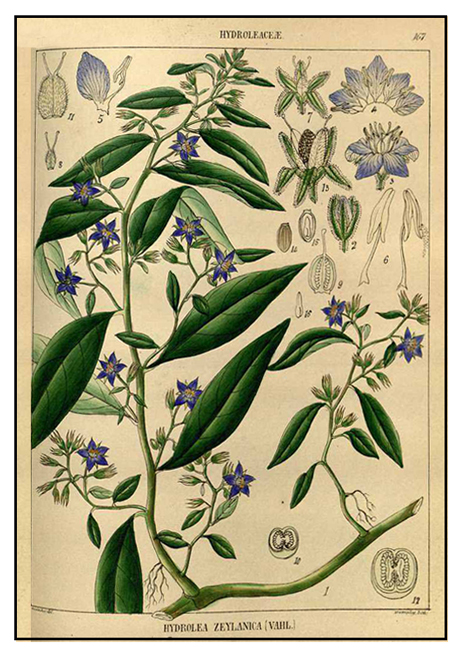 Distribution
- Found in northern Luzon to Mindoro, probably in most islands and provinces, in open wet places, often common in rice paddies as a weed.
- Also occurs in Indian to China and through Malaya to tropical Australia.

Constituents
- Shoots yield flavanoids - kaempferol and quercetin.
- Study of flavonoid content of shoots showed: total flavonoids, 10.1/100 g fw, dry matter 18.3, quercetin 2.2, kaempferol 7.9. (3)

Properties
Considered to have antiseptic properties.

Parts used
Leaves

Uses
Edibility
- Considered edible, but underutilized.
Folkloric
- Leaves, beaten into a pulp, used as poultice to facilitate healing of neglected and callous ulcers.
- In southern Assam, India, leaves and twigs used for diabetes. (1)
- In Ayurveda, leaf poultice used for ulcers.
Studies
• No studies found.

Availability
Wild-crafted.