Botany
Dalandan is a small, erect tree with smooth, greenish white shoots with spinescent thorns. Leaves are oblong to subelliptic, 10 centimeters long by about 4 centimeters wide. Petiole is narrowly winged. Flowers are white, bisexual, solitary or few clustered, smooth, and growing from the uppermost leaf axils. Fruit is nearly spherical, 5 to 9 centimeters in diameter, and mamillate or not, the skin is orange red and tight; partitioned inside with yellowish juice sacks. Taste is usually sweet, occasionally sour.
Distribution
- Found throughout the Philippines, nearly always planted.
- Found in all warm countries.
- Native of the Old World.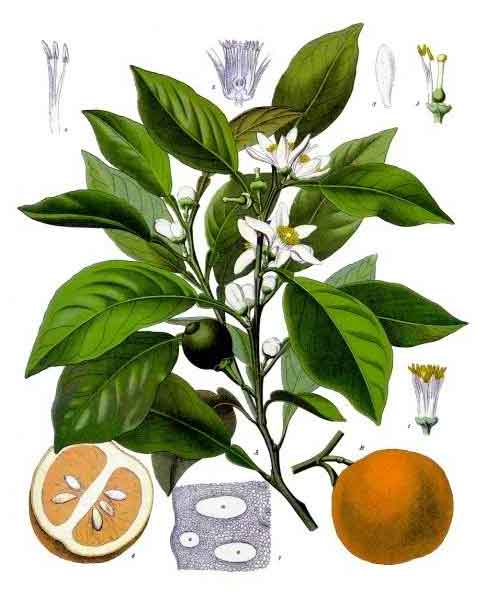 Constituents
• Citric acid, 0.29%; volatile oil-citral, 4%, geraniol, 12%, d-camphene, d-limonene, d-linalool, anthranilic acid methyl ester 0.3%, linalyl acetate 6.35%; indol; stachydrine (alkaloid); hesperidin; fatty oil; carotene; pectin, 6%; vitamins A, B, and C; enzymes; sugar.
• The flowers and rind of the fresh fruit contain neroli, a volatile oil, a fragrant yellowish liquid with a bitter and aromatic taste. It provides the peculiar odor to Eau de cologne or to Spiritus odoratus.
• Rind of the fruit yields a volatile oil, isomeric with oil of turpentine, gum-resin, a fixed oil, which consists of a terpene, dextro-rotatory limonene, three glucosides-herperidin, isoherperidin, aurantiamarin (a bitter crystalline principle), - tannin, and ash, 4 to 5 %.
•The leaves and young unripe fruit contain a volatile oil, the oil of orange leaf or "neroli petit" grain or essence de "pettitgrain." The oil consists of limonene 20 percent, nerolo 30 percent, nerolyl-acetate 40 percent and geranio 3 percent.
• Limonoid compounds have highest concentration in the early stages of growth of the leaves and fruit and highest in seeds during fruit growth and maturation.
• Contains bergapten which sensitizes the skin to sunlight; used in tanning preparations for skin pigmentation.
• Contains umbelliferone, an antifungal.
• Contains citrantin which has antifertility activity and used in contraceptives.
• The juice of the orange contains principally mucilage, sugar, citric acid, and inorganic salts.
• Flowers yield flavonoids as main constituents (naringin, hesperidin, and neohesperidin).
• Study of essential oil yielded 26 different chemicals. The major constituents were Linalool, (29.99%), Bergamot (14.94%), Farnesol (9.86%) and D-Limonene (8.42%). (25)
• GC-MS analysis for volatile constituents of essential oil of peel, flower (neroli) and leaves (petitgrain) of bitter orange yielded 12 components in the peel, 26 in the flowers, and 20 and 16 in old and young leaves. Major constituents were ß-pinene (0.62-19.08%), limonene (0.53-94.67%), trans-ß-ocimene (3.11-6.06%), linalool (0.76-58.21%) and a-terpineol (0.13-12.89%). (see study below)
Properties
• Aperitif, aromatic, stomachic, tonic, astringent, mildly carminative, cholagogue, antibacterial, antiemetic, antifungal, antispasmodic, antitussive, diaphoretic, digestive, emmenagogue, stimulant, vermifuge.
• Dried rind is considered aromatic, stomachic, tonic, astringent, and mildly carminative.
• Citrus flavonoids have potential antioxidant, anti-aging, anti-cancer, antiviral, anti-inflammatory activity, and cholesterol lowering potential.

Parts used
Flowers, fruit and rind.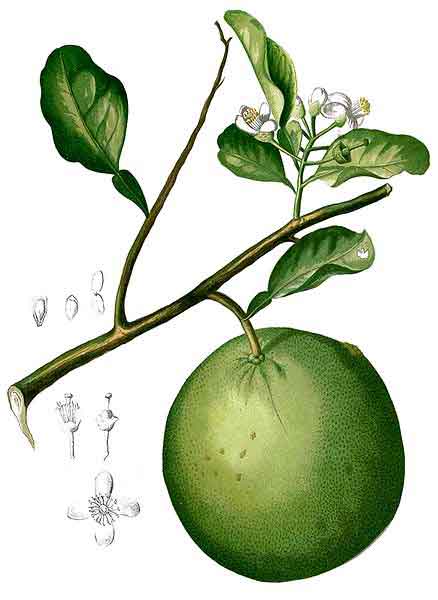 Uses
Nutrition / Culinary
- A good source of vitamin C.
- Rich in flavonoids.
- Dried flowers is a pleasant flavoring agent.
- Condiment, fruit, oil.
- Peel used for making marmalades and candies.
- Flowers used for scenting tea.
- Essential oil from the dried fruit used as food flavoring.
- Fruit rind used for baking flavors.
- In Iran, the orange peel used as flavoring for boiled rice and other vegetables.
- Fruit is used for making sauces, creams, jelly, honey, etc.
Folkloric
- Juice is a cooling drink, and used as food, particularly for the febrile and scorbutic.
- In the Philippines, the leaves, peel, and flowers are used as stomachic and antiscorbutic.
- Decoction of rind taken for gas pains. Decoction of peel also used as emmenagogue.
- Leaves are applied to reduce swelling in the legs. Also used as tonic, pectorals and in bronchitis.
- For nausea and fainting, squeeze rind near nostril for irritant inhalation.
- Dried flowers used as stimulant and preventive for dysentery. Flowers used as antispasmodic.
- Orange peel is an ingredient in the preparation of tincture of cinchona and tincture of gentian.
- Dried rind is used as tonic dyspepsia and for general debility; also used to check vomiting.
- Fresh rind is rubbed on the face for acne or eczema.
- Juice used with salt as a ringworm remedy.
- Water distilled from the orange flowers used as stimulant, and as a refreshing drink in nervousness and hysterical cases.
- Used as a stimulant and appetite suppressant
- In traditional Chinese medicine, Zhi shi, the immature dried fruit of citrus aurantium, has been used to treat chest congestion and stimulate gastrointestinal functions. Peel of immature fruit used for indigestion, abdominal pains, constipation, and dysenteric diarrhea.
- Bitter orange seeds or pips, first torrefied to remove the husks, taken as a stimulating remedy.
- Oil from the rind is used internally and externally, as a stimulating liniment, for gout and rheumatism.
- In Mexico and South America, leaf used as tonic, laxative, sedative; peel used for stomach aches and high blood pressure.
- Basque in Europe used the leaves for stomachaches, insomnia and palpitations.
Others
- In India, neroli oil, mixed with vaseline, for leech prevention.
- In recent years, Citrus aurantium supplements has been promoted for appetite control.
- Perfumery: Oil distilled from flowers used in perfumery.
- Orange peel is an ingredient in the preparation of tincture of cinchona and tincture of gentian.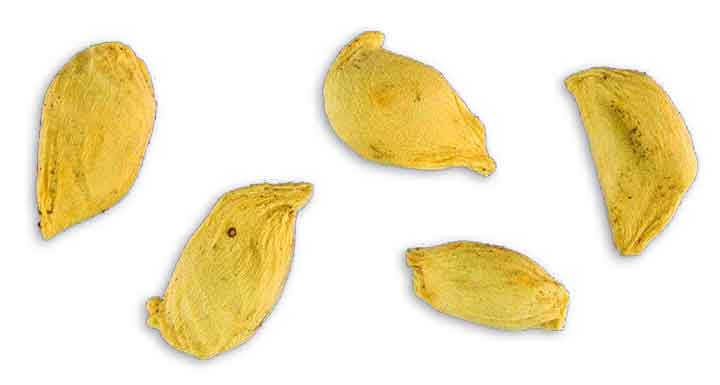 Studies
• Thermogenic / Weight Reducing: (1) Since the withdrawal of ephedrine in weight loss formulations, C. aurantium has gained entry as a substitute, and has been reported to aid in weight loss in two studies and increase thermogenesis in three studies. Three studies reported increased metabolic rates when ingesting C. aurantium products, presenting a thermogenic substitute for ephedra. (See Caution note below) (4)
• Antioxidant: Study of a methanolic extract of the CA peel showed good antioxdant activity.
• Behavioral Effects: The orange essential oil has been attributed sedative and relaxing properties. In the study in rats, the decrease in level of emotionality in animals suggest a possible central action, in agreement with its phytochemical oil yield of limonene and myrcene components with known CNS depressant activity. (5)
• Safety and Efficacy As Weight Loss Supplement: A study on the safety and efficacy of the herbal remedy citrus aurantium for weight loss concludes that there was no evidence it is effective for weight loss.
• Cardiovascular Effects: A study investigating the cardiovascular effects of CA ingestion, in an herbal blend, on mildly overweight individuals showed that acute ingestion did not lead to increased cardiovascular stress and that fat oxidation increased in certain populations.
• Chemopreventive / Isolimonic Acid / Ichanexic Acid: A study isolated two bioactive compounds - isolimonic acid and a novel compound, ichanexic acid. Both showed varying degrees of inhibitory activity against cancer cells in vitro. Neither showed any apparent cytostatic effects on non-cancerous COS-1 fibroblast cells. Results suggest a potential role for lead structures for the development of cancer chemopreventive and therapeutic agents.
• Anthelmintic: Study evaluated the anthelmintic activity of fresh juice of Citrus aurantium against Indian earthworm Pheretima posthuma. All dilutions showed dose-dependent anthelmintic activity. (9)
• Flavonoids / Apoptosis in Human Gastric Cancer Cells: Study evaluated the anticancer effects of flavonoids isolated from C. aurantium against human gastric cancer AGS cells. The flavonoids induced G2/M phase arrest through modulation of cell cycle related proteins and apoptosis through activation caspase. Results suggest a potential agent for chemoprevention of gastric cancer. (11)
• Synephrine / Other Ingredients Concerns: Study reports on concerns regarding C. aurantium ingredients in dietary supplements. C. aurantium is marketed as a safe alternative to ephedra in herbal weight loss products. C. aurantium also contains synephrine (oxedrine), structurally similar to epinephrine, which may increase blood pressure. It also contains 6',7'-dihydroxybergamottin and bergapten, inhibitors of cytochrome P450-3A, that can increase serum levels of many drugs. (13)
• Essential Oils: Leaf oil of C. aurantium yielded 14 components, the major ones linalool 39%, linalyl acetate 39%, and alpha-terpineol 7%. Peel oil yielded 20 compounds, the major ones being limonene 91%, beta-myrcene 3% and linalool 1%. (14)
• Safety of Citrus aurantium and p-Synephrine: While the potential inherent dangers associated with use of products containing C. aurantium extracts are frequently touted, millions of people consume various juice and food products from Citrus species containing p-synephrine. This review summarizes information on safety of C. aurantium, and that based on current knowledge, the use of bitter orange extract and p-synephrine appears to be exceedingly safe. (15)
• Antispasmodic / Flower Extract: Study investigated the effect of an aqueous extract of flowers on uterine contraction in Wistar rats. Study showed cumulative concentrations of the extract dose-dependently decreased KCl, oxytocin and barium chloride induced uterine contractions. The extract induced antispasmodic effect mainly via calcium influx blockade. Results suggest a potential use of the flowers in the treatment of dysmenorrhea and other uterine spasmodic disorders. (16)
• Cytotoxicity / Human Colorectal Cancer Cell Line / Essential Oil: Study investigated the cytotoxic effect of essential oils of Citrus aurantium L. subspamara peels on a colorectal cancer cell line (Lim1863). Results showed limonene and myrcene to be the main components. The essential oil decreased the viability of Lim cell by over 80%. Results suggest a good potential for antitumor effects. (17)
• 60-day Double-blind Placebo-Controlled Safety Study: Study assessed the safety of bitter orange extract (approximately 49 mg p-synephrine) alone and in combination with naringin and hesperidine in a DB PC protocol. There were no significant changes in systolic or diastolic blood pressures, blood chemistries or cells counts in control or p-synephrine group. On measured parameters, the bitter orange extract and p-synephrine showed no adverse effects at a dose up to 98mg daily for 60 days. (18)
• Antimicrobial / Citrus Rind Oil: Study evaluated essential oil of C. aurantium for antimicrobial activity against various bacteria and fungi. The essential showed significant antimicrobial activity, but the test microorganisms showed different sensitivities, with significant activity against Pseudomonas aeruginosa and Salmonella paratyphi. (19)
• Anticonvulsant / Flowers: Study evaluated the effect of a hydroalcoholic extract of Citrus flowers on PTZ and maximal electroshock-induced seizures models in mice. Results showed an anticonvulsant effect in PTZ and MES induced seizure models. Effect was attributed to ingredients or synergistic effects of its constituents. (20)
• Auricular Acupressure Increase Absorption of Flavanones: Auricular acupressure at specific acupoints can significantly improve the absorption of naringenin and hesperetin.
• Protoalkaloid p-synephrine: Review summarizes published and unpublished studies on C. aurantium and its primary protoalkaloids p-synephrine. p-synephrine alone or in combination with other herbals did not produce adverse events in heart rate, changes in EKG,BP, serum chemistry and urinalysis; it showed increase resting metabolic rate and energy expenditure, and modest increases in weight loss. (22)
• Anxiolytic-like Activity / Essential Oil: Study evaluated the biologic activity underlying the anxiolytic and antidepressant effects of C. aurantium essential oil. Results showed the anxiolytic activity to be mediated by the serotonergic system (5-HT1A receptors). (23)
• Dipsogenesis: Study showed C. aurantium can affect the thirst mechanism in rats with effects that are dose-dependent. Further studies on the association of cell signaling pathway related to leptin and Ang II hypothalamic receptors and pharmacology are needed to evaluate its potential in overweight treatment. (24)
• Nephroprotective: Study of C. aurantium against gentamicin induced renal damage showed a nephroprotective role which may be due to its flavonoid contents and antioxidant properties. (25)
• Blossoms on Preoperative Anxiety: Study assessed the anxiolytic effect of C. aurantium blossom on preoperative anxiety. Results showed CABd may reduce preoperative anxiety in outpatient surgery. The study results open a window towards introducing herbal medicine for premedication. (26)
• Effect on Paroxetine Induced Hyponatremia: Study evaluated the effect of Citrus aurantium juice in paroxetine induced hyponatremia in albino mice. Paroxetine induced alterations in serum protein, cholesterol, triglycerides, calcium, sodium and potassium were brought back to normal. (27)
• Precursors of Naringin and Neohesperidin: Study showed the capacity of glucosyltransferase from cell-free extracts of C. aurantium tissues to glucosylate naringenin and hesperetin, suggesting the prunin and hesperetin 7-O-glucoside are direct precursors of naringin and neohesperidine. (28)
• Aromatherapy with Oil in First Stage Labor: Aromatherapy is the use of fragrant essential oils to stimulate the olfactory system and can create a state of calmness and help in alleviate anxiety. Study showed that aromatherapy with C. aurantium blossom oil is a simple, inexpensive, noninvasive, and effective intervention to reduce anxiety during labor. (29)
• Aromatherapy Improved Sleep Quality in Heart Patients: In a study on Coronary Care Unit patients, aromatherapy with C. aurantium had a meaningful effect on the initiating time of sleep, the sleep longevity, and sleep again after a period of being awake. Results suggest the essence of C aurantium can be used as a sleep remedy for sleep disorders in heart patients. (31)
• Drug Interactions: Major interactions: (1) Medications taken for depression (MAOs), including phenelzine (Nardil), tranylcypromine (Parnate). (2) Midazolam (Versed): Bitter orange may decrease the breakdown of midazolam. Moderate interactions: Caffeine, dextrometorphan, felopidine, indinavir, and medications changed by the liver (Cytochrome P450 3A4 substrates). Also interacts with stimulant drugs. (32)
• Subchronic 90-Day Safety Study: Study evaluated per OECD 308 guidance a 90-day subchronic safety/toxicity study of an extract standardized to 50%- p-synephrine at doses of 100, 300, and 1000 mg/kbw per day. to male and female rats. The no-observed-effect-level was 300 mg/kg, while the no-observed-adverse-effect-level (NOAEL) was 1000 mg/kg. Results suggest a high degree of safety for the bitter orange extract. (33)
• Anxiolytic Effect in Crack Users / Essential Oil: Study evaluated the anxiolytic effects of essential oil of Citrus aurantium in patients going through crack withdrawal. EO was administered by nebulization. Results showed individuals experiencing internal crack cocaine withdrawal presented high anxiety traits and nebulization of EO of C. aurantium provided an acute anxiolytic effect in crack cocaine users exposed to SPS (Simulated Public Speaking). (34)
• Antibacterial / Urinary Tract Infection: Study evaluated the effect extract and essence of C. aurantium on bacterial agents causing urinary tract infections. Results showed a greater effect on gram-positive bacteria compared with gram-negative bacteria in the study. Study suggests a potential adjunct to medication in treatment of UTI caused by gram positive bacteria. (35)
• Effect on Maternal Outcome and Teratogenicity / Essential Oil: Study evaluated the influence of essential oil from fruits of C. aurantium on maternal reproductive outcome and fetal anomaly incidence in rats. Results suggest treatment with CA essential oil was not teratogenic and did not alter maternal reproductive outcome. (36)
• Volatile Constituents / Antioxidant Activity: Study evaluated essential oils of peel, flower and leaves of bitter orange for volatile constituents and antioxidant activity. DPPH assay demonstrated maximum antioxidant activity in the essential oil of old leaves, followed by flowers, young leaves, and peels. (see constituents above) (37)
• Antioxidant Properties of Fresh and Processed Fruit: Study showed a positive association between total phenolics and different antioxidant assays. In processed products, there was an initial decrease in antioxidant capacity, which showed an increase on storage. Results suggests bitter orange exhibited high antioxidant capacity which was retained even in processed and stored products. (38)
• Effect of Uterus Apoptosis From Electromagnetic Field Exposure / Antioxidant: Study evaluated the diminishing effects of C. aurantium on uterus cell injury induced by exposure to ambient electromagnetic field (EMF). Results showed EMF could induce cell injury on uterus tissue and C. aurantium juice has antioxidative effects on uterine tissue by reduction of apoptosis. (39)
• Effect on Sleeping Time and Level of Anxiety / Flowers: Study of various doses of flower extracts of C. aurantium on sleeping time and level of anxiety in male albino mice. Results showed significantly increased sleeping time and decreased the level of anxiety in mice. (40)

Caution !
• Herbal Weight Loss Ingredient / Ephedra Substitute / Synephrine / Risks: Since the banning of ephedra-containing weight loss products, products containing C. aurantium have surfaced. C. aurantium contains flavonoids and can increase blood levels of drugs (cyclosporine, felodipine, indinavir) with potential drug interactions and attendant side effects. Some extracts and/ or supplements contain high levels of synephrine which may cause increased heart rate and other signs and symptoms associated with increased metabolism. (See safety studies above) (3)

Availability
- Cultivated
- Wild-crafted.
- Extracts and tinctures.
- Extracts and ingredient of weight loss supplements in the cybermarket.