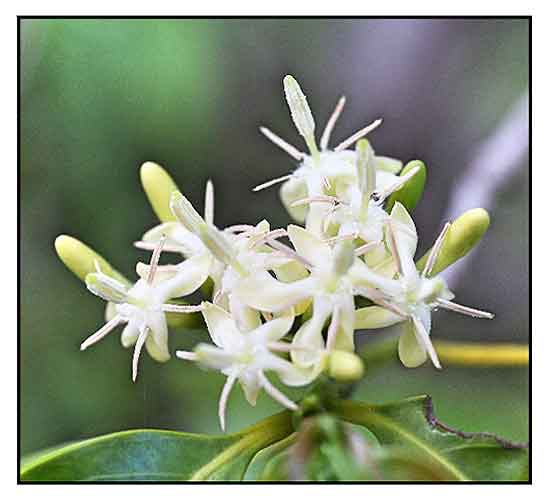 Botany
Dolo is a small tree reaching a height of 15 meters. Leaves are opposite, leathery, elliptic, 10 to 15 centimeters long, 3 to 5 centimeters wide, pointed at both ends, with the stalks often 2 centimeters or more in length with the base of the blade running down the sides of the stalks. Stipules form a cup around the stem on which the leaves grow. Flowers are fragrant and borne in considerable numbers on compound inflorescences 5 to 8 centimeters long, in the axils of leaves and towards the ends of the branches. Calyx is deeply divided with rounded lobes. Corolla is yellowish-white with 5 conspicuous lobes, about 1.5 centimeters in length. Fruit is a berry, reddish when ripe, somewhat rounded, and about 6 millimeters in diameter. Seeds are very small, brown, less than 1 millimeter in diameter, angular in shape, with a very thin seed aril.
Distribution
- On dry, forested slopes on the borders of grasslands, and in thickets at low altitudes in Mindoro, Culion, Busuanga, Palawan, and Balabac.
- Ornamental planting in town parks and along roads.
- Also occurs in Indo-China, the Malay Peninsula, Sumatra, Java, and Borneo.
Constituents
- Bark contains an alkaloid which is reported to be isomeric to strychnine and possessing similar properties.
- Study of bark and leaves isolated a secoiridoid aglycone, named fagrldehyde, together with known secoiridoids gentiopicroside, sweroside, and swertiamarin.
Properties
- Bark considered febrifuge.
- In Malaya, tree has been reported to cause dermatitis.

Parts used
Bark, leaves and twigs.

Uses
Folkloric
- Bark used as a febrifuge, especially in ague.
- Decoction of leaf and twigs used for dysentery.
- In Malacca, decoction of bark has been found effectual in the treatment of malarial fevers.
Others
- Wood: Trunk of the tree is very hard; used for making tool handles and chopping boards, for house and bridge constructions, furniture, and doors.
- Charocoal: Yields good quallity charcoal and fuelwood.
Studies
• Secoiridoids / Fagraldehyde / Weak Anti-Plasmodial: Study yielded a secoiridoid, fagraldehyde, and known secoiridoids gentiopicroside, sweroside, and swertiamarin. Fagraldehyle showed weak activity in vitro against Plasmodium falcifarum. (2)

Availability
Wild-crafted.