General info
The Mayan name "Ix-canan" means "guardian of the forest."
Botany
A small, semi-woody bush that grows to a height of 3.5 meters. Leaves are red-tinged and deeply veined, 10-20 cm long. FLowers are a mass of tubular, bright reddish-orange. Fruit is an edible and juciy berry, turning green to yellow to red, and finally, black when ripe.
Insert
Young leaf.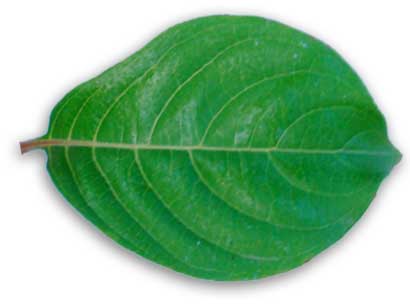 Distribution
In the Philippines, common garden cultivation.

Constituents
Plant is rich in active phytochemicals, including flavanoids and alkalois.
Contains oxindole alkaloids as found in Cat's Claw (Uncaria tomentosa).
The plant contains apigeninc, ephedrine, flavanones, isomaruquine, isopteropodine, maruqine, narirutins, oxindole alkaloids, palmirine, pteropodoine, rosmarinic acid, rumberine, rutin, senociophyulline, speciophylline, and tannin.
Properties
Considered analgesic, antidysenteric, antihemorrhagic, antiparasitic, astringent, diuretic, febrifuge, antiinflammatory, antibacterial, antifungal, anesthetic, antitumor, immunostimulant, nervine, refrigerant, wound-healing.

Parts used
Leaves.
Uses
Edibility
Small dark fruit is edible.
Folkloric
No reported folkloric medicinal use in the Philippines.
In Belize, the plant is used for all types of skin problems including sores, wounds, burns, itching, insect stings and bites. A decoction of leaves is prepared by boiling two handfuls of leaves, stems and flowers in 2 gallons of water for 10 minutes, and applied, after cooling, to the affected areas.
In Panama, the Choco Indians drink a leaf infusion for fevers and bloody diarrhea.
The northwest Amazaon Ingano indians use the leaf infusion for intestinal parasites.
The Peruvian Amazon use the leaves for dysentery, fevers, rheumatism, and scurvy.
Warmed poultice of leaves are used for bruises, strains and sprains.
In Brazil, the root is used as a diuretic, the leaves for scabies and headaches.
In Latin America, the palnts is used for skin conditions, diarrhea, partum pain, menstrual disorders.
In Cuba, the leaves are used for headaches and sores; a decoction drank for rheumatism.
In Central America, used for wound healing.
In Mayan folk medicine, used for chronic wounds and tumors.
Others
Leaves and stems used for tanning.

Studies
• Antibacterial: (1) Leaves of Hamelia patens was one of 21 extracts from seven herbal drugs evaluated for antibacterial properties. All exhibited activity against E coli, P aeruginosa, Staph aureus and E faecalis. (2) Of four plants tested, H patens was the only herb to inhibit E coli.
• Oxindole Alkaloids: Studies have revealed new oxindole alkaloids, named Hamelia patens alkaloid A, B, and C.
• Ephedriine: A study in India revealed that the plant contains small amounts of ephedrine (0.05%), giving it" negative" press.
• Immunomodulatory / Antidepressant: (1) The aerial parts of the plant found to contain rosmarinic acid, a phytochemical with immune modulating and antidepressant activity. (2) Studies have isolated alkaloids including pteropodine and isopeteropodine, patented as effective immune stimulants and have also shown to have an effeft on brain neurotransmitters (5-HT2 receptors) that are target points for drugs studied for anxiety, depression, obesity and pain.
• Wound Healing: Study showed Hamelia patens increased the breaking strength of wounds significantly more than the control group. Further wound healing studies of this plant are warranted.
• Anti-diarrheal: An in vivo study of methanol extract on mice and rats exhibited an antidiarrheal response; the inhibitory response in the uterus and intesting was dose dependent.
• Cytotoxic / Anticancer: In a study of nine plants for cytotoxic activity, the root bark of H patens exhibited the highest cytotoxic activity on HeLa cells (cervix adenocarcinoma).
• Myometrial Relaxant Activity: Study showed all extract samples exhibited a concentration-dependent relaxation of KCl-induced contraction in rat myometrium, an activity attributed to alkaloids counteracting the effects of isopteropodine. However, in contrast with verapamil, H patens extracts are poor relaxants.

Availability
Ornamental cultivation.