Botany
Doña Aurora is a shrub or small tree, 3 to 5 meters high. Leaves are opposite, broad-ovate, with short-pointed tips, dark green and glossy. Calyx lobes are expanded into white or greenish-white, large, leaf-like, oval bracts; the green blade expanded with short-acute or blunt tip. Flowers are small, tubelike, expanded into 5, ovate lobes, yellowish orange in color.
Hybrids
M. philippica var. aurorae is the progenitor of the horticultural hybrids - Doña Alicia, Doña Luz. Mussaenda Doña Luz is a hybrid between M. Doña Aurora and M. Doña Trining.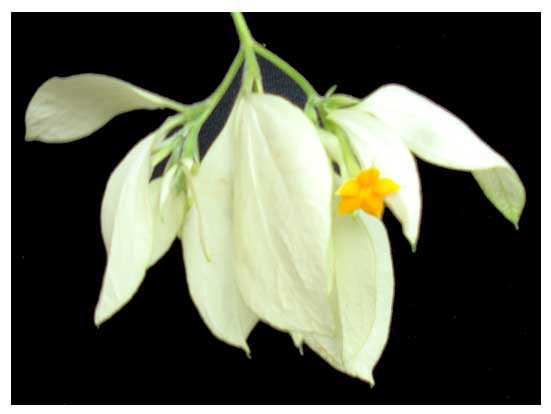 Distribution
The cultivar is native to the Philippines, popularly grown in most towns and cities.
Parts used
Roots, leaves, sepals.

Uses
Folkloric
(Folkloric uses derived from Mussaenda philippica / Kahoi-dalaga)
- Plant is used for dysentery and snake bites.
• Decoction of roots and leaves used for affections of the chest and lung.
• Root and the while, full-grown sepals are used in jaundice.
• Bark used for stomach ache.
• Externally, decoction of leaves used as emollient.
• For influenza, the tambalan healers of Samar use the scrappings of the bark of M. philippica and C. dichotoma. Mixed and pounded, the expressed juice strained and mixed with lemon extract; taken three times daily.

Availability
Wild-crafted.