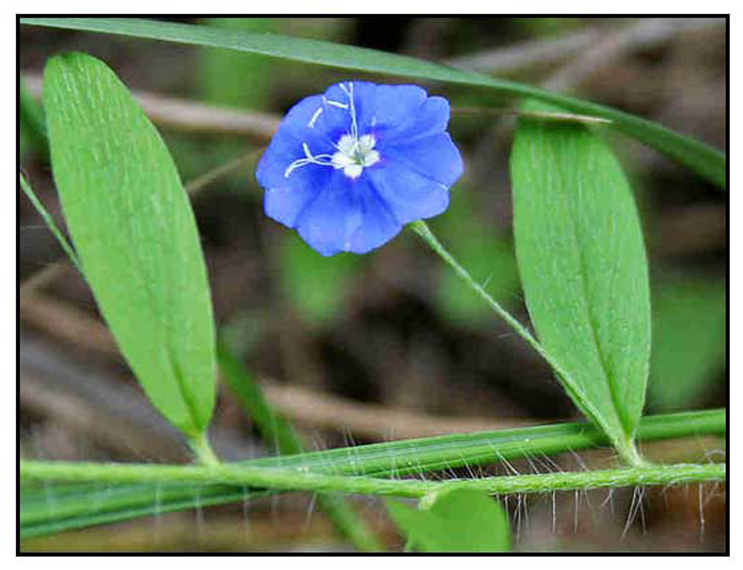 Botany
Evolvulus alsinoides is a very slender, more or less branched, spreading or ascending, usually extremely hairy herb. Stems are 20 to 70 centimeters long, not twining. Leaves are densely clothed with appressed, white and silky hairs, variable, lanceolate to ovate, usually 0.5 to 1 centimeter in length or larger; the apex is blunt with a little point, and the base pointed. Flowers are pale blue or nearly white, 6 to 8 millimeters in diameter. Fruit is a capsule, rounded, usually containing 4 seeds.
Distribution
- Locally abundant, from northern Luzon to Mindanao, in open grasslands at low and medium altitudes.
- Pantropic.
Constituents
- Plant contains a yellow neutral fat, an organic acid and saline substances.
- Yields alkaloids: betaine, shankhapushpine and evolvine.
- Fresh plant contains a volatile oil.
- Studies have reported scopoletin, scopolin, umbelliferone, ferulic acid esters, palmitic, stearic, oleic, 9-methyldecanoic and heptadecanoic acids.
- Plant yields alkaloids, amino acids, carbohydrates, betaine, evolvine, phenolic compounds, proteins, sterols, tannins.

Properties
- Considered alterative, febrifuge, anthelmintic, antiphlogistic, tonic and vermifuge.
- Large doses may cause drowsiness and decreased mobility; however, with no toxic effects.

Parts used
Entire plant.

Uses
Folkloric
- Infusion of entire plant used to cure irregularities of the bowels. Also used as vermifuge and febrifuge.
- In the Goa territory, whole plant used extensively as tonic and febrifuge.
- In decoction or infusion, used as alterative, febrifuge, anthelmintic and antiphlogistic.
- With cumin and milk, used for fevers, nervous debility and loss of memory; also used for syphilis and scrofula.
- Used as sovereign remedy for bowel complaints, especially dysentery.
- In India, used with oil to promote hair growth.
- Roots used by Santals for intermittent fevers in children.
- In Nigeria and India, leaves made into cigarettes and smoked in chronic bronchitis and asthma.
- In west tropical Africa, used as febrifuge, leprosy, pulmonary ailments, stomach troubles, vermifuge and for general healing.
- In Unani and Ayurveda traditional systems, used as nootropic or brain-tonic, used for memory loss, nervous debility, fever, epilepsy and immune disorders.
- Dried leaves rolled into cigarettes and smoked to treat bronchitis and asthma.
- Oil from the plant used to stimulate hair growth.
- In Sri Lanka, roots and stem extract used for dysentery and depression. Leaves used for asthma and mental disturbances.
- In India, decoction of roots used for coughs and colds.
Others
- In the old Sudanese Kingdom, used with other herbs as a charm to exorcise evil spirits causing disease. Women would burn the plant to fumigate the hut during puerperium and use a warm infusion as wash during the 40-day purification.
- In Ghana, the Hausa use the plant in love-potions and religious practices.

Studies
• Adaptogenic / Anti-Amnesic: Evolvulus alsinoides is used in the traditional Indian system of medicine, Ayurveda, for its memory enhancement, antiepileptic and immunomodulatory properties. Study of ethanolic extract suggested adaptogenic and anti-amnesic properties with improvement in the peripheral stress markers and scopolamine induced dementia. (2)
• Antiulcer / Anticatatonic Activity: Study of alcoholic extract showed marked antiulcer and anticatatonic activity. (3)
• Learning Behavior / Memory Enhancement: Study of significant reversal of amnesia induced by scopolamine. Results also showed potent memory enhancing effects. (4)
• Anxiolytic / Antioxidant: Study showed significant reduction of neuromuscular coordination indicating muscle relaxant activity at higher doses. Results showed anxiolytic and antioxidant activities of E. alsinoides extracts and substantiates claims for use in stress-induced disorders. (5)
• Antioxidant / Insulin Effect: Study evaluated the therapeutic effect of Evolvulus alsinoides on antioxidant activity in pancrease of experimental diabetes. Results showed effective reduction of oxidative stress induced by streptozotocin and potentially increased the insulin level. Results suggest a potential use in the management of diabetes. (8)
• Anti-Inflammatory / Antipyretic / Antidiarrheal: Study of an ethanolic extract of whole plant in female albino rats showed anti-inflammatory effect with inhibition of carrageenan-induced paw edema, antipyretic effect with reduction of hyperpyrexia induced by Brewer's yeast in rats, and marked anti-diarrheal activity against castor oil-induced diarrhea. (9)
• Protective Effect on Glycoprotein Alterations in Diabetic Rats: An ethanolic extract showed a beneficial effect on glycoprotein components. Results suggest a potential use for prevention of glycoprotein mediated complications in diabetes mellitus. (11)
• Anthelmintic / Antimicrobial: Study evaluated an ethanolic extract of e. alsinoides for anthelmintic and antimicrobial activities. Results showed the extract to be more portent than reference drug piperazine citrate with dose dependent paralysis/death of adult Indian earthworm Pheretima posthuma. Antimicrobial activity showed activity against P. aeruginosa and E coli. comparable to reference control ampicillin trihydrate. (12)
• Lipid Effects / Antimicrobial: Study showed an ethanolic extract significantly reduced levels of triglycerides, phospholipids, cholesterol, and free fatty acids, and increased HDL. Results suggest it may be a useful supplementation for hyperlipidemia prevention in diabetes mellitus. (13)
• Hypoglycemic Effects / Antimicrobial: Study showed a whole plant ethanolic extract has significant effect on glucose and protein metabolism, suggesting a potential use in the clinical management of diabetes mellitus. (14)
• Cardioprotective Effects: Study evaluated possible attenuation of acute myocardial infarction in isoproterenol (ISP)-treated rat model. Results showed myocardial adaptation by augmenting endogenous antioxidants and protected rat hearts from oxidative stress associated with ISP induced myocardial injury. (15)
• Antidyskinesial Activity: Study evaluated a methanol extract of E. alsinoides for antidyskinesial activity using acute reserpine induced dyskinesial rats. Results showed decreased transfer latency on the elevated plus maze task paradigm and reversal of reserpine induced changes in locomotor activity. (16)
• Free Radical Scavenging Activity / Glutamate Induced Neurodegeneration: Study evaluated a whole plant extract for antioxidant activity in glutamate induced neurodegeration. Results showed E. alsinoides may be effective in treatment for various neurodegenerative diseases, possibly due to an effective free radical scavenging property. (17)
• Gastroprotective Activity / Vishnukranti Kalka Paste: Study evaluated the gastroprotective activity of vishnukrati kalka (paste) prepared from mixing the dry powder of whole plant of Evolvulus alsinoides with cow ghee, bee honey and common sugar. Results showed strong and dose-dependent gastroprotective activity, increasing the pH of gastric juice, mucus, and carbohydrate contents. It was well tolerated without renal toxicity. (18)
• Anti-Stress Constituents: Study isolated 2 new and 6 known compounds. Compound 1 ( 2,3,4-trihydroxy-3-methylbutyl 3-[3-hydroxy-4-(2,3,4-trihydroxy-2-methylbutoxy)-phenyl]-2-propenoate) exhibited the most promising antistress effect by normalizing hyperglycemia, plasma corticosterone, CK, and adrenal hypertrophy. (19)
• Bactericidal Activity Against H. pylori: Study showed Evolvulus alsinoides has promising bactericidal activity against Helicobacter pylori. (20)
• Anti-Inflammatory Activity: Study of chloroform and ethyl acetate extracts showed significant anti-inflammatory activity with carrageenan and formalin induced paw edema models in rats. (21)
• Anticonvulsant Activity: Study of a methanolic extract suggested the presence of bioactive principles that may be beneficial in the treatment of epilepsy. Results showed dose-dependent decrease in duration of seizure. (22)

Availability
Wild-crafted.