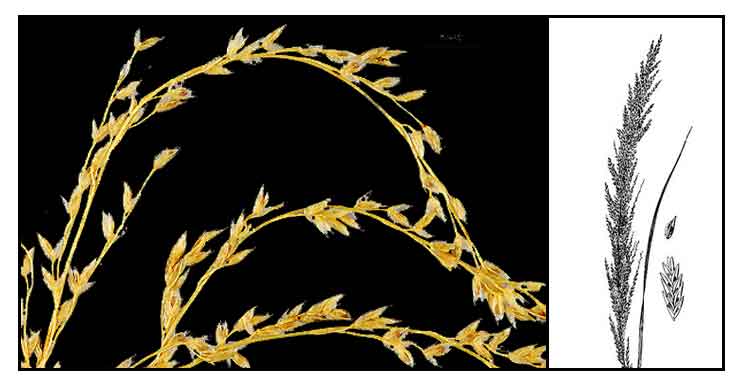 Botany
Grama is an erect, loosely tufted grass, 0.8 to 1.5 meters high. Leaves are 12 to 20 centimeters long, 3 to 5 millimeters wide. Panicles are elongated, erect, 20 to 40 centimeters long; branches are slender, usually fascicled, often up to 12 centimeters long. Spikelets are pedicelled, very numerous, pale, 2 to 4 millimeters long; the flowering glumes, 6 to 10, about 1 millimeter long.
Distribution
- In open, wet grasslands, along streams, etc., at low and medium altitudes from northern Luzon to Palawan and Mindanao.
- Also occurs from tropical Asia and Africa to Japan and Malaya.
Constituents
- Study of methanol extract of aerial parts yielded isoorientin, isovitexin, and caffeic acid. Total phenolic content (TPC) and total antioxidant activity (TAC) were 10.63 ± 0.31 mg/g and 2.83 ± 0.06 mg/g, respectively. (see study below) (7)
Properties
- Used as fodder.
- Studies have suggested antioxidant, neuroprotective, and mild antimicrobial activities.

Parts used
Leaves, whole plant.

Uses
Folkloric
- Infusion of fresh leaves administered externally as a poultice for headaches.
- In Korea, whole plant use on wounds and as analgesic.
Others
- Fodder: Used to induce lactogene in cows. (•) In Pakistan, whole plant used as fodder by cattle, buffalo, sheep, and goats. (6)
Studies
• Antimicrobial / Dental Pathogens: In a study of Korean medicinal plants for antimicrobial and anti-biofilm activities against dental pathogens, E. japonica exhibited growth inhibition of 29 ± 0.06 and 7 ± 1.1 % against Streptococcus mutans and Candida albicans, respectively. (5)
• Neuroprotective / Antioxidant / Aerial Parts: Study evaluated the antioxidant and neuroprotective activities of aerial parts of seven Eragrostis species. While all showed antioxidant and neuroprotective activities, E. japonica was the most active of the species, with the highest TPC and TAC, and the second highest neuroprotective value (23.0 µg/mL.) (see constituents above) (7)

Availability
Wild-crafted.