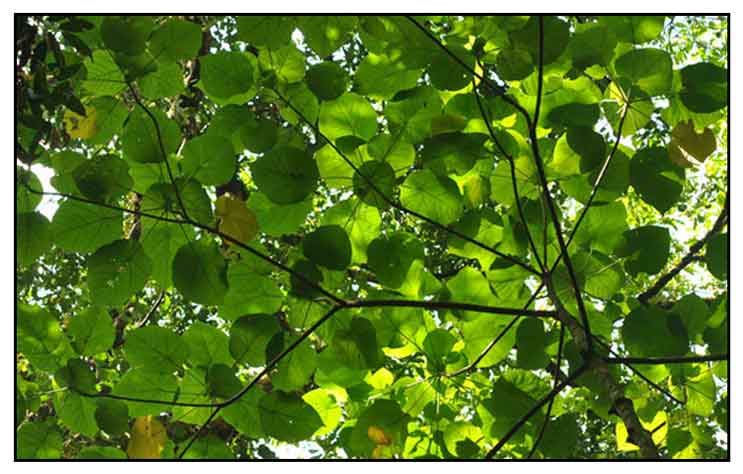 Botany
Gubas is a large forest tree, 10 to 25 meters high. Leaves are crowded at the ends of the twigs, elliptic or broadly ovate to somewhat rounded, 15 to 20 centimeters long, 10 to 18 centimeters wide, entire, and deeply cordate at the base. Inflorescence is axillary, nearly as long as the petioles, and densely hairy. Male flowers are whitish and densely clustered along the short paniculate branches. Female flowers are borne in spicate racemes. Fruits is smooth, ovoid, fleshy, about 1 centimeter thick and containing 1 to 4 seeds.
Distribution
- In primary forests at low altitudes in Cagayan, Benguet, Bataan, Rizal, Laguna, Quezon, Camarines, Albay, and Sorsogon Provinces in Luzon; in Mindoro; and in Mindanao.
- Also found in Peninsular Thailand, the Andaman Islands, Borneo, northern Sulawesi.

Properties
Alternative, depurative, antidiarrheal.

Parts used
Bark, leaves.

Uses
Edibility
- Seeds reported to be edible.
- Edible oil obtained from seeds.
Folkloric
- Poultice of fresh leaves applied to abdomen in diarrhea.
- Decoction of bark taken internally; considered an effective depurative and alterative.
Others
- Wood: In Polillo, the soft wood used for making furniture, boxes, splints, matches and shoes. Spiral shavings of the wood used as core material in the manufacture of wood panels (placarol).

Studies
• No studies found.

Availability
Wild-crafted.