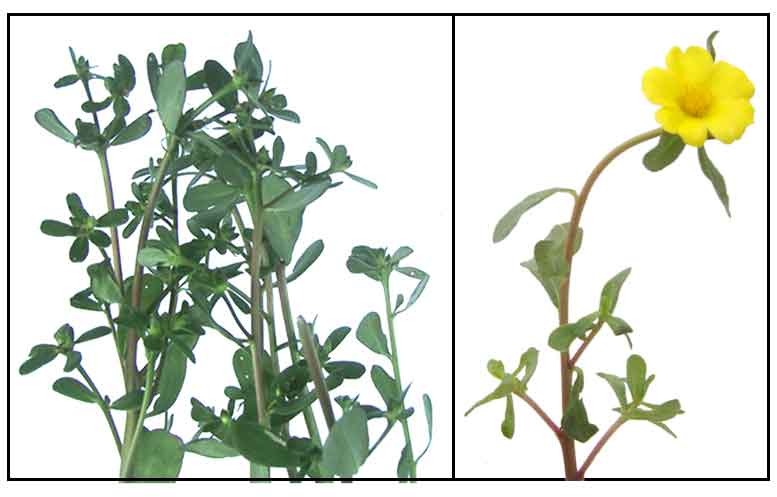 Botany
Olasiman is an annual, prostrate or spreading, succulent, branched, smooth, often purplish herb, with the stems 10 to 50 centimeters long. Nodes are without appendages. Leaves are fleshy, flat, oblong-obovate, 1 to 2.5 centimeter long, with obtuse apex and wedge-shaped base. Flowers are yellow, stalkless, axillary and terminal few-flowered heads. Heads are solitary or cymose with compressed buds. Petals are five and yellow, about as long as the sepals and notched at the tip. Flowers open only for a few hours in the morning. Fruits are capsules which dehisce horizontally containing many minute, dark brown, heart-shaped seeds.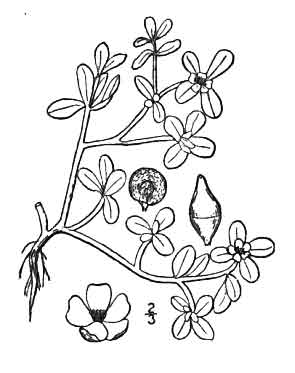 Distribution
- A very common weed found throughout the Philippines in settled areas.
- Now occurring in all warm countries.
Constituents
- Phytochemical screening yielded tannins, steroids, flavonoids, saponins, and alkaloids.
- Contains large amounts of l-norepinephrine, a neurohormone with vasopressor and antihypotensive activities.
- High in nutrients, including vitamins (A, B, B2, C, niacinamide, nicotinic acid, a-tocopherol, B-carotene), minerals, fatty acids (esp omega-3), glutathione, glutamic acid and aspartic acid. Also contains flavonoids, alkaloids, saponins and urea.
- Plant contains urea, vitamin C, ash (1.6%), and fat (4%).
- Study of fresh aerial parts isolated ß-sitosterol, ß-sitosterol-glucoside, N,N'-dicyclohexylurea, and allantoin.
- Air dried and powdered aerial parts yielded saponin (32% as the highest constituent), alkaloid (26%), tannin, flavonoid, cardiac glycoside, terpenoid, protein, and starch. (30)
- Study of aerial parts yielded a new compound: portulacerebroside, identified as (2S,3S,4R)-2-[(2′R,4E)-2′hydroxy-hexacosenoylamino]-3,4-dihydroxy-hexadecane-1-O-β-D-glucopyranoside. (31)
- Rich in potassium (494mg/100g), followed by magnesium (68mg/100g) and calcium (65mg/100g). (see study below) (39)
- Purslane has the highest level the omega-3 fatty acid alpha-linolenic acid (ALA 300-400 mg). It is also the richest source of gamma-linolenic acid (LNA, 18:3 w3) (4 mg/g fresh weight) of any green leafy vegetable. (see study below) (39)
- Nutritive analysis per 100 g yielded: (Principle) energy 16 Kcal, carbohydrate 3.4 g, protein 1.3 g, total fat 0.1 g, cholesterol 0 mg; (Vitamins) folate 12 ug, niacin 0.480, pantothenic acid 0.036 mg, pyridoxine 0.073 mg, riboflavin 0.112 mg, thiamin 0,047 mg, vitamin A 1320 IU, vitamin C 21 mg; (Electrolytes) sodium 45 mg, potassium 494 mg; (Minerals) calcium 65 mg, copper 0.113 mg, iron 1.99 mg, magnesium 68 mg, manganese 0.303 mg, phosphorus 44 mg, selenium 0.9 µg, ˆzinc 0.17 mg. (Source: USDA National Nutrient data base) (see study below) (40)
- Study of lipid composition yielded neutral lipids, linoleic acid (66.7%) and triolene (26.7%) and polar lipids: Linolenic acid (50%),Oleic acid (35%), phospholipids (5%) and diacylglycerol. (41)
- The water extract of flower fraction yielded the highest total phenolic acid content and the highest O2-scavening activity. Leaves yielded the highest amount of total flavonoids and ascorbic acid. The predominant phenolic acid in all fractions was chlorogenic acid. Rutin was the major flavonoid in leaf, and myricetin in flower and stem. (see study below) (48)
Properties
- Considered antihemorrhagic, antipyretic, diuretic, vulnerary, antiscorbutic, refrigerant, tonic, febrifuge, anthelmintic.
- Leaves are succulent and acid.
- Studies have shown anti-ulcer, anti-tumor, wound healing, analgesic, anti-inflammatory, antidiabetic, antilipidemic, antitussive, bronchodilatory, antifungal, renoprotective, hepatoprotective, antifertiliy, antioxidant properties.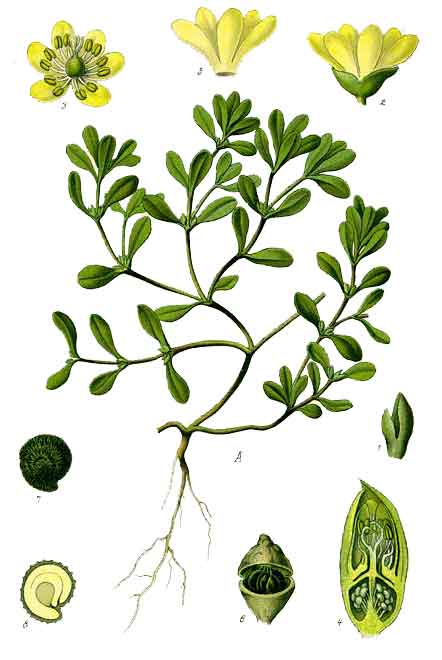 Parts utilized
· Whole plant.
· Harvest when the vegetative parts are well-developed.
· Cut off the roots, steam, sun-dry.
· May also be used fresh.

Uses
Edibility / Culinary
- Plant has been used as medicine, vegetable and spice since ancient Egyptian times.
- Leaves are succulent; used as a vegetable component in salads.
- Condiment for fish and meat.
- Excellent source of calcium and iron; also, vitamin C and ash.
- Used as alterative pot herb, particularly as an article of diet for scurvy and liver diseases.
Folkloric
· Pounded leaves and stems for tumors, swellings, bruises, gout and erysipelas.
· Decoction of leaves used as a wash for skin diseases.
· Poultice of leaves and tops used as anti-hemorrhagic, also used for burns, cuts and wounds.
· Juice used for dysmenorrhea, dysuria, dysentery, and for expelling worms.
· Leaves are used for poulticing tumors, bad wounds and ulcers; also for blenorrhagia and leucorrhea.
· The seeds have also been used as antilymphocyte; also used for dysentery and mucous diarrhea.
· In Punjab, used as vermifuge.
· Infusion of leaves and tops used as diuretic beverage.
· Decoction of seeds used as diuretic.
· For diarrhea: boil dried drug 20 to 40 gms in a cup of water to a concentrated solution and drink; fresh materials, use 40 to 100 gms.
· Poisonous bites or snake bites: get the fresh plant, wash thoroughly, add salt and crush, then cover the affected part with the preparation.
· Eczema: put crushed plant with its juice over the sensitive area.
· Acute gastroenteritis, bacillary dysentery, orchitis, nephritis, beriberi, edema: use 30 to 60 gms of dried material in decoction.
· Pulmonary tuberculosis, whooping cough: use 24 to 30 gms dried material in decoction.
· Furuncle infections: aside from treatment taking drug orally, external administration may also be applied in the form of poultice.
· In China used an emollient.
· In West Tropical Africa used for local applications to swellings, bruises, whitlow, etc. Also used as drops for earaches and toothaches.
· Applied to the forehead and temple to allay excessive heat and pain; applied to the eyes to relieve inflammation. Applied to gout to allay the pain.
· Expressed juice of the plant used for prickly heat, as well as burning discomfort of hands and feet.
· Used for scorpion stings.
· In Jamaica juice prescribed for spitting up of blood; also used as cooling medicine for fevers.
· In China leaves used for poulticing tumors, wounds, ulcers and edematous swellings; also for blenorrhagia and leucorrhea.
· In Nigeria applied topically to swellings. Also used as diuretic.
· In Ghana, used for heart palpitations.
· In Trinidad, tissane drunk as vermifuge.
· In Cochin-China and the West Indies seed is used as stomachic and to promote menses; also used as diuretic and emollient.
· Tamil practitioners used the bruised leaves as application in erysipelas; an infusion is used as diuretic in dysuria.
· In Guadalupe plant is used as tonic and febrifuge.
· In Siberia used as a gastric sedative.
· In Indo-China decoction of leaves used for dysentery.
· In the Gold Coast leaves are ground, mixed with oil, and tied on boils to bring them to a head; also, eaten with tiger nuts (Cyperus esculentus) as a remedy for skin diseases; also, macerated in cold water and drunk as heart tonic and diuretic, and for palpitations.
· In Columbia used as emollient, and applied to tumors and callosities.
· In Pakistan, used for kidney, liver, urinary bladder and lung problems.
· In Iranian folk medicine, used to treat abnormal uterine bleeding.
· In Vietnam, plant used as anti-inflammatory, antihelmintic, and antibacterial. Macerated fresh plant juice diluted in water used against oxyuriasis and ascariasis. Poultice of fresh leaves used for treating boils, impetigo, and mastitis. (43)
· In Sri Lanka, seeds used for catarrh and urogenital ailments. In India, plant juice mixed with honey used for cough. (43)
Others
·Magic / Ritual: In ancient times, considered an anti-magic herb, and strewn around the bed to protect against evil spirits; also to protect from nightmares. It was carried in battle to protect soldiers. It was also suppose to attract love and good fortune. (22)
· Fodder: Some studies suggest a nutritious source of animal feed. (caution: see study below [76])

Studies
• Anti-Ulcer / Gastroprotective: Study in mice showed inhibition of gastric lesions induced by HCl or absolute alcohol, with dose-dependent reduction in ulcer severity. The highest dose of extracts were similar to sucralfate in activity. Oral and intraperitoneal administration of the extracts reduced gastric acidity in pylorus-ligated mice. Results suggest that P. oleracea has gastroprotective action and support its use in folk medicine for gastrointestinal diseases. (1)
• Anti-Tumor: Study in mice showed inhibition and/or suppression of gastric tumor cell growth in vitro and in vivo. An aqueous extract showed tumoricidal activity against a human gastric carcinoma cell and human colon adenoma cell line.
• Wound Healing: Study of the fresh homogenized crude aerial parts of Portulaca oleracea applied topically on excision wound surface showed acceleration of the wound healing process with increase in tensile strength and decrease in wound surface area. (•)
• Analgesic / Anti-Inflammatory: Ethanol extract of aerial parts showed significant anti-inflammatory and analgesic effects with intraperitoneal application but not with oral administration. Results support some of the claimed traditional uses for relief of pain and inflammation. (3)
• Bronchodilatory effect / Asthma: Study showed P. oleracea has a relatively potent but transient bronchodilatory effect on asthmatic airways. (4)
• Anti-Diabetic / Decreased Insulin Resistance: Study suggests P. oleracea could improve insulin resistance in rats with T2DM, the mechanism possibly related to its actions in improving lipid metabolism and decreasing free fatty acids. (6)
• Antitussive Effect : Study in guinea pigs showed antitussive effects of Portulaca oleracea comparable to codeine. (7)
• Antifungal activity: Extract study showed a specific and marked activity of P. oleracea against dermatophytes of genera Trichophyton.
• Treatment of Abnormal Uterine Bleeding: Study using seed powder showed that purslane seeds could be effective and safe in the treatment of abnormal uterine bleeding.(11)
• Hypoxic Neuroprotective Effect: Study showed Portulaca oleracea extracts enhanced the EPO mRNA and protein expression in mouse cortices. Histological analysis showed the extracts lessened the inflammation damage of the mouse brain and the PO extracts or the herb-containing serum raised the viability of cells under hypoxic conditions. Results demonstrated protective effects on hypoxic nerve tissue. (12)
• Nephroprotective: Study results suggest that P oleracea extract may protect against cisplatin-induced renal toxicity and may serve as a novel combination with cisplatin to limit renal injury. (14)
• Antimicrobial: Study showed the methanolic extract of P oleracea seeds to be active against S aureus, B bronchiseptica and Bacillus cereus. Study has also shown the extract of PO to have antifungal properties against Aspergillus niger and C albicans. (15)
• Hepatoprotective / Rifampicin Induced Toxicity: Study of hepatoprotective activity of hydroalcoholic extract of the stems and leaves of Portulaca oleracea against Rifampicin-induced hepatotoxicity inn rat showed significant hepatoprotective activity, close to silymarin, a well-known hepatoprotective agent.    (18)
• Amelioration of Diabetic Vascular Inflammation / Prevention of Endothelial Dysfunction: Study showed an aqueous extract of Portulaca oleracea suppresses hyperglycemia and diabetic vascular inflammation, and prevents development of endothelial dysfunction. (21)
• Hypolipidemic: Study evaluated the effects of alcoholic extract of Portulaca oleracea on lipid profiles of 60 Wistar rats. Results showed significant reduction of cholesterol and triglyceride levels. The activity was attributed to high density of antioxidants and omega-3 found in the herb. (23)
• Antifungal: Study evaluated the antifungal activity of P. oleracea extracts against hyphal growth of various fungi using an automatic single-cell bioassay system Results showed a crude sample of EtOAc extract showed specific and marked activity against dermatophytes of genera Trichophyton. (24)
• Hepatoprotective / Alcohol-Induced Hepatotoxicity: Study evaluated a hydroalcoholic extract of leaf against ethanol-induced hepatic damage. Results showed reversal of altered marker enzymes. (25)
• Attenuation of Diabetic Nephropathy: Study evaluated the renoprotective effect of an aqueous extract of Portulaca oleracea on diabetic nephropathy. Results showed attenuation of diabetic nephropathy through inhibition of renal fibrosis and inflammation in db/db mice. (26)
• Toxicity Studies: Toxicity studies on a methanolic extract were done on mice intraperitoneally. LD50 values showed moderate toxicity with effects on the kidney, lung, and liver in a dose-dependent manner. (27) Study evaluated the toxicity profile of petroleum-ether extract of Portulaca oleracea. No observable serious side effects were recorded in acute and subacute toxicity study, with zero mortality up to 2 gm/kg. (80)
• Antidiabetic / Antioxidant: Antidiabetic treatment with an extract of leaves showed significant reduction in thiobarbituric acid reactive substances and an increase in glutathione reductase in both liver and kidney of STZ diabetic rats. Results showed the extract possesses moderate antidiabetic activity with potent antioxidant potential in diabetic conditions. (28)
• Anti-Implantation / Abortifacient: Study evaluated various extracts on fertility of female albino rats. Petroleum ether, chloroform and ethanol crude extracts showed varying degrees of reduction of implantation. An ethanolic crude extract showed abortifacient activity. (29)
• Anti-Tumor Effect: Study evaluated the therapeutic effect of an ethanolic extract of Portulaca oleracea on tumor-bearing female mice with mammary adenocarcinoma. Results showed significant reduction in tumor volume, inhibition of tumor growth rate. Histologically, there was extensive tumor cell necrosis in the center. Results were attributed to the action of phytochemical compounds against tumor cells. There was no toxic effects on acute toxicity study. (31)
• Immunological Effects in Transplanted Mammary Tumor: Cell-mediated and humoral immunity may have antitumor effects. Study evaluated the immunological effect of a 79% ethanolic extract of P. oleracea in the treatment of transplanted mammary tumor in female albino mice immunized with Candida albicans Ag. Results showed Portulaca oleracea has the capability to enhance the immune system. There was an increase in delayed type hypersensitivity reaction and antibody titer in treated tumor-bearing mice. (33)
• Anti-Fertility Effect: Study evaluated the anti-ovulatory, anti-estrogenic activity of a chloroform extract of air dried aerial parts of P. oleracea in female albino rats. Results showed an anti-fertility effect on ovulation by reducing the number of ova in ovary together with biochemical changes. (34)
• Hypoglycemic Effect: Study of an aqueous extract of P. oleracea showed significant hypoglycemic and anti-hyperglycemic effects in experimental rat models. (35)
• Deleterious Effect on Male Reproductive Function: Study investigated aqueous and methanolic extracts on reproductive parameters in male albino rats. Results showed deleterious male reproductive effects with a significant decrease in testosterone levels, reduction in sperm motility, increase in abnormal sperm cells and reduction of germinal epithelial cells. (36) Study of chromatographic fraction 2 of air-dried specimens showed P. oleracea probably induced significant changes on plasma gonadotrophins and testosterone levels through the hypothalamic-pituitary-testicular axis which could results in sterility. (66)
• Chemical Constituents / Antioxidant Activity: Study of 70% ethanol extract of crude drug of P. oleracea partitioned with EA and n-butanol yielded seven compounds identified as caffeic acid(1), oleracein E (2), oleracein A(3), oleracein B(4), hesperidin(5), adenosine(6) and adenine(7). Study determined the antioxidant activities of different fractions and phenolic compounds. The DPPH radical scavenging activity of three phenolic compounds (2,3, and 4) were higher than controls ascorbic acid and a-tocopherol. (37)
• Phytoconstituents / Omega-3 Fatty Acids: Purslane is one of the richest green plant sources of omega-3 fatty acids without the high cholesterol and caloric content. (It contains no cholesterol.) Purslane lowers cholesterol and triglyceride levels, while raise the beneficial HDL. The presence of high content of antioxidants (vitamin A and C, alpha-tocopherol, beta carotene, and glutathione) and omega-3 fatty acids and its wound healing and antimicrobial effects suggests a potential as a useful cosmetic ingredient. (39)
• Oxalate Contact / Safety Profile / Renal Risks: Purslane contains oxalic acid which may crystallize as oxalate stones in the urinary tract system of some people. 100 g. fresh leaves yield 1.3 g of oxalic acid, more than in spinach (0.97g/100g) and cassava (1.26 g/100g). It should be avoided by patients with known oxalate urinary stones. (40)
• Anti-Dyslipidemic Clinical Trial / Seeds: A triple-blinded randomized placebo-controlled clinical trial on obese adolescent patients using powdered P. oleracea seeds showed significant changes (p<0.05) in the biochemical parameters of TC, LDL-C and triglycerides. The positive effects were attributed to polyphenolic and antioxidant compounds. (44)
• Antibacterial / Cow Mastitis: Study of aqueous and ethanol extracts of P. oleracea showed antibacterial activity against pathogenic bacteria (E. coli, Staph aureus, Strep agalactiae, and Strep. dysgalactiae) of cow mastitis. Highest activity was against E. coli, and ethanolic extracts showed higher antibacterial activity than aqueous extracts against E. coli. (45)
• Treatment of Oral Lichen Planus / Clinical Trial: A randomized double-blind placebo-controlled trial evaluated the effectiveness of antioxidant-rich purslane in the treatment of oral lichen planus (OLP) in 37 biopsy-proven patients with symptomatic OLP. 83% of purslane patients showed partial to complete clinical improvement. No serious side effects occurred. Results suggest a favorable alternative treatment for OLP. (46)
• Protection Against UVB-Induced Apoptosis: Study investigated the protective activity of P. oleracea extracts against UVB-induced damage in human epithelial keratinocytes and fibroblasts by apoptosis-related tests. Results suggest protective effects from UVB-induced apoptosis. (47)
• Microchemical Components: Study investigated the microchemical components of purslane stem, leaf and flower. Results showed Thai wild purslane could be a nutritional source for animal feed and an excellent vegetable in the human diet. (see constituents above) (48)
• Antidiabetic / Seeds: Study investigated the antidiabetic activity of purslane seeds on type-2 diabetic subjects. Results showed PO seeds could be effective and safe as adjuvant therapy for T2-diabetic patients, evidenced by notable hypoglycemic, hypolipidemic and insulin resistance reducing effects. (49)
• Antibacterial / Seeds and Leaves: Study of hydroalcoholic extract of leaves and seeds of P. oleracea showed marked antibacterial effect against nine bacteria resistant to standard antibiotics such as erythromycin, cefixime, ceftazidime, tetracycline, ampicillin and amikacin. (50)
• Cytogenetic Effects: Study evaluated the cytotoxic effect of 70% ethanolic crude extract of P. oleracea on normal human lymphocytes (in vitro). Cytogenetic testing is a routine cytotoxic research for different compounds used in the treatment of human diseases, analyzing genotoxic effects of medicinal plant extracts in human lymphocyte culture. The most sensitive tests for potential mutagenicity and carcinogenicity are the quantifying of cytogenetic parameters including MI % (mitotic index) and BI % (blast index). Results showed a positive relationship between mitotix index (MI) and concentration the plant extractit. (51)
• Effect on Psychologic Symptoms of Chronic Schizophrenia: A clinical trial evaluated the effect of purslane on psychological symptoms of 60 chronic schizophrenic patients. Results showed the use of purslane as an adjunct to Risperidone can improve psychological condition of chronic schizophrenic patients and decrease MDA and CRP levels. (52)
• Enhancement of RANKL-Mediated Osteoclastogenesis: Study evaluated the effect of ethanol extract of PO showed dual and opposite effects on RANKL-mediated osteoclastogenesis. POEE not only inhibits the generation of RANKL-induced [Ca2+] oscillations and NFATc1 activation but also markedly enhances RANKL-mediated osteoclastogenesis by attenuating RANKL-induced cytotoxicity. caused by release of Ca2+ from internal Ca2+ store. (53)
• Immunomodulatory / Th1/Th2 Balance: Study examined the immunomodulatory property by evaluation of the effect of the plant on IL-4, IL10, IFN-y and T helper (h)1/Th2 balance in non-stimulated and stimulated human lymphocytes. Different concentrations promoted Th1/Th2 balance suggested therapeutic potential in inflammatory diseases associated with Th1/Th2 balance such as cancers and asthma. (54)
• Toxicity Evaluation: Study evaluated the acute and subacute toxicity of hydroalcoholic extract of whole plant of P. oleracea in Swiss albino mice. In acute toxicity testing with dose of 500, 1000, 1500, and 2000 mg/kbw, animals showed different behavioral changes; 50% of animals died in the dose range of 500 mg/kbw and 100% of the animals died at doses of 1000, 1500, and 2000 mg /kbw w.w after 72 hours. Results suggest the LD50 of 500 mg/kbw. In subacute studies, 400 mg/kbw showed significant hepatoprotection. The plant extract may be safe, especially at therapeutic dose which is far lower than the tested doses. (55) Study of 70% ethanolic crude extract of Portulaca oleracea on mice organs showed no significant lesions in the brain, heart, and ovary of all treated groups. No toxic effect was noted on normal mice even at doses of 9599 mg/kbw s/c injection. (58) Toxicity study on intraperitoneal administration of methanol extract on mice showed an LD50 of 1853.5 mg/kg and 1875 mg/kg by Miller & Tainter and Karber methods, respectively. These values place the plant to be moderately toxic. Histopathological changes suggest effect on kidney, lung and liver in a dose-dependent manner. (62)
• Apigenin / Antibacterial: Study isolated flavonoid apigenin from the aerial part of P. oleracea. The apigenin was subjected to antibacterial testing against five pathogenic bacterial strains viz., P. aeruginosa, S. typhimurium, P. mirabilis, K. pneumonia and E. aerogenes. Salmonella typhimurium and Proteus mirabiis showed maximum diameter of inhibition zone. The MIC (minimum inhibitory concentration) for apigenin for all bacterial test strains was >4 mg/mL. (56)
• Hypocholesterolemia: Study evaluated the effects of alcoholic extract of PO on blood fat profiles of 60 wistar rats. Results showed oral intake of alcoholic extract can reduce cholesterol levels, similar to the use of atorvastatin, probably due to the high density of antioxidants and omega-3 in the herb and its effects on the mechanisms of cholesterol synthesis inhibition. (57)
• Ulcerative Colitis: Study showed decoction of Portulaca oleracea exhibited benefits on the ulcerative colitis in mice with regards general condition, body weight, colonic mucosal pathology. Possible mechanisms include reduction of tissue immunity reactive state and reduction of mucous membrane inflammatory damage. (17)
• Protective Effect on Dextran Sulphate-Induced Ulcerative Colitis:  Study evaluated the protective effect of ethanol extract of P. oleracea on dextran sulphate-induced ulcerative colitis in C57BL/6 mice model through oxidative stress and inflammatory pathway. Results showed PO could provide effective protection by increasing the colon length, MDA, NO, SOD activities, reduction the mRNA expression of pro-inflammatory cytokines and protein expressions of TNF-α and NF-kB p65. (59)
• Cytotoxic Effect / Human Liver and Lung Cancer Cell Lines / Seed Oil:  Study investigated the cytotoxic effects of seed oil on HepG2 and A-549 cell lines. Results showed a concentration-dependent significant reduction in percentage of cell viability. Findings suggest exposure to seed oil of PO resulted in significant cytotoxicity and inhibition of growth of human liver cancer and lung cancer cell lines. (60)
• Skin Whitening and Wrinkle Reduction Effect: Study evaluated emulsion lotion formulations of natural sources containing P. oleracea for skin effects (whitening, anti-aging activity, and fine wrinkle diminish effect). Results suggest P. oleracea extract possess potent anti-oxidative effect and/or free radical scavenging activity, together with a positive effect on collagen synthesis by increasing protein synthesis and increased tyrosinase inhibitory activity. The potent fine wrinkle and clearing activity has potential for the formulation of advanced skin care cosmetics. (61)
• Anti-Psoriasis / Combination with Calcipotril: P. oleracea and calcipotriol have been reported to exhibit anti-inflammatory activity in psoriatic patients and improved their clinical condition. This study evaluated the therapeutic efficacy of PO combined with calcipotril on plaque psoriasis and its potential mechanism. The combination therapy decreased adverse effects, reduced transepidermal water loss, potently reversed keratinocyte differentiation dysfunction, and inhibited the expression of TNF-α and IL-8 and the phosphorylation of NF-kB inhibitor lkBα. Results suggest suitability for used as novel adjuvant in the treatment of psoriasis. (63)
• Antidepressant: Study evaluated the antidepressant-like effects of distilled water extract of P. oleracea investigating the role of -amino-3-hydroxy-5-methyl-4-isoxazole-propionic acid (AMPA) receptors in producing these antidepressant-like effects in a mouse model. Results showed antidepressant-like activity which may be related to AMPA receptor. Pre-treatment with NBQX significantly attenuated the reduction in mobility time induced by the PO extract in the FST (forced swim test). (64)
• Ergosterol / Effect on Hematological Parameters: Ergosterol, isolated from P. oleracea, was evaluated for effects on hematological parameters of albino rats. Treatment of rats with 0.50 mg/kbw and o.75 mg/kbw caused significant )p<0.05) increase in packed cell volume (PCV) value relative to controls. Treatment with 0.75 mg/kbw of ergosterol caused significant (p<0.05) increase and decrease in Hb (hemoglobin concentration) and eosinophil values, respectively. (65)
• Hepatoprotective / Acetaminophen Induced Toxicity: Study evaluated the role of P. oleracea on acetaminophen induced hepatotoxicity. Results demonstrated effective antioxidant activity, possibly reversing APAP-induced hepatotoxicity by regulating reactive oxygen species (ROS) in the liver of mice. PO also inhibited APAP and TNFα-induced activation of JNK, whose activation play an important role during APAP induced liver injury. (67)
• Ecdysterone / Antioxidants: Study of methanolic extract of P. oleracea yielded up to 0.532 mg (in 100g of dry powder) of ecdysterone in addition to ƒsitosterol. Ecdysterone is a powerful natural anabolic steroid which increases growth of muscle protein, blood cells and stamina, and reduces fat, without any known side effects. Ecdysterone has been found to have a number of medicinal properties viz., antidiabetic, cardioprotective, anti-inflammatory and hepatoprotective. (68)
• Interaction with Vecuronium on Animal Neuromuscular Junction / Muscle Relaxant: Study examined the interaction of P. oleracea with vecuronium on the neuromuscular junction in experimental animal. Results showed P. oleracea has muscle relaxant property evidenced by decreasing time of head drop and complete block. The relaxant property of fresh juice is probably due to high content of potassium. (69)
• Wound Healing in Diabetes: Study of evaluated an ethanolic extract of purslane for wound healing activity in STZ-induced diabetic rats. Topical treatment with purslane was applied on full thickness open excision wound in rats. The levels of VEGF (vascular endothelial growth factor), total antioxidant capacity, fibrinogen, protein S and protein C were significantly higher in the purslane treated group. Results showed acceleration of wound healing and suppression of oxidative stress of STZ in diabetic rats. (70)
• Cytotoxic and Antiproliferative in Various Cancer Cell Lines: Study evaluated the potential anti-profliferative and cytotoxic effects of P. oleracea against human hormone dependent breast cancer MCF-7 cell, colon cancer HT-29, cervical cancer Hela cell and nasopharyngeal cancer CNE-1 cell lines. P. oleracea was able to reduce viability of all tested cancerous cell lines. PO showed anti-proliferative effect on CNE-1, HeLa and HT-29 and DNA fragmentation on MCF-7 cells. (71)
• Amelioration of Cisplatin-Induced Toxicity in Chick Liver: Cisplatin is a cytotoxic agent used in the treatment of cancer. Study investigated the protective role of aqueous extract of aerial parts of Portulaca oleracea against cisplatin-induced hepatotoxicity in chick embryonic liver. Results showed pretreatment with Po extract provide significant protection against cisplatin-hepatotoxicity as evidenced by recovered levels of altered changes in measure biochemical parameters. (72)
• Polysaccharides / Improvement of Exercise Endurance and Decrease Oxidative Stress: Study of polysaccharides from PO showed improvement in exercise endurance and decrease oxidative stress in forced swimming mice. P. oleracea elevates the levels of antioxidant enzymes (SOD, GPx, and CAT) while decreasing MDA levels in the liver. (73)
• Analgesic / Synergism of Seed Extract with Estradiol: Study evaluated the effect of co-administration of PO seed extract and estradiol. Results showed appropriate doses of PO seed extract and estradiol have pain lowering effects with synergistic effect on reducing pain. (74)
• Analgesic / Anti-Inflammatory / Acute Toxicity Testing: Study of petroleum-ether extract of P. oleracea in Swiss albino mice showed antinociceptive ( acetic acid induced writhing, formalin test and tail immersion) and anti-inflammatory (carrageenan induced paw edema in rats) activities. Acute toxicity testing showed the pet-ether extract was non-toxic up to a maximum dose of 2000 mg/kbw. (75)
• Antimicrobial against Campylobacter jejuni: Campylobacter jejuni is one of the main microorganisms causing diarrheal diseases. Study evaluated the antimicrobial activity of fermented P. oleraceae made with probiotics and plant-origin lactic acid (PLAB) isolated from P. oleracea against C. jejuni. The 10 mg/ml concentration of fermented PO extract made with Leuconostoc mesenteroides and the lactic acid bacteria isolated from purslane showed the strongest antimicrobial activity against C. jejuni. (76)
• Clinico-Pathological Effects on Nubian Goats: Feeding trials were conducted in Nubian goats at doses of 5 mg/kbw and ad libitum. Consumption caused weakness of the fore and hind limbs with inability to stand, water diarrhea, and polyuria. Hepatonephropathy and enteritis along with alterations in some blood and serum constituents were observed. Authors advise the plant is not recommended for animal nutrition when given daily, fresh, and in large quantities. (77)
• Aurantiamide: Aurantiamide and aurantiamide acetate are main active constituents of purslane. Study validated a method to quantitate the concentrations of aurantiamide and aurantiamide acetate in plasma and various organ tissues of rat to study their pharmacological profile and distribution in vivo. Results may serve as a first step toward the investigation of the underlying mechanisms associated with the biological activity of purslane. (78)
• Antidiabetic Activity and Blood Lipid Effect of Polysaccharide from Purslane (POP): Treatment with polysaccharide from Portulaca oleracea (POP) significantly increased the concentration of HDLc and serum insulin level in diabetic mice. POP at a dose of 400 mg/kbw exhibited optimal effect. Results suggest that the polysaccharide from PO can control blood glucose and modulate metabolism of glucose and blood lipid in diabetic mice. (79)

Availability
- Wild-crafted.
- Tinctures and supplements in the cybermarket.