Botany
Hanopol is a stout and woody climber. Leaves are oblong-ovate or subobovate, 15 to 25 centimeters long, 8 to 15 centimeters wide, tapering to a point at the apex, rounded or heart-shaped at the base, smooth or hairy on both surfaces, dotted and streaked with cystoliths. Stipules are large, rusty-brown, and smooth. Male heads are about 6 millimeters in diameter, in broad, short, peduncled, dichotomous cymes. Stamens are 3 or 4. Female heads are about 25 millimeters in diameter, occurring in rounded, concave, deciduous bracts. Flowers are sweet-scented.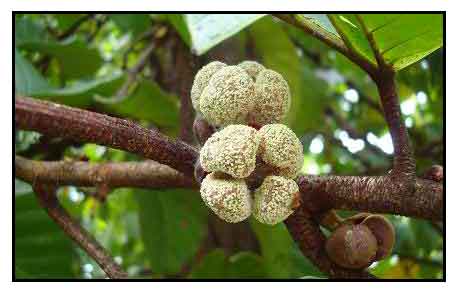 Distribution
- Common in forests at low and medium altitudes from northern Luzon to Mindanao.
- Also occurs in Borneo, China, India, Indonesia, Malaysia, Thailand, and Vietnam.

Parts used
Roots, sap, stem.

Uses
Edibility
- In Malaysia, young cooked leaves are eaten as vegetable.
Folkloric
- The Higaonon tribe of Rogongon in Mindanao apply the latex or sap of stem for relief or treatment of sore eyes. (5)
- In Celebes, plant is used for diseases of the eye.
- In Lower Siam, sap is considered cooling for fevers. In Java, sap is used for the same purpose.
- Malays used the a poultice of roots for itches and fevers.
- In Java, pounded stems made into hair wash to destroy vermin.
- In Serampas, Indonesia, used for beri-beri. (6)
- In Northern Thailand, one of the plants used in the preparation of postpartum herbal baths. (1)
- In Malaysia, sap used for stomach ulcers; shoots applied to wounded skin. (2) Sap from stem is drunk for postpartum treatment.
- In Malaysia, stem sap prepared in an oral drink, used for night fever. (9)
Studies
• Antiviral: In a study of antiviral activity of plant extracts with cells infected with virus for 24 hours, two plants showed moderated antiviral activity: Poikilospermum suaveolens and Pseuduvaria macrophylla.
• Postpartum Baths:Study evaluated the use of medicinal plants--168 species belonging to 80 families and 145 genera, 131 wild and 37 cultivated in home gardens--by the Mien in Nan Province for potential value in the primary healthcare of postpartum women. The most common preparation was decoction or oral use and bathing uses. Poikilospermum suaveolens was one of the plants used in postpartum bath formulae. (9)
• Antiviral / Cytotoxicity: In a study of methanolic extract f leaves from plants collected from Malaysian forests, P. suaveolens showed brine shrimp toxicity >1000 mg/L, Vero cytotoxicity CTC50 575.44 mg/L, and was one of two plants that showed moderate antiviral activity in cells inoculated with MV (measles virus.) (10)
• Myrmecophilic Disposition / Association with Ants:Study (Jolivet, 1996) reported that stipules and capitulate inforescences of Poikilospermum suaveolens usually harbor ant, e.g. Dolichoderus sp. (thoracicus group). He suggests the plant has a myrmecophilic disposition. The plant has nectaries at the base of the inflorescence and spacious stipules suitable for habitation by carton-building ants. (11)
• Anti-Babesial Potential:Study evaluated 45 plants from Central Kalimantan, Indonesia for inhibitory effects against Babesia gibsoni in vitro and acute toxicity to mice. Twenty-one extracts exhibited antibabesial activity with IC50 values ≤ 62.5 µg/ml. Poikilospermum suaveolens showed an IC50 of 56.0 ± 3.5. (12)

Availability
Wild-crafted.