Botany
Hanopol is a stout and woody climber. Leaves are oblong-ovate or subobovate, 15 to 25 centimeters long, 8 to 15 centimeters wide, tapering to a point at the apex, rounded or heart-shaped at the base, smooth or hairy on both surfaces, dotted and streaked with cystoliths. Stipules are large, rusty-brown, and smooth. Male heads are about 6 millimeters in diameter, in broad, short, peduncled, dichotomous cymes. Stamens are 3 or 4. Female heads are about 25 millimeters in diameter, occurring in rounded, concave, deciduous bracts. Flowers are sweet-scented.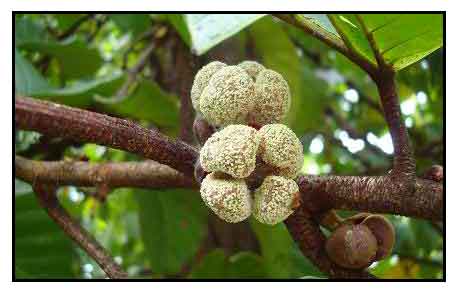 Distribution
- Common in forests at low and medium altitudes from northern Luzon to Mindanao.
- Also occurs in Borneo, China, India, Indonesia, Malaysia, Thailand, and Vietnam.

Parts used
Roots, sap, stem.

Uses
Edibility
- In Malaysia, young cooked leaves are eaten as vegetable.
Folkloric
- The Higaonon tribe of Rogongon i Mindanao apply the latex or sap of stem for relief or treatment of sore eyes. (5)
- In Celebes, plant is used for diseases of the eye.
- In Lower Siam, sap is considered cooling for fevers. In Java, sap is used for the same purpose.
- Malays used the a poultice of roots for itches and fevers.
- In Java, pounded stems made into hair wash to destroy vermin.
- In Serampas, Indonesia, used for beri-beri. (6)
- In Northern Thailand, one of the plants used in the preparation of postpartum herbal baths. (1)
- In Malaysia, sap used for stomach ulcers; shoots applied to wounded skin. (2) Sap from stem is drunk for postpartum treatment.
Studies
• Antiviral: In a study of antiviral activity of plant extracts with cells infected with virus for 24 hours, two plants showed moderated antiviral activity: Poikilospermum suaveolens and Pseuduvaria macrophylla.

Availability
Wild-crafted.