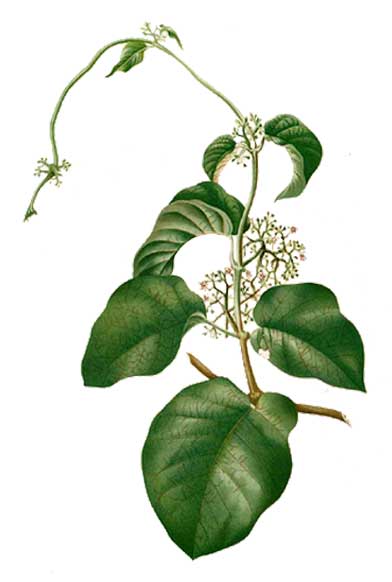 Botany
Hinggiu-kalabau is a woody vine with rather slender stems. Leaves are hairy, elliptic to elliptic-ovate, 7 to 15 centimeters long, 4 to 8 centimeters wide, rounded or heart-shaped at the base, and pointed at the tip. Cymes are axillary, solitary or in pairs, lax, and 4 to 9 centimeters long. Calyx is small and greenish. Corolla is purple, rotate, and 5 millimeters in diameter, with ovate or oblong-ovate lobes. Fruit is a follicle, cylindric, 5 to 9 centimeters long, slender, hairy, and pointed at the tip.
Distribution
- Found only in the Philippines.
- Common in thickets and secondary forests at low altitudes in Nueva Viscaya, La Union, Pangasinan, Tayabas, Bulacan, Bataan, Rizal, and Albay Provinces in Luzon, and in Mindoro.
Properties
Considered vulnerary.

Parts used
Latex.

Uses
Folkloric
In the Philippines, latex is used for wound healing.

Availability
Wild-crafted.