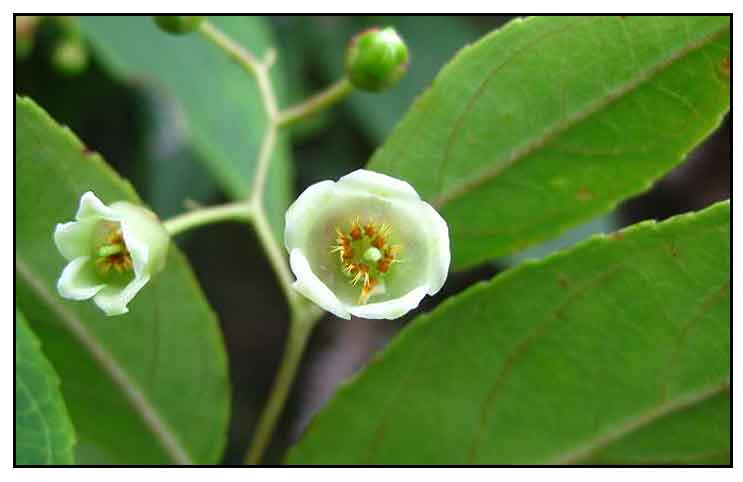 General info
- The genus Gaultheria is comprised of approximately 134 species, mostly used as ethnic drugs for the treatment of rheumatism and pain.
Botany
Idsa is a small shrub growing to a height of 30 cm to 2 meters, prostrate, erect or climbing in habit. Leaves are ovate or lanceolate, 2 to 7 centimeters long, 1 to 2 centimeters wide, pointed at the tip, rounded or somewhat heart-shaped at the base, with toothed margins. Flowers are small, 3 to 5 millimeters across, borne on racemes at the axils of the leaves. Calyx is cup-shaped, the lobes ovate, triangular and ciliate, Corolla is bell-shaped, 3 to 6 millimeters long, with 5 blunt and recurved lobes about 1.5 millimeters long. Fruit is a capsule, rounded, 4 to 7 millimeters in diameter. Edible portion is the dark-blue, fleshy and enlarged calyx. Seeds are numerous.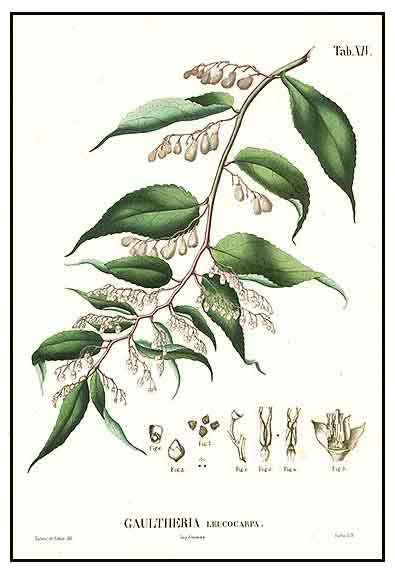 Distribution
- In thickets, ravines, and sometimes on open slopes at altitudes from 1,300 to 2,400 meters in Bontoc, Lepanto, Benguet, Quezon, Laguna; in Mindoro, Negros and Mindanao.
- Also occurs in Taiwan.
Constituents
- Leaf contains gaultherin, an essential oil, resembling the odor of wintergreen from the North American species, Gaultheria procumbens.
- Study of G. yunnanensis yielded two methyl salicylter glycosides, viz., methyl benzoate-2-O-β-D-xylopyranosyl(1-6)-O-β-D- gluco-pyranoside (J12122) and methyl benzoate-2-O-β-D-xylopyranosyl(1-2)[O-β-D- xylopyranosyl(1-6)]-O-β-D-glucopyranoside (J12123),
- Stem and roots of Gaultheria leucocarpa var. yunnanensis yielded of seven active ingredients in the stems and roots, including (+)-catechin, rutin, gentisic acid, vallinic acid, salicylic acid, quercetin, and protocatechuic acid. (10)
- Roots, stem, and leaf yielded (+)-lyoniresinol-2a-O-ß-L-arabinopyranoside, (+)-lyoniresinol-2a-O-ß-D-glycopyranoside, (-)-isolariciresinol-2a-O-ß-D-xylopyranoside. (12)
Properties
Stomachic.

Parts used and preparation
Leaves

Uses
Edible
- Edible portion is the enlarged calyx.
Folkloric
- In the Mountain Province, a decoction of leaves taken as tea, is stomachic.
- In traditional Chinese medicine, used for liver cirrhosis and ascites, traumatic injuries, rheumatoid arthritis, back and joint pains.
- In China, G. leucocarpa var. yunnanensis is used to treat rheumatic arthritis, menstrual problems, cold, cough, asthma, eczema, ascites, wounds, amebic dysentery, prostatitis. (9)

Studies
• Gaultherin: Gaultherin, from which methyl salicylate (oil of wintergreen) is released by mild hydrolysis has been reported from this species.
• Chemical Constituents: Study isolated four compounds: n-dotriacontaine and its homologous compound, ursolic acid, vanillic acid, and quercitrin. (2)
• Anti-Inflammatory / Methyl Salicylate Glycosides: Study Gaultheria yunnanensis isolated two methyl salicylate glycosides. Both dose-dependently inhibited the production of tumor necrosis factor-a, interleukin-1ß, and IL-6. Results show anti-inflammatory properties through inhibition of production of pro-inflammatory cytokines, NO, and ROS. (3)
• Gaultherin / Anti-Inflammatory: Gaultheria yunnanensis has yielded gaultherin, 2-[(6-O-β-d-Xylopyranosyl-β-d-glucopyranosyl)oxy] benzoic acid methyl ester, a natural salicylate derivative , has been shown to have analgesic and anti-inflammatory effects. Study suggested gaultherin did not cause gastric ulcer, releasing salicylate in the intestine slowly, not in the stomach, leaving COX-1 unaffected, the source of cytoprotective prostaglandins in gastric epithelium. (4)
• Antibacterial: Extracts of water, acetic ester and n-butanol showed anti-Staphylococcus aureus action, and the extracts from root and stem showed the same result. Two extracts showed activity against Escherichia coli and Pseudomonas aeruginosa.(6)
• Antibacterial / Antiinflammatory / Analgesic: The volatile oil of roots of G. yunnanensis showed bacteriostatic activity. Acetate and butyl alcohol extracts exhibited strong anti-inflammatory activities in mice. (7)

Availability
Wild-crafted.