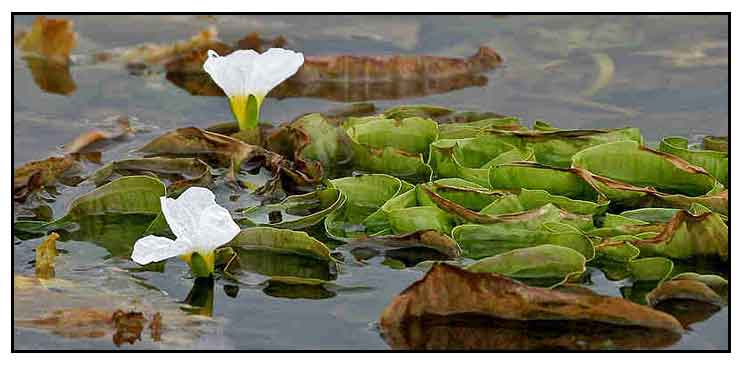 Botany
Kalabua is an aquatic plant. Roots are fibrous. Leaves are extremely variable, with short or long petioles, according to the depth of the water. Blades of the submerged leaves are often narrow; the floating ones, ovate or somewhat rounded, with a rounded or often heart-shaped base, 5 to 20 centimeters long. Flowers are white, about 2 centimeters in length. Fruit is oblong, 2.5 to 4 centimeters long.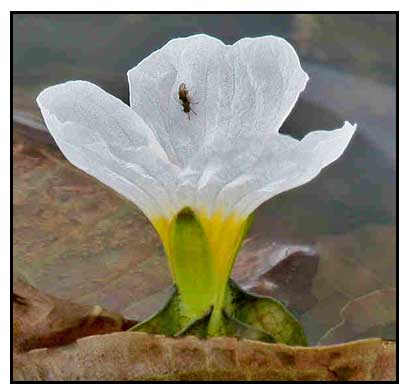 Distribution
- Widely distributed in the Philippines.
- In shallow fresh water of lakes, pools and slow-running streams.
- Occurs wild from Indo-Malaysia to the Pacific Islands and East Asia to Australia.
Constituents
- Study isolated two diastereomeric 4-methylene-2-cyclohexenones, otteliones A and B. (see study below) (2)
- Study isolated ten new diarylheptanoids (2, 3, 4, 5a-d, 6, 7, and 8) together with a hydroxylated analog of otteliones A and B, namely 3a-hydroxyottelione. (11)
Properties
- Febrifuge, rubefacient, antibacterial.
- Studies have shown antitubercular, cytotoxic properties.

Parts used
Leaves, flowers.

Uses
Edibility
- Fruit is often sought by children.
- Petioles, tender leaves and inflorescences are flavorful and used as vegetable in South East Asia.
Folkloric
- Leaves used as arm and leg poultices in fever.
- Leaves are used as topicals for hemorrhoids.
- Leaves used for snake bites.
- In Assam, India, flower paste taken orally early morning for curing hemorrhoids. (6) In Tamil Nadu, India, leaves used to treat hemorrhoids. (13)
- The Bodo community in Assam, India, use a decoction of ground leaves mixed with shoots of Ipomoea aquatica, Allium sativum, Lasia spinosa, Ocimum sanctum, Centella asiatica, and Typha angustata for the treatment of pneumonia. (10)
- In China, plant prepared as paste and applied to abscesses of the breasts, cancer, ulcers and burns. Leaves used to check bleeding. (8)
- In West Bengal, India, paste of dry seeds used externally on boils for relief of burning sensation. Dry leaf powder applied externally for various skin ailments. (15)
Others
• Aquarium: Used as aquarium plant.
• Toothpaste: Invention relates to preparation of a toothpaste using Ottelia alismoides. The O. alismoides toothpaste is believed to have beneficial cleansing effect, among others. (14)

Studies
• Anti-Tubercular: A clinical trials, extract of Ottelia alismoides cured two cases of bilateral tuberculosis of cervical lymph glands within 3 months. Results suggest O. alismoides to be a promising medicinal herb with anti-tubercular effect. (1)
• Otteliones / Cytotoxicity: Study isolated otteliones A and B from the fresh water plant Ottelia alismoides. The natural products showed remarkable in vitro cytotoxicity against various cancer cell lines. (2)
• Heavy Metal and Radionuclides Uptake / Cytotoxicity: There are four mechanisms involved in heavy metals uptake by plants: phytoextraction, phytovolatilization, phytostabilization, and rhizofiltration. Phytoextraction uses plants to absorb, concentrate, and precipitate heavy metals from soil. Hyperaccumulators take up to 100 times the concentration of metals as other plants. Study showed that Ottelia Pers. submerged plants may become hyperaccumulators of heavy metals and radionuclides especially in locations of tin ore mines. The concern is for humans and animals who consume fishes and prawns caught from these areas.
• Phytovolatilization: Phytovolatilization is the plant extraction of volatilve metals such as mercury and selenium from sludge and soils and release them through transpiration to the atmosphere as a detoxified vapor. Ottelia alismoides was selected to determine the heavy metal and radionuclide that accumulate from tin mines. (7)
• Ottelione A Analogues / Anticancer: Ottelione A, isolated from the fresh water plant O. alismoides, is among the most potent natural product that possess in vitro antiproliferative activity, with an IC50 in the pM-nM range against 60 human cancer cell lines. Study established the relationship of antimitotic ottelione A against tubulin and various cancer cell lines. Further optimization of substituents generated compound 10g with a 3′-fluoro-4′-methoxyphenylmethyl substituent, which was 6–38-fold more active against MCF-7, NCI-H460, and COLO205 cancer cells relative to 4. (12)

Availability
- Wild-crafted.