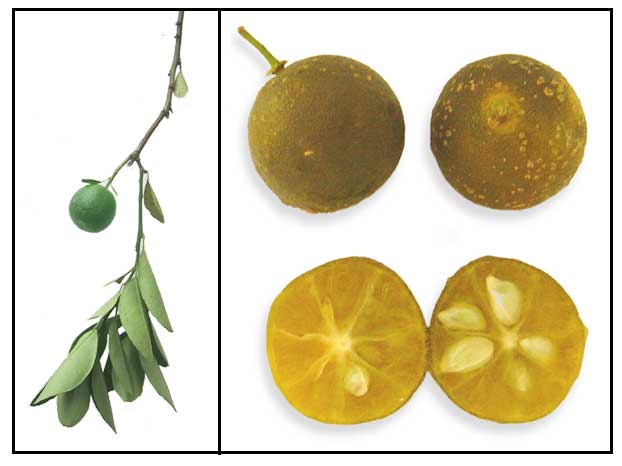 Snippet
- Calamondin is a cultivar related to Citrus, a citrofortunella, a hybrid between Citrus reticulate Blanco and Fortunella spp. (The botany of citrus and its wild relatives / W.T. Swinle, P.C. Reece / The Citrus Industry, Vol 1: pp 190-422, 1967) (21)

Botany
Kalamansi is a smooth and slightly spiny plant, growing to a height of 3 to 5 meters. Leaflets are elliptic to oblong-elliptic, 4 to 8 centimeters long. Petioles are very narrowly or scarcely winged, about 1 centimeter long. Flowers are axillary, solitary, rarely in pairs, white, and short-stalked. Fruit is yellow when ripe, nearly spherical, 2 to 3.5 centimeters diameter, 6- to 7-celled, and thin-skinned. The skin or peel is green to yellowish green or yellow, loosely adhering to the flesh. The flesh contains a few light orange seeds.
Distribution
- Widely cultivated in the Philippines.
- The species is native to the Philippines.

Constituents
- Leaves yield volatile oil, 0.9 to 1.06%.
- Rind yields aldehydes; sesquiterpenes; beta-pinene; linalool; linelyl acetate; tannin; glucoside; cyanogenetic substances.
- Study on the volatile constituents of calamondin peel or whole fruit essential oil yielded 54 compounds, including 13 monoterpenes, 7 monoterpene alcohols, 1 monoterpene oxide, 4 monoterpene aldehydes, 2 monoterpene ketones, 4 monoterpene esters, 12 sesquiterpenes, 3 alipathic alcohols, 6 alipathic aldehydes, and 2 alipathic esters, with limonene and ß-myrcene as major compounds. (see study below) (15)
- In a study of essential oil by hydrodistillation, the major component identified in the peels was limonene (94.0%); minor components were ß-myrcene (1.8%), linalool (0.4%) and α-terpineol (0.3%). Leaf essential oil yielded an abundance of sesquiterpene hydrocarbons including hedycaryol (19%), α-sesquiphellandrene (18.3%). α-eudesmol (14.4%), and ß-eudesmol (8.6%). (20)
- Calamondin yields a large quantity of 3',5'-di-C-ß-glucopyranosylphloretin (DGPP) in the peel, juice sac, and leaves. (21) (22)
- Study for carbohydrate and phenolic content yielded 2.342 ± 0.0022 and 0.053 ± 0.0015, respectively. (28)
Properties
- Aromatic, antiseptic, antiphlogistic, carminative, deodorant, refrigerant.
- Studies have suggested antimicrobial, antianxiety, antidepressant, hepatoprotective, expectorant, antioxidant properties.

Parts used
Fruit, leaves, roots.

Uses
Culinary / Nutrition
- It is fairly sour and is a popular seasoning for many local food.
- Served with iced-tea, seafoods and meats.
- Also used for making juice and marmalade.
- Kalamnsi-ade is a rich source of vitamin C
- Rind and fruit used as condiment.
Folkloric
- For an aromatic bath, juice mixed with gogo.
- Warm kalamansi-ade drunk for cough, colds and sore throat.
- For nausea and fainting, rind is squeezed near nostril to inhale.
- Applied externally for itching.
- Higaonon tribe of Mindanao use decoction of leaves to lower hypertension. Juice from partly roasted fruits used for coughs and colds. (10)
- Fruits crushed with bark of Entada phaseoloides used as hair shampoo, for itching and to stimulate hair growth.
- Juice of fruit used for Acne vulgaris and Pruritis vulvae.
- In Malaysia, used as an antidote for poison.
- Poultice of pandanus leaves, mixed with salt and juice of citrus microcarpa, for abscesses.
- In Malaya, combined with pepper to help expel phlegm.
- Root used at childbirth.
- Leaf oil used as carminative, with a effect stronger than peppermint oil.
- Fruits crushed with bark of Entada phaseoloides used as hair shampoo, for itching and to stimulate hair growth.
Others
- Bleaching agent: Cut fruit and apply directly on freckles.
- Stain Remover / Shampoo: Juice is used to remove ink stains from clothes and washing women's hair. Also used for bleaching freckles.
- Insect repellent: The Ayta people of Porac, Pampanga burn the leaves as insect repellent. (16)
- Essential oil: Used as ingredient in commercial preparation of food, detergents, perfumes, cosmetics, antiseptic, and aromatherapy products.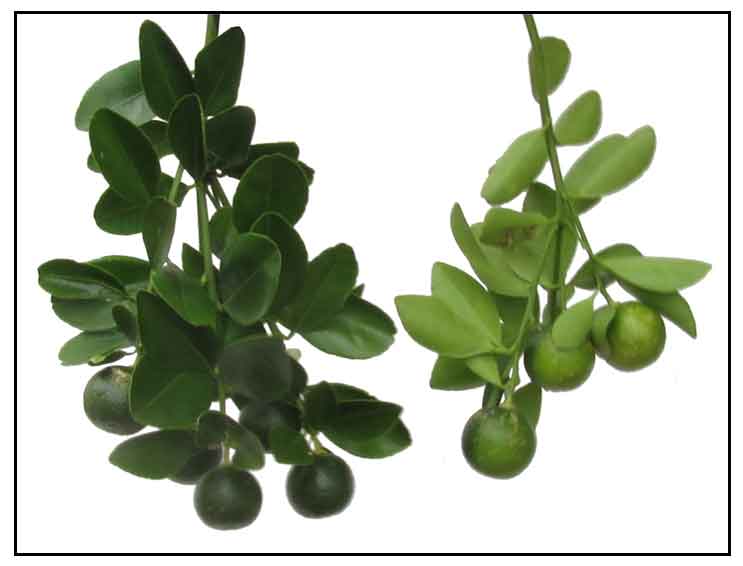 Studies
• Antimicrobial: Antimicrobial properties of tropical plants against 12 pathogenic bacteria isolated from aquatic organisms: A study on the antibacterial activity of 9 tropical plants against 12 clinical and pathogenic bacterial strains including Vibrio cholera, Escherichia coli, Vibro parahemolytics, Salmonella and Streptococcus sp. showed activity against one or more species of bacteria. Citrus microcarpa was one of the most active. (1)
• Antimicrobial: Paper described the potential of A. sativum and Citrus microcarpa extracts as alternative antimicrobial agents for local edible frog culture industry.
• Antimicrobial / Aquaculture: Study isolated 2-hydroxypropane-1,2,3-tricarboxylic acid from the crude extract of C microcarpa. The study results suggest that both the crude extract and its bioactive component might have potential as an antimicrobial in aquaculture use. (2)
• Antianxiety / Antidepressive: Study provides evidence that the smelling of essential oils of C hystrix and C microcarpa confer anxiolytic effect. It concludes that essential oils of the Citrus family may affect behavior. (3)
• Hepatoprotective: Kalamansi peel extract exhibited hepatoprotective activity against Acetaminophen-induced liver disease in male SD rats, comparable to commercially available silymarin preparations. (5)
• Expectorant / Seeds: Seeds yield alkaloid, carbohydrates and protein. An alkaloidal extractive was incorporated to the formula of the final product which is an expectorant syrup was based on the ipecac syrup. (7)
• D-Limonene / Seeds: Study tested the effectiveness of citrus oil d-limonene extracted from calamansi (Citrus microcarpa) rind in dissolving expanded polystyrene foam. (9)
• Musk Lime Seeds / Oil: Seeds of musk lime represent a substantial waste product of small-scale citrus-processing plants, constituting about 100.0 ± 3.2 g/kg of whole fruit, with a considerable amount of crude fat (338.0 ± 11.3 g/kg). Study showed musk lime seeds are a rich source of oil, unusual in having linoleic, oleic and palmitic acids dominating the fatty acid composition. The oil is relatively stable to thermal oxidation due to combined presence of oleic and palmitic acids (61.0%) and highly nutritive due to its high concentration of unsaturated fatty acids (73%). (8)
• Citrus Antioxidants: Study showed C. microcarpa contained a high amount of phloretin-3′,5′-di-C-glucopyranoside that was shown to possess a high Trolox Equivalent Antioxidant Ratio (TEAR) value due to its 2,4,6-trihydroxyacetophenone structure. Essential oils obtained from all citrus fruits showed very high radical-scavenging activity against the DPPH radical, well in excess that in leaves. (11)
• Comparative Antimicrobial Activity / Citrus Peels: Study compared the antibacterial properties of methanol extracts of five varieties of citrus peels (Citrus aurantifolia, C. reticulata, C. microcarpa, C. limon, and C. sinensis) against Streptococcus pyogenes, S. aureus, E. coli, and P. aeruginosa. At 20 mg/ml, the methanol extract of Citrus microcarpa, C. reticulata and C. sinensis showed better inhibition against S. aureus and E. coli compared to C. aurantifolia and C. limon. Citrus peel extracts showed better antifungal activity than antibacterial activity. (12)
• Larvicidal Against Dengue Virus Vector Ae. aegypti: Study evaluated four Philippine plants species, Citrus microcarpa (calamansi), Chromolaena odorata (hagonoy), Nephelium lappaceum (rambutan), and Jasminum sambac (sampaguita) for larvicidal activity against third instar larvae of dengue mosquito, Aedes aegypti. The 500 ppm ethanolic extract from C. microcarpa provided 24-hr mortality of 80%, slightly lower than 100% mortality obtained in black pepper. C. microcarpa may be considered as a possible larvicide substitute to Ae. aegypti if other biological means are not available. (13)
• Potential Hemostatic / Extracted Pectin / Peels: Study evaluated the production of potential hemostatic agents from extracted pectin of calamansi peels blended with polyethylene oxide. Results suggest the pectin/polyethylene oxide blends exhibits hemostatic properties. Also, as radiation dose and pectin concentration increased, the blood clotting ability of the samples also increased. (14)
• Essential Oils / Whole Fruit and Peel: Study evaluated the volatile constituents of calamondin peel or whole fruit by cold pressing, steam distillation, or hot water treatment. Hot water heating increased the yields of essential oils from both whole fruit and peel. Whole fruit oil yielded higher levels of monoterpene alcohols, such as linalool, terpinen-4-ol, and a-terpineol, which may contribute to the aroma profile of fruit tea. Peel oil yields higher contents of sesquiterpenes, such as germacrene D. (see constituents above) (15)
• Antibacterial / Antioxidant / Leaves: Study evaluated the antibacterial and antioxidant properties of leaves of three citrus plants viz., Citrus microcarpa (calamansi), C. aurantium (dalandan) and C. maxima (pomelo). All citrus leaves exhibited antibacterial activity against Staphylococcus aureus, with Citrus microcarpa ethanol extract showing the highest diameter zone of inhibition of 13.53 mm. In DPPH scavenging assay, C. microcarpa showed highest scavenging activity of 48.67%. C. carpa also showed the highest phenolic content (309.38 mg AAE/g sample. (18)
• Potential Blood Glucose Lowering / Fruit Peels: Study showed calamansi peels extract has potential for lowering blood sugar in streptozotocin induced diabetic albino rats. (19)
• Immunomodulatory / Shrimp Aquaculture / Peel: Study evaluated the efficacy of crude extracts from C. microcarpa (calamansi) peel, an abundant waste product, as immunomodulation agent for M. rosenbergii, a valued commodity in world aquaculture market. Results showed calamansi peel extracts can induced bacterial resistance against vibrosis cause by Vibrio alginolyticus, one of the major causes of losses in shrimp aquaculture production. Study suggests a potential use of the peel extract as an immunomodulatory feed additive in Philippine shrimp aquaculture industry. (23)
• Biosorption of Congo Red / Peels: Study evaluated the use of unripe calamansi peels as bioadsorbent in the removal of congo red from aqueous solution. Removal of congo red increased at higher adsorbent dose and longer contact time. (24)
• Anti-Inflammatory / Tannins / Rind: Study screened the rind of calamansi (C. microcarpa) for tannins and its anti-inflammatory activity in rats. Extract doses of 250, 500, and 1000 mg/kg showed 51.93%, 52.72%, and 65.70% anti-inflammatory protection, respectively. Aspirin at 300 mg/kg showed 90.93% anti-inflammatory activity. (25)
• Antibacterial / Methicillin Resistant Staphylococcus aureus / Peels: Study evaluated the antibacterial properties (MIC and MBC) of crude extracts of whole seeds of cashew (Anacardium occidentale) and peels of calamansi (Citrus microcarpa) against MRSA. Both crude extracts showed inhibitory activity against MRSA. Cashew seeds showed greater potency. Calamansi peels showed MIC of 1500 µg/ml and MBC of 1500 µg/ml. (26)
• Mosquito Repellent / Essential Oil: Study evaluated the efficacy of essential oils from citrus plants against mosquito vectors Aedes aegypti and Culex quinquefasciatus. The essential oils from C. aurantifolia and C. microcarpa showed best efficiency against Ae. aegypti. C. microcarpa showed a mean protection time of 61.7 ± 2.9 minutes, biting rate of 1.6% and % protection of 98.4. (27)
Availability
- Wildcrafted.
- Perennial market produce.