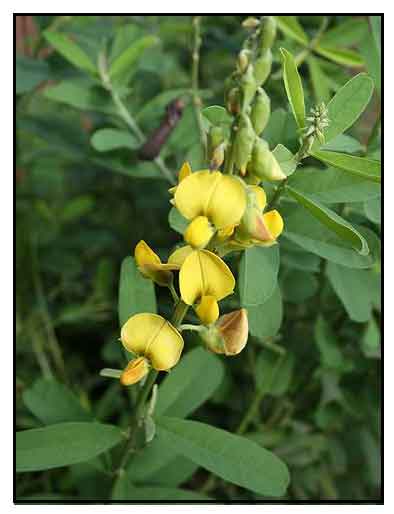 Botany
Kalog-kalog is a half-woody plant growing to a height of 1 meter high. Leaves are alternate, simple, oblanceolate, 6 to 8 centimeters long, 2 to 2.5 centimeters wide, and with rounded ends. Pea flowers are yellow, arranged along a simple terminal flowering stalk (raceme) about 15 centimeters long. Fruits are inflated, smooth, cylindrical pods, 4 centimeters long and 1 centimeter wide, containing several, loose, flattened, black rounded seeds, 3 millimeters in diameter.
Distribution
- A common weed and a hindrance to cultivation and maintenance of orchards and plantations.
- Occasionally utilized as a cover crop and for green manuring.
Constituents
- Study of seeds yielded proximate values of moisture 15.00, fiber 37.50, ash 15.00, crude protein 4.37, oil 15.00, and carbohydrates 13.13%. (see study below) (3)
- Study isolated a pyrrolizidine alkaloid, monocrotaline.
Properties
- Plant is nematode-resistant.
- Known as a butterfly host plant.

Parts used
Whole plant.

Uses
Edibility
- Flowers and leaves reportedly eaten as vegetable.
- In Vietnam, seeds are roasted and eaten.
Folkloric
- No reported folkloric medicinal use in the Philippines.
- In Ayurveda, plant vitiated kapha, vata, cough, dyspepsia, fever.
- Powdered seeds mixed with milk used for increasing body strength; also used for skin diseases.
- In Cameroon, plant used in the treatment of eczema.
- In Tamil Nadu, India, plant used for cough, dyspepsia, fever, cardiac disorders, stomatitis, diarrhea, scabies, impetigo.
- In Zaria, northern Nigeria, powdered plant mixed with roasted black caraway, taken in small quantities for stomach coli and flatulence. Squashed flowers with added potash, cooked into a soup, and taken for amenorrhea. For scabies, decoction of whole plant used for bathing.
- Roots used for hemoptysis.
- Leaves mixed with those of Crotalaria quinquefolia, consumed or applied externally for fever, scabies, lung afflictions, and impetigo.
- In Bangladesh, leaves and seed, fresh juice and paste, used for skin diseases. (9)
- In India, seeds used for skin infection, constipation and pain. (10)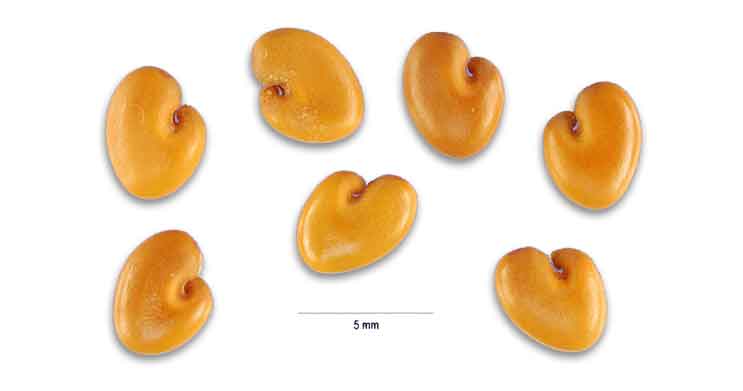 Studies
• Clastogenic: Study of extracts from the fruits of Crotalaria retusa showed a dose-dependent increase in the frequency of chromosomal aberration in mice. No aberrant cells were seen with the leaf extracts. (2)
• Oil and Nutritive Value of Seeds: Study of seeds yielded proximate values of moisture 15.00, fiber 37.50, ash 15.00, crude protein 4.37, oil 15.00, and carbohydrates 13.13%. Oil showed to be non-drying and of low saturation. Saponification value implicated non-edibility, however, with use in production of shampoos, skin creams, and shoe polish. Its fairly high acid value suggested it required little purification to increase shelf-life.(see constituents above) (3)
• Leishmanicide: Study evaluated the cytotoxicity for procyclic promastigotes cells of Leihmania chagasi. Results showed cytotoxicity of EE at 10 and 30% for cells of Leishmania chagasi, an effect that might be associated only to the concentration of the alcohol present in the extract and not to the concentration of the plant in study. (4)
• Monocrotaline / Alkaloid / Neurotoxicity: Study showed MCT treatment caused changes on pattern of glial fibrillary acidic protein and ßIII-tubulin expression, with dose and time dependent intense down regulation and depolarization of neuronal tubulin. The cytochrome P450 enzyme system was involved in the MCT induced cytotoxicity in CNS cells. (5)
• Nematode Resistant: Plant is known to be nematode-resistant. Studies have found the dried plant parts can be worked into the soil as amendments to deter and reduce root galling by root-knot nematode, Meloidogyne incognita.
• Clastogenic Effects on Mouse Bone Marrow Cells: Study evaluated the clastogenicity of six extracts of leaves, tea, aqueous, and methanolic extracts of dried fruit and tea of unripe fruit. Extracts from fruits were shown to cause a dose dependent increase in the frequency of chromosomal aberrations in mice. The possibility that the pyrrolizidine alkaloid, monocrotaline, exerting a clastogenic effect on mouse bone marrow cells is discussed. (10)
• Monocrotaline / Pyrrolizidine Alkaloid: Study isolated one potent pyrrolizidine alkaloid, monocrotaline, from Crotalaria retusa. PAs (pyrrolizidine alkaloids) are toxic to humans and animals and known hepatotoxic, pnuemotoxic, genotoxic, neurotoxic, and cytotoxic. The structural elucidation of the toxic PAs provide a structure based in silico toxicological studies and modeling in drug design against various potent diseases in addition to estimation of pharmaceutical formulations. (11)
• Role of Astrocytes in the Neurotoxicity of Monocrotaline: Review presented the main toxicological aspects of Crotalaria genus and recent findings on the mechanisms involved in the neurotoxic effects of MCT, which was extracted from C. retusa, and its interaction with neurons in isolated astrocytes. (13)
• Monocrotaline / Histological Damage and Oxidant Activity in Brain Areas of Mice: Study evaluated the effect of MCT in histopathological analysis of hippocampus (HC) and parahippocampal cortex (PHA) and in oxidative stress (OS) parameters in various brain areas. Lipid peroxidation was seen in all brain areas after administration of MCT. Monocrotaline caused cell lesions in HC and PHA cortex regions and produced oxidative stress. (14)
• Anti-Venom / Inhibition of Venom Phospholipase A2 Activity: The inhibitory activity of leaf extracts of various plants were evaluated on Opisthacanthus capensis (Black creeping scorpion) venom phospholipase A2 activity. Crotalaria retusa inhibited O. capensis venom PLA activity in vitro with an inhibition patterns of competitive inhibition with Kcat remaining unchanged.
Availability
Wild-crafted.