Botany
Kauayan-tinik is an arborescent bamboo, occasionally shrubby or scrambling. Rhizomes are short-necked. Stems are 10 to 25 meters high, 8 to 15 centimeters in diameter, the basal parts surrounded by stiff, branched, interlaced, spiny branches. Leaves are 10 are 20 centimeters long, 1 to 2 centimeters wide. Rarely flowering. Panicles are large. Spikelets are slender, compressed and 2 to 3 centimeters long.
Distribution
- At low and medium altitudes in settled areas throughout the Philippines.
- Introduced at an early date.
- Occurs in southern China to the Malay Peninsula an from the Archipelago to the Moluccas.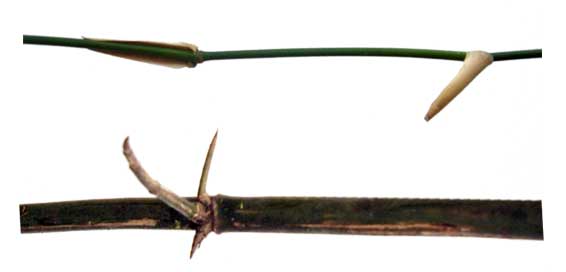 Constituents
- Leaves are rich in hydrocyanic and benzoic acids.
- Bamboo shoots (labong) are only fair sources of calcium and iron; contains 1.76 % protein, and 4.24 % of carbohydrates.
- Root of Bambusa bambos yield cyanogenic glycosides identical with taxiphylline. Aqueous extracts of mature leaves yielded six phenolic acids, viz., chlorogenic acid, ferulic acid, coumeric acid, protocatechuic acid, vanillic acid and coffeic acid. (6)
- Pharmacognostical evaluation of various extracts of leaf yielded alkaloids, carbohydrates, steroids, tannins, glycosides, and flavonoids. Physiochemical evaluation of leaf yielded total ash 11.46%. acid-soluble ash 5.81%, water-soluble ash 2.66%, sulphated ash 9.25%, loss on drying 15.77%, petroleum ether extractive 1.85%, chloroform extractive 2.11%, ethyl acetate extractive 2.98%, ethanol extractive 26.77%, and water extractive 18.56%. (7)
- Different plant parts yield silica, choline, betain, cynogenetic glycosides, albuminoids, oxalic acid, reducing sugar, resins, waxes, benzoic acid, arginine, cysteine, histidine, niacin, riboflavin, thiamine, protein, gluteline. (8)
- GC-MS characterization of oil isolatd from aqueous ethanolic extract of seed yielded 28 phytoconstituents including long chain aliphatic carboxylic acids (saturated and unsaturated) and their derivatives including aldehyde, esters and alcohols, along with aromatic compounds, and a steroidal compound. (see study below) (12)
Properties
- Emollient, diuretic and diaphoretic, emmenagogue, astringent.
- Leaves are considered stimulant, aromatic, tonic, emmenagogue, anthelmintic and aphrodisiac.
- The bark is astringent and used in hemorrhoids, nausea and vomiting.
- Studies have suggested anti-inflammatory, antiulcer, antidiabetic, antimicrobial, antifertility properties.

Parts utilized
Stems, roots, leaves.
Uses
Edibility / Nutrition
- The young shoots (labong) are fairly tender and eaten as vegetable, the seasonal ingredient in atchara preparations.
Folkloric
• Decoction of leaves as emmenagogue, to induce lochia after childbirth.
• Decoction (20 gms for 1 liter of water; 3 cups daily) of stems of young shoots applied externally for inflamed joints.
• Decoction of leaves used to stimulate menstruation; also used for intestinal worms.
• Poultice of young shoots used for dislodgement of worms from ulcers.
• Bud of leaf used in leprosy, fevers, and hemoptysis.
• Decoction of roots used for anuria.
• Roots given as a specific for eruptive affections.
• Stems and leaves used for treatment of blood diseases, biliousness, leucoderma, inflammations, wounds and piles.
• Roots applied to ringworm and bleeding gums.
• Decoction of shoots taken for respiratory ailments.
• Juice of flower instilled to ear for earache.
• Poultice of tender shoots used for cleaning wounds. Decoction or juice of leaves applied to wounds.
• Decoction of tender shoots used as abortifacient in the first month and in the last month, to induce labor, and to facilitate placental expulsion.
• In India, decoction of leaves used for diarrhea. Decoction of shoots with honey used for respiratory problems. Leaf decoction used to stimulate menstruation. Leaves ingested directly to cure stomach or intestinal worms. Paste from shoots used externally for cleaning wounds or maggot-infested sores. (5)
Livestock
• In India, for ethnoveterinary use, decoction of a handful of leaves used for diarrhea in cattle, once a day for two to three days.
Others
• Bambusa spinosa is the most commonly used species of bamboo in the Philippines.
• Used in the building of bamboo houses, furniture and household utensils.
• Leaf juice used in aromatherapy.
Studies
• Antiinflammatory / Antiulcer: Study evaluated the antiinflammatory effect of a methanol extract of leaves of Bambusa arundinaceae against carrageenan-induced and immunologically induced paw edema and also antiulcer activity in albino rats. The combination of methanol extract and phenylbutazone (NSAID) produced good anti-inflammatory effect and may be useful in the long-term treatment of chronic inflammatory conditions like rheumatoid arthritis with peptic ulcer. (3)
• Anti-Diabetic / Seeds: Study evaluated aqueous ethanolic solvent extracts of Bambusa arundinaceae for anti-diabetic activity in alloxan induced diabetic rats. Results showed statistically significant anti-diabetic activity in comparison with standard glibenclamide. (8)
• Antimicrobial/ Bamboo Shavings: Study of water-phase extract of bamboo shavings showed dose dependent antibacterial activity against a range of food borne and food spoilage pathogens, viz., S. aureus, B. subtilis, E. coli, Aspergillus niger, Penicillium citrinum, and Saccharomyces cerevisiae. (8)
• Antifertility / Shoots: Study of an ethanolic extract of tender shoots showed reduction in fertility of male rats, associated with decrease in number and motility of spermatozoa. (8)
• Biomass Nutrients: Study showed nutrient concentrations increased with age. The dry matter production of above-ground biomass increased progressively with age. (9)
• Antidiabetic / Leaves: Study evaluated the antidiabetic activity of various doses of leaves extracts of Bambusa arundinacea in alloxan induced diabetic rats. Results showed significant (p<0.05) hypoglycemic activity in both normal and alloxan-induced diabetic animals. (10)
• Antihyperlipidemic / Leaves: Study investigated the antihyperlipidemic effect of a methanolic extract of Bambusa bambos in Poloxamer-407 induced hyperlipidemia in rats. Treatment results in significant (p<0.01) decrease in total cholesterol, triglycerides, LDL-C, VLDL-C, hepatic cholesterol and hepatic triglycerides with concomitant increase in serum HDL-cholesterol leve. Most effective dose was 300 mg/kg. (11)
• Antioxidant / Antimicrobial / Oil from Seed: Study isolated oil from the aqueous ethanolic extract of bamboo seed. The seed showed good antioxidant and antimicrobial activities. (see constituents above ) (12)
• Hepatoprotective / Thioacetamide Induced Hepatotoxicity / Antioxidant / Young Shoots: Study evaluated antioxidant and hepatoprotective activity of methanolic extracts of young shoots in thioacetamide induced liver injury in rats. Results showed good antioxidant activity. Treatment with the extract caused significant increase in cell viability and significantly (p<0.0001) decreased the elevated biochemical parameters induced by thioacetamide. Histopathology further supported the protective effect. (13)

Availability
- Cultivated or wildcrafted.
- Supplements in the cybermarket.