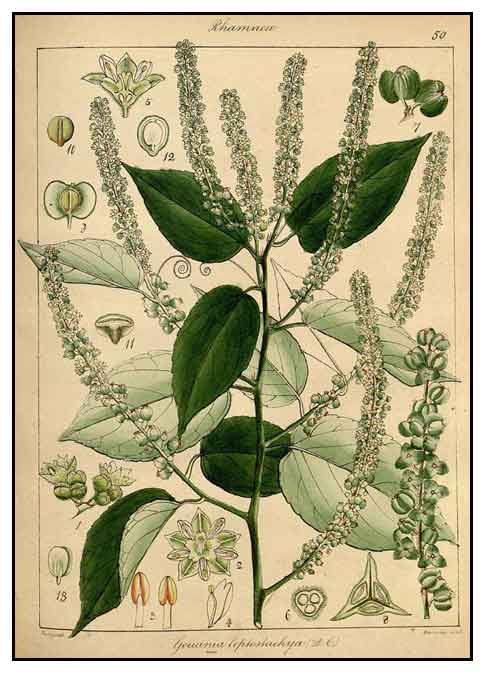 Botany
Litiran is an unarmed, climbing shrub. Leaves are alternate, somewhat hairy, ovate, 6 to 10 centimeters long, and 4 to 5 centimeters wide, with pointed tip and slightly heart-shaped base. Flowers are small, greenish or whitish, and borne on axillary or terminal panicles. Fruit is smooth, with narrow wings.
Distribution
- Found from northern Luzon to Mindanao in thickets at low and medium altitudes.
- Also reported in India to the Mascarene Islands, Indo-China, and Malaya.
Constituents
- Leaves yield an alkaloid.
- Studies have shown high flavonoid and phenolic contents.
- From G. microcarpa, leaves yield a triterpenic acid, along with tetraicontanoic acid.

Parts used
Roots, leaves.

Uses
Folkloric
- Leaves used for washing ulcers.
- Bark is used as a shampoo, for destroying vermin.
- Leaves used as a poultice for sores.
- In Chinese folk medicine, G. leptostachya DC. var tonkinensis Pitard is used for treatment of scald and acroanesthesia.
- Mien community of northern Thailand use the plant for postpartum baths. (3)
- In Bangladesh, paste from plant applied over wound area. Plant juice tqken with water, twice daily for 5 to 7 days for excessive menstruation. (6)
- The Yao use the water from boiled roots to cure gonorrhea. (7)
Others
- In the Philipppines, roots used as soap substitute.
- Alone or with other drugs, used to stupefy fishes in rivers.
Studies
• Benzopyran Derivatives / α-Glucosidase Inhibitory Activity: Study on stems of G. leptostycha DC var. tokinensis Pitard. yielded two new benzopyran derivatives,1-[(rel2S,3R)一3,5,7-trihydroxy-3,4-dihydro-2H-chromen-2-y1]ethanone and 1-[(rel 2S,3s)-3,5,7-trihydroxy-3,4-dihydro-2H-chromen-2-y1]ethanone ,along with four known flavonoids, prodelphinidin C, prodelphinidin B3, (一)- epi-galocatechin and (+)-galocatechin. Some compounds showed varying degrees of α-glucosidase inhibitory activity. In particular, prodelphinidin C significantly reduced the activity of α-glucosidase, suggesting prodelphinidin C may be the bioactive compound of the aqueous extract. (2)
• Antioxidant: In a study of Vietnamese medicinal and Mongolian endemic plants exhibiting antioxidant activity against oxidative stress, an ethanol extract of Gouania leptostachya was one of 18 plants that showed strong free radical scavenging activity in the NO scavenging assay. (4)
• Anti-Inflammatory: Study of methanol extract of G. leptostachya showed a potential as a herbal anti-inflammatory medicine through inhibition of Src and NF-kB activation pathways. (5)

Availability
Wild-crafted.