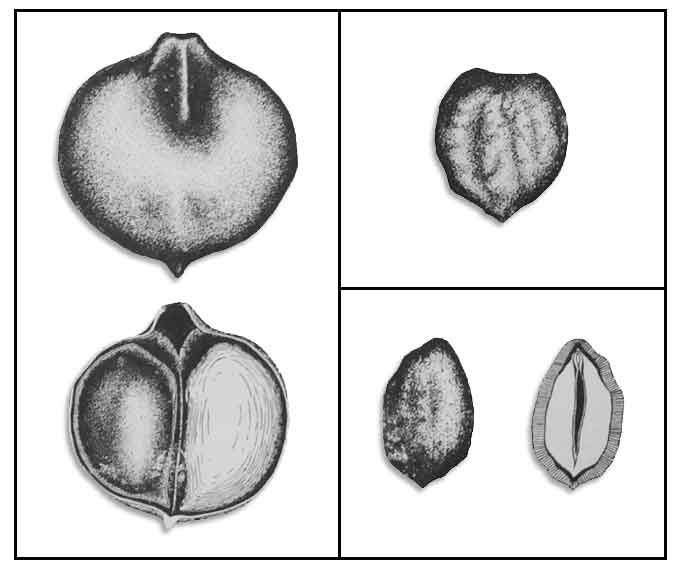 Gen info
Aleurites is derived from a Greek word aleuron, meaning "floury," because of the appearance of the under
surface of the leaf. The most widespread species is the Candlenut.
Botany
Lumbang is a large tree reaching a diameter of 80 to 150 centimeters. Younger parts and the inflorescences are hairy. Leaves have long petioles. Blades are ovate to lanceolate, 10 to 20 centimeters long, entire or lobed. Flowers are white, numerous, 6 to 8 millimeters long, borne on panicles 10 to 15 centimeters long. Fruit is fleshy, ovoid, smooth, 5 to 6 centimeters long, containing 1 or 2 hard-shelled, oily seeds. Shell of the seed is very hard, rough, ridged, about 2.5 millimeters thick. Within the seed is a white, oily, fleshy kernel consisting of a very thin embryo surrounded by a large endosperm.

Distribution
- Throughout the Philippines, at low and medium altitudes, in second-growth forests, thickets, etc.
- Occurs in tropical Asia to Polynesia.
- Now planted in most tropical countries.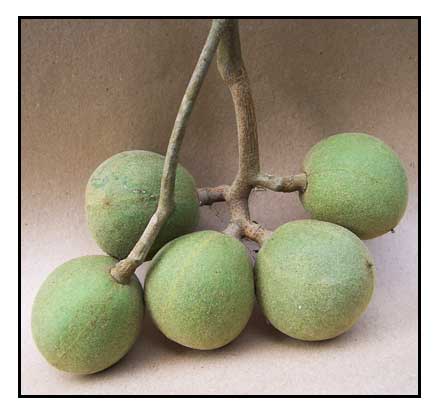 Constituents
- Seed yields 57-80% inedible, semi-drying oil. (28)
- Oil contains an acrid resin, a purgative principle- Oil yields essential fatty acids (linoleic and linolenic acids).
- Studies have yielded sterols, flavonoids and triterpenes from the leaves.
- Various extracts and fractions of leaves yielded phenolic compounds, n-hentriacontane, α-amyrin, β-amyrin, stigmasterol, β-sitosterol and campesterol. (See study below) (11)
- Dichlormethane extract of bark yielded 12-hydroxy-13-methoxy-8,11,13- podocarpatrien-3-one (1), spruceanol (2), 3-acetylaleuritolic acid (3), polyprenols, triglycerides and a mixture of β-sitosterol and stigmasterol in a 4:1 ratio. (14)
- Study yielded a new phorbol diester, 13-O-myristyl-20-O-acetyl-12-deoxyphorbol (1), from the benzene extract of the heartwood of Aleurites moluccana, together with, hentriacontane, 6,7-dimethoxycoumarin, 5,6,7-trimethoxycoumarin and beta-sitostenone.
- Study of fresh leaves and stems for essential oil by GC-MS analysis yielded 0.12% v/w and 0.09 %v/w percentage yields of oil, respectively. Major constituents of leaves were α-caryophyllene (10.29%), ß-cubebene (13.77%) and α-farnesene (13.27%). Dominant constituents of stem oil were thymol (43.93%), α-caryophyllene (15.16%), and 4-cyclohexybutyramide (20.94%). (26)
Properties
- Considered a drying oil, resembling linseed oil and the Chinese wood oil (tung oil).
- Shells are very hard and difficult to crack; likewise, difficult to separate the kernel from the shell.
- Oil has a light yellow color
- Kernels considered aphrodisiac.
- Like castor oil, it has a mild aperient action.
- Studies have shown anti-inflammatory, analgesic, anti-pyretic, hypolipidemic, anti-termite, cytotoxic, wound healing, anti-hypersensitivity properties.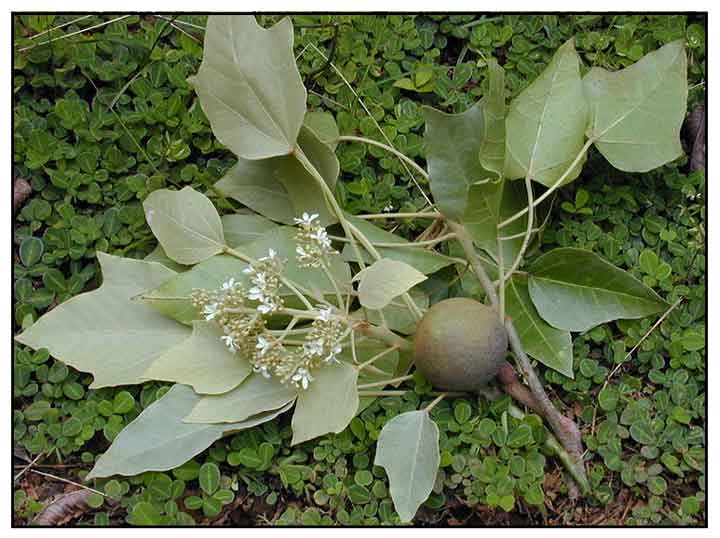 Parts used
Kernels, leaves.

Uses
Edibility
- Raw seeds are toxic, but cooked seeds can be eaten sparingly, especially as condiment. A variety found in Vanuatu has not apparent toxic effect.
- Hawaiians have used the roasted, pounded kukui seed kernel mixed with salt and seaweed or chili peppers as a condiment called 'inamona.'
Folkloric
- In the Philippines, the seeds are used as a mild purgative.
- In Madagascar and La Reunion, the leaves, heated with a flatiron, are applied in succession to articulations in cases of acute rheumatism.
- Used for stomach and bowel disorders in children, asthma, bad breath, skin sores and ulcers, for swollen womb, and for rejuvenation after poisoning.
- Kukui nut oil is considered a strong laxative; sometimes used like castor oil.
- Oil has been long used by the Polynesians as a skin moisturizer.
- Kernels used as aphrodisiac.
- Juice of nuts used as a remedy for piles, worms.
- Nuts, soaked in oil, are placed in the anus to relieve piles.
- In India, oil is used as a dressing for ulcers.
- In Indonesia, oil is applied to hair to promote hair growth.
- In Punjab folk medicine, used for headaches, ulcers, fevers, diarrhea and hypocholesterolemia.
- In Brazilian folk medicine, used to treat fever, headaches, tumors, diarrhea and asthma.
- In Japan, bark used for tumors. In Java, bark used for bloody diarrhea. In Sumatra, pounded seeds, burnt with charcoal, applied around navel for costiveness. In Malaysia, pulped kernel or boiled leaves used in poultices for headache, fever, ulcers, swollen joints. In Hawaii, flowers and husk sap used to treat candidiasis in children. (15)
- Oil is purgative, sometimes used like castor oil. Irritant oil rubbed on the scalp as hair stimulant. In Malaya, pulped kernel used as poultice for headaches, fevers, ulcers, and swollen joints. In Java, bark used for bloody diarrhea or dysentery. Bark juice with coconut milk used for sprue. In Malaya, boiled leaves applied for headaches and gonorrhea. (28)
Others
- Oil: Commercial production of oil yields 12-18% of weight of the dry, unhulled fruits. Oil yields as high as 300 kg/ha have been reported. (28)
- Industrial uses: Used for the preparation of paints, varnishes, and linoleum. Oil extracted from the seed can be used for illumination and soap manufacture.
- Wood preservation: Oil from the nut reported to protect canoes against marine borer damage.
- Kukui oil reported to protect cotton bolls from the boll weevil and prevent feeding by the striped cucumber beetle.
- Cosmetics: Kukui seed oil is used in the manufacture of various cosmetic products – moisturizers, anti-aging creams, body oils, conditioners, lip gloss, shampoos, etc.
- Fodder: After removal of the oil, the remaining seed cake can be used as cattle fodder. Alternatively, the seed cake can be used as fertilizer.
- Ornamental: In Hawaii, empty shells strung to make a popular lei.
- Dye: In Hawaii, seed husk used to make a black dye for tattooing; the root bark used to make a dye for painting canoes.
- Fuel: With modification, seed is suitable as substitute for diesel. In Uganda, planted as a backyard tree for firewood. (28)
Toxicity concerns
- Candle nuts are toxic when eaten raw.
- This blogspot (Candlenut Poison Antidote) offers alternative folkloric antidotes: coconut cream or water, turmeric, grape skin extract pill, almonds, fish oil, among others. Besides sharing these folkloric remedies, the author also shares his experience with candle nut toxicity. (22)

Studies
• Flavonoids: Chitin chromatographic separation yielded two flavonoids from AM extract: swertisin and 2"-O-rhamnosylswertisin. (2)
• Anti-Inflammatory / Antipyretic: Study on the methanolic extract of dried leaves of AM significantly prevented an increase in volume of paw edema in a dose-dependent manner. It also caused an antipyretic effect. Results justifies the ethnic uses of the plant. (3)
• Hypolipidemic Activity: Study of the methanol extract of leaves showed a lipid lowering effect mediated through inhibition of hepatic cholesterol biosynthesis and reduction of lipid absorption in the intestine. (4)
• Anti-Termite Activity: Study on the Formosan termite (Coptotermes formosanus) showed that oil-treated wood was resistant to termite damage when the wood contained >27% kukui oil by weight. Results indicate that the oil acted primarily as a feeding deterrent and not as a toxic agent. (5)
• Antinociceptive: Study on a spray dried extract (SDE) of leaves isolated flavonoids swertisin and 2′′-O-rhamnosylswertisin which were effective in inhibiting the hypernociceptive response induced by carrageenan. (7)
• Termite Study: Study on kukul plant oil for termite control properties showed the oil acted primarily as a feeding deterrent and not as a toxic agent. (8)
• Antinociceptive / Phytochemicals: Study evaluated various extracts prepared from A. moluccana leaves for analgesic activity using the writhing test in mice. Compounds inhibited acetic-induced abdominal constrictions, more efficaciously than aspirin and paracetamol. Results showed potent antinociceptive action. (see constituents above) (11)
• Flavonoid 2"-O-rhamnosylswertisin / Antinociceptive: Study evaluated a dried extract of A. moluccana and the isolated flavonoid 2"-O-rhamnosylswertsin on different models of long-lasting inflammation and neuropathic pain in mice. Oral treatment with the extract and isolated compound attenuated neutrophil migration and IL-1ß levels following carrageenan injection. (12)
• Podocarpane Trinorditerpenoids / Cytotoxicity: Study of twigs and leaves of Aleurites moluccana yielded three novel 3,4-seco-podocarpane-type trinorditerpenoids, moluccanic acid (1), moluccanic acid methyl ester (2), and 6,7-dehydromoluccanic acid (3). In cytotoxicity studies, 1-3 showed weak activity against Burkitt's lymphoma cell line, while compound 2 showed moderate cytotoxic activity against HepG2 (hepatocellular carcinoma) human cell line. (13)
• Wound Healing / Bark: Study evaluated the wound healing activity of the bark of Aleurites moluccana in three types of rat models viz. excision, incision, and burn wound model. Results showed remarkable wound healing activity, comparable to standard drug nitrofurazone in terms of wound contracting ability, wound closure time, and tensile strength. (16)
• Antibacterial: Aleurites moluccana extracts have shown inhibitory activity against S. aureus and P. aeruginosa. Study further investigated the antibacterial activity of acetonitrile, extracts of husk, leaf and stem bark against 8 clinical isolates. The antibacterial action was bactericidal for all bacteria except S. pyogenes where it was bacteriostatic. The highest polyphenol content was found in the methanol extract of stem bark. (18)
• Biodiesel: Study investigated the production of methyl ester for use as biodiesel. The biodiesel produced had properties similar to diesel oil except for a higher viscosity. (19) Study concluded that biodiesel production by ethanolysis of candlenut oil can be done under ambient conditions. The biodiesel product has comparable fuel properties with diesel oil and is a suitable alternative to diesel oil. (20)
• Antinociceptive / Anti-Inflammatory / Wound Healing: Study of a semisolid formulation containing 0.5 to 1.0% of saturated dried extract was found effective for topical use in treatment of pain, inflammation, and wound healing. (23)
• α,β-Amyrenone / Anti-Inflammatory / Antihypersensitivity: A mixture of α,β-amyrenone was isolated from a dichlormethane fraction of A. moluccana and evaluated using a carrageenan-induced paw edema or pleurisy and CFA-induced arthritis models in mice. Results showed α,β-amyrenone interferes with both acute and chronic inflammatory processes, in part, through a reduction of neutrophil migration. It suggests α,β-amyrenone could be a new therapeutic tool for use in painful and inflammatory diseases. (24)
• Effect on Metabolic Profile / Atherogenic / Seeds: Study evaluated the effect of seeds in biochemical and anthropometric profile, and visceral fat of Wistar rats. Results showed no interference in body weight, visceral fat, glycemia, total cholesterol, LDL-c, HDL-c and triglycerides. However, there was an increase in atherogenic indices. Study suggests seeds do not bring health benefits compared to the use of extract of leaves and suggests study of its use to avoid undesirable effects. (27)

Availability
Wild-crafted.