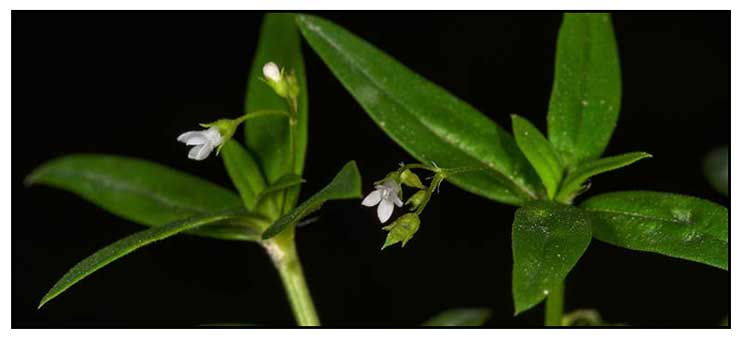 Botany
Malaulasiman is a slender, erect or spreading, sparsely branched, annual herb, 20 to 50 centimeters in length. Leaves are stalkless, linear-oblanceolate to linear-oblong, and 1.5 to 3 centimeters long. Flowers occur in axillary, peduncled, 2- to 5-flowered umbels, with slender peduncles which are 5 to 10 millimeters long; the pedicels are half as long or less; and solitary flowers are often intermixed. Corolla is small and white. Capsules are shaped like a top, about 2 millimeters long, and do not protrude beyond the short, acuminate, calyx-lobes.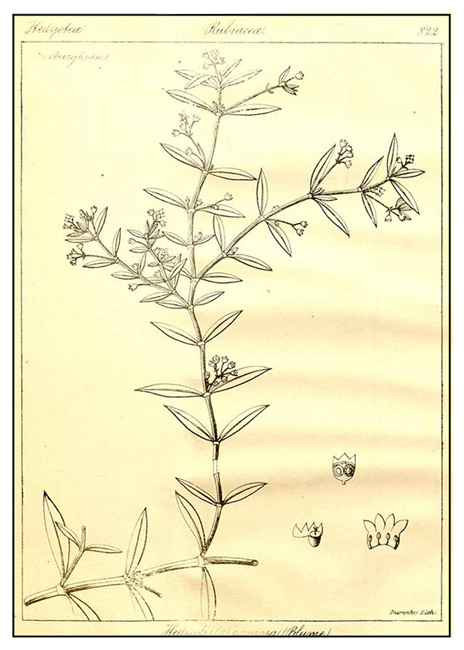 Note:
This plant closely resembles H. diffusa, differentiated mainly by the 2- to 7-flowered inflorescence (in H. diffusa, there is only 1 flower subtended per pedicel) and moreover, by the longer pedicel.

Distribution
- Found throughout the Philippines, common in and about towns, in open waste places, grasslands, etc.
- Pantropic.
- Probably a native of the Old World.
Properties
• The pharmacological properties of this species is fundamentally identical with that of H. diffusa, however, with reference to its anticancer actions, H. diffusa (Ulasiman kalat) is regarded as a more powerful drug than H. corymbosa.
• Considered cooling, febrifuge, pectoral, digestive, diuretic, depurative, diaphoretic, stomachic, and vermifuge.
• Studies have shown antioxidant, anticarcinogenic, anti-malarial, antimicrobial, hepatoprotective, radioprotective, antipyretic, analgesic properties.

Constituents
• Thai study isolated ten compounds, among them: geniposide, 6a-hydroxygeniposide, scandoside methyl ester.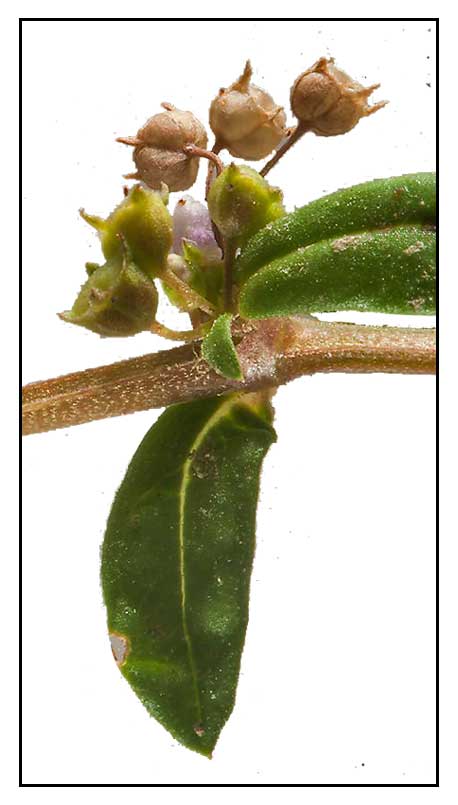 • Study isolated three new iridoid glycosides, nine iridoid and lignan glucosides and rutin.
• Study of alcoholic extract yielded alkaloids, carbohydrates, saponins, tannins, chlorogenic acid, steroidal glycosides, flavonoids, phenolic compounds, and coumarin. (18)
• Phytochemical analysis yielded 29.53 ± 0.15% carbohydrate content, 3.65 ± 0.18 % protein content, 23.90 ± 0.14 % crude fiber, 0.09 ± 0.15 gm ash content, 47.5 ± i.09 mg/100g ascorbic acid content, 32.68 ± 0.39 µgGAE/mg total phenol content, 129.28 ± 1.59 µg/ml inhibition concentration (IC50). (see study below) (27)
- Study for essential oil yielded 32 components with 2 alcohols, 8 alkenes, 4 ketones, 1 aldehyde, 6 acid substances, 6 esters, and 5 other substances. Major constituents in the oil were Hexadecanoic acid (64.93%) followed by Linolenic acid (7.62%), and Linoleic acid (3.73%). (29)
- Study of aerial parts isolated nine iridoid glucoside derivatives. Spectroscopic investigation identified five known compounds: deacetyl asperuloside, asperuloside, asperulosidic acid, deacety asperulosidic acid, and scandoside methyl ester. (30)

Uses
Edibility / Nutrition
• Tender young leaves and stems are edible.
• Ash from burnt leaves and stems are mixed with water, filtered, and resultant water use as tenderizer when cooking other vegetables. (23)
• Rich source of vitamin C.
Folkloric
• Decoction of plant used for fevers and stomach aches.
• A cooling medicine used in remittent fevers with gastric irritability and nervous depression caused by deranged air and bile. Entire plant prescribed in decoction, and combined with aromatics.
• Decoction applied to the surface of the body and given internally to cure heat eruptions.
• Used for jaundice and diseases of the liver.
• In Konkan, juice is applied for burning of the palms of the hands and soles of the feet. For burning at the pit of the stomach, the juice is taken with a little milk and sugar.
• In Martinique, tincture of roots used as vermifuge.
• In the Antiles, used as a vermifuge.
• In India, plant juice mixed with sugar and milk for stomach burning.
• In India, used for jaundice and liver problems, giddiness, dyspepsia, flatulence, colic, constipation, helminthiasis, leprosy, bronchitis.
• In Malaysia, poultice of leaves used for sore eyes and wounds.
• In the Congo, used for facilitation of childbirth.
• In Chinese medicine used for viral infections, cancer, acne, boils, appendicitis, hepatitis, eye problems and bleeding. Leaves and roots used to improve circulation and treat inflammation.
• Used as mouthwash for toothaches.
Others
• Dye: Roots yield a green dye, gerancine, after treatment with mordant. (23)

Studies
• Hepatoprotective / Paracetamol Induced Toxicity: Study on the effect of methanolic extract of HC against paracetamol overdose-induced liver damage in Wistar rats showed significant hepatoprotective effects evidenced by decreased enzyme activities and an almost normal histological architecture. (1)
• Antimicrobial: Screening method for the identification of plants possessing anti-microbial activity and tolerance to abiotic stresses: In a study of 50 species, Datura metel and Oldenlandia corymbosa exhibited the highest antimicrobial activity. (3) Study of a methanol extract of Oldenlandia corymbosa showed antimicrobial activity against both gram positive and gram negative bacteria. (18)
• Anti-Malarial: Study of A paniculata and Hedyotis corymbosa, both known for their hepatoprotective and fever-reducing abilities, showed inhibitory activity in the ring stage of the parasite without in vivo toxicity, with increased in vivo potency when used in combination and with curcumin. (5)
• Immunocompetent Activity: Study showed prior administration of J corymbosa and H diffusa ameliorated the leukopenia and splenic cellular decrease associated with sublethal irradiation. (6)
• Oxytocic Activity / Antimicrobial: O affinis is one of many plants used in the Congo and Central Africa regions for the facilitation of childbirth. Study isolated uterotonic substances - cyclic peptides (kalata-peptides) and a main peptide, B1. The kalata-peptide B1 have also shown to hold antimicrobial activity and presents a potential for the design of new peptide antibiotics. (7)
• Ascorbic Acid Content: Study of fresh and dried leaves of two edible plants - O corymbosa and D rotundifolia - found them to be rich sources of ascorbic acid (vitamin C) when compared to some common garden fruits and vegetables, more in the fresh than in the dried leaves. (8)
• Antioxidant / Radical Scavenging Activities: (1) Study on the antioxidant and radical scavenging activities of three traditional Chinese medicines – HD (H. diffusa), HC (Hedyotis corymbosa) and MP (M. pentaphylla), showed HD had the strongest inhibition of lipid peroxidation, followed by HC, while H corymbosa had the highest radical scavenging activity. The differences may explain the variation in therapeutic properties when the herbal medicines are used interchangeably in medicinal preparations. (2) Study showed marked antioxidant activity of the HC extract, attributed to the presence of total phenolic and total flavonoid contents. (10)
• Peh-Hue-Juwa-Chi-Cao / Anti-Tumor / Radioprotective Activity: A study was done on three different crude drugs that take the same name (Peh-Hue-Juwa-Chi-Chao) as an antitumor agent and evaluated for its antitumor activity against malignant implanted subcutaneous tumors and protective effect against radiation-induced hematopoeitic damage. Results showed the three kinds of Peh-Hue-Juwa-Chi-Cao drugs all showed similar antitumor effects and protection from radiation damage. (11)
• Hepatoprotective / CCl4-Hepatotoxicity: Study of ethanolic extract in albino rats showed significant reduction of SGOT and SGPT in CCl4 induced hepatotoxicity. (15)
• Antipyretic: Study evaluated various extracts of H. corymbosa on yeast induced pyrexia model in albino rats. Most of the test extracts, except for petroleum ether, showed significant antipyretic activity. Results showed potential usefulness in the treatment of fever. (16)
• Antihepatotoxic / D-galactosamine Induced Hepatopathy: Study showed the hepatoprotective potential of methanolic extract against D-galactosamine induced hepatopathy in experimental animals showed significant dose dependent prevention of chemically induced increase in liver enzymes. (17)
• Analgesic: Study evaluated an ethanol extract of whole plant dried powder for analgesic activity using hot plate test, acetic acid induced writhing, and formalin test. Results showed significant dose-dependent analgesic effect mediated by both central and peripheral mechanisms. Standard drug for comparison was ketorolac. (19)
• Tumor Inhibition: Study evaluated the key components exhibiting anti-tumor activities in the two herbs, Hedyotis corymbosa and H. diffusa using plant components ursolic acid, oleanolic acid, and geniposidic acid. Results showed ursolic acid and oleanolic acid to inhibit the growth of cultured hep-2B cells and enlargement of subcutaneous tumor. (20)
• Anti-Inflammatory / Hepatoprotective / Peh-Hue-Juwa-Chi-Cao: Study in rats evaluated Peh-Hue-Juwa-Chi-Cao, containing extracts of Hedyotis diffusa, H. corymbosa or Mollugo pentaphylla. Results showed all three possess anti-inflammatory activity and hepatoprotective properties, reducing acute elevation of SGOT and SGPT after intraperitoneal administration of hepatotoxins. (21)
• Cytotoxicity / Asperuloside / Anticancer: An ethanol extract and methylene chloride fraction showed potential anticancer activity with growth inhibitory activity to human YMB-1 breast cancer cell line with IC50 of 6.51 µg/mL and 2.75 µg/mL, respectively. Study isolated a lead compound asperuloside with high biological activity and growth inhibition against YMB-1 and HL60 cell line with IC50 of 0.7 and 11.0 µg/mL. (24)
• Anticarcinogenic / Antioxidant / Combined Extracts of Soursop and Pearl Grass: Study evaluated the effects of combined extracts of soursop (Annona muricata) and pearl grass (Hedyotis corymbosa). Results of the combination of ethanol extract of soursop and pearl grass showed potential anticarcinogenic properties which increased with increment of doses. The anticarcinogenic properties could be due to their high antioxidant activities. (25)
• Anti-Malarial / Combined Extracts of A. paniculata and H. corymbosa / Curcumin: Study evaluated methanolic extracts of Andrographis paniculata and Hedyotis corymbosa alone and in combination and individually with curcumin. Results showed combination of the two herbal drugs showed substantial enhancement in their anti-malarial activity. Combination of each with curcumin also revealed synergistic anti-malarial effect. Both extracts inhibited the ring stage of the parasite and did not show any in vivo toxicity when used alone or in combination. (26)
• Antioxidant: Study evaluated the phytoconstituents and antioxidant activity of Oldenlandia corymbosa using DPPH assay for free radical scavenging activity. Methanolic extract showed significant antioxidant activity with IC50 value of 129.28 ± 1.59 µg/ml. (see constituents above) (27)
• Anticancer / Human Leukemia Cancer Cell Line / Leaves: Study evaluated the anticancer activity of ethanolic extract of leaves of Oldenlandia corymbosa and P. hysterophorus on K562 human leukemia cancer cell line by SRB assay. Results showed significant anticancer activity individually and in combination. (28)
• α-Glucosidase Inhibitory Activity / Aerial Parts: Study evaluated the in vitro α-glucosidase inhibitory activities of ethanolic extract of aerial parts of Oldenlandia corymbosa. Results showed a 90% reduction in α-glucosidase activity and a potential as an antidiabetic agent. (31)
• Cytotoxicity Against Breast Cancer Cells / Leaves: Study evaluated the cytotoxicity of soursop (Annona muricata) leaves and pearl grass (Hedyotis corymbosa) on hormone-dependent human breast carcinoma (MCF-7) cell line. The ethanolic pearl grass extract showed IC50 values of 66.011 µg/m and 52329 µg/ml on 24- and 48-hour incubation, respectively. (32)
• Antidepressant: Study evaluated the antidepressant activity of methanolic extract H. corymbosa whole plant in olfactory bulbectomy rats. MHC reversed the OBX (olfactory bulbectomy)-induced alterations in behavioral and biochemical parameters in rats. Treatment also prevented OBX-induced decline of brain levels of serotonin and nor-adrenaline in dose-dependent manner. (33)
• Anti-Inflammatory / Antiarthritic Effect: Study evaluated the effects of 70% ethanolic extract of pearl grass on the immune system of osteoarthritis rat model on measures of number of leukocytes and lymphocytes and joint histology in Sprague-Dawley rats. Results showed all doses of pearl grass exhibited an anti-inflammatory effect and significantly decreased the number of leucocytes and lymphocytes and prevented proteoglycan degradation. (34)
• Anticancer / Inhibition of Migration and MMP-9 on Metastatic Breast Cancer Cells: Study of an ethanolic extract of H. corymbosa showed anticancer properties by inhibition of migration and metastasis towards breast cancer cells. Cytotoxic activity showed an IC50 of 400 µg/ml. (35)

Availability
Wild-crafted.