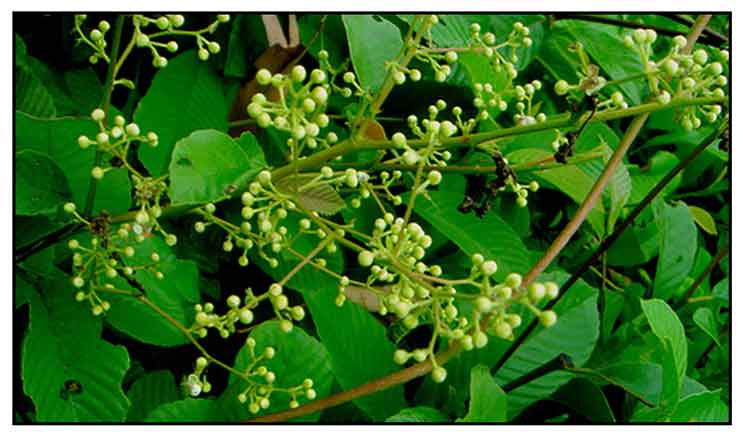 Botany
Malakatmon is a climbing vine growing about 3 to 4 meters in length. Leaves are leathery, harsh, oblong-ovate to oblong-elliptic, 6 to 12 centimeters long, toothed at the margins. Flowers are numerous, white, about 8 millimeters in diameter, and borne on terminal and axillary panicles, 10 to 25 centimeters long. Carpel is solitary. Fruit is oblong-ovoid, pointed, nearly 1 centimeter long, containing one hairy seed. Aril is cupular and toothed.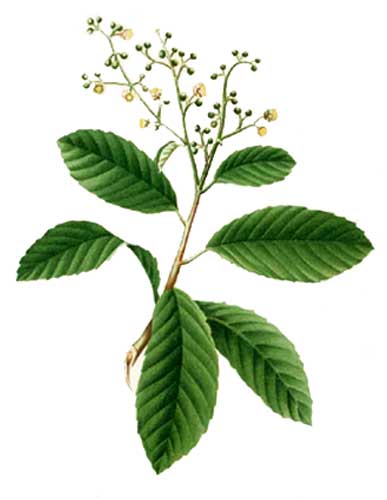 Distribution
- Common in dry thickets, at low and medium altitudes in Pangasinan, Zambales, Tarlac, Bataan, Rizal, Cavite, and Laguna Provinces in Luzon; and in Mindoro, Busuanga, Palawan, Biliran, and Mindanao.
- Also occurs in India to southern China, Thailand, Vietnam, Indonesia, Malaysia and Mayanmar.
Constituents
- Study of methanol leaf extract yielded yielded three terpenoids (stigmasterol, betulinic acid and an isomeric mixture of sitosterol glycoside and stigmasterol glycoside) and six flavonoids, viz., kaempferol, quercetin, isoscutellarein, hypoletin, astragalin and kaempferol-3-O-(6"-O-p-trans-coumaryl) glucoside. (see study below) (7)
- Stem idioblast cells secrete alkaloids, terpenoids, and phenols; trichomes yielded flavonoids. (see study below) (15)
- Study of ethanol extract of leaves yielded six known flavonoid compounds: quercetin-3-O-L-rhamnoside (1), genistein (2), quercetin (3), quercetin 3-O-ß-D-glucuronide (4), kaempferol (5) and quercetin-3-O-a--arabinofuranoside (6). (17)
Properties
- Studies have suggested anti-gout, anti-viral, anti-diabetic, hepatoprotective, antibacterial properties.

Parts used
Leaves, bark, stem.

Uses
Folkloric
- Wood was one of the best known and most popular drugs of the Binondo marketplace; used as an infusion internally for hemoptysis of consumptives, and externally in the treatment of sore throat. Its action was attributed to the large amount of tannins it contains.
- Used for treatment of rheumatism, inflammation, hepatitis, sore throat, gout and diabetes.
- In Malaysia, used after childbirth; also used for dysentery, diarrhea, burns, and coughs. (6) Stem decoction taken orally for weakness due to fever or influenza. (14)
- Lao people use roots, fresh and chewed or as decoction, for post-partum recovery or post-partum secondary hemorrhage, and for infant oral candidiasis; also as aperative. (9)
- In Vietnam, stem and leaves used for treatment of osteoarthritis and back pain. (10) Roots and stems used to treat hepatitis, gout, and swelling. (15)
- In Malaysia stem decoction taken orally for weakness due to fever or influenza. (11)
- In Indonesia, the Anak Dalam tribe of Jambi Province, use stems for the treatment of diarrhea. (15)
- Juice of ground roots applied to mouth ulcers. Stem infusion drunk for treatment of hemoptysis in tuberculosis. (16)
Others
- Polish: Long ago, in Kuala Lumpur, Malaysia, the finely abrasive leaf was used to polish pewter. (•) Leaves used as sandpaper for smoothing wood. (16)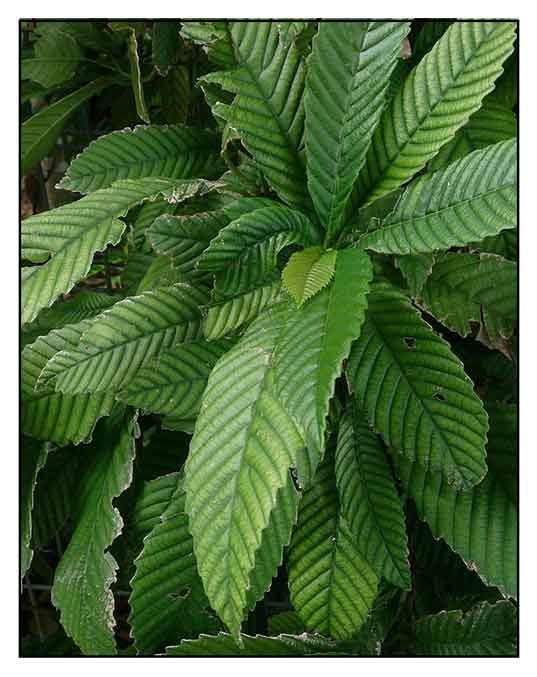 Studies
• Anti-Hyperglycemic / Leaves: Study on the crude aqueous and methanol extracts of the leaves of T. scandens, showed antidiabetic efficacy. There was significant reduction of fasting glucose in treated diabetic rats. The highest anti-hyperglycemic effect (62.5%) was exhibited by the aqueous extract at 0.25 g/kbw; the methanol extract showed 36.5% effect at 0.5 g/kbw. The antidiabetic effect was comparable to glibenclamide. (1)
• Xanthine Oxidase Inhibition / Gout: In a study of 288 extracts from 96 medicinal plants, the methanol extract of Tetracera scandens was among those that exhibited XO inhibitory activity. (2) In a study of Vietnamese herbs for xanthine oxidase inhibition in patients with chronic hyperuricemia and gout, Tetracera scandens showed great potential for therapeutic effect. (8)
• Increased Glucose Uptake / Genistein Derivatives: Study isolated five isoflavones of previously known structures: genistein, 3',5'-diprehylgenistein, 6,8-diprenylgenistein, derrone and alpinumisoflavone. Compounds 2 to 5 showed significant glucose-uptake activity. Results concluded that T scandens and its constituents exhibited highly desirable activities on T2 diabetes with significantly stimulated uptake of glucose in L6 myotubules. (3)
• Anti-HIV activity / Anti-Reverse Transcriptase Activity: Study showed an ethanol extract of T. scandens to have anti-HIV activity and strong inhibitory activity against HIV-1 reverse transcriptase activity. The anti-HIV efficacy was attributed, in part, to the potent inhibitory activity against HIV-RTase activity in-vitro. Results suggest and potential source for the isolation and development of new anti-HIV inhibitors. (4)
• Lupane Triterpene / Xanthine Oxidase Inhibitor / Gout Treatment Potential / Stem: A methanol extract of stem of Tetracera scandens yielded a new nor-lupane triterpene, 28-O-ß-D-glucoyranosyl ester of platanic acid, together with six known compounds. Compounds 1-6 exhibited significant concentration-dependent xanthine oxidase inhibitory activity. Compound 4 showed more potent inhibitory activity than that of control allopurinol. (5)
• Hypoletin / Anti-Diabetic: Hypoletin, a flavonoid isolated from methanol extract of leaf was evaluated for in vitro antidiabetic effect. Morphological changes and high lipid accumulation activity were observed in cells treated with hypoletin (p<0.01). Insulin-induced 2-deoxy-d-[3H] glucose uptake was significantly increased (p<0.001) in hyloletin-treated cells compared to control (DMSO cells). Results suggest hypoletin has potential for use in the management of type 2 diabetes due to its adipocyte stimulation and glucose uptake activity. (see constituents above) (7)
• Hepatoprotective / CCl4-Induced Toxicity: Study evaluated the potential of ethanolic extracts of Tetracera scandens against CCl4 induced oxidative stress in liver tissues. Results showed significant protective effect in CCl4 induced hepatotoxicity in rats, which may be due to its antioxidant properties. (12)
• Anti-HIV and Anti-Reverse Transcriptase Activity: Study reports on the anti-HIV activity and strong inhibitory activity against HIV-1 reverse transcriptase (RTase). T. scandens extract effectively inhibited HIV virus replication with IC50 in range of 2.0-2.5 µg/ml while cellular toxicity value (CC50) was more than 40-50 µg/ml concentration, yielding a minimum specificity index of 20-fold. (13)
• Antibacterial / Stems: Study investigated the secretory structures, histochemical aspects, and antibacterial potency of T. scandens stem. Species revealed idioblast cells and trichomes as secretory structures. Histochemical analysis indicated idioblast yielded alkaloids, terpenoids, and phenols. The trichomes yielded flavonoids. The extract showed maximum inhibition zone of 17.7 mm against S. aureus and 12.5 mm against E. coli. (15)
• Antiviral Compositions / Invention:An invention related to an antiviral composition containing an ethanol extract of Tetracera scandens as an effective component. The composition exhibits low toxicity and few side effects and effectively inhibits reverse transcriptase activities to suppress synthesis of DNA, with potential usefulness in the prevention and treatment of infections caused by RNA viruses. (18)

Availability
Wild-crafted.