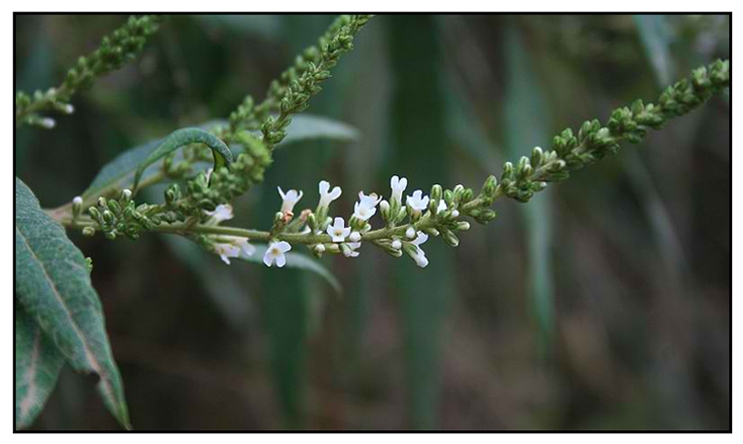 Botany
Malasambung is an erect, branched shrub growing 1 to 2 meters high. Branches and lower surfaces of the leaves are densely hairy, soft and smooth to the touch on account of the small, numerous, grayish or brownish hairs. Leaves are lanceolate, 5 to 15 centimeters long, pointed at the base, tapering to a sharp and pointed tip, and toothed at the margins. Flowers are white, sweetly scented, 3.5 to 4 millimeters long, hairy and borne in large numbers on ample panicles which grow up to 15 centimeters long. Fruit is a reflexed capsule, oblong, and about as long as the flower.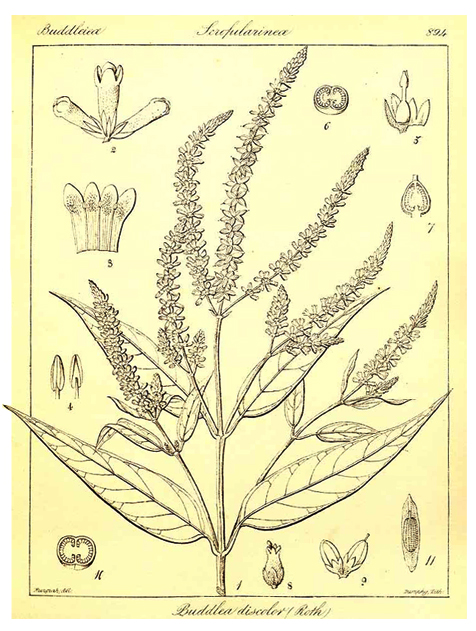 Distribution
- In thickets and recently cleared places at medium altitudes, sometimes at sea level and up to 2,000 meters, from northern Luzon to Palawan and Mindanao.
- Also occurs in India, Nepal, Bangladesh, China, Thailand, Laos, Cambodia, Vietnam, Malaysia, and New Guinea.
Constituents
- Study yielded free sugars (mannitol and sucrose), steroids (beta-sitosterol, stigmasterol, stigmasterol-O-glucosdie, beta-sitosterol-O-glucoside), iridoid glucosides (methyl catalpol, catalpol, aucubin), phenylpropanoids (isoacteoside and aceoside), a triterpene saponin (mimengoside A), flavonoids (linarin and disomin).
- Studies have yielded terpenoids, flavonoids, iridoids, phenylethanoids, and saponins.
- Study of chloroform soluble fraction of B. asiatica yielded 7 compounds:dihydrobuddledin-A, buddledone-B, ursolic acid, 2-phenylethyl-β-D-glucoside, 7-deoxy-8-epiloganic acid (6) and scutellarin-7-O- β-D-glucopyranoside. (see study below) .
- Study of ethanolic extract of flowers yielded four flavonoidal compounds viz., apigenin, acacetin, 7-O-ß-D-glucoside, linarin, and a phenyl ethanoid glycoside, verbascoside.
- Major constituents of essential oil from aerial parts were n-tridecane (55.87%), 5-methylundecane (10.62%), n-dodecane (2.84%) and n-hexadecanol (2.76%). (11)
- Phytochemical screening of methanolic extract of leaves and flowers yielded triterpenoids, steroids, flavonoids, and saponins. (See study below) (12)
- Aerial parts yielded two new oleanane-type triterpenoids, 13,28-epoxy-23-hydroxy-11-oleanene-3-one (1) and 13,28- epoxy-21β ,23-dihydroxy-11-oleanene-3-one (2), along with seven known compounds.
(14)
- Phytochemistry studies have yielded more than 80 compounds including phenyl propanoids, flavonoids, phenyl ethanoid glycosides, phenylpropanoid esters, non-phenolic compounds, triterpene saponins, iridoid glucosides, benzoates, triterpenoids, monoterpenes, acetogenins, steroids, shikimates, and other trace elements. (23)
- Fragrant flowers yielded many flavonoids including apigenin, acacetin-87-O-ß-D-glucoside, diosmin, rutin, etc. Leaves are rich in essential oil with main constituents of tridecane, ß-caryophyllene oxide, anethole, and phytol. (23)
- Essential oil of leaves yielded 17 constituents 14 of which were identified as four monoterpene hydrocarbons, four oxygenated monoterpenes, one hydrocarbon sesquiterpenes and five oxygenated sesquiterpenes. Major constituents was 1,8-cineole (38.1%); others were ß-sinensal 1,10-secxo-1-hydroxy-calamenen-10-one and a-phellandrene at 11.8%, 10.2%, and 5.8%, respectively. (see study below) (25)

Parts used
Roots, leaves.

Uses
Edibility
- In Meghalaya, India, flowers reportedly cooked as vegetable. (17)
Folkloric
- In the Philippines, plant used to induce abortion.
- Also used for various skin diseases.
- Used as cure for weight loss.
- In Pakistan used as abortifacient and contraceptive.
- Used for skin complains.
- Paste of roots mixed with rice water used as tonic.
- Roots and leaves used to treat tumor-like growths.
- Concentrated infusion of roots used to treat malaria.
- In Bangladesh leaf paste applied to forehead for treatment of fever. For high fever in children, root extract is taken, and warm root extract is rubbed onto the whole body. Roots also used in skin diseases. (19)
Others
- Wood: Moderately hard, used for making walking sticks.
- Beer: Leaves and twigs are ingredients in the making of Judima, an indigenous alcohol of the Dimasa tribe in India. (18)

Studies
• Buddlin: Study isolated a new compound, buddlin, from the whole plant of B asiatica. (1)
• Asiatisides: Study yielded four new phenylpropanoid esters of rhamnose, asiatisides A-D, with the known compounds, buergeriside C1, p-methoxycinnamic acid, ferulic acid, and O-methylferulic acid, from the aerial parts of B asiatica. (2)
• Antihepatotoxic: Study isolated a new natural compound, 6-O-(3",4"-dimethoxycinnamoyl) catalpol, from the defatted alcoholic extract of the flowering parts of B asiatica. The flowering parts and roots showed substantial antihepatotoxic activity comparable to the lignan silymarin. (3)
• Non-Phenolic Antioxidants: Study of methanol extract of leaves of B asiatica showed antioxidant activity towards well known in vitro antioxidant tests. Four non-phenolic compounds were isolated and identified. (4)
• Antibacterial / Antifungal / Antispasmodic / Calcium Antagonist: Study showed a crude extract and fractions exhibited significant antibacterial and antifungal activities and concentration-dependent relaxation of spontaneous and high K+-induced contractions. Results indicated antibacterial, antifungal, antispasmodic and Ca++ antagonist potential. (6)
• Antimicrobial Constituents: Study of chloroform soluble fraction of B. asiatica yielded 7 compounds. Compounds 5 -7 (2-phenylethyl-β-D-glucoside, 7-deoxy-8-epiloganic acid (6) and scutellarin-7-O- β-D-glucopyranoside) showed significant antimicrobial activity against P vulgaris, S. typhi E. coli, Trichophyton longifusus, C. albicans, M. canis, Candida glabrata, Fusarium solani and Aspergillus flavus. (7)
• Pb Phytoremediation Potential: Study showed both Buddleja asiatica and B. paniculata are suitable for use in the phytoremediation of lead-contaminated soil. (8)
• Anti-Inflammatory / Analgesic / Antipyretic / Antioxidant / Antimicrobial: Study of ethanol and aqueous extracts of leaves and flowers of B. asiatica and B. madagascariensis exhibited marked anti-inflammatory, antipyretic, analgesic, and antioxidant activities. The extracts also showed antimicrobial activities against some of the tested organisms. (9)
• Essential Oil from Leaves / Antifungal / Antibacterial / Anthelmintic: Study of essential oil from shade-dried leaves of the plant yielded 18 compounds, including monoterpenoids and sesquiterpenoids. Oil was found rich in ß-caryophyllene oxide, citroneliol, and ß-caryophyllene. The oil showed in vitro antifungal, antibacterial and anthelmintic activities. (11)
• Antimicrobial / Flowers and Leaves: Study evaluated the antimicrobial activity of a methanol extract of B. asiatica flowers and leaves against 6 bacteria and 2 fungi. Results showed the flower extract exhibited good antimicrobial activity compared to the leaves extract. (12)
• Antioxidant / Flowers: Fresh flowers of B. asiatica were found to contain hesperitin and its glycoside hesperitin-7-O-rutinoside. The glycoside is a strong antioxidant property that can inhibit lipid peroxidation. (13) T
• Cholinesterase Inhibitors: Study of ethyl acetate soluble fraction of Buddleja asiatica whole plant yielded two new benzoates, asiatoate A and asiatoate B. Both showed significant inhibitory effect on acetylcholinesterase (AChE) and butylcholinesterase (BChE) in a dose dependent manner. (15)
• Buddlejol / α-Chymotrypsin Inhibitor: Study of ethyl acetate soluble fraction of B. asiatica isolated a new sterol, Buddlejol, along with stigmasterol, lignoceric acid, taraxerol, and α-amyrin. Budddlejol showed to be a competitive inhibitor of chymotrypsin. (16)
• Hypotensive / Leaves: Study showed an alcoholic extract of leaves produced persistent and prolonged fall of blood pressure in pentobarbitone-anesthetized dogs and cats. (21)
• Toxicological Study / Cytotoxicity / Analgesic / Bark and Leaves: Study evaluated B. asiatica for cytotoxic and phytotoxic activities. Toxicological studies showed the plant was safe for human consumption. A leaf extract showed significant cytotoxic effect with LD50 of 469.63 µg/ml while a bark extract showed non-significant cytotoxic effect. Lemna minor phytotoxicity assay of both extracts showed non-significant phytotoxic effect. Both extracts showed dose dependent analgesic effect in mice. (22)
• Antinociceptive / Muscle Relaxant / Leaf and Bark: Study evaluated the antinociceptive and skeleton relaxant effect of ethanolic extract of leaves and barks of B. asiatica in animal models. Extracts showed marked dose dependent antinociceptive effect. In chimney test and traction test, the extracts evoked muscle relaxant effects. (24)
• Antimicrobial / Anti-Cholinesteraze / Essential Oil: Essential oil exhibited (66%) strong antibacterial activity against Shigella boydii and significant inhibition (79%) against Aspergillus flavus on fungicidal assay. The essential oil showed outstanding anticholinesterase (IC50 5.2µM) and butyrylcholinesterase inhibitory effect (IC50 27.9 µM). (25)
• Flower Odorants: Study of volatile compounds collected from air over clusters of butterfly bush flowers yielded the consistent presence of nine chemicals: benzaldehyde, 6-methyl-5-hepten-2-one, hexyl acetate, 4-oxoiso- phorone, (E,E)-α-farnesene, (Z)-cinnamaldehyde, dihydrooxoisophorone, β-cyclocitral, and oxoisophorone oxide. Some of the compounds may be attractants or co-attractants for moths and may play a role in locating flowers as nectar sources. (26)
Availability
Wild-crafted.