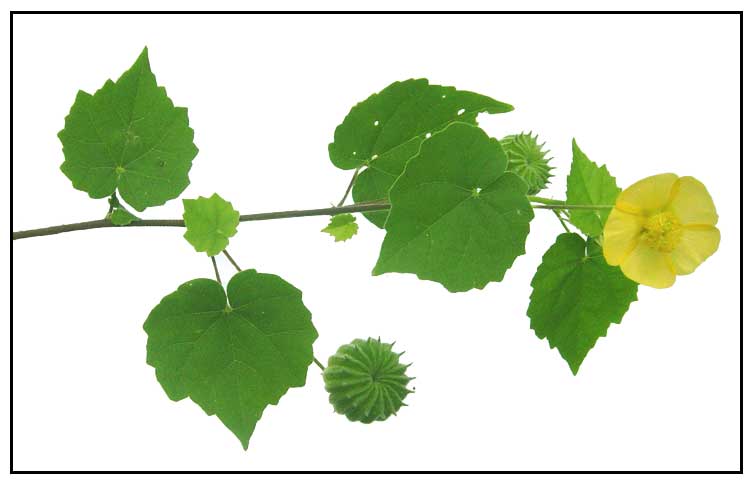 Botany
Malbas is a perennial, half-woody, branched, erect shrub, 0.5 to 3 meters high. Leaves are green and toothed, orbicular-ovate to broadly ovate, 5 to 12 centimeters long and nearly as wide, with a prominently heart-shaped base and pointed apex, the margins entire or irregularly toothed. Flowers are yellow, 2 to 2.5 centimeters, solitary, borne in the axils of the leaves, and opens in the evening. Fruits is a rounded capsule, 1.5 to 2 centimeters in diameter, with 15 to 20 somewhat hairy, shortly awned carpels.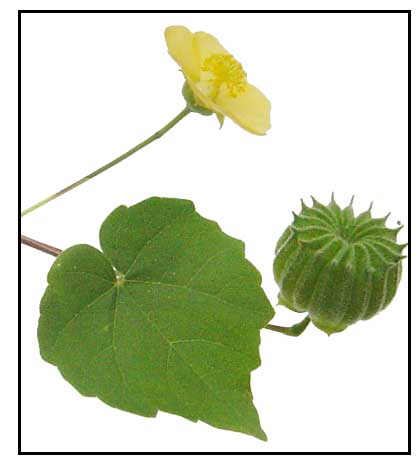 Distribution
- Throughout the Philippines in thickets and waste places in and about towns at low and medium altitudes.
- A common garden plant.
- Certainly introduced.
- Now pantropic.
Constituents
- Whole plant contains mucilaginous substances and asparagines.
- Phytochemical screening yielded steroids, sapogenins, carbohydrates, coumarins and flavonoids.
- Leaves contain a mucilage, tannin, organic acid, traces of asparagin, and ash which contains alkaline sulfates, chlorides, magnesium, phosphate, and calcium carbonate.
- Roots also contain asparagin.
- Study yielded two new compounds: abutilin A and (R)-N-(1'-methoxycarbonyl-2'-phenylethyl)-4-hydroxybenzamide plus 28 known compounds.
- Plant yields essential oils consisting mainly of alpha-pinene, caryophyllene oxide, endesmol, farnesol, borenol, geraniol, geranyl acetate, elemene, and alpha-cineole with other minor constituents. (19)
- Phytochemical analysis of leaf extract yielded alkaloids, carbohydrate, phenol, tannin, saponins, steroids, gums and mucilage. Glycosides, anthraquinones, proteins and amino acids were absent. (see study below) (26)
- A methanol extract of leaves yielded eudesmic acid, ferulic acid and caffeic acid. (see study below)       (29)
- Study of fruit yielded 13 new bioactive compounds: 2-Pentanone,4-hydroxy-4- methyl, 2-Hexanol,2-methyl, 2-Pentanol,2,3-dimethyl-, m-xylene, p-xylene, o-xylene, c-sitosterol, a-sitosterol, cholest-5-en-3-ol, 4,4-dimethyl-,(3a)-, lupeol, lup-20(29)-en-3- ol,acetate,(3a)-, 9,19-Cyclo-9a-lanostane- 3a,25-diol, taraxerol. (49)
- GC-MS analysis of ethyl acetate extract of leaves yielded 16 major compounds including 4 hydroxyphenylacetic acid methyl ester, 5-Thio-D-glucose, 5-Allylsulfanyl-1-(4-methoxy-phenyl)-1H-tetrazole,E)-10-Heptadecen-8-ynoicacid methyl ester and Z-11-Hexadecenoic acid. (55)
- Phytochemical screening yielded various bioactive secondary metabolites constituents such as alkaloids (0.42%%), flavonoids (0.62), saponins (44.5%%), tannins (11.0%%), terpenoids (0.20%%), carbohydrates (0.16),, and protein (2.5). (56)
- GC analysis for bioactive compounds yielded 8 compounds viz. dodecanoic acid (8.846), octadecanoic acid (9.608), nonanoic acid (12.258), N--hexadecanoic acid (14.222), ethanol, 2--bromo (16.985), dibutyl phthalate (17.729), phytol (19.671), and diisooctyl phthalate (23.272). (56)
Properties
- Considered analgesic, anti-inflammatory, anthelmintic, aphrodisiac, astringent, demulcent, digestive, diuretic, expectorant, laxative.
- Studies have shown hepatoprotective, hypoglycemic, immunomodulatory, antinociceptive, antimicrobial, antimalarial, antifertiity, hepatoprotective, antioxidant, analgesic, anti-malarial, and wound healing properties.
- Leaves considered stomachic and antiperiodic.

Parts used
Leaves, bark, roots, seeds, flowers.

Uses
Folkloric
- In the Philippines, decoction of leaves used for cleansing wounds and ulcers.
- Decoction of leaves also used as enemas or vaginal injections.
- Leaves used as emollient decoction, used by Filipinos as demulcent, diuretic, sedative, and aphrodisiac.
- Plant leaves are demulcent; given as decoction for bronchitis, bilious diarrhea, gonorrhea, bladder inflammation, urethritis and fevers. Decoction also for fomentation over aching body parts for its emollient benefits.
- Bark is astringent and diuretic.
- Seeds are demulcent, laxative, expectorant and aphrodisiac; useful for gonorrhea and cystitis.
- In China, used for tinnitus, deafness, earaches, fevers, hives, tuberculosis, weeping ulcers; as diuretic.
- In India, used for coughs and fevers, body aches, hemorrhoids, gonorrhea, bronchitis, dysuria, diabetes, dysmenorrhea, diarrhea, boils and skin ulcers. Bark and root used as diuretic.
- Infusion of root used to relieve strangury and hematuria; also used for leprosy.
- Infusion of leaves and roots used as cooling medicine in fevers.
- Decoction of leaves used as mouthwash in toothache and tender gums; also used in gonorrhea and bladder inflammation.
- Flowers and leaves applied locally to boils and ulcers.
- Leaf decoction used as eyewash and mouthwash for toothaches and tender gums.
- Decoction of leaves yield a mucilage to hot water and used as fomentation for painful parts.
- Decoction of seeds used for piles and wounds. Also used for gonorrhea, gleet, and chronic cystitis.
- Seeds burnt on charcoal, and the recta of threadworm affected children are exposed to the smoke.
- In Indo-China, the young flowers and seeds are used as diuretic, emollient, and tonic.
- In Tamil, India, leaf juice and root taken orally for dental problems. (52)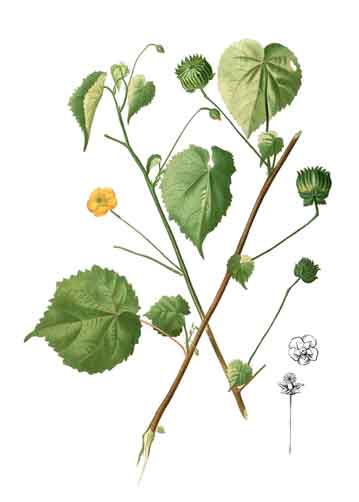 Studies
• Wound Healing: PHCOG MAG.: Research Article Wound Healing activity of Abutilon Indicum: Study showed wound healing activity which may be due to increase in collagenation deposition, better alignment and maturation. (1) Study evaluated the wound healing activity of AI in Wistar albino rats using two excision and incision models. Results showed good wound healing activity, with the petroleum ether extract showing greater activity than the ethanolic extract. (27)
• Hypoglycemic / Leaves: Alcohol and water extracts of leaves showed significant hypoglycemic effect in normal rats 4 hours after administration. (2)
• Hepatoprotective: The aqueous extract of AI exhibited significant hepatoprotective activity by reducing CCL4 and paracetamol-induced changes. The extract may interfere with free-radical formation which may be responsible for the hepatoprotective action. (3) An aqueous extract of flowers was assessed using CCl4-induced hepatotoxicity in albino rats. Results showed hepatoprotection attributed to its flavonoid content. (34)
• Larvicidal: Isolation and identification of mosquito larvicidal compound from Abutilon indicum (Linn.) Sweet: Study showed the petroleum extract of A indicum may be a potent source of ß-sitosterol as a new natural mosquito larvicidal agent. (4)
• Analgesic / Eugenol: Analgesic principle from Abutilon indicum: Eugenol, isolated from AI, was found to possess significant analgesic activity. (5)
• Antidiabetic: Study showed aqueous extract of A indicum has antidiabetic properties evidenced by inhibition of glucose absorption and stimulation of insulin secretion. Phytochemical studies yielded alkaloids, flavonoids, tannins, glycosides and saponins that could account for the pharmacologic effects. (6) Study showed antidiabetic activity via PPARy stimulation, enhancement of insulin secretion, increased peripheral glucose consumption through activated GLUT-1 promoter activity, and inhibition of glucose absorption. (34) A chloroform fraction at dose of 50 mg/kg showed significant reduction in blood sugar level in diabetic rat when compared to diabetic rat controls. (45)
• Antimycotic Activity / Leaves: Methanolic extract of leaves of Abutilon indicum shows remarkable antifungal activity against Tricophyton rubrum and suggests further studies for possible therapeutic use. (7)
• Lipid-Lowering Activity: The ethanolic and water extract of A indicum inhibited the elevation in serum cholesterol and triglyceride levels in rats and an increase in HDL lipoproteins in high-fat diet-induced hyperlipidemic rats. Comparatively, atorvastatin and gemfibrozil showed slightly better effects. (8)
• Anti-Inflammatory Activity: Study of extracts of leaves of Abutilon indicum showed a biphasic effect on membrane stabilization, a measure of antiinflammatory activity comparable to standard drug diclofenac sodium. (9)
• Anti-Diabetes / Adipocyte Differentiation / Insulin Resistance: Study results suggest that the extract of A. indicum may be beneficial for reducing insulin resistance through its potency in regulating adiposity differentiation and by increasing glucose utilization. (10)
• Immunomodulatory / Leaves: Study on the immunomodulatory activity of aqueous and ethanol extracts of leaves of AI on albino mice demonstrates it triggers both specific and non-specific immunological responses. Its immunostimulant effect could be attributed to the flavonoid content. (11)
• Bronchial Asthma / Mast Cell Stabilizing Effect: Study showed A indicum's possible mechanism of action in the treatment of bronchial asthma may be due to its mast cell stabilizing and anti-inflammatory effect.
• Cytotoxic / Antimicrobial: Study of the crude methanolic extract of leaf of Abutilon indicum showed promising cytotoxic activity and the carbon tetrachloride extract showed mild to moderate antimicrobial activity. (12)
• Analgesic Activity: Study showed the extracts of A. indicum possess significant dose-dependent peripherally acting analgesic activity with a feeble centrally acting analgesic effect. (13)
• Antioxidant / Radical Scavenging Activity: Study showed dose-dependent antioxidant and radical scavenging activity in the extracts of both A indicum and A muticum. (14) Study of methanol leaf extract showed strong antioxidant activity on Ferric Reducing Antioxidant Power (FRAP) assay. (23)
• Analgesic / Antiinflammatory: Study showed both analgesic and anti-inflammatory activities. In both the activity of the methanol and aqueous extract was more than the other extracts. (15) Study of aqueous and ethanolic extracts of Abutilon indicum showed analgesic (formalin induced paw licking and tail flick method) and anti-inflammatory (carrageenan-induced hind paw edema model) activity. (47)
• Antibacterial: Extracts of Abutilon indicum was tested against for antibacterial activity. The highest antibacterial potentials were observed against Staphylococcus aureus, Pseudomonas aeruginosa, and Klebsiella pneumonia.
• Antibacterial / Roots: Study of root extracts showed analgesic activity. The mechanism was attributed to a central mechanism or a peripheral analgesic mechanism. (17)
• Acute Toxicity Study: Study investigated the acute toxicity of Abutilon indicum plant material in Swiss mice. Up to 10 g/k and 10 mL/kg, the plant was shown to be non toxic with no marked changes in behavioral, food and water intake, with no lethality or adverse toxic signs in a 14-day observation period. (19) Acute toxicity study in Swiss mice showed the plant to be safe, with no lethality or adverse toxic signs during 14 days of observation. (25) Acute toxicity study of petroleum ether extract of root in female wistar albino rats showed the roots to be safe, at 2000 mg/kbw, with no lethality or adverse effects in a 14-day observation period. (28)
• Nephroprotective / Cisplatin Toxicity: Study evaluated an ethanolic extract of Abutilon indicum for protective efficacy against cisplatin-induced toxicity in albino Wistar rats. Results showed pretreatment with EEAI before cisplatin treatment significantly prevented the increase of serum creatinine, BUN, and other lab chemistry levels and markedly decreased cisplatin-induced renal damaged confirmed by biochemical assays and histopathological changes. (21)
• Diuretic Activity / Seeds: Study evaluated a seed extract for diuretic activity in rats. Results showed significant diuresis and increased sodium elimination. (22)
• Anticonvulsant / Leaves: Study showed the anticonvulsant activity of Abutilon indicum leaf and aqueous extracts by PTZ and MES induced convulsions in wistar rats. (24)
• In Vitro Calcium Oxalate Inhibition / Antilithiatic / Leaves: Study evaluated aqueous extracts of fresh leaves for antilithialitic activity. Results showed the plant possess in vitro calcium oxalate inhibition potential. (see constituents above) (26)
• Antibacterial / Leaves: Methanol extract of leaves showed antibacterial activity, with gram negative E. coli being the most susceptible followed by Pseudomonas aeruginosa. (see constituents above) (29)
• Bronchial Asthma / Leaves: Study investigated the efficacy and safety of powdered dried aerial parts of A. indicum in patients with bronchial asthma. After 4 weeks of treatment, results showed statistically significant improvement in various parameters of pulmonary functions., with observed significant improvement in clinical symptoms and severity of asthmatic attacks. (30)
• Essential Oil / Antifungal / Leaves: Study showed the essential oil of leaves of Abutilon indicum and Lantana camara showed good effective antifungal efficiency against against Aspergillus Niger, Aspergillus Nidulans, Rhizopusnigricans, Cladosporium Herbarium, Penicillum Digitatum. (31)
• Anti-Ulcer / Leaves: Study evaluated the anti-ulcer activity of a methanol extract of Abutilon indicum leaves in pylorus ligated and ethanol induced ulceration in albino rats. Results showed significant dose dependent antiulcer properties which may be attributed to flavonoids (quercetin), alkaloids and tannins.    (32)
• Anti-Diarrheal / Leaves: Study evaluated leaf extracts of A. indicum for anti-diarrheal activity in albino rats. Methanol and aqueous extracts possessed significant antidiarrheal activity in castor oil-induced diarrhea and prostaglandin E2-induced diarrhea. (33)
• Fertility Control / Seeds: Study evaluated the effect of Abutilon indicum seed powder on genital organs and fertility of female albino rats. The higher dose caused 100% control of fertility with histopathological changes in the ovary and uterus. (35)
• Anti-Venom Potential / Seeds: Study evaluated the in vitro anti-venom potential of A. indicum leaves against Echis carinatus (Saw Scaled Viper) venom. Results showed inhibition of all enzymes present in the venom: acetylcholinesterase, phospholipase, hyaluronidase, L-amino acid, phosphomonoesterase, and phosphodiesterase. (36)
• Modulation / Alcohol Induced Hepatotoxicity / Leaves: Study showed A. indicum leaves will likely reduce the increased peroxidative damage in the liver induced by alcohol, possibly through enhancement of antioxidant potential through free radical scavenging due to presence of flavonoids and micronutrients. (37)
• Larvicidal / Adult Emergence Inhibition / Vector Mosquitoes / Leaves: Leaf extracts of Abutilon indicum showed showed larvicidal effects and promising results as an adult emergence inhibitor against vector mosquitoes viz., Aedes aegypti, Anopheles stephensi and Culex quinquefasciatus (38)
• Chromium Absorption: Study evaluated the removal of chromium ion from aqueous solution using A. indicum. Results suggest A. indicum may be used as a low cost absorbent. (39)
• Anti-Diabetic / α- glucosidases Inhibition: Study evaluated evaluated a methanol leaf extract of A. indicum for hypoglycemic effect in normal and STZ-induced diabetic rats. An in-vitro study showed the AI extract inhibited α-glucosidases, the disaccharide-digesting enzyme in the small intestine. There was a potent sucrase inhibition, with less potent maltase inhibition. Results suggest the AI extract would be effective for lowering and suppressing elevation of blood glucose. (40)
• Anti-Anxiety / Leaves: Study evaluated the anti-anxiety property of various doses of leaf extracts of Abutilon indicum in albino mice. Results showed dose-dependent anxiety effect. (41)
• Cytotoxicity Against U87MG Human Glioblastoma Cells / Leaves: Study evaluated various extracts and sub-fractions of AI leaves for cytotoxicity on U87MG human glioblastoma cells. The extracts exhibited considerable activity. The most active AIM-C fraction yielded four compounds, with compound 2 (methyl caffeate) being the most active.(42)
• Anthelmintic: Study of various extracts showed good anthelmintic activity against two parasitic worms: Pheretima posthuma and Ascaris lumbricoides. (43)
• Antiproliferative / Anti-Inflammatory / Leaves: Study of ethanolic leaf extract of A. indicum showed anti-inflammatory and anti-proliferative properties with interactive mechanism with MAP kinase pathway. The leaf extract showed antioxidant activity attributed to phenolics and flavonoids present in the extract.  (46)
• Anticataract Potential / Leaves: Study evaluated the in vitro anticataract potential of a hydroalcoholic leaf extract of Abutilon indicum against glucose-induced cataractogenesis using goat lenses. Results showed anticataract activity evidenced by a reduction in the opacity of lens incubated with the plant extract. (48)
• Bioactive Compounds: GCMS analysis of fruit yielded 13 new bioactive compound. Some of the identified compounds are reported to possess significant applications, i.e., antimicrobial, antipsoriatic, antioxidant, anticancer, antiarthritic, diuretic, anti-inflammatory, anti-hyperglycemic, among others. (see constituents above) (49)
• Phytol from A. indicum / Cytotoxic / Apoptotic / Leaves: Study evaluated the apoptosis inducing ability of leaf extract of A. indicum. A hydroalcoholic leaf extract showed cytotoxicity on Schizosaccharomyces pombe cells by affecting growth and viability. The active principle was identified as phytol which was found responsible for inducing ROS mediated apoptosis in S. pombe. (50)
• Antimicrobial Activity from A. indicum / Cytotoxic / Apoptotic / Leaves: Study evaluated the formulation and evaluation of methanolic extract of A. indicum and MEAI loaded solid lipid nanoparticles (SLN) against a wide range of bacterial pathogens that can cause diabetic foot and urinary tract infections. Results showed stearic acid-SLN exhibited enhanced antibacterial effect compared to MEAI against all tested microorganisms in vitro. Results suggest the nanoparticle system could be an effective carrier for oral delivery of Abutilon indicum. (51)
• Aphrodisiac / Fertility Enhancing / Roots: Study evaluated root extracts for aphrodisiac properties. At higher concentration (400 mg/kbw), an ethanolic extract of roots showed significant aphrodisiac activity in male wistar rats as evidenced by increase in number of mounts, mating performance, hormonal analysis, testes-body ration and sperm count. (53)
• Antifungal / Roots and Leaves: Study evaluated roots and leaves of A. indicum for antifungal activity against a variety of fungi. Results showed the alcoholic leaf extract exhibited good response against Microsporum gypseum and Penicellium chrysogenum. (54)
• Silver Nanoparticles / Anti-Inflammatory / Antioxidant: Study reports on the synthesis of silver nanoparticles from ethanol extraction of A. indicum. The AgNPs synthesized A. indicum possesses anti-inflammatory and antioxidant potential which may be used for the prevention of oxidative damage that occurs during inflammation. (see constituents above) (56)
• Silver Nanoparticles / Anticancer / Leaves: In-vitro study of green synthesized nanoparticles of A. indicum leaf extract showed antioxidant activity by DPPH radical scavenging activity assay and anticancer activity against MCF-7 breast cancer cell line. (57)
• Nephroprotective / Gentamicin Induced Renal Failure / Roots: Study evaluated the nephron protective effect of A. indicum root in gentamicin induced acute renal failure in wistar albino rats. The protective effect could be due to its antioxidant property or other phytochemicals of the root. (58)

Availability
- Wild-crafted.
- Powders and extracts in the cybermarket.