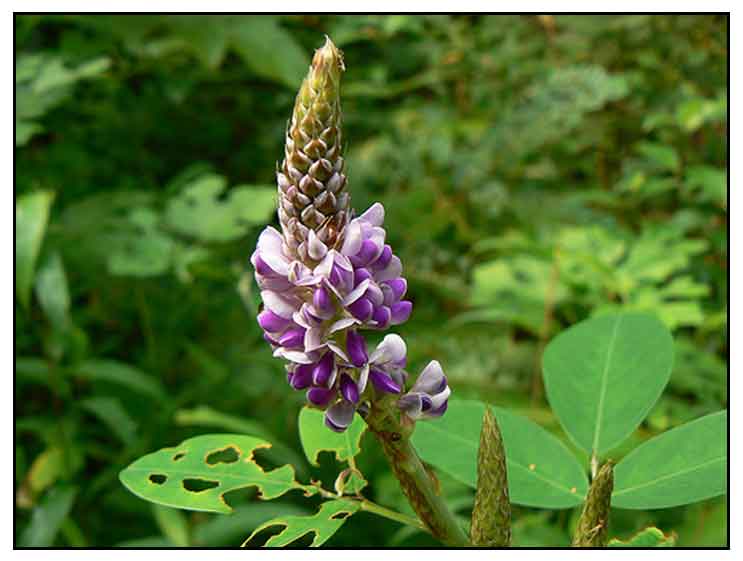 Etymology
The scientific name derives from Greek words desmos (band or chain) referring to the jointed seed pods, and heteros (different) and karpos (fruit). (Dave's Garden) (10)
Botany
Tayam is an erect or sub-erect perennial undershrub or creeping woody rootstock, with slightly angular and slender branches, clothed upwards with short, adpressed, gray hairs. Leaves usually have three leaflets, but single leaflets may be found on the lower stems of mature plants. Leaflets are green, hairy above, and thinly clothed with adpressed hairs beneath; the end one obovate-oblong, 2.5 to 7.5 centimeters long, the side ones smaller. Racemes are terminal and lateral, 2.5 to 7.5 centimeters long. Pods are 1.2 to 2 centimeters long.
Distribution
- In thickets and open grasslands at low and medium altitudes from northern Luzon to Mindanao.
- Also occurs in India, Sri Lanka, Malacca, Malaya, Zanzibar, China, Japan and Polynesia. Also found in tropical Africa.
Constituents
- Study isolated eight compounds identified as betulic acid,friedelin ,n-hexadecanoic acid, β-sitosterol, (Z,Z)-9,12-octadecadienoic acid,1-hentetracontanol, octacosane, and vitexin. (3)
- Study of aerial parts yielded new 2-carboxy-dihydrostilbene glucoside, 2-carboxy-3,5,4′-trihydroxydihydrostilbene 3-O-β-d-glucopyranoside (1) and a new flavan diglycoside, (2S)-5,7,4′-trihydroxyflavan 7-O-β-d-apiofuranosyl-(1 → 6)-O-β-d-glucopyranoside (3), together with five known compounds, lunularic acid 4′-O-β-d-glucopyranoside (2), vitexin (4), isovitexin (5), (−)-epi-catechin 3-O-β-d-glucopyranoside (6), and (−)-epi-afzelachin 3-O-β-d-glucopyranoside (7).  (10)
Properties
- Tonic.
- Most Desmodium species are considered anti-inflammatory.
- Studies have shown antimicrobial, antioxidant, cytotoxic, insecticidal properties.

Parts used
Leaves, roots.

Uses
Folkloric
- Boiled roots used as poultice for sore breasts.
- Plant decoction considered tonic and useful for coughs.
- In West Java, roots and leaves used for women's problems.
- Santals use a plant preparation for fainting and convulsions.
- Plant used for reducing fever and treating contusions and strains. (7)
Others
• Fodder: Practical and resilient long-term grass-legume pasture.
• Ground cover: Used as weed-controlling ground cover. Shade-tolerant and can be used as cut-and-carry for restoration of degraded soils. (7)
Studies
• Antimicrobial / Cytotoxic / Antioxidant: Study evaluated a methanolic extract and fractions of powdered whole plant for antimicrobial, cytotoxic, and antioxidant activities. Fractions Fc and Fd showed mild antimicrobial activity. Significant free radical scavenging (DPPH) activity was shown by ME (IC50 19.14±0.14 µg/mL) and Ff (IC50 29.71±0.44 µg/mL). Fractions Fb and Fd showed strong cytotoxicity in brine shrimp lethality bioassay with LC50 of 8.19±0.08 µg/ml and 6.46±0.09 µg/ml, respectively. (2)
• Antioxidant: In a study that evaluated 10 Desmodium species for antioxidant activity, D. heterocarpon showed strong antioxidant activity in the ABTS and DPPH assays. (4)
• Antimicrobial / Leaves: Study evaluated a methanolic leaf extract of DH for antimicrobial activity against various bacterial and fungal strains. Results showed very good antibacterial activity against Salmonella typhi and excellent antifungal activity against all test fungal strains (A. niger, P. chrysogenum, S. cerevisiae, and Candida albicans). The antifungal activity showed more inhibition zone than standard drug ketoconazole. (5)
• Repellent / Insecticidal: Desmodium heterocarpon whole plant showed insecticidal activity against adult beetles of T. castaneum. (6)
• Antioxidative / Anti-Inflammatory: Study evaluated ethanol extract of D. heterocarpon for antoxidative and anti-inflammatory activities. The EE showed potent antioxidative activity by DPPH assay and induced expression of antioxidative enzyme heme oxygenase 1 (HO-1) in a dose-dependent manner. The EE also effectively suppressed H2O2-induced ROS on RAW 264.7 murine macrophage cells. The EE also inhibited LPS-induced NO formation as a consequence of iNOS down-regulation. (8)
• Cytotoxicity / Brine Shrimp Lethality / Leaves: Study evaluated the cytotoxicity of jiinjit leaves using Brine Shrimp Lethality Test. Results showed cytotoxic activity against Artemia salina Leach larvae with LC50 value <1000 µg/ml. (9)

Availability
Wild-crafted.