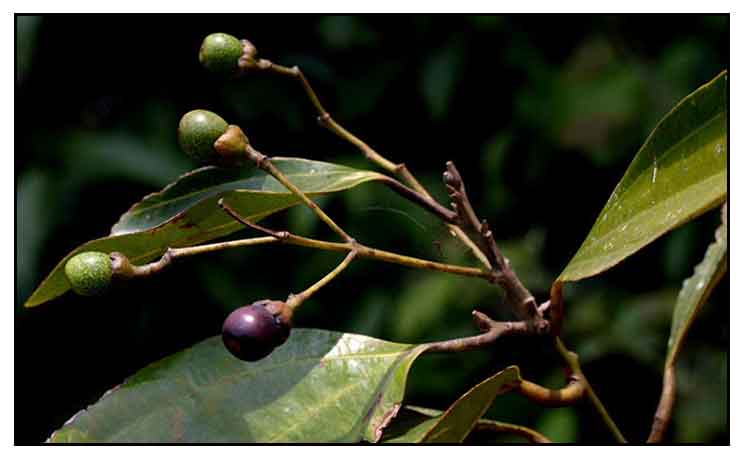 Botany
Namog is a small to large tree. Bark is smooth and grey, with horizontal, wavy bands, 6 to 12 millimeters thick. Wood is light, yellowish brown, moderately hard, shining, smooth and scented. Branchlets are nearly smooth. Leaves are opposite as a rule, smooth, leathery, lanceolate, oblong or linear-oblong, rarely ovate, 8 to 16 centimeters long, up to 13 centimeters wide, rounded at the base, and pointed at the tip. Blades are 3-nerved. Panicles are slender, long peduncled, often exceeding the leaves, covered with silky hairs. Flowers are yellowish, 4 millimeters long. Fruit is about 10 millimeters long, with the base sunk in the perianth.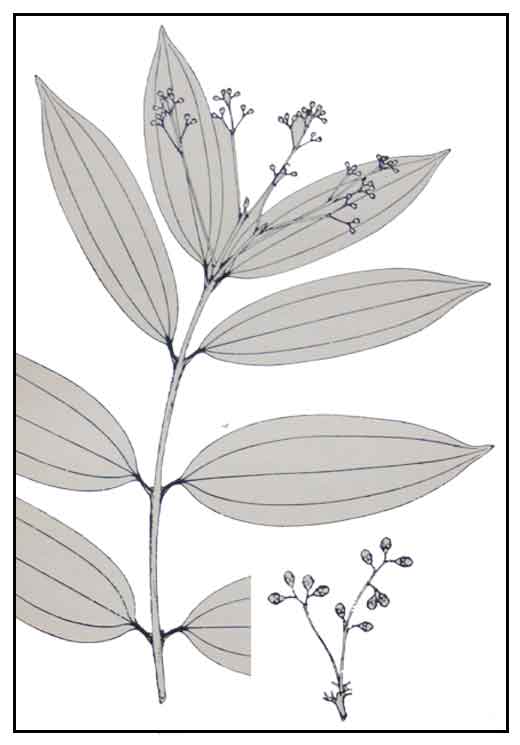 Distribution
- In Mindanao, Palawan and Tawi-Tawi, in forests up to 700 meters altitude.
- Also occurs in Indo-China, Malaya, Sumatra, Java, and Borneo.
Constituents
- Leaves contain an essential oil, eugenol, terpene and cinnamic aldehyde.
- Bark contains an oil similar to cinnamon oil.
- Root oil yields eugenol, saffrol, benzaldehyde, and terpene.
Properties
- Considered carminative, stimulant, diuretic, diaphoretic, deobstruent and lactagogue
- Oil distilled from leaves is a powerful stimulant.

Parts used
Roots, leaves.

Uses
Culinary and nutrition
- Bark is used locally as a substitute for cinnamon, to which it is inferior.
- Leaves are used as condiment.
- Oil from the leaves used for flavoring sweets and confectionery.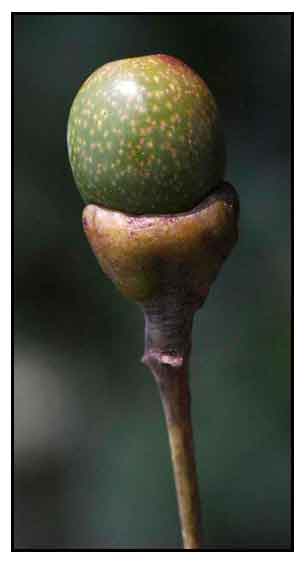 Folkloric
- Root decoction used after childbirth; also, for fevers.
- Leaves used with roots for fevers and after childbirth.
- Juice of leaves squeezed into the wound is a Sakai remedy for Antiaris poisoning.
- Poultice of leaves used for rheumatism

Studies
• Phytochemicals / Analgesic / Non-Toxic: Study of methanolic extracts of C. iners leaves yielded cardiac glycoside, flavonoid, polyphenol, saponin, sugar, tannin and terpenoid. Analgesic study showed it acts peripherally to relieve pain. It showed no lethality or toxicity symptoms for all tested doses on Swiss albino mice. (1)
• Anti-Kinase / Anti-Cancer / Antioxidant: Cinnamomum species have been reported to inhibit various cell lines proliferation. Study of methanol and acetone extracts of CI leaves showed significant anti-kinase activity against MKK1 in the signal transduction pathway, with a potential as MKK1 inhibitors in anti-cancer therapy. Both extracts contained polyphenol and flavonoids with potent anti-oxidation activity against DPPH free radicals. (2)
• Amrycard Powder / Antioxidant / Antibacterial: C. iners is one of the constituents of Amrycard powder, an ayurvedic formulation traditionally used for diabetes, that shows significant activity against E coli and S aureus. (3)
• Antimicrobial / Xanthorrhizol / Leaves: Study isolated an antimicrobial compound, xanthorrhizol, from an ethyl acetate fraction of leaves. It was most active against methicillin resistant Staphylococcus aureus (MRSA) and E. coli. (6)
• Radical Scavenging / Total Phenol Content: Study of various extracts showed the ethanol extract to have the highest antioxidant activity, also showing the highest total phenolic content. On antifungal assay, the ethanol extract produced the widest zone of inhibition. (7)
Availability
Wild-crafted.