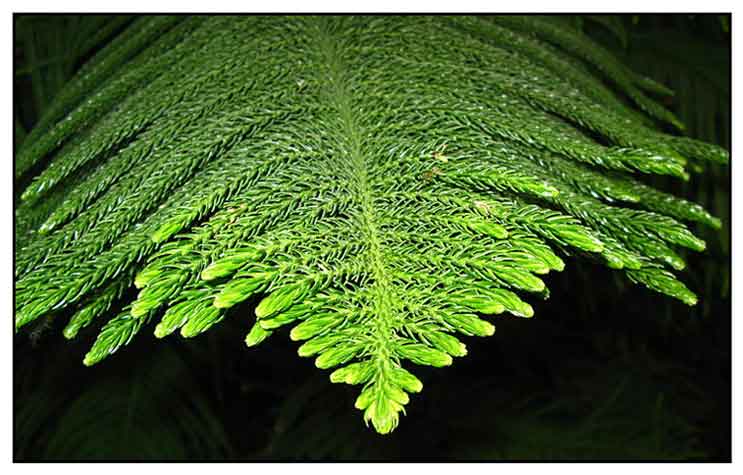 Botany
Norfolk pine is a cone-shaped evergreen tree growing 15 meters high, with lateral branches from the main trunk arranged in whorls. Branches are longest at the base, gradually becoming shorted upwards. Leaves are small, needle-like, crowded along the branches and branchlets.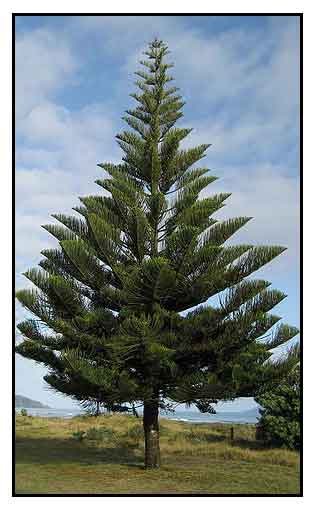 Distribution
- Widely distributed in the Philippines.
- Planted in parks and gardens.
- Native to Norfolk Island.
Constituents
- Study of resin collected from the stem exudates yielded three labdane diterpenes, labda-8(17),14-diene, 13-epicupressic acid, and 13-O- acetyl-13-epicupressic acid.

Parts used
Resin.

Uses
Folkloric
No reported folkloric medicinal use in the Philippines.

Studies
• Resin / Antiulcerogenic: Resin isolated from stem exudates showed anti-ulcerogenic activity against ethanol-induced stomach ulcers in Sprague Dawley rats using ranitidine as standard. (3)
• Resin / Cytotoxicity / Breast and Colon Cancer Lines: Resin and isolated compounds showed variable cytotoxic activities against breast (MCF7) and colon (HCT116) cancer cell lines. The in vitro cytotoxic effect of the resin extract was comparable to the reference drug Doxorubicin. Effect may be a synergism effect of the diterpene content.(3)
• Biosorbent / Chromium Removal: Study showed auracaria leaves has the potential for a cheap and efficient biosorbent for toxic hexavalent chromium removal from natural and wastewaters. (4)
Availability
Wild-crafted.