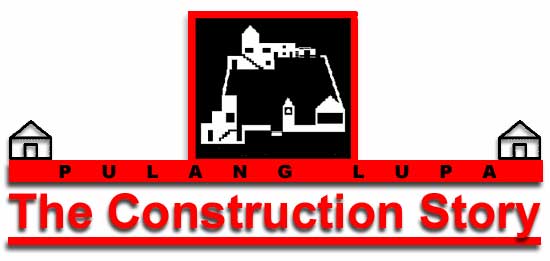 A RECORD OF THE PULANG LUPA COMPLEX CONSTRUCTION - ACCUMULATED DIGITAL AND PRINT PHOTOS, SKETCHES AND WRITINGS - SINCE THE PROJECT STARTED IN 1998.
It was a vision that took form so slowly, at first, so uncertain, poorly defined, but persistent, fueled by recurrent late nights tippling and libating on 95-proof lambanog. It had small and meager beginnings, a one-room school house with a small library, to be built at the peak of 50-some hectares of the family's farm. The peak. . .yes, it was that "peak" that started it. A kilometer walk of winding paths - through 50-some hectares of geometric and spaced plantings of coconut tress, banana trees and seasonal cash-crops, and the wild growth of fruit-bearing trees and countless variety of flora - finishing with an acute slope that can be brutal for the unaccustomed heart. The hike is rewarded by the view from the peak.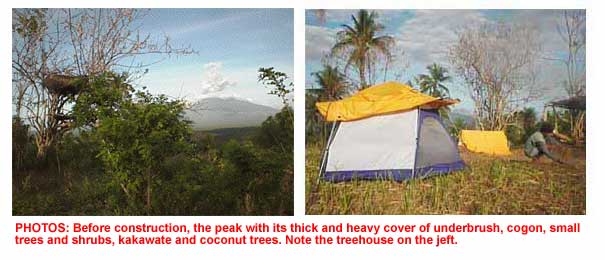 The peak - a high point in the town of Tiaong, Quezon - offers an unimpeded circumferential view: North, the town of San Pablo; northeast, the mountains of Banahaw, Cristobal and Masalukot; east, the China sea, in the distant horizon that lights up with its string of boats at night; west, the mountain range of Ayusan, and in-between, patches of the verdant country side of rice fields and blankets of coconut trees.
Traditionally, it has been called "Pulang lupa," for the color of the its volcanic-type soil; historically, "Pinagbanderahan" or "flag site," where the Japanese held a strategic station during its wartime occupation of the town. To some, it was known as "Proces," a local tagalog abbreviative for "Four Roses," referring to a rose each to an uncle's four endearing loves of his life. To the family, it was the "Peak" with its traditional Holy Week hike for the young ones; a place with the view, shared with friends and visitors.
I camped a few days, accompanied by Ruben, who staked a claim for the eventual caretaker's job. The peak, cleared of its thicket, exposed an incredible view of the surrounding country side and mountain ranges. The wonderment was not lost in deciding how and what to build, mindful to preserve the view, as much as possible from all vantage points.
The evenings served its own spectacles, with a cloudless and moonless celestial dome ablaze with stars, the deepening darkness bringing its many layers of sounds.
---


The Constructiion Story
1 2 3 4 5 6

---



---