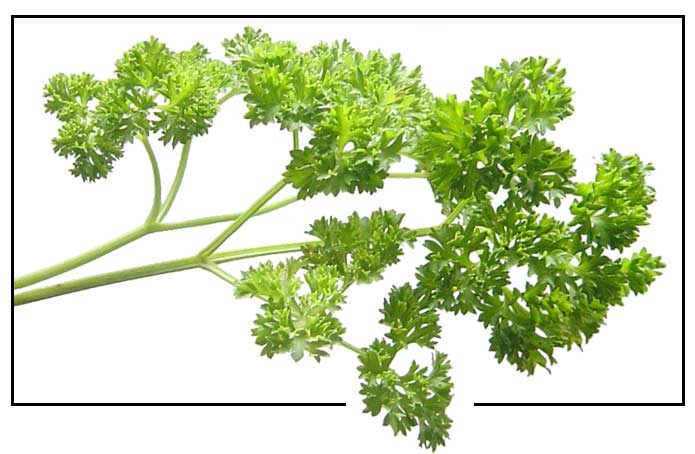 Botany
Parsley is a biennial herb with fleshy, spindle-shaped roots and thin, erect, grooved, angular and branching stems. Leaves are bright to dark green, bi- or tri-laterally divided, on long petioles. Leaflets are wedge-shaped. Flowers are greenish yellow compound umbels.
Distribution
Cultivated.
Constituents
• Studies have yielded active constituents: phenolic compounds and flavonoids, particularly apigenin, apiin, and 6"-acetylapiin; essential oil, mainly myristicin and apiol; and coumarins.
• Nutrition information per 100g of fresh parsley: (Principle) Energy 36 Kcal, carbohydrates 6.33 g, protein 2.97 g, total fat 0.8 g, cholesterol 0 mg, dietary fiber 3.3 g; (Vitamins) folates 152 µg, niacin 1.313 mg, pantothenic acid 0.400 mg, pyridoxine 0.090 mg, riboflavin 0.098 mg, thiamin 0.086 mg, vitamin A 8424 IU, vitamin C 133 mg, vitamin E 0.75 mg, vitamin K 1640 µg; (Electrolytes) sodium 56 mg, potassium 554 mg; (Minerals) calcium 138 mg, copper 0.149 mg, iron 6.20 mg, magnesium 50 mg, manganese 0.160 mg, phosphorus 58 mg, zinc 1.07 mg; (Phytonutrients) carotene-ß 5054 µg, lutein-zeaxanthin 5561 µg. (16)
• GC-MS study for volatile compounds yielded mainly monoterpenes. The abundant compound was p-1,3,8-menthatriene, followed by β-phellandrene and apiole. Callus cultures and cell suspensions produced aldehydes. Palmitic and stearic acids were the most abundant fatty acids in all materials. (21)
• GC-MS study of essential oil yielded D-limonene (18.83%), myristicin (17.18%) and apiol (10.09%). (see study below) (24)
• Study of oil from ground seeds yielded myristicin (42.65%), ß-phillandrene (21.83%), p-1,3,8-menthatriene (9.97%), and ß-myrcene (4.25%). (see study below) (26)
• GC-MS analysis of fixed oil yielded 62 components. Major components were apiol (36.44%), 0-octadecenoic acid methyl ester (27.17%), 4-methoxy-6-(2-propenyl)-1,3-benzodioxole (2.12%) and 9,12-octadecadienoic acid methyl ester (8.32%). (see study below) (33)

Properties
• Studies have suggested antimicrobial, anti-inflammatory, analgesic, anti-platelet, diuretic, emmenagogue, laxative, gastroprotective, hypotensive, tonic, carminative, antiurolithiatic, antidiabetic properties.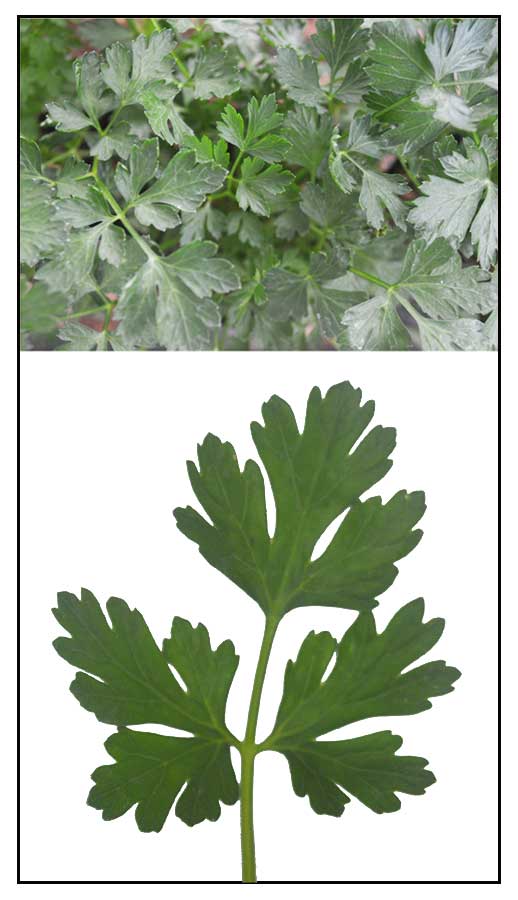 Part utilized
Leaves, seeds and roots.
Uses
Culinary
- Used as garnish, condiment, and flavoring.
- A popular decorative green sprig on restaurant entrees.
Folkloric
- Tea and juice of the plant used for dropsy, gonorrhea, asthma, coughs and painful menstruations.
- Also used for gallstones.
- Decoction of seeds used for killing scalp vermin; dried powdered leaves sprinkled on hair or used as ointment for lice.
- Bruised leaves applied to contusions.
- Juice of leaves used for blepharitis and conjunctivitis.
- Poultice of leaves for stings and bites.
- Elsewhere, used for dysuria.
- Used to induce menstruation.
- Used to stimulate hair growth.
- Leaves applied to cracked or chapped skin, bruises, insect bites.
- Decoction of fruits and seeds used for colic, indigestion and intestinal gas.
- In Egypt traditional medicine, used for urinary tract infections.
- In Israeli traditional medicine, seeds used for kidney stones and impotence.
- In the French pharmacopeia, root and leaves are used for dysmenorrhea and menstrual cramps.
- In Turkey, used to reduce blood glucose.
- In Brazil, used as a diuretic.
Others
- Parsley seed oil used as fragrance in soaps, cosmetics, and perfumes.

Studies
• Antioxidant: Study showed that parsley oil possessed a certain degree of antioxidant activities in terms of ß-carotene bleaching and free radical scavenging, with negligible metal chelating capacity. Myristicin was found to be the dominant compound that exhibited a moderate antioxidant activity. Results showed PO can be a potential alternative source of natural antioxidants. (2)
• Hepatoprotective in Diabetic Rats: Study evaluated the morphological and biochemical effects of parsley on liver tissue. Rats treated with parsley showed that parsley showed significant lowering of blood glucose, ALT and alkaline phosphatase. a significant hepatoprotective effect in diabetic rats. Pretreatment degenerative changes noted in the hepatocytes of diabetic rats were significantly reduced or absent in rats treated with parsley. Results suggest a significant hepatoprotective effect. (3)
• Antibacterial: Study of P crispum extract showed inhibitory effect at various concentrations against Gram-positive and Gram-negative bacteria. It showed inhibitory effect against Br melitensis, E coli and B lichiniformis. Results confirm its use in folk medicine. (4) Study for antibacterial activity showed an ethanol extract to be active against S. aureus, Ps. aeruginosa, and S. typhi. A water extract showed similar activity, in addition to E. coli. (15)
• Diuretic / Hypotensive: Study of the aqueous extracts of parsley seeds showed diuretic and hypotensive effects in anesthetized Wistar rats, confirming its traditional use in Brazil as a herbal diuretic. (5)
• Warfarin Interaction: Large amounts of parsley may increase blood clotting. It might decrease the blood thinning effect of warfarin (Coumadin). (8)
• Antidiabetic / Antioxidant: Study evaluated the antidiabetic and antioxidant effects of aqueous extracts of Balanites aegyptica and Petroselinum sativum on streptozotocin-induced diabetic and normal rats. Herbal preparations significantly reduced the mean plasma glucose and MDA levels and significantly increased the mean plasma insulin. Results suggest potential use of the extracts with insulin therapy to minimize its side effects, improve treatment of T1DM and probably other oxidative stress-associated diseases. (10)
• Immunomodulation / Essential Oil: Study In evaluated the effects of parsley essential oil on phytohemagglutinin (PHA)-stimulated splenocytes (T cells) and lipopolysaccharide (LPS)-stimulated B cells, as the main effector cells in adaptive immune system. Results proposes the suppressive effect of parsley essential oil on macrophages, as the major cells involved in the innate immune system. (11)
• Nephroprotective / Diuretic / Antioxidant: Study of aqueous extracts of Petroselinum sativum, Eruca sativa and Curcuma longa in gentamicin (GM)-nephrotoxic rats showed nephroprotective, diuretic, and antioxidant effects in gentamicin-nephrotoxic rats. The extracts increased urine volume and urinary excretion of Na+ and K+, ameliorated renal tubular necrosis and increased activities of renal antioxidant enzymes in GM-intoxicated rats. (12)
• Antilithiatic: Study showed a preventive effect of Petroselinum sativum on calcium oxalate calculi in rats. The effect of the herb extract could be related to the increase of diuresis via inhibition of the Na+K+ pump in renal epithelial cell. (13)
• Anticancer: Study demonstrated preliminary screening of anticancer activity of Portulaca oleracea and Petroselinum sativum extracts against HepG2 cells, significantly reducing cell viability in a concentration dependent manner. (14)
• Antioxidant / Anticancer / Leaves and Stems: Study evaluated P. selinum leaf and stem extracts for antioxidant properties, protection against DNA damage in normal 3T3-L1 cells, and inhibition of proliferation and migration of MCF-7 cells. A dichlormethane extract showed the highest phenolic content (42.31 ± 0.50 mg GAE g-1) and ferric reducing ability (0.360 ± 0.009 mmol g-1). Pretreated mouse firbroblasts (3T3-L1) showed 50% protection against H2O2-induced DNA damage, suggesting potential for cancer prevention. The extract inhibited H2O2-induced MCF-7 cell migration, suggesting potential for protection against metastasis. Results suggest potential for preventing oxidative stress-related diseases and development into functional food. (17)
• Reduction of Stress-Induced Gastric Oxidative Damage: Study evaluated the histopathological and biochemical effects of nutrition with parsley-rich diet for the elimination of stress-induced oxidative gastric damage in male Wistar albino rats. Results showed reduction in stress-induced gastric injury by supporting the cellular antioxidant defense system. Study suggests fresh parsley is more effective than LPZ (lansoprazole) in supporting tissue GSH levels and CAT activities. (18)
• Ameliorative in Alcohol-Induced Hepatotoxicity and Oxidative Stress: Study evaluated the protectiive role of parsley in experimental alcohol-induced hepatotoxicity. Results showed hepatoprotection as evidenced by increase in the depletion of hepatic glutathione, glutathione-S-transferase and catalase activities. There was also a detectable decrease in lipid peroxidation level. (19)
• Neuroprotective Against Cadmium Deleterious Changes: Study evaluated parsley for prevention of behavioral, morphological, neurotransmitter, and biochemical changes in newborn brain following administration of cadmium to pregnant mice. Low dose of parsley at 10g/kbw showed significant effects in neutralizing and reducing deleterious changes due to Cd exposure during pregnancy. (20)
• Effect on Urinary Apigenin / Blood Antioxidant Enzymes / Biomarkers of Oxidative Stress / Clinical Trial: Randomized crossover trial in seven men and seven women evaluated the effect of parsley containing high levels of flavone apigenin on the urinary excretion of flavones and biomarkers for oxidative stress. The parsley supplemented diet provided 3.73-4.49 mg apigenin/MJ. In this short-term study, an overall decreasing trend was observed in the activity of antioxidant enzymes during the 2-week study. Decreased activity of SOD strongly correlated with increased oxidative damage to plasma proteins. Intervention with parsley seemed to partly overcome the decrease and resulted in increased levels of GR and SOD. (22)
• Ameliorative Effect on Some Diabetic Complications: Study evaluated the hypolipidemic effect of parsley aqueous extract and its effect on heart tissue of rats with STZ-induced diabetes. Study showed administration of PAE significantly attenuated the hyperlipidemia, overcame oxidative stress, and improved heart tissue of diabetic rats. (23)
• Insecticidal / Essential Oil: Study evaluated essential oils isolated from parsley (Petroselinum crispum) and coriander (Coriandrum sativum) against three major stored-product insect pests viz. cowpea weevil, Mediterranean four moth, and Indian meal moth. The essential oils showed significant toxicity against the tested insects. There was a correlation between concentrations and mortality percentage attained. (see constituents above) (24)
• Protective Effect in Abortion Associated with Prostadin-Induced Renal Dysfunction: Study evaluated the effects of parsley extract on pregnant rat kidneys which have undergone clinical abortion using prostaglandins. Results showed the ethanolic extract of Petroselinum crispum reduced renal dysfunction caused by prostaglandin-induced abortion. Study suggests potential beneficial effect in reducing progression of prostaglandin-induced edema. (25)
• Fumigant / Trialeurodes vaporariorum / Essential Oil: Study evaluated the fumigant toxicity of Petroselinum crispum plant oil on Trialeurodes vaporariorum, one of the most harmful, world-wide known pests to greenhouse crops and ornamental plants. LC50 on T. vaporariorum was 2.41 µl/l air. Fumigant effect of the oil correlated with concentration and time of exposure. Results showed P. crispum oil had a high impact on the pest with a potential for use in integrated pest management programs in greenhouses. (see constituents above) (26)
• Toxicity Study / Hepatotoxic / Nephrotoxic / Leaves: Toxicity study showed the leaf extract of Petroselinum crispum was hepatotoxic and nephrotoxic at continued oral doses equal to or more than 1000 mg/kg. Study suggests plant should be kept away from pets and domestic animals. It should not be cultivated on soil irrigated with waste water due to ability to bioaccumulate toxic metals. (27)
• Effect on Sperm Parameters / Positive Effects on Reproductive Parameters: Study evaluated the effect of P. crispum on sperm parameters, testis tissue and serum nitric oxide levels in mice. Results showed significantly increased mean percentage of sperm motility, testis and prostate weight and serum nitric oxide. (28)
• Anti-Inflammatory / Antihepatotoxic: Study evaluated an ethanolic extract of parsley leaves for anti-inflammatory and hepatoprotective properties. Phytochemical screening yielded flavonoids, tannins, sterols and or triterpenes. Results showed significant protection against carrageenan-induced inflammation, cotton pellet-induced granuloma and CCl4-induced hepatic damage. (29)
• Analgesic / Anti-Inflammatory / Antipyretic / Leaves: Study of methanol extract of leaves showed anti-inflammatory activity using carrageenan-induced rat paw edema, analgesic activity using hot plate and acetic acid induced writhing, and antipyretic activity using yeast-induced hyperpyrexia method. (30)
• Protective Effect on Valproate-Induced Toxicity: Study of alcoholic parsley extract exhibited significant anti-hepatotoxic activities and protective activity on kidney damage induced by sodium valproate in mice. (31)
• Antifungal / Comparison with Nystatin Against Candida albicans: Study compared the effect of parsley with Nystatin on the growth of Candida albicans. Both parsley and Nystatin showed inhibition of growth zone of C. albicans, 19.6 ± 1.43 (p<0.01) and 31.4 ± 2.34, respectively. (32)
• Fixed Oil / Antibacterial: Study evaluated fixed oil constituents and its antimicrobial activity. The oil showed good antibacterial activity against Staphylococcus aureus and Bacillus subtilis and weak activity against Escherichia coli and Pseudomonas aeruginosa. (see constituents above) (33)
• Zinc Oxide Nanoparticles / Antibacterial / Leaf and Root: Study reports on the synthesis of zinc oxide nanopartilces (ZnO NPs) using aqueous leaf and root extracts of P. crispum. The synthesized ZnO NPs increased (2-16 times) antibacterial activity compared to chemically synthesized ZnO NPs. (34)
• Antinociceptive / Leaves: Study evaluated the analgesic effect of ethanol extract of parsley leaves in mice by formalin and acetic acid test. The extract decreased both phases of pain in the formalin test and decreased the number of abdominal contractions in the writhing test. (35)
• No Effect on Intra-Abdominal Fat Deposition: Study evaluated the effects of non toxic concentrations of parsley decoction (0.5%) on fat deposition in pregnant mice. While some studies have reported that parsley decreases blood cholesterol in some patients, this study showed no significant difference in fat deposition in pregnant and non pregnant animals. (36)
• Antifungal / Antibacterial / Essential Oil: Study evaluated the antimicrobial activities of essential oil of P. crispum against foodborne diseases and opportunistic infections. Major essential oil compounds were apiol. myristicin, and ß-phellandrene. The oil was bacteriostatic and bacteriostatic against all tested bacteria. The oil was fungistatic and fungicidal against all tested fungi. (37)
• Apiin and Apigenin / Protective Against Oxidative Stress: Study evaluated apiin and apigenin, active compounds identified in P. crispum, for antioxidant activity in Saccharomyces cerevisiae cells under oxidative stress conditions. Results suggested a synergism between apiin and apigenin. The approximate 50% decrease in levels of lipid peroxidation confirmed apiin has antioxidant activity. (38)
• Oxalate Content of Two Cultivars: Study evaluated the total, soluble, and insoluble oxalate content of leaves and stems of curly leaf (Petroselinum crispum) and flat leaf (P. crispum var. neapolitanum) parsley cultivars extracted from fresh tissue. Results showed no significant differences between the two cultivars. Total, soluble and insoluble oxalates of leaves of the two cultivars were 1137.0, 177.9 and 959.3 mg/100 g dry matter, respectively; the stems yielded 1680.7, 386.2 and 1294.5 mg/100 g DM, respectively. Overall, the oxalate contents of both cultivars are relatively high, but as a culinary garnish herb, its overall contribution to dietary intake is likely to be quite small. (39)
• Effect on Dioxin-Induced Testicular Oxidative Stress and Apoptosis: Study evaluated the antioxidant potential of alcoholic extract of P. crispum or Eruca sativa against TCDD testicular toxicity in male albino rats. Results suggest alcoholic extracts suppressed the toxic effects of TCDD via free radical scavenging and potent antioxidant activity. (40)
• Selenium Nanoparticles / Leaves: Study reports on the eco-friendly synthesis of selenium nanoparticles SeNPs using parsley leaves extracts. (41)
• Protective Against D-Galactose-Induced Oxidative Stress in Mouse Brain: Study evaluated an ethanolic extract of P. crispum leaves on D-galactose-induced oxidative stress in mouse brain. Treatment with extract showed protection against induced oxidative stress in brain regions, with significant reduction in the concentration of thiobarbituric acid-reactive products in the affected brain regions. Results suggest a protective effect against mitochondrial damage in the mouse brain. (42)
• Positive Effects on Male Fertility / Seeds: Study evaluated some possible effects of Petroselinum crispum seed extracts on levels of FSH, LH, and testosterone on albino male rats. There was increase in both body weight and accessory glands, significant increase (p<0.05) on parameters of number of spermatogenic cells and leydig cells. Results suggest potential for the intake of terpenoid extracts of parsley seeds by patients who suffer from sexual impotency. (43)
• Effect on Estrogen Receptor-Positive Benign and Malignant Mammary Cells / Roots: Study investigated the effects of parsley root extract on DNA synthesis performance, metabolic activity and cytotoxicity in malignant and benign breast cells (MCF7 and MCF12A). The extract demonstrated significant DNA synthesis inhibition in both cell lines. MTT assay demonstrated significant inhibition of cellular metabolic activity. The PCE showed antiproliferative effects in MCF7 and MCF12A cells. (44)
Safety
- Likely safe when used in foods.
- Classified GRAS (Generally Recognized As Safe) in the US.
- Pregnancy: Likely unsafe. High concentrations are contraindicated during pregnancy because it can be a potential abortifacient and a uterine and menstrual flow stimulant.
- Parsley oil, ingested orally can cause severe side effects because of the apiole and myristicin constituents.
- Contraindicated in patients with kidney inflammation or disease.
- Toxicity includes hemolytic anemia, thrombocytopenic purpura, nephrosis, hepatic dysfunction and kidney irritation. (Source. Natural Medicines. Comprehensive Database)
Availability
- Cultivated.
- Tinctures, extracts, and essential oil in the cybermarket.