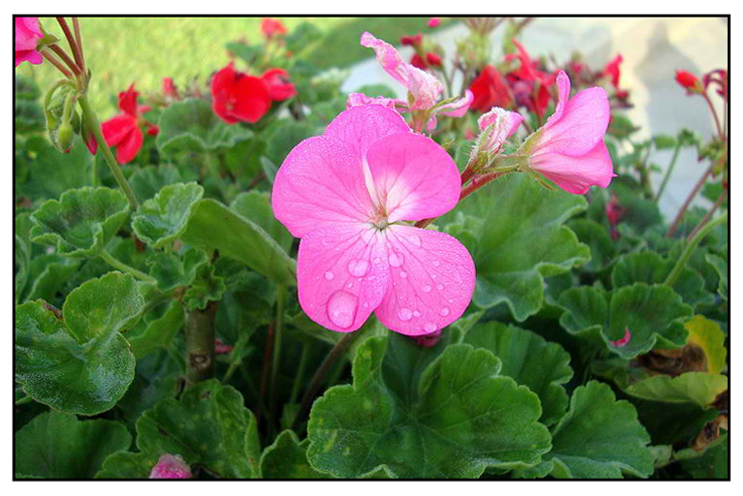 Botany
Pelargonium hortorum is a low, leafy perennial herb growing to a height of 1 to 2 feet with soft, succulent stems. Leaves are opposite and long petioled, rounded, indented or deeply lobed. Flowers are in various colors, irregular with 5 petals.
Distribution
- Native to South Africa.
- Introduced.
- Thrives well in Baguio, Tagaytay, and other elevated places.
Constituents
- BVOCs (biogenic volatile organic compounds) release using HS-SPME in situ were: α-pinene, camphene, ß-pinene, myrcene, limonene, linalool, isocaryophilene, caryophyllene, ß-farnesene, α-humulene, α-acoradiene, α-gurjunene, ß-selinene, ß-bisabolene, y-bisobolene, α-bisabolene, α-cedrol, squalene, y-cadinene, o-cadinene. (8)
Properties
- Studies have suggested hemostatic, antimicrobial, phytoremediative, insecticidal, antibacterial, anticancer properties
Parts utilized
Leaves and flowers.

Uses
Folkloric
- Leaf infusions used for external skin applications.
- Used for baths, tonics and steams.
- In the Andean regions, used as a local hemostatic medicine.
- Scented flowers and leaves used for sachets.
- Solution from boiled leaves used to wash leprous sores after treatment with Citrus limon.

Studies
• Hemostatic Effect: Study of the leaves of a geraniaceae (P zonale) was tested on a bleeding rat model. The bleeding time was shorter in the geranium leaf juice treatment group. Results confirm the hemostatic effect of the leaves, with an efficacy similar (leaf juice) or better (crushed leaves) than a commercial hemostatic sponge. (1)
• Antimicrobial: Methanolic extracts of representative species and cultivars of Pelargonium were tested for activity against 25 species of bacteria and Aspergillus niger. All samples showed activity against 18, some were active against all 25. There was poor antifungal activity. (2)
• Phytoremediation: Study evaluated five pelargonium species for cleaning up contaminated soil and their ability to phytoextract different metals (Nickel, Chrome, Lead, and Cadmium). Perlargonium hortorum showed best transfer factor (TFS) for lead (Pb). (3)
• Essential Oil / Insecticidal Activity: Essential oil from aerial parts yielded 36 components, with principal compounds as 1,8-cineole (23.01%), α-terpineol (13.22%), α-pinene (8.13%) and camphor (8.12%) followed by 4-terpineol (4.63%), β-myrcene (4.56%) and β- caryophyllene (4.08%). The essential oil exhibited contact toxicity and also fumigant toxicity against grain storage insects L. bostrychophilia and S. zeamais. (4)
• Essential Oils / Geraniol / Dental Benefits / Antibacterial: Isolated essential oil of geranium (geraniol) was used in the preparation of toothpaste, extracts and mouthwashes which showed a property to prevent dental caries and periodontal disease. It also showed bacterial growth inhibition. Results suggest a potential for a very economical product with particular benefit for the poor. (6)
• Anacardic Acid / Anti-Cancer Activity: Anacardic acid (2-hydroxy-6-alkylbenzoic acid) is a dietary and medicinal phytochemical with established anticancer activity in cell and animal models. In the study, AnAc 24:1 inhibits cell proliferation, cell cycle progression and apoptosis in an ER-dependent manner by reducing ER-DNA interaction and inhibiting ER-mediated transcriptional responses. (7)
• Insecticide / Repellent / Oil from Leaves: Study evaluated the insecticide and repellent activity of acetone extract of oil from fresh leaves against 2nd and 4th instar larvae of Spodoptera littoralis. Oil showed medium toxicity against 2nd instar larvae and low toxicity against 4th instar larvae, while the extract showed high significant toxicity at all concentrations against the two instars. Both oil and extract showed highly significant repellency against the two tested instars. (9)
• Geranium Oil / Toothpaste and Oral Products / Antibacterial: Study isolated and purified the essential oil of geranium and used in the preparation of toothpaste extracts, and mouthwashes with the potential to prevent dental caries and periodontal disease. Study showed the oil has considerable power to inhibit bacterial growth, especially germs that cause plaque and tooth decay. In the study, nine out of ten plates showed complete inhibition of bacterial growth. (10)
• Anticancer / Anacardic Acid: Anacardic acid purified from garden geranium (Pelargonium x hortorum) has shown inhibitory activity on cancer breast lines. (Schultz 2011) (11)
• Antifungal / Antibacterial / Essential Oil / Leaves: Study evaluated 50 commercial essential oils at four different concentrations against a variety of 25 bacterial genera. Leaves oStreptococcus mutans. (12)

Availability
Cultivated.