Botany
Sage is a herbaceous perennial shrub with wiry and squared stems. Leaves are opposite. grayish green, softly hairy or velvety, long stalked with round-toothed margins. Flowers are axillary, in whorls of 4 to 8, tubular, purple, blue or white.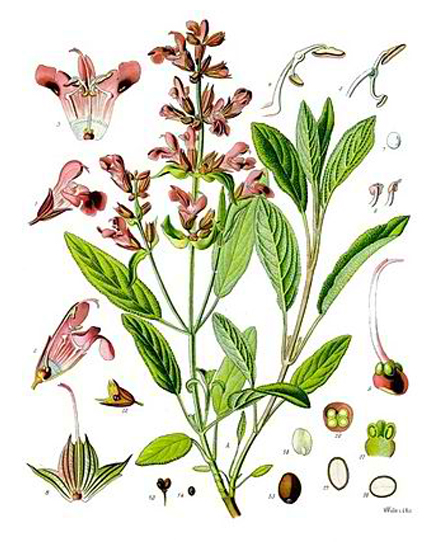 Distribution
- Recently introduced.
- Cultivated in the Bagiuo area.
Constituents
- Some important volatile constituents are a-thujone, b-thujone, 1,8-cineole and b-caryophyllene.
- Contains terpene, camphor and salvene.
- Phytochemical screening of leaves yielded flavonoid, saponin, hydrolysable and condensed tannin groups. (See study below) (9)
- Essential oil study yielded main compounds of 1,8-cineole (39.5–50.3%) and camphor (8.8–25.0%). (See study below) (10)
- Nutrition analysis per 100 g of dried, ground Salvia officinalis yield: (Proximates) water 7.96 g, energy 315 Kcal, carbohydrate 60.73 g, protein 10.63 g, total fat 12.75 g, cholesterol 0 mg, dietary fiber 40.3 g; total sugars 1.71 g, (Vitamins) folate 274 µg, niacin 5.720 mg, pyridoxine 2.690 mg, riboflavin 0.336 mg, thiamin 0.754 mg, vitamin A 5900 mg, vitamin C 32.4 mg, vitamin E 7.48 mg, vitamin K 1714.5 µg; (Electrolytes) sodium 11 mg, potassium 1070 mg; (Minerals) calcium 1652 mg, copper 0.757 mg, iron 28.12 mg, magnesium 428 mg, manganese 3.133 mg, zinc 4.70 mg; (Phytonutrients) ß-carotene 3485 µg, crypto-xanthin-ß 109 µg, lutein-zeaxanthin 1895 µg; (Lipids) total saturated fatty acids 7.030 g, total monosaturated fatty acids 1.870 g, total polyunsaturated fatty acids 1.760 g. (USDA) (32)
- Constituent composition yields: essential oil (up to 3%), hydroxycinnamic acid derivatives (3.54%), phenolic diterpenes, triterpenes, flavonoids, phenolic glycosides, polysaccharides, phytosterols and benzoic acid derivatives. (34)
- Essential oil constituents (up to 3%) consist of monoterpenoids (a-thujone 10-60%, ß-thujone 4-36%, camphor 5-20%, 1,8-cineole 1-15%) and sesquiterpenes (a-humulene, ß-caryophyllene, viridiflorol). (34)
Properties
- Considered anhidrotic, antiseptic, astringent, antispasmodic, antiviral, antiplaque, antibacterial, antifungal, carminative, tonic, stimulant.
- Oils are antiseptic, antibacterial, astringent and irritant.
- Studies have suggested antimicrobial, antidiabetic, antifungal, anti-inflammatory, cholinesterase inhibiting, antidiabetic, renoprotective, diuretic, antioxidant properties
Parts utilized
Leaves.
Uses
Culinary
- Lemony and pleasantly bitter.
- Young leaves eaten fresh in salads.
- Used for omelets, soups and poultry stuffing.
- An enhancing condiment for lamb, fish, duck, goose, artichoke. cheese, beans.
Folkloric
- No known folkloric medicinal use in the Philippines.
- Because of it antiseptic and astringent properties, used for sore throats, mouth irritations, cuts and bruises.
- Used for snake bites.
- Used for drying up perspiration.
- Used to lower blood sugars in diabetics.
- Used to treat amenorrhea and dysmenorrhea. Used as cicatrizant.
- Green leaves rubbed on teeth and gums to fortify them.
- In Germany, various preparations used for treatment of dyspeptic complaints (heartburn, bloating), minor skin inflammation, excessive sweating, symptomatic inflammation of the mouth or throat. (34)
Others
- Cosmetics: infusions used to color the hair silver or gray.
- Used as an after-shave astringent.
- Used in perfumery.
- Mouthwash for halitosis: Used as mouthwash for halitosis because of its antibacterial properties. Infusion prepared with a spoonful of dried plant per cup of water. (36)
- Decorative: Used for making culinary wreaths.
- German Commission E: GCE approved the internal use of sage for dyspeptic symptoms and excessive perspiration, and the external use for inflammation of mucous membranes of the mouth and throat. (34)

Studies
• Studies have shown sage slows down the release of enzymes that break down the neurotransmitter, acetylcholine; and inhibition of this enzyme can improve mood with maintaining optimal levels of acetylcholine. A study using 300 to 600 mg of sage leaf extract showed some benefit in alertness and calmness. An alternative to the capsules, a decoction of tsp dried sage in 1 cup of water (Do not use if pregnant).
• Alzheimer's Disease / Clinical Study: In a double-blind, randomized, and placebo-controlled trial in patients with mild to moderate Alzheimer's disease, a Salvia officinalis extract showed significant benefits in cognition possibly through cholinesterase inhibition. Mild agitation side effects were noted in the placebo group. S. officinalis may well reduce agitation and may be an additional advantage for use in patients with Alzheimer's disease. (1)
• Antibacterial: Study of Salvia officinalis essential oil and its fractions showed significant antibacterial effect against S aureus and B subtilis. (3)
• Acute Pharyngitis / Spray Formulation: Randomized, double-blind, parallel group phase II/III study of spray (containing S. officinalis fluid extract) vs placebo showed a 15% sage spray to be a safe and convenient treatment for patients with acute pharyngitis, with a relief superior to placebo. (4)
• Cholinesterase Inhibiting Property: Study confirms the cholinesterase inhibiting property of S officinalis and improved mood and cognitive performance following single-dose use in healthy young participants. (5)
• Antioxidant: Tunisian study of oils produced from the aerial parts of SO showed it to possess strong antioxidant properties.
• Liver antioxidant: An in vivo study of a traditional sage water infusion in mice and rats showed bioactivities and improvement in liver antioxidant potential. (6)
• Antimutagenic: Study demonstrated the antimutagenic activity of volatile sage terpenes, suggesting further antimutagenesis and anticarcinogenesis studies. (7)
• Metformin-like effect: Study effects on fasting glucose and its metformin-like effects on rat hepatocytes suggest sage may be a useful food supplement for T2D. (8)
• Antibacterial: Study evaluated chloroform and hydroalcoholic extracts of S. officinalis leaves against four strains of gram negative (E. coli, P. aeruginosa, K. pneumonia, and Proteus spp.) and two strains of gram positive bacteria (S. aureus and Bacillus cereus). Chloroform extract was active against Staphylococcus aureus and Proteus spp. (9) Essential oil and its fractions showed significant antibacterial effect against S. aureus and B. subtilis.(11) Study of ethanol extracts of sage showed antibacterial effect on multi-drug resistant bacteria. Results suggest a potential use of herbs as alternative to antibiotics. (24)
• Essential Oil / Antifungal and Anti-Inflammatory: The main compounds of S. officinalis oils were 1,8-cineole (39.5–50.3%) and camphor (8.8–25.0%). The oils exhibited antifungal activity against dermatophyte strains and significantly inhibited NO production stimulated by LPS in macrophages, without affecting cell viability. (10)
• Hepatic Effects / Herb Toxicant Effect / Induction of CYP2E1: Sage tea drinking did not protect against carbon tetrachloride induced toxicity in mice. Instead, sage tea potentiated the toxicity of CCl4 in mice. Herb-toxicant effect may be, in part, due to significant induction of CYP 2E1 protein by sage tea. However, the dose used in the study was much higher than that usually taken by humans. Nevertheless, it suggests possible herb-drug interactions between sage and drugs metabolized by the liver. (12)
• Herb-Drug Interactions: Moderate herb-drug interaction concerns: (1) Sage may decrease blood sugar and caution advised when taken with diabetic medications. (2) Seizure medications may interact with sage. Sage may decrease the effectiveness of medications being taken for seizures. (3) Sage may cause sleepiness and drowsiness and caution advised for patients taking sedatives. Possible interaction with drugs metabolized by the liver through induction of CYP 2E1 protein. Also, sage tea lowers fasting glucose in mice and has a diuretic effect. (33)
• Antidiabetic Effects: Sage tea was found to lower fasting plasma glucose in mice indicating effects on gluconeogenesis. Sage tea drinking also increased glucose uptake capacity and increased hepatocyte sensitivity to insulin and inhibited gluconeogenesis. (12) Study showed S. officinalis may be beneficial in diabetic patients, with reduction of 2hr PPBS and cholesterol levels. Higher doses might be needed to decrease fasting sugars and glycosylated hemoglobin. (15)
• Diuretic / Leaves: Study evaluated the diuretic effects of a methanol leaf extract in normal rats. Results showed significant increase in urine volume with increase excretion of sodium and a potassium conserving effect. Diuretic effect was comparable to reference drug hydrochlorothiazide (HCTZ). (13)
• Cytotoxic / Apoptosis Induction / Human Lymphoma and Leukemia Cells: Study evaluated the in vitro cytotoxic activities of crude methanolic extracts on lymphoma and leukemia cell lines. Results showed dose- and time-dependent inhibition of proliferation of lymphoma and leukemic cells possibly via an apoptosis-dependent pathway. (14)
• Antidiarrheal / Antispasmodic: Crude extract of S. officinalis exhibited antidiarrheal and antispasmodic activities probably mediated through the dominant activation of voltage-dependent K+ channels. (16)
• Disinfectant / Essential Oils: S. officinalis essential oils showed a potent vapour activity against a panel of bacterial, yeast, and fungi. Results suggest a potential for a natural eco-friendly disinfectant to manage airborne microbes. (17)
• Cytotoxic / α-humulene and Transcaryo-phyllene / Animal and Human Tumor Cells: Study showed α-humulene and trans-caryophyllene extracted from S. officinalis essential oil inhibit tumor cell growth. (18)
• Antiangiogenic / Anti-Tumor / Essential Oils: Study evaluated the anti-angiogenic effect of SO extract on chicken chorioallantoic membrane (CAM) neovascularisation model. Results showed dose-dependent inhibitory activity and suggests a promise as anti-angiogenic treatment. (19)
• Antigenotoxicity / Anti-Oxidative Stress: Study investigated the antioxidative possible genotoxic, and antigenotoxic potency of SO extract against cyclophosphamide (CYP)-induced oxidative stress and genotoxicity in Wistar albino rats. Results showed a protective against CYP-induced oxidative stress and genotoxicity through its antioxidant property. (20)
• Antioxidant / STZ-induced Stress: Study evaluated the protective effects of SO against oxidative stress induced by intracerebroventricular injection of streptozotocin in male rats. Results showed antioxidant effects could prevent STZ-induced oxidative stress. (21)
• Hepatoprotective / Antioxidant: Study evaluated a hydroalcoholic extract of S. officinalis for antioxidant and hepatoprotective effects in male rats with INH induced necrosis. Results showed anti-oxidative and hepatoprotective effects in rats co-administered with S. officinalis extract and INH. (22)
• Antiulcerogenic: Study evaluated a crude ethanolic extract of S. officinalis in a gastric lesion induction model in male Wistar rats. Results showed potential use of S. officinalis for effective treatment of injuries caused by absolute alcohol. (23)
• Menopausal Hot Flushes / Estrogenic Flavonoids: A recent study showed a SO tincture to reduce hot flushes frequency and intensity. Study investigating possible mechanisms suggest the involvement of ubiquitous estrogenic flavonoids in the in vitro anti-hot flush effect of S. officinalis, and suggests a safe herbal alternative product for menopausal hot flushes. (25)
• Antiprotease and Antimetastatic Activity of Ursolic Acid:Natural products were evaluated in the in vitro antiprotease assay on serine proteases (trypsin, thrombin and urokinase) and on the cysteine protease cathepsin B. Results showed ursolic acid isolated from Salvia officinalis significantly inhibited all tested proteases in vitro in the micromolar range. Ursolic acid showed the strongest inhibition activity to urokinase and cathepsin B as proteases included in tumour invasion and metastasis. suggesting possible anticancer effectivity. (26)
• Safety Profile / Kidney and Liver: Study evaluated an aqueous leaf extract of S. officinalis on kidney and liver of male Sprague Dawley rats. Histopath assessment suggests SO has not deleterious effects on kidney and liver of rats. (27)
• Renoprotective / Gentamicin-Induced Nephrotoxicity: Sage exhibited nephroprotective effect in gentamicin induced renal damage probably through its antioxidant activity. (28)
• Lozenge Tablet Formulation: Study evaluated evaluating a lozenge tablet formulation of S. officinalis clearly indicated that it can be a good alternative for traditional forms of sage. Palatability and taste were found desirable by human subjects. (29)
• Antioxidant / Antibacterial / Leaves and Essential Oil: Study evaluated in vitro antioxidant potential and antibacterial activities of essential oils and methanolic leaf extracts of S. officinalis. Results showed high polyphenol content in the leaf extracts which exhibited strong antioxidant activities compared to vitamin C and BHT (butylated hydroxyl toluene) with IC50 of 37.29 µg/ml by DPPH assay. The essential oil only showed weak antioxidant activity. Study also showed significant antibacterial activity for the methanolic extracts and essential oils. (35)
• Use in Dentristy: Review highlighted the various uses of S. officinalis in the dental field along with its medical applications. The thujone in the volatile oil has antiseptic and antibiotic action, and as mouthwash helps with throat infections, dental abscesses, infected gums and mouth ulcers. Phenolic acids are especially helpful against S. aureus. The high tannin contents provides astringent action. (36)

Availability
- Wild-crafted.
- Capsules, dried leaves in the cybermarket.