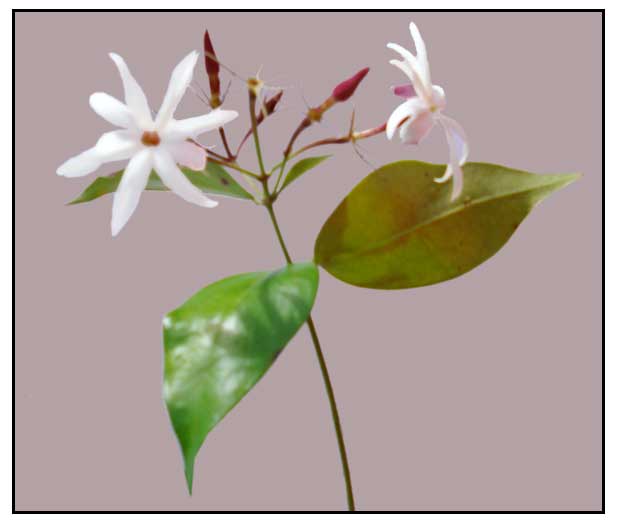 Botany
Sampaguitang-gubat is a shrub or woody climber growing to a height of 2 meters. Leaves are oblong-ovate, about 10 centimeters long, 5 centimeters wide, the upper ones smaller, pointed at the apex and broadly rounded at the base. Flowers are white and usually fragrant, borne on terminal inflorescences. Calyx is turbinate and terminating into setose segments. Corolla is smooth, its tube twice as long as the calyx, with oblong lobes rotately spreading. Berries are usually ellipsoid, less than 1 centimeter long, fleshy, shiny and bluish-black when mature.
Distribution
- Common in thickets from sea level to an altitude of 1,500 meters, from Ilocos Sur to Sorsogon Provinces in Luzon; and in Mindoro, Cuyo, Palawan, Dumaran, Catanduanes, Leyte, Panay, Negros, Cebu, Bohol and Mindanao.
- Frequently encountered in thickets along the seashore and tidal streams.
- Also occurs in the Malay Peninsula and Archipelago.
Properties
- Considered febrifuge.
Parts utilized
Roots and leaves.

Uses
Folkloric
- In the Philippines, root decoction used for scurvy and as mouth wash for inflamed gums.
- Root decoction used after after childbirth.
- Infusion used for yaws.
- Root decoction used as febrifuge.
- Poultices of leaves used for headache and vertigo.
Studies
• No studies found.

Availability
Wildcrafted.