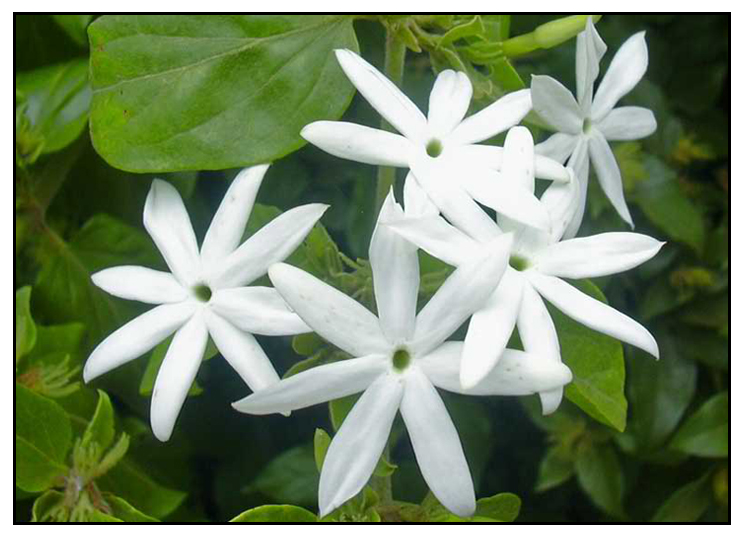 Botany
Sampagitang-sunsong is a climbing shrub 2 to 5 meters high. Stems are spirally twisted, covered with hairs. Leaves are ovate, 4 to 9 centimeters long, pointed at the tip and heart-shaped at the base. Flowers are white, fragrant, borne in dense, terminal, and crowded heads (cymes), 7 to 10 centimeters in diameter. Calyx is hairy, with linear lobes, and 5 to 6 centimeters long. Corolla-tube is about 1.5 centimeters long, divided into 7 to 9 lobes which are spreading, oblong, and 1.5 to 1.8 millimeters in length.
Distribution
- Cultivated in Manila and larger towns for ornamental purposes and for its fragrant flowers.
- Nowhere spontaneous.
- Native of India.
Constituents
- Study of water soluble fraction yielded 10-hydroxyoleuropein and 10-hydroxyligustroside, plus three new secoiridoid glycosides, multifloroside, multiroside, and 10-hydroxyoleoside-11-methyl ester. (See study below) (2)
- Phytochemical screening using ethanol and chloroform solvents yielded alkolide (EC), flavonoids (C), terpenoids (EC), tannins (EC), emodin (E), leucoanthocyanins (E), steroids (EC), coumarins (E), phlobatanins (E), saponins (C). (7)
- Phytochemical screening of various extracts of leaves yielded phenols, saponins, terpenoids.
- Methanol extract of J. multiflorum yielded nerolidol (42.44%), benzyl benzoate (39.00%), and jasmolactone (12.02%); HS-SPME eluted nerolidol (76.56%), jasmone (15.31%), and hexyl benzoate (4.40%); hydrodistillation yielded hexenyl benzoate (35.89%), ß-farnesene (24.62%) and α-cadinol (14.30%). (see study below) (12)
- Study on flowers of J. multiflorum isolated a new compound, 2-p-acetoxyphenylethanol (1), along with long-chain saturated compounds n-tritetracontane (2) and heptacosane (3). (13)
- Phytochemical screening of various extracts of roots yielded glycoside, saponins, steroids, flavonoids, with absence of alkaloid, carbohydrate, gums and mucilage, proteins and amino acids, tannins and phenolic compounds. (18)
- Phytochemical screening of various extracts of leaves (E-ethanol, M-methanol, EA-ethyl acetate, A-acetone, nH- n-hexane) yielded phenols (E, M, EA), saponins (M), terpenoids (EA, A), with absence of flavonoids, quinones, tannns, cardiac glycosides, and steroids. (19)

Parts used
Leaves, roots, flowers.

Uses
Folkloric
- Dried leaves, soaked in water, used as poultice for indolent ulcers.
- Root is used as an antidote for snake bites.
- Flowers used as lactifuge.
- Root of the wild variety used as emmenagogue.
- Root used as emetic.
- In Kerala, India, women bandage the breasts with jasmine flowers to suppress lactation. (11)
- In India, leaf paste is used for rheumatic pain, skin sores, allergic itches, inflammation. (15)
- In Himachal Pradesh, India, leaves used for indolent ulcers. (17)
- In Indonesia, plant infusion used to treat catarrh of the bladder; also used as febrifuge.
- Flower used as emetic. Plant used to treat fever, dysentery, stomachache, stomach ulcers, and kidney stones. (Perry 1980) (21)
Others
- Veterinary: In Sri-Lankan veterinary medicine for cattle, flowers of J. multiflorum are pounded with inflorescence of Cocos nucifer and pericarp of Phylantus embilica with vinegar added to the mixture and used for colicky pain, twice daily. (16)

Studies
• Secoiridoid Lactones / Jasmolactones / Vasodilating / Cardiotropic: Study isolated four secoiridoid lactones - jasmolactones A,B, C, and D from the aerial part of J multiflorum. Pharmacologic testing showed B and D to possess coronary vasodilating and cardiotropic activities. (1)
• Coronary Dilating / Cardiotropic: Study of a water soluble fraction isolated 10-hydroxyoleuropein and multifloroside which exhibited coronary dilating and cardiotropic activities. (2)
• CNS Depressant Activities / Analgesic / Aerial Parts: Study evaluated an ethanol extract of aerial parts for pharmacological effects in mice. Results showed significant dose dependent potentiation of sleeping time of mice induced by standard hypnotics viz, pentobarbitone sodium, diazepam, and meprobamate. Extract also showed significant analgesic properties. (5)
• Antimicrobial / Leaves: Study evaluated various leaf extracts of Jasminum multiflorum for antibacterial (Bacillus cereus, Pseudomonas, and Escherichia coli) and antifungal (Aspergillus niger, Scolorotium, and Candida albicans) activity. Phytochemical screening yielded alkaloids, triterpenoids, tannins, and carbohydrates. A methanolic extract showed significant antimicrobial activity against tested organisms, but particularly more effective against A. niger, C. albicans, and E. coli. (8)
• Free Radical Scavenging / Leaves: A methanol extract of leaves showed maximum antioxidant activity (81.44% activity at 500 µg/ml) compared to other extracts using DPPH method. Ascorbic acid as standard showed 97% activity. (10)
• Suppression of Lactation / Flowers: A study in lactating mice showed contact with jasmine flowers (J. multiflorum) led to suppression of milk production with involution of the mammary glands. (11)
• Suppression of Lactation / Flowers: Study evaluated the interspecies variation of chemical constituents and antioxidant capacity of Jasminum sambac and J. multiflorum. DPPH assay showed J. multiflorum is a better radical scavenger than J. sambac, with IC50 value of 81 µg/mL and 208 µg/mL, respectively. (see constituents above) (12)
• Inhibitory Effect on Vibrio Species Causing GI Diseases: Study evaluated seven types of Indian flowers, including J. multiflorum, for its therapeutic role in the treatment of gastrointestinal diseases caused by Vibrio species (Vibrio cholera, V. alginolyticus, V. parahemolyticus). Results showed all the flower extracts showed inhibitory effect on the Vibrio species. (14)
• Anti-Seizure / Anxiolytic / Leaves: Study evaluated the effects of an alcohol extract of J. multiflorum leaves on topically-applied bicuculline (a model of acute simple partial epilepsy) and maximal electroshock (MES, model of generalized clonic-tonic seizures) in male Sprague-Dawley rats. Study concludes the jasmine leaf extract has a beneficial effect on an animal model of acute partila complex epilepsyy and significant anxiolytic effect at a dose that dose not affect motor coordination. (20)
Availability
- Wild-crafted.