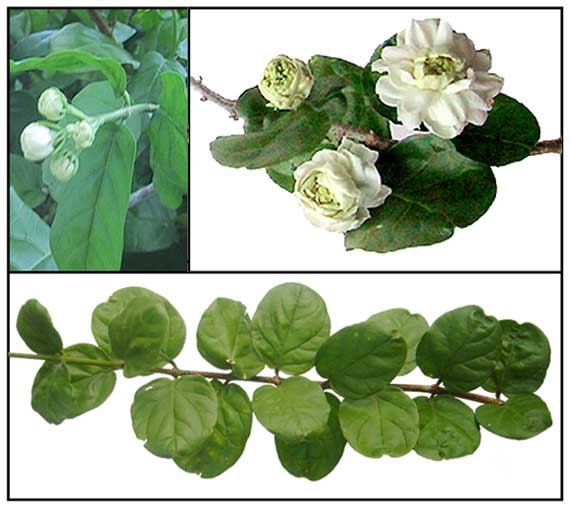 Plant snippet
- Sampaguita is the Philippine national flower.
- Etymologically, it derives from the two Filipino words: sumpa and kita (I promise you).
- It is also one of the three national flowers of Indonesia.

Botany
Sampagita is a spreading or sprawling, smooth shrub, usually less than 2 meters in height. Leaves are glossy, ovate or rounded and 6 to 12 centimeters long, with short stalks, pointed or blunt tip, and pointed or rounded base. Flowers are white, very fragrant and borne singly or in threes on axillary or terminal inflorescences. Calyx teeth are 8 to 10, very slender, 5 to 8 millimeters long. Corolla tube is slender and 1 to 1.5 centimeters long; the limb is usually double and 1.5 to 2 centimeters in diameter. Stamens are 2, ovary 2-celled. The double kind is called "kampupot," which is less fragrant.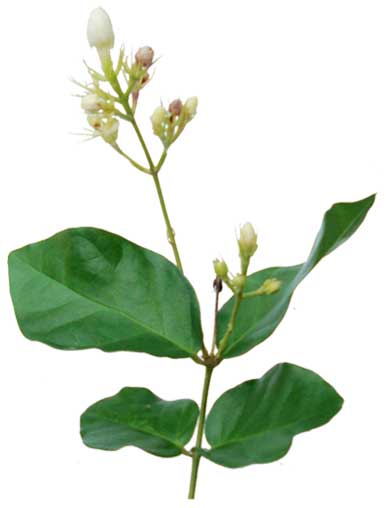 Distribution
- Commonly cultivated throughout the Philippines for ornamental purposes.
- Nowhere spontaneous.
- Native of tropical Asia.
- Now pantropic.
Constituents
- Tannins, fats, silicon, iron, glucosides, calcium oxalate, essential oil from the flowers is similar to jasmin (Jasminum grandiflores).
- Major constituents of essential oil from flowers are cis-3-hexenyl acetate, benzyl acetate, methyl anthranilate, benzyl alcohol, cis-3-hexnyl benzoate, cis-3-hexnol, cis jasmone, linalool, methyl salicylate, benzyl benzoate, indole, α-franasene, linalyl acetate, α-cadinol and β-elemene.
- Phytochemical study yielded alkaloids, glycoside, flavanoid, terpenes, tannin, resin and salicylic acid.
- Study of roots yielded dotriacontanoic acid, dotriacontanol, oleanolic acid, daucoste4rol and hesperidin. (3)
- Studies have yielded the flavanoids, saponins, terpenoid, and glycosides.
- Study isolated secoiriodidal glycosides - sambacoside A, sambacolingoside A, 7,11-dimethyloleoside, molihuaside D, tannins and alkaloids.
- An ethanolic extract of flowers yielded mixtures of coumarins, cardiac glycosides, essential oils, flavonoids, phenolics, saponins, and steroids. (See study below) (12)
- Phytochemical screening of aqueous and ethanol extracts of leaves yielded carbohydrates, flavonoids, tannins and phenolic compounds, proteins and amino acids, steroids, glycosides, and saponins. (see study below) (19)
- Preliminary study of chemical constituents of head space of J. sambac flowers using hydrophobic resin to absorb the fragrance released from flowers yielded 37 constituents, viz., ethyl acetate, ethyl acetate, 3-methyl cyclopentene, 2-methyl hexane, 2, 2, 3, 4-tetramethyl petane, n-heptane, phenyl- 2-propanone, 2-methyl butate, 3-methyl heptane, butyl acetate, 2-methyl propen-2-1y acetate, n-hexen-l-ol , 6-methyl-2-hepta- none, 6-methyl 5-hepten-2-one, carbamyl benzoate, β-pinene, 3- hexenyl acetate, limonene, benzaldehyde, ocimene, methyl benzoate, linalool, trans-linalool oxide, benzyl acetate, 3-hexenyl butate, methyl salicylate, cyclohexyl formate, indole, 2, 6-dimethyl 5-heptenal, methyl anthranilate, 2, 6-dimethyl heptenal, β-caryophyllene, β-farnsene, humulene, γ -cadinene, cis-caryophyllene, trans, trans-farnsol, cyclohexyl benzoate. (21)
- Study of roots yielded four new compounds (+)-jasminoids A, B, C, and D, along with seven known compounds. (32)


Properties
· Considered an aphrodisiac, anti-depressant, antiseptic, cicatrisant, expectorant, anti-spasmodic, galactagogue, sedative, parturient, and uterine tonic.
· Leaves and flowers, antipyretic and decongestant; roots, analgesic.
· Flowers considered lactifuge.
· Flower extract considered deodorant.
· Roots considered purgative, expectorant, anthelmintic.

Parts used
Flowers, roots and leaves.
Collect buds and newly opened flowers, sun-dry after harvest.
Uses
Edibility
- Flowers used to make jasmine tea.
- In China, flowers n are used for giving aroma to tea.
Folkloric
- Pound flowers or leaves and apply to ulcers.
- Decoction of flowers or leaves used for fever and cough.
- Decoction of dried flowers used for fever and abdominal distention.
- Decoction of dried flower used as eye wash for eye redness and swelling.
- Infusion of leaves used as eyewash.
- Poultice of roots combined with others drugs used for sprains and fractures.
- Roots used with leaves in making lotions to make an eye lotion.
- Bruised leaves are applied to the breasts as lactifuge.
- Decoction of roots used for insanity and various mouth affections.
- Leaves, boiled in oil, exude a balsam used for anointing the head for eye complaints. Balsam is believed to strengthen the vision and also used as a remedy for insanity.
- Dried leaves, soaked in water and made into a poultice, used for indolent ulcers.
- In India, traditionally used for skin disorders. Used to treat and prevent cancer.
- In India, flowers used as lactifuge. effectual in arresting the secretion of milk in the puerperal state, as application of unmoistened bruised flowers, once or twice daily, to each breast.
- In China, flowers used as antispasmodic.
- In traditional Chinese medicine, used for fever, diarrhea, abdominal distention, conjunctivitis, insomnia, headache, dental caries.
- In the Antilles, root decoction or infusion of flowers used for pectoral properties; employed in asthma, bronchitis, and pulmonary catarrh.
- In ancient Baghdad, used with opium for gangrenous ulcers of the gums. source
- In Jordan, infusion of flowers used for ulcerations, dermatoses and fever.
Ornamental
- A favorite floral offering and adornment for altars.
- Strung into flower necklaces.
Cosmetic
- Infusion of flowers used as a face wash because of its fragrance, cleansing and soothing properties.
- Flowers in ben oil or coconut oil for hair, facial or body use or as a perfume oil or perfume base.
- Digestion with vegetable oil to make oil tinctures or liniments.
- Used to scent coconut oil used for the hair.
Others
- GRAS: Considered "generally recognized as safe" as a food ingredient by the US Food and Drug Administration.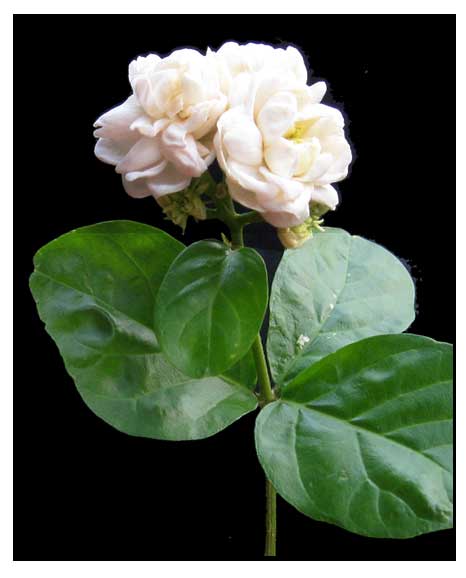 Studies
• Antimicrobial: Phytochemicals yielded alkaloids, glycoside, flavanoid, terpenes, tannin, resin and salicylic acid. Study showed all extracts with antimicrobial activity against pathogens, scoring highest with S typhi and lowest with S aureus. The study supports its traditional use for infections. (1)
• Anti-lactation: Jasmine flowers, applied to the breasts showed suppression of puerperal lactation comparable to Bromocriptine, with significant reduction of serum prolactin (greater than bromocriptine). Jasmine flowers offers an inexpensive alternative to suppression of puerperal lactation.
(2)
• Quorum Sensing Inhibitors : J sambac was one of several extracts in the study to show great potential as a source of microbial growth and quorum sensing inhibitors. (4)
• Anti-Cancer : Study evaluated a methanolic extract of J. sambac for anticancer effect against Dalton ascites lymphoma induced in Swiss albino mice in in vitro and in vivo model. Results showed significant anti-cancer properties, with dose-dependent inhibition of tumor cell proliferation with significant changes in the hematological profiles and cancer enzyme markers. (7)
• Antioxidant / Flowers: Study of methanolic extract of flower showed dose-dependent in vitro antioxidant scavenging activity. (8)
• Antioxidant: Study of J. sambac using a mammalian liver slice technique in in vivo simulated in vitro model, studied against H2O2 induced free radicals in goat liver, showed potent antioxidant effect. (11)
• Herbicide : Study showed a crude extract of leaves of J. sambac exhibited the highest inhibitory activity to the germination and seedling growth of Echinochloa crus-galli and Sesbania aculeate. (10)
• Toxicity / Vasodilatation Effect / Flowers : A 95% ethanolic extract of flowers was evaluated for vasodilatation effect on isolated rat aorta. The Jasmine flowers extract dose-dependently reduced tonus of isolated thoracic aortic rings, probably due to active components on the vessel muscarinic receptors or by causing the release of nitric oxide. A single dose IV injection of the flower extract showed no systemic biological toxicity. (12)
• Gastroprotective / Leaves: Study evaluated an ethanolic extract of leaves for gastroprotective effects against acidified ethanol-induced gastric ulcers in rats. Extract showed significant protection towards gastric mucosal injury, with reduction of ulcer area, and histologically showed marked reduction of edema and leukocytes infiltration of submucosal layer. There was a significant increase in pG, mucus of gastric content and high levels of PGE2, SOD, and reduced amount of MDA. (13)
• Anti-Inflammatory / Analgesic: Study showed a petroleum ether extract of leaves to have significant antinociceptive and anti-inflammatory activities in experimental models of pain and inflammation. (14)
• Analgesic / Cytotoxic / Dried Leaves: Study investigated an ethanol extract of dried leaves for possible analgesic and cytotoxic activities in animal models. Results showed significant writhing inhibition in acetic-acid writhing in mice, comparable to diclofenac. The crude extract also produced prominent cytotoxic activity against brine shrimp Artemia salina. (15)
• Antistress / Leaves: Study investigated the antistress activity of Jasminum sambac leaves. Results showed antistress activity based on increase in swimming endurance time, biochemical parameters, and reduction in stress induced gastric ulceration and histopath studies. (17)
• Wound Healing / Leaves / Flowers: Study evaluated aqueous and ethanol extracts of Jasminum sambac leaves for wound healing activity in ointment dosage form in excision would model in albino mice. The aqueous extract showed significant increase in wound contraction, hydroxyproline content and decreased epithelization period in excision wound model as compared to the ethanol extract. Activity may be attributed to free radical scavenging action and antibacterial phytoconstituents, viz. tannins and flavonoids. (see constituents above) (19) Study evaluated the wound healing effect of J. sambac flower ethanol extract in male albino mice using an incision model. Topical treatment with flower extract showed a significant difference between mean wound size of treatment and control groups. (29)
• Free Radical Scavenging / Leaves: Study evaluated the antioxidant potential of a hydroalcoholic extract of leaves by various in vitro methods. Results showed moderate scavenging effect—DPPH>NO>hydrogen peroxide—when compared to ascorbic acid. Total antioxidant capacity was 155.40 µg/mL and reducing power was 44.28 µg/mL. Phytochemical screening yielded alkaloids, glycosides, tannins, and flavonoids in the hydroalcoholic extract. (20)
• Suppression of Puerperal Lactation / Flowers: In ayurvedic medicine, jasmine has been used to suppress lactation. One study reported jasmine leaves applied to the breast suppressed postpartum lactation as effectively as oral bromocriptine. (22) Study evaluated the efficacy of jasmine flowers applied to breasts to suppress puerperal lactation compared to Bromocriptine. While both caused a significant suppression of serum prolactin, the decrease was greater with bromocriptine. Results suggest jasmine flowers seem to be an effective and inexpensive method of suppressing puerperal lactation and can be used as an alternative where cost and nonavailability restrict the used of bromocriptine. (23)
• Analgesic / Roots: Study of methanolic extract of root of Jasminum sambac in Wistar albino rats and mice using tail flick and acetic acid induced writhing tests showed significant analgesic activity. (24)
• Antimicrobial Against Dental Pathogens / Leaves: Study evaluated JS leaf extracts against six bacteria (Streptococcus mutans, S. pyogenes, S. sobrinus, S sanguinis and Lactobacillus acidophilus) and one fungi (C. albicans) causing dental infections. The methanol extract was more efficient compared to other extracts. Results support the traditional use of J. sambac in the treatment of dental diseases.
(25)
• Chemopreventive / Dalton's Lymphoma Ascites-Induced Lymphatic Cancer: Study of Jasminum sambac in Swiss albino mice showed dose-dependent anticancer activity against Dalton's lymphoma ascites-induced lymphatic cancer comparable to standard drug 5-fluorouracil. (26)
• Antifungal / Flowers, Leaves and Essential Oil: Study evaluated the antifungal activity of methanol extract of flowers and leaves and essential oil of J. sambac against Malassezia sp. Results showed potential for antifungal activity with inhibition zones of 11.10 ± 1.92, 12.90 ± 1.68, and 13.06 ± 0.26 mm, respectively, with MIC values of 80 mg/mL to 160 mg/mL and 50%, respectively. Results suggest an alternative treatment for Malassezia-associated skin infections. (27)
• Antibacterial / Callus Extracts: Study evaluated callus extracts of J. sambac for in-vitro antimicrobial activity against selected disease causing pathogens, viz., S. albus, P. mirabilis, and S. typhi, etc. Results showed antibacterial activity against all tested pathogens, highest with Salmonella typhi and lowers with Staphylococcus aureus. (28)
• Decrease in Morphine Withdrawal Symptoms: Study evaluated the effect of hydroalcoholic extract of Jasminum sambac on morphine withdrawal symptoms in adult male Wistar rats. Results showed a significant reduction in the number of jumping and at all doses reducing rearing and genital grooming, along with decreased total withdrawal scores at all test doses. Results suggest J. sambac was effective in decreasing morphine withdrawal symptoms, which was attributed to antioxidant and anti-inflammatory effects. (30)
• Antibacterial / E. coli / Essential Oil: Study evaluated the antibacterial activity and mechanism of action of J. sambac natural oil and its synthetic blends against E. coli MTCC-443 strain. Results showed bactericidal effect. Phenol coefficient of the oil, synthetic blends, and components ranged between 0.6-1.7. Activity was attributed to inhibition of cell membrane synthesis. (31)
• Antibacterial / Foodborne Pathogens / Flowers: Study evaluated the antibacterial effect of J. sambac flower extracts against foodborne pathogens. Methanol and chloroform extracts showed maximum antibacterial activity against L. monocytogenes, S. flexneri, S. aureus, E. coli, S. typhi, and B. cereus. (33)
• Volatile Emission During Flowering Stages / α-Farnesene / Tea Infusion: Fresh flowers are used to make Jasmine tea in China. Information is lacking on the relationship of volatile organic compound emissions in relation to flower developmental stage and what floral stage should be used for infusion. Among compounds identified, α-farnesene, linalool, and benzyl acetate were more abundant. Application of lovastatin, an HMGR inhibitor greatly reduced the emission of α-farnesene. Results suggest α-farnesene is the important compound emitted from jasmine flowers and the flowers at opening stage or flower buds 8 hours after excision is best for infusion of tea leaves. (34)
• Flavonoids / Rutin and Isoquercitrin / Dried Leaves: Study analyzed the two flavonoids viz. rutin and isoquercitrin from dried leaf powder of Jasminum sambac. Results showed 0.4962 mg/g and 0.6461 mg/g of rutin and isoquercitrin, respectively. (35)

Availability
- Cultivated for ornamental use.
- Jasmine oil in the cybermarket.