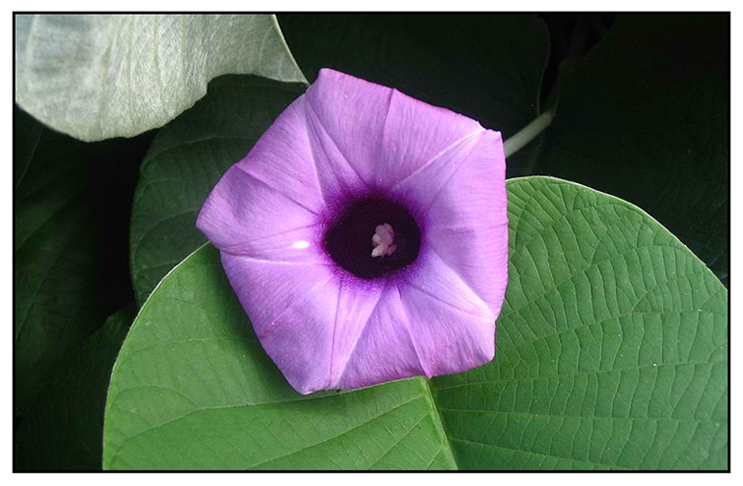 Botany
Sedang-dahon is a pubescent or tomentose, coarse, twining, climbing perennial herb. Stems about 5 centimeters or more in diameter, reaching a length of 15 meters or more. Leaves are simple, alternate, broadly ovate or ovate-cordate,10 to 30 centimeters across, 12 to 25 centimeters long, prominently heart-shaped, green and smooth above and tomentose (with soft, silky white hairs) underneath. Peduncles are axillary, stout, up to 30 centimeters in length, with crowded flowers at the end. Calyx is ovoid, about 1.5 centimeters long. Corolla is 6 to 7 centimeters long; the tube is at first slender and then abruptly inflated, and 2 to 2.5 centimeters in diameter, while the limb is somewhat spreading, about 6 centimeters in diameter, externally hairy, and pale lilac in color except that internally it is a rather deep purple. Fruit is somewhat rounded, brown, smooth, and about 1.5 centimeters in diameter, fleshy, pulpy, and indehiscent.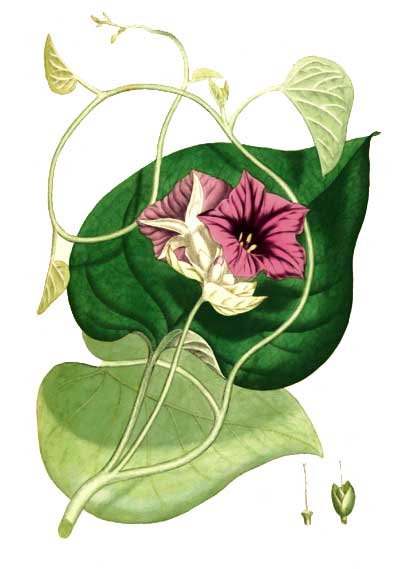 Distribution
- Widespread in the Philippines.
- Occasionally, ornamentally cultivated.
- Originated from India.
- Introduced from tropical Asia.
- Found in parts of Africa, Asia, Australia, and Hawaii.
Constituents
- Roots yield an acid resin of an amber color, soluble in ether and benzole.
- Root also contains a tannin-like principle.
- Phytochemical studies have yielded triterpenoids, flavanoids, steroids and lipids.
- Studies have yielded various alkaloids, glycosides, flavonoid glycoside, and steroids.
- Contains many ergoline alkaloids.
- The major alkaloidal constituent in A nervosa seeds is ergine (780 mcg/g of fresh seed) and isoergine and penniclavine (555 mcg).
- A. nervosa grown in Hawaii reported to have higher concentrations of LSA, the main ingredient that causes intoxication.
- Study of aerial parts yielded secondary metabolites like carbohydrates, alkaloids, tannins, flavonoids, proteins, saponins, and glycosides. (see study below) (16)
- Physio-chemical properties of seeds and seed oils showed oil 16.71%, protein 17.39%, moisture 3.87%. Fatty acid composition of seed oils showed linoleic 23.78%, oleic 33.03%, stearic 13.63%, palmitic 12.91%, myristic 3.42%, lauric 1.39%. (20)
Properties
- Root is considered alterative, tonic, diuretic, aphrodisiac, anti-inflammatory.
- Leaves are antiphlogistic, maturative, absorptive, and a powerful vesicant.
- Considered tonic and aphrodisiac.
- Reported antidiarrheal, antimicrobial, hepatoprotective, nootropic, anticonvulsant, hypoglycemic, antioxidant, antiviral, nematicidal, immunomodulatory, analgesic, anti-inflammatory.
- Seeds considered hypotensive, spasmolytic and anti-inflammatory.
- A few of the alkaloids are hallucinogenic.
Parts utilized
Roots, leaves, seeds, flower.

Uses
Folkloric
- Roots used in rheumatism and nervous system problems.
- Hindus used the leaves as a local stimulant and rubefacient.
- Leaves used as emollient poultices for wounds and skin diseases.
- Used for bronchitis, cough, syphilis, diabetes, and tuberculosis.
- In India, used by Rajasthani tribes to prevent conception. Root is used in gonorrhea, rheumatism and nervous system diseases; also, used as tonic. Used for stomach complaints, small pox, dysentery, syphilis.
Leaf used for gonorrhea and chronic ulcers.
- In Ayurveda, widely used for neurologic disorders, nervousness, bronchitis, tuberculosis, arthritis, and diabetes.
- In Thailand, used as anti-inflammatory and for skin infections.
Others
One of several in an herbal components in a concoction touted to increase sperm count.
Studies
• Phytochemical: Study of leaf powder yielded sterols, flavanoids, phenols, tannins and saponins in large amounts.
• Aphrodisiac: Study in male mice showed the root, flower and leaf of AN to show aphrodisiac activity and potential source of safe and effective medicines for stimulating sexual activity. Investigations are ongoing to determine the mechanisms of actions. (2)
• Hallucinogenic: Study has found LSA (lysergic acid amide), a relative and precursor to lysergic acid diethylamide (LSD) in the seeds of AN (Hawaiian baby woodrose) and Ipomoea violacea (morning glory). Seeds of AN have been found to be a powerful natural hallucinogenic.
• Nootropic: Study in mice assessed the nootropic and anti-cholinesterase potential of Argyreia speciosa. A speciosa significantly decreased AChE levels in the whole brain homogenate indicating its potential in the attenuation of learning and memory deficits especially in aged mice. Study warrants further study and confirmation of the nootropic potential of AS for dementia and Alzheimer's disease. (4)
• Anti-Inflammatory: Study evaluated the anti-inflammatory activity of a water extract of A. nervosa in a carrageenan-induced paw edema method. Results showed significant anti-inflammatory activity. (6) Study of ethyl acetate extract and methanol extract of whole aerial part of Argyreia nervosa showed significant anti-inflammatory activity using carrageenan induced paw edema model. (see study above) (16)
• Aphrodisiac: Study of root, flower and leaf extract in mice showed aphrodisiac activity as shown by an increase in mounting activity in mice and increase in mating performance.
• Immunomodualatory: Administration of ethanolic extract of A. speciosa in mice showed dose-dependent potentiation of delayed-type hypersensitivity reaction induced by sheep red blood cells and oxazolone.
• Hepatoprotective: Ethanol and ethyl acetate extract of A. speciosa roots decreased the enzyme elevation induced by carbon tetrachloride.
• CNS Activity: Study of n-hexane, chloroform and ethyl acetate fractions of hydroalcoholic extracts showed CNS depressant activity as indicated by reduced spontaneous motor activity and potentiated pentobarbital induced hypnosis in mice.
• Hypoglycemic: Study of an alcoholic extract of A. speciosa showed significant dose-dependent blood glucose reduction in normal and diabetic rats. Results were compared to standard drug tolbutamide.
• Anticonvulsant: Study of a hydroalcoholic extract showed significant delay of latency to onset of seizure as well as onset of death in unprotected mice.
• Antibacterial: Study of alcoholic extract of leaves showed antibacterial activity against S. aureus. Seed oil showed activity against Klebsiella sp., E. coli, P. aeruginosa and B. anthracis.
• Antifungal: Study of roots yielded hexadecanyl p-hydroxycinnamate and scopoletin. Both compounds caused 100% inhibition against A. alternate.
• Cardiac Effects / Chronotropic / Ionotropic: Study in perfused frog heart assembly investigated the cardiotonic effect of an infusion of whole plant of A. nervosa. Preliminary studies confirmed better cardiotonic activity of A. nervosa than digoxin. A significant increase in force of cardiac contraction (positive ionotropic effect) and decrease in heart rate (negative chronotropic effect) was observed. (8)
• Psychydelic Effects: Seeds of Argyreia nervosa are often considered a natural substitute of LSD. The seeds have been used as a source of psychoactive ergot alkaloid lysergic acid amide (LSA), considered the main active ingredient. Study evaluated LSA and LSD concerning their potential pharmacological profiles based on receptor binding activities. Results showed the psychedelic activity of LSA in the human study to be weak. LSA should not be considered as an LSD-like psychedelic drug. However, there are vegetative and psychotropic effects that may be triggered by serotonin or dopamine receptor subtypes. (11)
• Wound Healing / Leaves: Study showed A. nervosa leaves extract applied locally promotes healing of wounds more significantly than oral application, in both normal and alloxan induced diabetic rats. (12)
• Antifungal / Leaves: Study evaluated various extracts of leaves for in vitro antifungal activity against Candida albicans, A. niger, A. flavus, Trichoderma spp., Fusarium proliferatum, Microsporum spp, and Trichophyton spps. An ethyl acetate fraction showed significant antifungal activity compared to the other fractions. (13)
• Antipyretic / Aerial Parts: Study of methanol and ethyl acetate extracts of whole aerial part of A. nervosa using brewer's yeast induced pyrexia showed significant antipyretic effects. (14)
• Hypoglycemic / Roots: Study evaluated the hypoglycemic effect of alcoholic extract of A. nervosa roots in normal, glucose-loaded and STZ induced diabetic rats. In STZ diabetic rats, results showed significant antihyperglycemic effect and reversed changes in total hemoglobin and glycosylated hemoglobin content. (17)
• Analgesic / Anti-Inflammatory / Leaves: Study of ethanolic leaf extract using carrageenan induced paw edema method and acetic acid-induced writhing and hot plate method showed significant anti-inflammatory and analgesic activity. (18)
• Antioxidative / Anti-HIV / Leaves: Study showed A. nervosa contains ethyl caffeate (1), scopoletin (2) and 1-hexacosanol (3). The ethyl caffeate, the major component in the extract, showed potent free radical scavenging activity with EC50 of 1.52 µg/ml in DPPH assay. The anti-HIV activity of syncytium reduction assay with EC50 of 11.87 µg/ml. 1-hexacosanol could inhibit HIV-1 protease enzyme with unknown mechanism. (19)
Availability
Wildcrafted.
Seeds in the cybermarket.