General info
When Carolus Linneus first identified the genus Capsicum in the mid-1700s, there were only two species. By the 1900s, more than 100 cultivated species of Capsicums have been described. However, the variations were so minor that horticulturists have distilled the list anew to two: C. annuum, which includes cayenne peppers and chiles, as well as bell peppers, and C. fructescens, which is the pepper from which Tabasco sauce is made.
Capsaicin is the active ingredient in the extract of hot peppers. It is most concentrated in the rib or membrane, less in the seeds, least in the flesh. Capsaicin for medicinal use comes from Capsicum fructescens, a species of the cayenne pepper.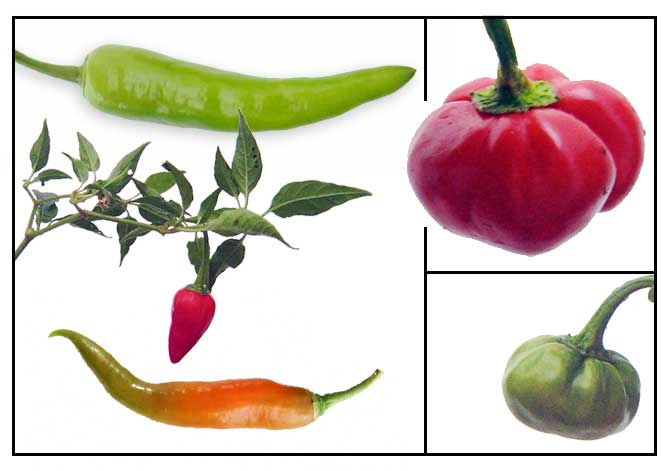 Constituents
- Capsaicinoids: capsaicin, dihydrocapsaicin, nordihydrocapsaicin, homodihydrocapsaicin, homocapsaicin.
- Carotenoid pigments: capsanthin, capsorubin, carotene, lutein.
- The skin has coloring matter capsicum red or carotin.
- The young fruit contains an alkaloid (solanine), citric acid, palmitic acid, volatile and fatty oils, pentosans and pectin.
Properties
- Red pepper is a powerful local irritant, heart stimulant, and general stimulant; also considered stomachic and tonic.

Parts used and preparation
Leaves and mature fruit.

Uses
Nutritional
- An excellent source of calcium and fair source of iron and phosphorus and vitamin B.
- In India, C. annuum var. longum is a principal ingredient of various curries and chutney.
Folkloric
- Paste of the pepper is used a rubefacient.
- Infusion with cinnamon and sugar used for delirium tremens.
- Capsaicum, in equal parts with rhubarb and ginger, for gout and rheumatism.
Others
- Oleoresin capsicum: used in self-defense pepper sprays with transient immobilizing and incapacitating effects.

Studies
• Capsaicin: Capsaicin for medicinal use comes from Capsicum fructescens. Capsaicin depletes substance P in afferent type C sensory nerve fibers and treats pains without affecting the other aspects of the nervous system. Capsicum cream is available in several potencies and has been found useful for post-herpetic neuralgia, post-mastectomy pain, hemodialysis-associated pruritus, psoriatic itching and pain, painful neuropathies, especially diabetic neuropathy, and other superficial neuropathies. (see: Capsaicin) / Siling Labuyo
• Antimicrobial: Extracts of Capsicum species (C. annuum, C baccatum, C. chinense, C frutescens and C. pubescens were tested for their antimicrobial effects. The study yielded two pungent compounds, capsaicin and dihydrocapsaicin, extracts of which showed varying degrees of inhibition against B cereus, B subtilis, Clostridium sporogenes, C tetani and S pyogenes. (2)
• CAY-1 / Antifungal: Saponin CAY-1 from cayenne pepper showed antifungal activities against Candida albicans and Aspergillus spp. Results on dermatophytes of T mentagrophytes, T rubrum, T tonsurans and Microsporum canis indicate potential for treatment of dermatomycoses. (5)
• Plasma Glucose Lowering: Volunteers who received capsicum showed significantly lower plasma glucose levels and higher insulin levels. Results present clinical implications in the management of type 2 diabetes.
• Antioxidant: Capsicum pepper has powerful antioxidant capacity. 100 g of the pepper was shown to have an antioxidant equivalent activity of 826 mg of vitamin C.
• Herb-Drug Interactions: (1) Theophylline absorption may be increased. (2) Increase the cough associated with ACE inhibitors (3) Increase sedative effects of drugs. (4) May antagonize hypotensive effects of antihypertensives. (5) May increase absorption of acetaminophen.
• Gastric Acid Secretion: Aqueous extracts of C annuum or C frutescens induced gastric acid secretion dose-dependently. (7)
• Corrosion Inhibition / Fruit Extract: Study reported green capsicum annuum fruit extract as inhibitory for mild steel corrosion in acid solution. Results showed maximum efficiency of 85%. Corrosion inhibition was attributed to molecular absorption of inhibitory over mild steel surface. (9)
• Antibacterial: Study evaluated methanol and ethanol fruit extracts of Capsicum annuum and C. frutescens for antibacterial activities selected bacteria. Both extracts were effetive against Vibrio cholera, Staphylococcus aureus, and Salmonella typhimurium. The methanol extracts showed higher antibacterial activity., and C. annuum showed greater activity than C. frutescens. (10)


Availability
Wild-crafted.
Cultivated in its varieties; occasionally spontaneous.
Fruit cultivated as condiment.
Topical capsicum ointments.