Botany
Sinamomo is an erect, much-branched shrub or small tree, 3 to 6 meters high. Leaves are oblong-elliptic, 1.5 to 4 centimeters long, pointed at both ends. Flowers are fragrant, straw-colored, about 6 millimeters in diameter, borne on panicles, 7 to 30 centimeters long. Capsules are nearly spherical, depressed, 5 to 7 millimeters in diameter. Seeds are angular.
Distribution
- Cultivated for ornamental purposes for its fragrant flowers and as hedge.
- Scarcely naturalized.
- Native of East Africa or India.
- Pantropic in most tropical countries.
Constituents
- Study showed main plant constituents to be carbohydrates, glycosides, tannins, phenolic compounds, gums and mucilage.
- Distillation yields a perfume.
- Leaves yield a dye, henna; it's coloring properties derive from lawsone, primarily found in the leaves.
- Leaves contain 2% resin.
- Flowers contain an essential oil.
- Volatile oil of the flowers smells of trimethyl-amine, similar to the tea rose or mignonette.
- Seeds contain 10.5% fixed oil.
- Various parts of the plants have yielded a number of secondary metabolites – lawsone, xanthones, isoplumbagin and triterpenoids; from the flower oil, (Z)-2-hexenol, linalool, B-ionone.
- Study of essential oil from leaf and fruits yielded major components of 1,8-cineole and α-pinene and p-cymene. (17)
Properties
- Root considered astringent, abortifacient, anthelmintic, emmenagogue.
- Leaves are astringent.
- Fruit and flowers reputed to be emmenagogue.

Parts used
Roots, leaves.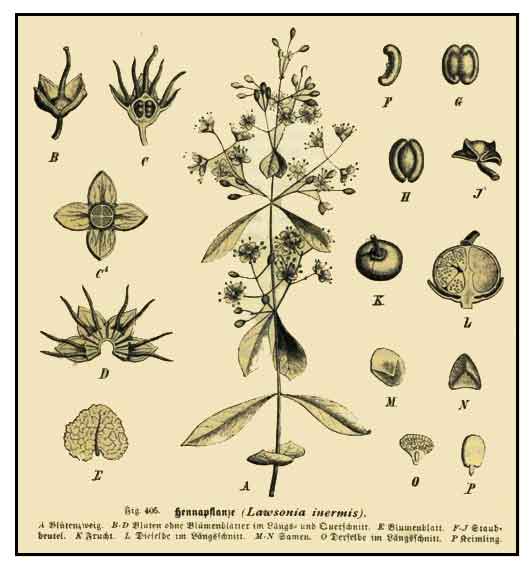 Uses
Folkloric
- Pulped roots used for sore eyes, or applied to head of children for boils.
- In Cambodia, decoction of roots used as diuretic.
- Decoction of root, mixed with prepared indigo, used by the Hausas as a powerful abortifacient.
- Roots and leaves used as emmenagogue and anthelmintic.
- Roots used in the treatment of hysteria and nervous disorders.
- Decoction of bark used for burns and scalds.
- Internally, bark used for jaundice, enlargement of the spleen, stones, and as alterative in leprosy and obstinate skin afflictions.
- Malays use decoction of leaves for hoarseness.
- Decoction of leaves used for stomachache, after childbirth, for venereal diseases, and as tonic.
- In Java, used for leucorrhea.
- Henna, mixed with Plumbago, used as abortifacient.
- In Morocco, used a vulnerary.
- Cataplasm used for leprosy and skin affections.
- Powder of henna leaves used for circumcision wound, boils, skin diseases and rheumatism.
- Leaves used for burning sensation of the feet.
- Paste of leaves used for diseases of the fingernails and whitlow.
- In Java, used for herpes.
- Crushed leaves, made into a paste with oil or resin, applied to the temples for headache.
- Decoction of leaves used as astringent gargle.
- An ointment made from the leaves used for wounds and ulcers.
- Fresh juice of leaves, with sugar and water, used for spermatorrhea.
- Infusion of flowers applied to bruises; taken internally for headaches.
- In Antilles, infusion of flowers used as emmenagogue.
Others
Dye: Extensively used in shampoos, rinses, brillantines, gives the color a rich, auburn tint. Dye used for coloring tails and manes of horses; for dyeing Morocco leather and wool. Used in various cosmetic products.
Tattoo / Art: Used for temporary tattooing, body art.
Preservative: Used as preservative for cloth and leather.

Studies
• Essential Oil Composition of Leaves: Analysis yielded 36 components which constituted 80.4% of the oil. Major components were: ethyldecanoate, 24.4%; (E)-methyl cinnamate, 11.4%; isocaryophyllene, 8.1%; (E)-b-ionone, 5.8%; and methyl linolenate, 4.1%. (2)
• Antibacterial / Antifungal: Lawsone, the antimicrobial agent in henna, has shown inhibitory activity upon common nosocomial urinary tract pathogens such as E coli, P mirabilis, K pneumonia, P aeruginosa, S aureus. It has also shown activity against oral Candida albicans. Naphthoquinones in L inermis exhibited toxicity against ringworm causing species such as Microsporum gypseum and T mentagrophytes. (1)
• Antioxidant / DNA and Cyto-Protection: A study of aqueous and methanolic extracts of L inermis showed significant potential in scavenging free radicals and in inhibiting lipid peroxidation. There was a definite decline in Cr(VI)-induced cytotoxicity in human breast carcinoma cells. Both extracts showed high phenolic compounds content which may be responsible for the antioxidant potential and DNA and cyto-protection. (3)
• Tuberculostatic: Henna herb showed tuberculostatic activity on both in vitro and in vivo testing. (5)
• Hypoglycemic / Hypolipidemic: L. inermis leaves extract and chlorpropamide showed significant hypoglycemic and hypolipidemic activities in diabetic mice after oral administration. The results confirm the use of the plant in traditional Indonesian medicine for the treatment of diabetes. (6)
• Protein Glycation Inhibitory Activity / Lawsone / Gallic Acid: Protein oxidation and glycation are implicated in the pathogenesis of many age-related disease processes. Study showed the alcoholic extract of Lawsonia inermis, lawsone and gallic acid showed significant inhibition of Advanced Glycated End Products (AGEs).
• Wound Healing: Results showed enhanced wound contraction, increased skin breaking strength, hydroxyproline and histological findings to support the use of L inermis in the management of wound healing. (7)
• Burn Wound Infection: Study investigated the effects of water and chloroform leaf extracts against primary invaders of burn wounds. Results showed leaves extracts were able to inhibit the growth of A. niger and F. oxysporum, together with Streptococcus sp. and S. aureus. (10)
• Anti-Ulcer: Study was done of henna leaves extracts in rats with pylorus ligation and aspirin-induced ulcer models. Results showed the aqueous, ethanol, and chloroform extracts to significantly decrease the volume of gastric acid secretions, free acidity and ulcer index. (8)
• Anthelmintic: Study evaluated the in-vitro anthelmintic potency of a petroleum ether extract against Indian earthworm Pheretima posthuma. Results showed the extract possessed dose-dependent anthelmintic activity when compared to Piperazine citrate. (11)
• Antifungal: In a study screening the barks of 30 plant species against Microsporum gypseum and Trichophyton mentagrophytes, only Lawsonia inermis exhibited absolute toxicity, showing fungistatic and fungicidal abilities. (12)
• Antimicrobial / Antifungal: Study showed henna possesses in-vitro antibacterial activity against a wide spectrum of bacterial strains and C. albicans. (13)
• Antitumor: L. inermis showed tumor suppressor effect and prolonged MST and AST time in mice with gluteal sarcoma formed with EAT cells. Results suggest Li can be used as a supplementary agent for cancer treatment. (14)
• Diuretic: Study of an aqueous and ethanolic extract of leaves in rats showed significant diuresis, with the ethanolic extract showing more activity than the aqueous extract. (15)
• Effect of Henna on E. coli: Leaf samples of Lawsonia inermis were evaluated for antimicrobial potential. Growth of E. coli pathogen was inhibited to various degrees by increasing concentration of herbal powder.(16)
• Natural Corrosion Inhibitory for Aluminum Ally in Seawater: Commercial henna was investigated for its ability to inhibit corrosion of aluminum alloy through immersion in seawater. Results showed henna has major constituents which contribute to the chemisorptions or adsorption process by forming isolation layers on the aluminum alloy surface. The protection was that attached on metal was not permanent and precipitation occurred with time. (18)
• Antifungal / Malassezia: Study evaluated the antifungal effects of various extracts of leaves on Malassezia. Malassezia is a normal skin flora that can cause pityriasis versicolor and folliculitis under suitable conditions. Results showed a chloroformic extract completely inhibited the growth of Malassezia. (19)
• Antimalarial / Antioxidant / Anticancer: Study on various extracts of Lawsonia inermis reported antioxidant activity (highest with an ethanol extract), antimalarial activity (petroleum extract) and activity against MCF7 human breast cancer cells ( ethyl acetate and petroleum ether). (20)
• Spermicidal Activity / Leaves: Study evaluated the spermicidal property of an aqueous extract of Lawsonia inermis leaves. Result showed instant immobilization of all adult spermatozoa on application of the extract. at 160 mg/ml. At 80 mg/ml,there was concentration- and time-dependent reduction of sperm motility. (21)
• Cheaper Alternative Biological Stain: Study aimed to produce an alternative and cheaper biological stain from the dark brown pigment of henna and the pink stain of chemical Benzalkonium chloride (Merthiolate). Results showed merthiolate can be an effective bio stain. Henna also showed to have staining ability. (22)
• Henna as Vegetable Tanning Material: Study showed a technique to recover a soluble powder from aqueous henna leaves extract. Phytochemical studies on henna leaves powder yielded tannin (11.12%), non tannin (22.64%), TSS (33.76%), TS (36.72%), moisture content (9.58%) and pY (4.5), and color Red=1.7, Yellow+2.8. The principle colouring matter as 2-hydroxy-1,4- naphthoquinone. (23)
• Hepatoprotective / Antioxidant Activity: Study evaluated a warm aqueous extract of L. inermis leaves on carbon tetrachloride (CCl4)-induced liver damage in healthy Wistar albino rats. Results showed significant hepatoprotective effect as evidenced by decrease in liver enzymes. There was also significant antilipid peroxidant effects in vitro, besides significant activity in quenching DPPH indicating potent antioxidant effect. (25)
• Antidiabetic Effect / Polyherbal Formulation of Henna and Azadirachta indica: Study evaluated the polyherbal formulation of Lawsonia inermis and Azadirachta indica in alloxan- and streptozotocin-induced diabetic rats. Results showed a significant decrease in blood glucose compared to control. (26)

Toxicity / Allergy Concerns
• Henna is a reported ingredient in many cosmetic products, such as: shampoos, conditioners, sunless tanning, hair color and bleaching, styling gels and lotions, hair sprays, moisturizers, among others.
• Studies have raised concerns regarding Lawsonia inermis as a human immune system and respiratory toxicant; and as an asthmagen and as a skin sensitizer.
Availability
Wild-crafted.
A profusion of commercial henna products in the cybermarket.