Botany
Sinta is an annual herb, erect, growing to a height of 30 to 100 centimeters. Stems are quadrangular. Leaves are simple, opposite, lanceolate to ovate-lanceolate, glabrous. Flowers are white, bilabiate, with rose-purple spots or markings in the lower lip in axillary or terminal racemes or panicles. Fruit is a capsule, linear-oblong, up to 2 centimeters long and 4 millimeters wide, furrowed, compressed longitudinally with small seeds.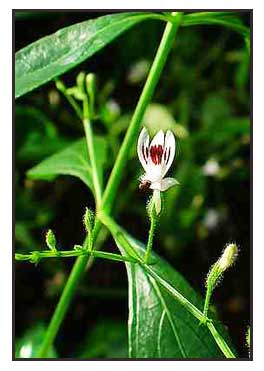 Constituents
• Contains diterpene lactones, glycosides, b-sitosterol-d-glucoside, and flavanoids.
•The active constituent of the extract is andrographolide.
• Study of aerial parts isolated five labdane diterpenes, 14-deoxy-12-hydroxyandrographolide, 14-deoxy-11,12-didehydroandrographolide, 14-deoxyandrographolide, andrographolide, and neoandrographolide. (18)
• Phytochemical screening yielded various secondary metabolites likes steroids, alkaloids, phenols, catechine, flavonoids, saponins, and tannins. GC-MS analysis of powdered plant sample yielded 13 different phytochemical compounds, viz., 1,1,3-tryethoxy-propane, teradecanoic acid, 3,7,11,15-tetramethyl-2-hexadecen-1-ol, n-hexadecanoic acid, 9,12-octadecadienoyl chloride (Z,Z)-, phytol, 9,12-octanecadienoic acid (Z,Z), 9,12,15-octadecatrienoic acid (Z,Z,Z) 1,2-benzenedicarboxylic acid, diisoctyl ester, squalene, retinoic acid methyl ester, androstan-17-one, 2-ethyl-3-hydroxy, (5α) and ß-sitosterol. (32)

Properties
• Extremely bitter and cooling.
• Antidiarrheal, antipyretic, anti-infective, anti-inflammatory, antibacterial.
• Stomachic, febrifuge.
• Antityphoid, antifungal, antimalarial, antihepatotoxic.
• Anti-cancer.
• Tonic and immune-boosting.
• Studies have shown cardioprotective, antioxidant, hepatoprotective, anti-inflammatory, antimalarial, anticancer, antidengue, antivenom, antidiabetic, larvicidal, renoprotective properties.

Uses
Folkloric
- Used for fever and liver ailments.
- Used for diarrhea.
- Abortifacient.
- Extensively used in Ayurvedic medicine, found in 26 Ayurvedic formulations to treat liver disorders.
- Called "Indian echinacea" for its use in the prevention and treatment of the common cold.
- In Traditional Chinese Medicine, use for fevers and to remove toxins from the body.
- In Scandinavian countries, used to prevent and treat common colds.
- In China, India, Thailand and Malaysia, used for treatment of sore throat, flu, upper respiratory tract infections.
- In India, decoction of powdered herb used for post-partum burning sensation in the palm and foot. Leaf mixed with grounded black pepper used for dysmenorrhea. Roots and stems made into paste, mixed with mother's milk and taken internally for intestinal worm infestation. Powdered herb mixed in oil applied to eczema. Leaf paste used externally for abscesses. Aerial parts used for diabetes. (48)

Studies
• In China, found effective in preventing blood clots and re-clogging of arteries post-angioplasty.
• Herb activates fibrinolysis (dissolution of blood clots) and has a blood pressure lowering effect.
• May inhibit the growth of human breast cancer cells.
• Studied for its anti-viral activity in HIV and AIDS, found to increase AZT's ability to inhibit HIV replication.
• Studied for E. coli associated diarrhea and dysentery.
• Comparative Study in Uncomplicated Common Colds : Study comparing Kan Jang, a fixed herbal combination with Andrographis paniculata with Immunal containing E purpurea found adjuvant treatment with Kan Jang more effective in parameters of nasal congestion and secretion. (2)
• Anti-Malarial : Study of extracts of A paniculata and Hedyotis corymbosa, known hepatoprotective and fever-reducing was tested for antimalarial activity. Results suggested further studies for a potential herbal drug for malaria treatment.
• Anti-Malarial / Combination with Curcumin: CoMethanolic extracts of A paniculata and H corymbosa showed inhibition of the ring stage of the parasite without in vivo toxicity, whether used in isolation or in combination with curcumin. (13)
• Antioxidant / Anticarcinogenic: Study showed antioxidant action of the aqueous extract of AP which may play a role in the anticarcinogenic activity by reducing oxidative stress. Lactic dehydrogenase (LDH), as tumor marker, showed decreased activity. Extract effect on more effective than anticancer drug, doxorubicin (DOX).
• Anti-inflammatory: (1) Study showed andrograpanin, one of its components, enhanced chemokine SDF-1 alpha- induced leukocytes chemotaxis. (2) Study isolated active compounds showing anti-inflammatory activity, significantly dec4reasing TNF-a, IL-6, macrophage inflammatory protein-2 and nitric oxide secretions. Study provides encouraging results for bioactive compound development.
• Diabetes: Study of commercially prepared spray-dried ethanolic extract of AP on STZ-induced diabetic female rates showed increased survival rate and endocrine cell density, improved estrus cycle and reduced "insulin resistance" phenomenon. (6)
• Antivenom activity / Echis carinatus: Study was done on the antivenom activity of A paniculata and Aristolochia indica plant extracts against Echis carinatus venom. Results showed both plant extracts could for used for therapy in patients with snakebite envenomation. (7)
• Antivenom activity: Study for antivenom activity against Daboia russelli venom confirmed A paniculata and A indica to possess potent snake venom neutralizing capacity.
• Anti-Hyperglycemic / Renal Protective: Study showed significant antidiabetic activity with extract of AP roots supporting its traditional Ayurveda use for diabetes. Study also showed preventive effect for diabetic nephropathy. (8)
• Spermatogenesis and Semen Quality Study: Study compared Kan Jang, a fixed combo of Andrographis paniculata extract (SHA-10) and Acanthopanax senticosus, with Valeriana officinalis and Panax ginseng for spermatogenesis and semen effect. Results showed all three to be safe with respect to effects on human male sterility. (9)
• Andrographolide / Antinociceptive / Antiedematogenic: Study isolated andrographolide from the leaves of A paniculata. Results showed andrographolide has antinociceptive and antiedematogenic activities, probably modulated via nonopioid mechanisms. (11)
• Respiratory Tract Infection Therapy: Review of data suggest that A paniculata is superior to placebo and may be a promising treatment for the subjective symptoms of acute upper respiratory tract infection. With few reports of adverse events with short-term use, A paniculata presents as an herbal treatment option. (12)
• Anti-Fertility Effect: Results of study of water extract of A paniculata suggest that due to lower level of hormone, female rats have promising percentage of infertility with AP. (14)
• Renoprotective Effect: Study of aqueous extract of whole plant of A paniculata exhibits a significant renoprotective effect in gentamicin-induced nephrotoxicity in male Wistar albino rats. (16)
• Anti-Dengue: Study of evaluated the antiviral effects of six plants on dengue virus serotype 1 (DENV-1). Results showed the methanol extracts of A. paniculata and M. charantia possess the ability of inhibiting the activity of DENV-1 in in vitro studies. (17)
• Cardiovascular Effect / Coronary Vasodilation: Study evaluated a dichlormethane DCM) extract of Andrographis paniculata for cardiovascular activity. Aerial parts yielded five labdane diterpenes. The extract significantly reduced coronary perfusion pressure and reduced heart rate. (18)
• Gastroprotective / Antiulcer / Cytoprotective: Study of an aqueous and ethanol extract of A. paniculata showed significant anti-ulcer and cytoprotective properties and inhibited leukocyte infiltration of the gastric wall. (19)
• URTI and Sinusitis: A double blind, placebo-controlled, parallel-group clinical study evaluated the effect of Andrographis paniculata extract SHA-10 fixed combination, Kan Jang, showed a positive effect in the treatment of upper respiratory tract infections and also relieves the inflammatory symptoms of sinusitis. Also, the drug was well tolerated. (20)
• Andrographolide: Andrographolide is a major bioactive constituent of the plant. The paper summarizes its various experimental and clinical pharmacological activities, such as antioxidant, anti-inflammatory, anti-cancer, antimicrobial, parasitic, hepatoprotective, antihyperglycemic effects. (21)
• CNS Effects / Anxiolytic and Seizure Suppressing Activities : Study evaluated the therapeutic potential of A. paniculata for mental health problems. Various rat models were used for characterizing brain function modulating activities. Prolonged daily oral use of extract gradually suppresses central sensitivity to acute stressful stimuli, eventually down regulates central dopaminergic receptors. with benzodiazepine like anxiolytic and seizure suppressing activities. (22)
• Larvicidal / Repellent / Mosquitoes: Study evaluated the effects of A. paniculata and A. lineata extracts against two mosquitoes Culex quinquefasciatus and Aedes aegypti. Results showed that insecticidal activity of plant combinations was ecofriendly and has better larvicidal activity compared to individual extracts. (23)
• Terpenoid / Inhibitory Activity against Biofouling Bacteria: Phytochemical analysis isolated a terpenoid with inhibitory activity against biofouling bacteria, viz., Pseudomonas sp., Bacillus sp., Staphylococcus sp., and Serratia sp. Of various solvents tested, a methanol extract showed the best activity. (24)
• Andrographolide / Anti-Inflammatory:Andrographolide exhibits anti-inflammatory and anticancer activities, either in vitro or in vivo experimental models of inflammation and cancer. Several immunomodulatory responses of andrographolide have been observed in in vitro studies, such as reduction of iNOS, COX-2, NO, PGE2, TNF-alpha and IL-12 in macrophages and microglia. (25)
• Immunostimulant / Cerebroprotctive / Nootropic / Leaves: Study evaluated the effect of chronic administration of methanolic extract of A. paniculata leaves in rats with experimentally induced diabetes. Results showed significant immunostimulant, cerebroprotective, and nootropic activities in normal and type diabetic rats. Antioxidant activity was made evident by decreased tissue malondialdehyde (MDA) and increased SOD levels. (26)
• Hepatoprotective Against Carbon Tetrachloride Induced Toxicity / Leaves: Study of an aqueous leaf extract of A. paniculata showed significant hepatoprotective effects against CCl4-induced hepatic injury in rats. (27)
• Andrographolide / Anti-Inflammatory / Antioxidant: The anti-inflammatory activity of A. paniculata is commonly attributed to andrographolide, its main secondary metabolite. Standardized extracts showed considerable physiochemical background variation. DPPH radical scavenging activity was attributed to flavonoid/phenylcarboxylic acid compounds in the extracts. The inhibitory effect of andrographolide on the release of TNF-α was little affected by variation of non-standardized constituents. (28)
• Antimalarial / Sambiloto / Chloroquine and Artemisinin: Study evaluated the anti-malarial effect of sambiloto extract (A. paniculata), chloroquine and artemisinin-only as well as combinations on Plasmodium falcifarum strains. Results showed the extract of Sambiloto has an in-vitro anti-falciparum malaria effect. The antimalarial effect had been shown both in monotherapy and in combination. (29)
• Hepatoprotective / Paracetamol Induced Hepatotoxicity: Study evaluated the hepatoprotective effect of crude methanolic extracts of A. paniculata plant against paracetamol induced hepatic damage in mice. Results showed a significant protective effect in liver morphology, with a significant decrease (p<0.05) in liver protein content of the hepatotoxic mice. (31)
• Andrographolide / Diterpenoids / Hepatoprotective: Article reviews the anti-hepatotoxic effects of A. paniculata extract and derivative compounds. The major compounds andrographolide, neoandrographo- lide, 14-deoxy-11,12-didehydroandrographolide and 14-deoxyandrographolide exert anti-hepatotoxic actions such as: (1) inhibition of CCL4 t-BHP induced hepatic toxicity; (2) acting as CYPs inducers; (3) modulation of GSH content; (4) influencing GSTP activity and P13k/Akt pathway; and (5) synergistic effects with anti-cancer drugs inducing apoptosis. (33)
• Hepatoprotective / Thioacetamide Hepatotoxicity / Leaves: Study evaluated the hepatoprotective effects of an ethanolic extract of leaves on thioacetamide-induced hepatotoxicity in rats. Acute toxicity study showed no toxicity effects. Results showed a hepatoprotective effect with reduction of thioacetamide induced toxicity, normalizing ROS levels, inhibition cellular proliferation, and inducing apoptosis in HepG2 cells. (34)
• Andrographolide / Gastroprotective:Study evaluated the anti-ulcer effect of A. paniculata and andrographolide from the leaves of AP in male albino rats. Results showed a gastroprotective effect of AP and AGL which may be due to its antisecretory and antioxidant property. (35)
• Antidiabetic / Antihyperlipidemic / Andrographolide: Study of a purified extract and andrographolide in high-fat-fructose-fed rats showed hypoglycemic and hypolipidemic effects evidenced by a significant (p<0.05) decrease in levels of blood glucose, triglyceride, and LDL compared to controls. (36)
• Effect on Memory and Cognitive Health: Study evaluated the effect of andrographolidee (ANDRO) on Wnt signaling pathway of mice and rats in vivo, in vitro, and in silico analyses. Results suggest ANDRO has potential therapeutic use for disorders caused by Wnt-signaling dysfunction such as seen in neurodegenrative diseases. Another study showed ANRO has potential preventive therapy during AD progression. (37) (38) (39)
• Anti-Dengue Viral Compounds: Study evaluated the in silico docking efficiency of dengue viral protein NS5, with andrographolide and 14-deoxy-11-oxoandrographolide. Binding analysis showed ligands exhibited significant inhibitory activity against the target and could be a valuable drug candidate. (40)
• Antioxidant / Antmicrobial: Study of hexane, DCM and methanol extracts of A. paniculata for antioxidant activity showed DPPH IC50 values of 223.3 µg/ml, 69.32 µg/m and 82.23 µg/ml, respectively. All three extracts showed dose-dependent increased Total Reducing Capacity. The leaves showed best antimicrobial activity against gram positive organisms i.e., S. aureus and S. pyogenes. All extracts showed antifungal activity against C. albicans with MIC of 200 µg/ml. (41)
• Drug Interactions: (1) Blood pressure effects: Andrographis may reduce blood pressure. Caution is advised when taking andragraphis with medications that can lower blood pressure. (2) Immune system effects: Andrographis increases the immune system and may decrease the effectiveness of medications that decrease the immune system. (3) Coagulation effects: Andrographis may slow blood clotting. Caution is advised when taking it with medications that also slow blood clotting which may increase the risk of bruising and bleeding. (42)
• Elemental Analysis / Antidiabetic Benefits: PIXE (Particle Induced X-ray Emission) and ICP-MS (Inductively Coupled Plasma Mass Spectroscoy) analysis showed appreciable levels of K, Ca, Cr, Mn, Cu, and Zn in A. paniculata. The elements can be regulated to the antidiabetic property of A. paniculata as they are known to regulate and potentiate insulin action. (43)
• Anti-Inflammatory / Stem: Study evaluated the anti-inflammatory activity of chloroform extract of A. paniculata stem using carrageenan induced rat hind paw edema model. Results showed statistically significant anti-inflammatory activity comparable to ibuprofen (10 mg/kg) (t=64.06, p<0.001). (44)
• Anticancer / Human Larynx Carcinoma / Leaves: Study evaluated the anticancer activity of an ethanol extract of A. paniculata against HEp2-Human larynx carcinoma cell lines. Results showed marked dose dependency, with reduction of viability and induction of cell apoptosis with increased concentration. (45)
• Cardioprotective / Leaves: Study evaluated aerial parts of A. paniculata for cardioprotective effects in isoproterenool-induced myocardial infarction in rats. Results showed a cardioprotective effect as evidenced by potent antioxidant properties and improvement in hemodynamic changes. The cardioprotective activity was similar to enalapril, an ACE inhibitor used in the study. (46)
• Antifungal: Study evaluated different extracts of various parts of A. paniculata for antifungal activity against five selected fungal species. Stem extracts showed high antifungal activity against A. niger, A. flavus, C. albicans, Penicillum sp and A. oryzae. Leaf extracts showed high antifungal activity against Penicillum sp. and A. flavus. (47)

Availability
• Wild crafted.
• Extracts, capsules and supplement in the cybermarkets.