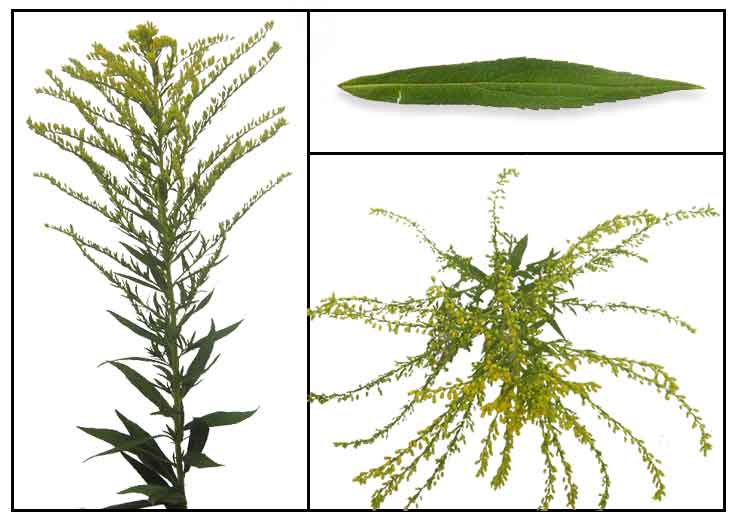 Botany
Tantanduk is a erect perennial herbs, smooth or hairy, rarely branching. Stems are erect, stout, and subsimple, dark red, about 15 to 60 centimeters high. Lower leaves ovate or lanceolate, 3.5 to 7 centimeters long with pointed tip and base prolonged into a petiole, with margins somewhat toothed, the upper ones small, narrower and entire as to margins. Flowers are small and yellow, one to four on short axillary peduncles collected into a long leafy panicle. Involucral bracts are narrow and pointed. Ray flowers usually number eight. Fruits are cylindrical or angled achenes, smooth or somewhat covered with short hairs.

Distribution
- Only in Bontoc and Benguet Subprovinces in Luzon, on open grassy slopes in thin pine forest at an altitude 1,400 to 2,100 m.
- Occasionally cultivated as an ornamental in Baguio and Manila.
- Also occurs in North Temperate zones in both hemispheres, extending southward along the mountains through Japan to southern China and Taiwan.

Constituents
- High in flavonoids, especially quercitrin and rutin.
- Yields saponins, especially in the aerial parts.
- Steam distilled essential oil yielded sixty components with the main constituents: a-pinene, myrcene, ß-pinene, limonene, sabinene and germacrene-D. (6)
Properties
- Minty, bitter tasting, cooling nature.
- Considered anthelmintic, antifungal, astringent, decongestant, anti-infectious, diaphoretic, diuretic, antiphlogistic, analgesic.
- Saponins are considered responsible for antifungal, diuretic and expectorant effects; rutin for capillary fragility; phenolic glycosides for antiinflammatory effect.
- Commission E reports it as diuretic, mildly antispasmodic and antiphlogistic.
- Yields a volatile oil, with main constituents of a-pinene, ß-pinene, limonene, sabinene, and germacrene-D. Flavonoids (quercetin, kaempferol and isorhamnetin and their glycosides, including astralgin and rutoside), triterpene saponins of the oleanane type, the bisdesmosidic phenol glycoside leiocarposie and virgaureoside A, diterpenoid lactones of the cis-clerodane type, and various phenolic cids (caffeic acid, chlorogenic acid,, ferulic acid, synapic acid and vanillic acid) have been reported from the plant. (22)
Parts utilized
· Entire plant.
· Best collected from August to October.
· Rinse, sun-dry, compress or use fresh.
Uses
Edible
- Decoction of leaves and/or flowers used as tea.
Folkloric
- Not known medicinally in the Philippines.
- Used for poisonous snake bites.
- Used for bladder stones, throat swelling and pain, tonsillitis, cough, cold, sprains, furuncle infections, sores, carbuncles, and bruises.
- Used for hot flushes, vaginal thrush, nasal catarrh, diarrhea.
- Dosage: 9 to 30 gms dried material, 30 to 60 gms fresh material in decoction.
- Fresh material may be pounded and applied as poultice over afflicted area.
- Decoction of tea for vomiting and flatulence.
- In China, leaves are used to dissolve blood and expel flatus. Also used for hemorrhages, wounds, menstrual disorders, cholera, diarrhea.
- In various traditional practices, used for wound healing, tuberculosis, diabetes, liver enlargement, gout, hemorrhoids, internal bleeding, asthma and rheumatic diseases.
- In Europe, used as diuretic, for urinary tract infections and kidney stones.
- Used with other tonic herbs to cleansing or flushing the kidneys and bladder.
- Topical preparations used for wound healing, eczema and various skin conditions.
Others
- Dye: Yellow dye obtained from leaves and flowers.
- Cosmetic: A cosmetic product ingredient ascribed "skin-conditioning" properties. (22)
Recent uses
• Urinary calculi: Approved by Commission E for irrigation therapy for inflammation of the lower genitourinary tract, urinary calculi and kidney gravel; also as prophylaxis for urinary calculi.
• Diuretic: Popular use as diuretic and flushing property prior to drug testing.
• Gout / Hyperuricemia: Hyperuricemic use: 30-minute infusion of one tablespoon of dried plant per cup of water; 3 cups daily.

Preparations
• Tea: 2-3 teaspoons of dried herb in one cup of hot water, let stand for 10 min, strain, drink 3 times daily.
• Gargle: Decoction of herb as gargle, 3 times daily.
• Tincture: (1:5) in 45% ethanol (90 proof lambanog will do); 2 - 4 cc, 2 to 3 times daily.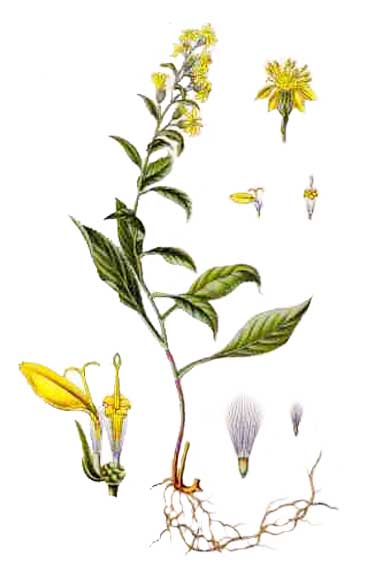 Studies
• Antineoplastic: Study evaluated the cytotoxic activity of S. virgaurea on rat prostate cell line (AT6.1) and SCID mouse model. TheG-100 fraction was administered intraperitoneally and subcutaneously. Tumor growth was significantly suppressed without apparent side effects. Results suggest a potential antineoplastic medicine with minimal toxicities.  (5)
• Anti-Inflammatory / Herbal Combinations: Study of extracts of P tremula, Solidago virgaurea and F excelsior (components of Phytodolor N), individually and in 3 different combinations in the carrageenan-induced edema and adjuvant-induced arthritis of rat paw showed significant dose-dependent anti-inflammatory activity. The activity of herbal combinations was comparable to diclofenac. (8)
• Antioxidant / Antimicrobial: Study of various extracts to determine antioxidant activity showed the methanol extract to have the highest activity. The methanol extract also showed antimicrobial activities against S aureus, Enterobacter faecalis, E coli and Bacillus cereus.
• Osteoarthritis / Review / Phytodolor: Review of trials showed promising evidence for the effective use of some herbal preparations in the treatment of osteoarthritis.
• Phytodolor / Anti-Inflammatory: Phytodolor is a combination of alcoholic extracts of Populus tremula, Fraxinus excelsior and Solidago virgaurea in 3:1:1 proportion. The active ingredients are salicin, salicyl alcohol, phenolcarbon acids, flavonoids. triterpensaponines and coumarin derivatives. Its mechanism of action is proposed to be the inhibition of arachidonic acid metabolism via COX and lipooxygenase pathways, with subsequent suppression of mediators of inflammation such as PGE2. (8)
• Prostate Cancer: Study tested the hypothesis that FAS (Fatty acid synthase) is strongly expressed in prostate cancer cells and that an active component of S. virgaurea specifically inhibits the FAS activity and induces apoptosis in the prostate tumor cells. A 48kD protein was identified as an active component. Results suggest a potential utility for S. virgaurea as chemopreventive and therapeutic remedy for prostatic cancer. (14)
• Antibacterial / Antimutagenic: Study evaluated hexane and ethanolic extracts of above ground parts of Solidago species (S. virgaurea, S. canadensis, and S. gigantea). S. virgaurea yielded thirty nine and forty nine volatile compounds respectively in EE and HE. The hexane extract showed a weak antibacterial effect. The hexane extract exhibited antimutagenic activity. (15)
• Analgesic: Plants species traditionally used for relief of pain, including Solidago virgaurea, were studied for biologic activity in three in vitro receptor radioligand binding assays. Results showed strong indication for biologic activity in some of the plants in the three in vitro receptor binding assays, and particular plants exhibited selective action to a single receptor. (16)
• Antioxidant / Antimicrobial: Study evaluated methanol and hot water extracts for antimicrobial and antioxidant activities. The methanol extract showed the highest DPPH-radical scavenging activity. The methanol extract also showed antimicrobial activities against Staphylococcus aureus, Enterobacter faecalis, E. coli and Bacillus cereus. (17)
• Diuretic Effect / Leiocrposide: Leiocarposide has been isolated from Solidago virgaurea. The compound was shown to exhibited diuretic activity in rats, only 75% lower than furosemide. (18)
• Combined Herbal Supplement in Canine Osteoarthritis: Closed-label, single-arm study evaluated the pain relieving effect of an herbal supplement—extracts combination of juniper goldenrod, dandelion, meadowsweet, willow and cranberry—in dogs suffering from chronic osteoarthritis. Results showed the herbal supplement to substantially reduce pain and lameness while also substantially improving the quality of various life activities. (19)
• Diuretic / Drug Interaction: Tantanduk may increase the effect of diuretics and cause dehydration or negative fluid balance, and cause dizziness and lower the blood pressure. Examples of diuretics are chlorothiazie, chlorthalidone, furosemide, hydrochlorothiazie, hydrodiuril, etc. Because of the diuretic effects, it may cause certain drug levels to increase in the blood; ex: lithium. (21)
• Commission E: Commission E approved goldenrod herb as irrigation therapy for inflammatory diseases of the lower urinary tract, urinary calculi, and kidney gravel, and as prophylaxis for urinary calculi and kidney gravel. (Contraindication: No irrigation therapy in cases of edema due to impaired heart and kidney functions.) (23)
• Treatment of Urinary Tract Infections: Review examines clinical data on the use of Solidago virgaurea for urinary tract infections. Extracts of goldenrod ca be used in the complex therapy of urinary tract diseases to increase effectiveness of therapy, accelerate recovery and reduce relapses. (24)
• Herbal plant combination / Anti-Inflammatory / Antirheumatic: PD (Phytodolor N), a combination of three herbal plants i.e., Populus tremula, Solidago virgaurea, and Fraxinus excelsior, has shown anti-inflammatory and antirheumatic properties on in vitro and in vivo studies, comparable to NSAIDS, with little or no side effects. (25)
• Inhibition of Candida Yeast-Hyphal Transition and Biofilm Formation: Xerostomia is a decrease in secretion of saliva, which can cause imbalance of the oral microflora to produce a beneficial environment for Candida albicans. Study evaluated a water extract of S. virgaurea for potential use as a dry-mouth daily-care mouthwash. Results showed biofilm formation and pre-formed biofilms were both strongly inhibited. Results suggest S. virgaurea extract was efficient against two key virulence factors of C. albicans i.e., yeast-hyphal transition phase and biofilm formation. (26)

Concerns
- This drug material contains fafonin with anemic effect on the body. Prolonged use in large doses may cause gastrointestinal hemorrhage.
- Should not to be used for genitourinary therapy in the presence of impairment of cardiac and renal functions.
Availability
Wild-crafted.
Tea, capsules, tinctures, extracts, supplements in the cybermarket.