Botany
Tara-tara is a small, gregarious, smooth, submerged or partly submerged, aquatic herb 10 to 20 centimeters in height, and exceedingly variable in its vegetative characters. Stems are slender, erect, simple, or diffusely branched. Leaves are in whorls, pinnatifid, and 6 to 18 millimeters long. Leaves under water are opposite. Flowers are pale purple or pale violet, and borne singly in the axils of the leaves. Calyx is 3 to 4 millimeters long, rarely larger, and hemispheric in fruit, with ovate lobes. Corolla is 10 to 12 millimeters long.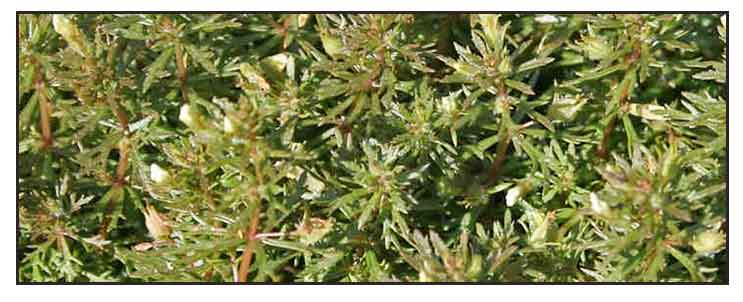 Distribution
- In shallow, slow streams at low and medium altitudes, ascending to 1,500 meters.
- Found in Cagayan, Ilocos Norte, Bontoc, Benguet, Pangasinan, Nueva Ecija, Rizal and Laguna Provinces in Luzon; in Leyte; and in Bukidnon, Davao and Lanao Provinces in Mindanao.
- Also occurs in India to Japan and through Malaya to tropical Australia.
Constituents
- Plant contains an essential oil.
- Study of the whole plant yielded two flavonoids, (2S)-5,7,3′,4′-tetramethoxyflavanone and 5,7,2′,5′-tetramethoxyflavone. together with three known flavonoids.
- Study of roots and aerial parts yielded two flavonoids, 5,6-dihydroxy-7,8,4'-trimethoxy flavone and 5,2'-dihydroxy-8,3',4'-trimethoxyflavone together with three known compounds.
- A hexane extract of the aerial parts and roots of Limnophila indica yielded a new flavone, 3',4'-ethyl- enedioxy-5-hydroxy-3-(1-hydroxy-1-methylethyl)-6,7-dimethyl-5'-methoxyflavone-8-carboxylic acid.
Properties
- Agreeable and refreshing odor of fresh plant resembles camphor oil or oil of lemon.
- Considered antiseptic, carminative.

Parts used
Leaves, plant juice.

Uses
Folkloric
- In the Philippines, infusion of leaves used for dysentery and dyspepsia.
- Juice of the plant is rubbed over the body in pestilent fevers.
- Liniment made from the plant with coconut oil is used in elephantiasis.
- Internally the juice, combined with cumin and other aromatics, is given for dysentery.

Studies
• Flavanoids: Study of whole plant yielded two flavonoids, (2S)-5,7,3′,4′-tetramethoxyflavanone and 5,7,2′,5′-tetramethoxyflavone, together with three known flavonoids, 7-O-methylwogonin, skullcapflavone I and 5-hydroxy-7,2′-dimethoxyflavone. (1)
• Flavanoids: Aerial parts and roots yielded a flavonoid - 5,2'-Dihydroxy-8,3',4'-trimethoxyflavone, 5,8-Dihydroxy-6,7,4'-trimethoxyflavone
• Cytotoxicity: In a study investigating the cytotoxic effect of 16 Bangladesh medicinal plant extracts, Limnifolia indica's aqueous extract showed no toxicity against healthy mouse fibroblast but selective cytotoxicity against breast cancer cells. (2)
• Antimicrobial: L. indica extract was found to inhibit the growth of Xanthomas campestris and X. malvacearum in vitro.
• Antibacterial / Antidiarrheal / Shigellosis: Study of whole plant extract yielded phenolic compounds, flavonoids, alkaloids, fats, and oils. It showed potent antibacterial activity against four bacterial strains and exhibited powerful antibacterial effect against antibiotic-resistant Shigella species. It also showed dose-dependent in vivo antidiarrheal activity, with a result superior to loperamide. In vitro antacid activity showed mild activity. Results suggest an eminent substitute as anti-dysentery and antidiarrheal agent. (6)
Availability
Wild-crafted.