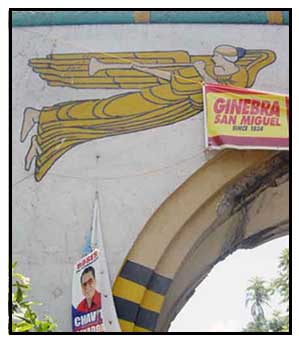 Chronic And Recurrent Arch Abuse
Sometimes You See It, Sometimes You Don't
Detail of the art-deco angel on the provincial "Welcome" arch. There are times when the angels are hardly visible at all, when the arch gets covered by advertising banners or plastered by political posters or competing alcoholic beverages. Times too, when the arch is all spruced up, perhaps by short bursts of civic consciousness and pride. But alas, these occasions are rare and short-lived.
But it has been a while now since the arch has been defaced by advertisements. To boot, it has gotten a fresh coat of paint, and the old gold-clad deco angels given new sky-blue robes. Perhaps, all from the winds of change blowing Tiaong's way.
•