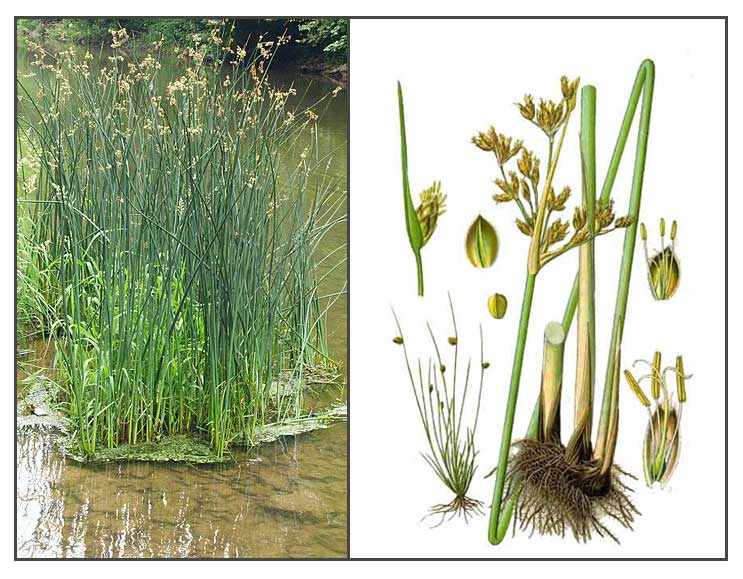 Botany
Tiker is an aquatic herb with horizontal rhizomes. Stems are stout, 45 to 120 centimeters tall, often standing in water. Leaves vary greatly in size, some being hardly discernible, others growing to 10 centimeters or, when floating, reaching a length of 30 to 60 centimeters. Umbels are usually once or twice divided, 10 to 15 centimeters in diameter, and sometimes reduced almost to a small head. Spikelets are clustered and solitary, 10 to 12 millimeters long. Glumes are ovate. Bristles are as long as the nut or reduced. Nuts are obovoid, smooth and black.
Distribution
- In fresh-water swamps, from sea level to 1,300 meters altitude in Luzon (Cagayan, Zambales, Benguet).
- Can grow in water one foot deep.
- Also found in most warm countries except Malaya and South America.
Properties
- Astringent, diuretic.
- Studies have shown antibacterial properties.

Parts used
Rhizome.

Uses
Edibility
- Roots and young shoots, raw or cooked.
- Raw buds of rhizomes are sweet and crisp.
- Seeds are ground and mixed with flour for making cakes.
Folkloric
- Rhizome used as astringent and diuretic.
Others
- Papermaking / Crafts: Pith of stems used in paper making. Stems used for making matting, chair bottoms, thatching.

Studies
• Antibacterial: Scirpus lacustris was one of five medicinal plants in a study of 10 herbs that showed significant antibacterial activity against Nocardia asteroides and N. brasiliensis. (1)
• Bioremediation of Chromium: Study evaluated the potential of three plants viz., Scirpus lacustris, Phragmites karka, and Bacopa monnieri to accumulate chromium under laboratory conditions. Results showed the plants have the ability to accumulate substantial amounts of chromium. When plants were grown in tannery effluent and sludge, they caused significant reduction in chromium concentrations. (3)
Availability
Wild-crafted.