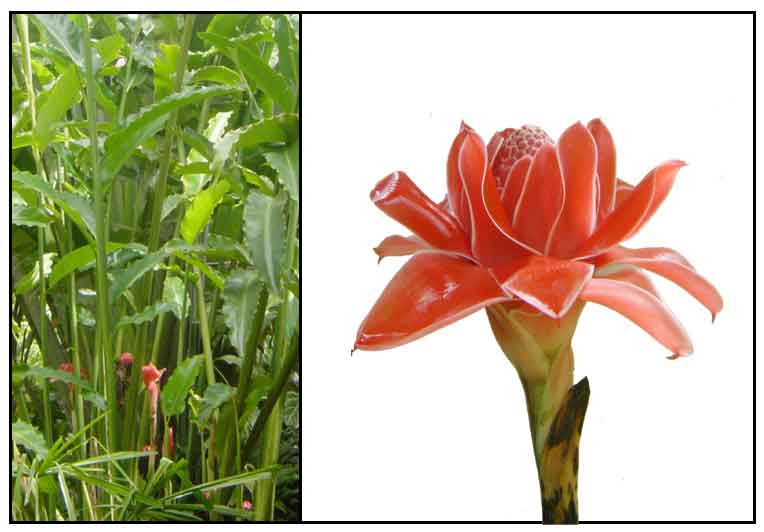 Botany
Etlingera elatior is a robust and erect herb, growing to 5 meters. The leaves are distichous, up to 1 to 1.5 meters long. Flowering stalk is separate from the leafy stem. Inflorescence is borne on long, slender, and leafless peduncle arising from the rhizome. Flower head is large and surrounded by large, red, involucrate bracts.

Distribution
- Found near ravines and lakes in Mindanao.
- Ornamental cultivation.
Parts utilized
Rhizomes.
Constituents
- GC-MS study of flower extracts yielded 39 compounds, with main components of 1-dodecanol (13.82%), dodecanal (12.10%), and 17-pentatriacontene (10.52%). Quaitative analysis of methanol and ethyl acetate extract yielded tannins, flavonoids, saponin, and steroid. (see study below) (10)
- Methanol extract of flowers yielded flavonoids, terpenoids, saponin, tannins and carbohydrates, with absence of alkaloids, anthraquinone, and reducing sugars. (see study below) (11)
- In a study for secondary metabolites from various solvent extracts (aqueous and ethanolic), the most important phenolic compounds based on concentration were gallic acid > caffeic acid > tannin acid > chlorogenic acid; flavanoids were quercetin > apigenin > kaempferol > luteolin > myricetin. (see study below) (17)
- In a study for essential oil, the main oil component of plant parts were: leaves, isophytol acetate 16.33%; stem, 6-octadecenoic acid (Z) 48.10%; midrib, 17-pentatricontene 36.65%; and flower, oxirane, hexadecyl- 53.16%. (see study below) (18)
- E. elatior yield high levels of secondary metabolites i.e., phenols, flavonoids, glycosides, saponins, tannins, steroids, and terpenoids. Total phenolic and flavoonoids are present in high amounts in leaves, flowers, stems and rhizomes. Flavonoids identified were quercetin, apigenin, kaempferol, luteolin, myricetin. Leaves yielded kaempferol 3-glucoronide, quercetin 3-rhamnoside, quercetin 3-glucoside and quercetin 3-glucoronide. Flowers and stems yielded quercetin, kaempferol-3-O-glucoosde and kaempferol. (19)
- Hydrodistillation of flowers (pink variety) yielded 70.63% of essential oil classified as monoterpenes, sesquiterpenes, and oxygenated monoterpenes and sesquiterpenes derivatives. The major EO constituents was cyclodecane (38.07%). (see study below) (20)
- Study of inflorescence extract showed TPC and TFC of 0.17 ± 0.02 mM gallic acid equivalent/g extract and 0.30 ± 0.01 mM quercetin equivalent/ g extract respectively. (see study below) (22)
Properties
- Bitter and acrid.
- Considered aperient, resolvent, expectorant, deobstruant, carminative.
- Studies suggest antioxidant, antimicrobial, cytotoxic, antifungal, antimelanoma properties.
Uses
Edibility / Culinary
- Young and tight buds used for flavoring.
- Fruit is extremely sour and edible
- Gives spice and color to curries, fish soups, stir-fried veggies and salads.
- Flower used in Southeast Asia for cooking, in salads and as soup garnish.
- In North Sumatra, flower buds used for a dish called arisk ikan mas (Szechuan pepper spiced carp). Flower buds are an essential ingredient in the Karo version of the dish Sayur asam. (11)
Folkloric
- No reported folkloric medicinal use in the Philippines.
- Mixed with other aromatic herbs, used by women for postpartum bathing to removed body odor. (10)
- In Malaysia, fruit used to treat earache and leaves used for cleaning wounds. (11)
- In North Kolaka, Indonesia, used for treatment of thyroid fever symptoms like mouth sores, diarrhea, coughs, and lack of appetite. (12)
Others
- Cosmetics: Used as ingredient for making soap, shampoo, and perfumes. (11)
- Dye: Flower yields a dye caused by an anthocyanidin flavonoid. (see study) (24)


Studies
• Antioxidative Constituents: Phytochemical studies on the rhizomes of Etlingera elatior isolated compounds found to inhibit lipid peroxidation in a more potent manner than a-tocopherol. (1)
• Antimicrobial / Cytotoxic: A study on the ethanol extracts of 19 Malaysian traditional vegetables (ulam) for antimicrobial and cytotoxic activities. Etlingera elatior showed antimicrobial activity and cytotoxic activity against human cervical carcinoma cell line. (2)
• Antioxidant / Antibacterial: Methanolic extracts from the fresh leaves of Etlingera species were screened for total phenolic content, antioxidant and antibacterial activity. Significant antioxidant activity was found in the leaves of E. elatior; total phenolic content and antioxidant activity were highest in the leaves, followed by inflorescences and rhizomes. Leaves of Etlingera species exhibited antibacterial activity against Gram-positive bacteria. (3)
• Volatile Oils: The major components identified in the oils of inflorescence and inflorescence axis of E. elatior were dodecanol, dodecanal and a-pinene. (4)
• Essential Oils: Phytochemical study showed the essential oils depended on the part of the plant studied–sesquiterpenes hydrocarbons were highest with the essential oils of the leaves; in the stems and rhizomes, oxygenated monoterpene derivatives; in the flowers, monoterpene hydrocarbons. (5)
• Antifungal: Study of 12 Thai medicinal plants for anti-fungal potential showed the flower buds of E elatior demonstrated high inhibitory activity against C gloeosporioides mycelial growth and suggests a potential for the control of anthracnose diseases. (6)
• Antioxidant in Lead Toxicity: Study evaluated the antioxidant effects of Etlingera elatior against lead-induced changes in serum free radical scavenging enzymes and lipid hydroperoxides in rats. There was a significant decrease in total antioxidants, superoxide dismutase, glutathione peroxidase, and glutathione s-transferase levels with lead acetate treatment. Treatment with E. elatior resulted in reduced serum LPO and PCC and a significant increase in total antioxidants and antioxidant enzyme levels. Results showed a powerful antioxidant effect against lead-induced oxidative stress and presents a therapeutic potential as an agent against lead toxicity. (8)
• Promotion of Cell Death in B16 Melanoma Cells: Study investigated the mechanism of EE extract cell death induction in melanoma cells using MTT assay. Extract treatment resulted in dose- and time-dependent reduction in cell viability in B16 cells. It also induced nuclear condensation, phosphatidylserine exposure, and loss of mitochondrial membrane potential, which are all markers of apoptosis. Results showed EE extract induced caspase-independent cell death via down-regulation of ERK and Akt pathways in B16 cells and presents a potential chemotherapeutic or chemopreventive agent in melanoma treatment. (9)
• Antioxidant / Flowers: Study evaluated the antioxidant activity of various extracts of E. elatior flowers using DPPH free radical scavenging assay. The methanol extract showed higher antioxidant potential against DPPH radicals with IC50 21.14 µg/ml, compared to EA extract with IC50 of 68.24 µg/ml. (see constituents above) (10)
• Cytotoxicity Study / Antioxidant / Antimicrobial / Flowers: Study of flower extract for antimicrobial activity of against tested microorganisms showed MICs in the range of 1.563-50.00 mg/mL. Activity against bacteria S. aureus and B. thuringiensis and fungal strains C. albicans and A.. niger showed MIC values i rang of 1.563 mg/ml to 6.250 mg/mL. Brine shrimp lethality assay showed no significant toxicity (IC50=2.52 mg/mL) against Artemia salina. Flower extract concentration required for 50% inhibition of DPPH (IC50) and butylated hydroxytoluene were 9.14 mg/mL and 8.08 mg/mL, respectively. (see constituents above) (11)
• Antimicrobial / Essential Oil / Inflorescence: Study evaluated the potential antimicrobial activity of essential oil and crude solvent extracts of inflorescence. Results showed antibacterial activities against Gram positive bacteria (B. cereus, B. subtilis, S. aureus, L. monocytogenes. Neither EO or extracts showed activity against fungi or yeasts. Of Gram-negative bacteria, only K. pneumonia showed susceptibility to EO. (13)
• Antioxidant / Lead Induced Hepatotoxicity: Study evaluated the protective effect of E. elatior in hepatotoxicity induced by lead acetate in an experimental model in male Sprague-Dawley rats. Treatment with E. elatior significantly reduced lead-induced changes in hepatic architecture and reduced blood lead levels. Results showed a powerful antioxidant effect against lead-induced hepatotoxicity. (14)
• Antihyperuricemiic / Flowers: Study showed the ability of ginger flower extract to decrease uric acid level in beef-broth induced hyperuricemic rat (Rattus norvegicus). (15)
• Effect on Lead-Induced Testicular Damage: Lead can cause whole body damage by inducing oxidative stress. Study evaluated the effect of lead acetate in experimental rats. Results showed Etlingera elatior is effective against lead acetate induced oxidative damage in the testis as evidence by a significant reduction in the testis PCC (protein carbonyl content) content and significantly increased the activities of SOD (superoxide dismutase) and GPx (glutathione peroxidase) in the testis, and testosterone level in the serum, along with improved in testis histology. (16)
• Antioxidant / Anticancer / Antibacterial / Secondary Metabolites: Study evaluated secondary metabolites (total phenolics [TPC], total flavonoids ]TFC], and total tannin content [TTC]) from various solvent extracts for antioxidant, anticancer, and antibacterial properties. Aqueous extracts of flowers showed the highest values of TPC (618.9 mg/100 g DM), TFC (354.2 mg/100 g DM), TTC (129.5 mg/100 g DM), DPPH (76.4%), and FRAP (6.88 mM of Fe II/g) activity with IC50 of 34.5 µg/mL. The flower extracts showed antibacterial activity against S. aureus, B. subtilis, L. monocytogenes, E. coli, S. typhimurium, and P. aeruginosa. with MIC ranging from 30 to >100 µg/mL. The flower extract also showed potent anticancer activity against tumor cell lines MCF-7 and MDA-MB 231. (see constituents above) (17)
• Mosquito Repellent Activity / Oil: Study evaluated EE oil from stem, midrib, leaves, and flower for 2-undecanone content and its mosquito repellent activity. Results revealed an absence of 2-undecanone from the extracted essential oil. However, it may still have mosquito repellent potential; the study suggests testing main components of the essential oil for repellent activity. (see constituents above) (18)
• Antimicrobial / Essential Oil of Flowers: Antimicrobial activity of essential oil, crude extracts and ß-sitosterol was evaluated by disc diffusion, MIC and MBC assays against eight strains of bacteria viz. E. faecalis, S. aureus, B. subtilis, B. cereus, E. coli, P. aeruginosa, K. pneumonia and P. putida. The EO showed moderate to strong inhibition of most of the bacteria with MIC between 225-900 µg/mL. (see constituents above) (20)
• Chlorogenic Acid / Leaves: Chlorogenic acid (CGA) or 5-caffeoylquinic acid, was found to be the dominant phenolic compound in leaves of E. elatior, significantly higher than the flowers of Lonicera japonica (honeysuckle), the commercial source. Study reports on a protocol to produce standardized herbal CGA extract from leaves of E. elatior. The CGA fractions, which yielded extracts of 10% and 40% w/w purity, exhibited antioxidant, tyrosinase inhibition, and antibacterial properties. The CGA content (40%) was 1.6 times that from commercial honeysuckle flowers. The leaves, available in abundance, presents an alternative source of CGA. (21)
• TPC and TFC / Antioxidant Activity / Acute Toxicity Testing / Inflorescence: Antioxidant activity by DPPH radical scavenging assay, FRAP assay and ABTS radical scavenging assay were0.13 ± 0.08 mg/ml (EC50), 0.13 ± 0.01 mmol Fe2 equivalent/g extract, and 0.30 ± 0.12 M trolox equivalent/g extract, respectively. Acute toxicity study in Wistar rats showed the inflorescence extract to be safe for experimental animals up to 2.0 g of extract per kg body weight. (see constituents above) (22)
• Apoptotic / Human Colorectal Carcinoma Cells: Study investigated the antiproliferative activities of standardized ethanol (95%) and acetone extracts of leaves, rhizomes, stems and flowers of E. elatior on human colorectal cancer (HT-29) cells using MTT assay. The acetone extract of leaves exhibited the most potent activity with IC50 of 170 ± 0.05 µg/mL on HT-29. Cell death was induced through apoptosis as detected by phosphatidylserine translocation and caspase-3-activation. Necrosis was negligible compared to extent of apoptosis. (23)
• Lipstick Formulation from Natural Dye / Flower: Study formulated a lipstick preparation using a colorant from a crude extract of flower. The lipstick formulated was easy to apply, stable, pink to red in color, with a breaking point of 127 g, and caused no irritation. The color of the kecombrang flower comes from anthocyanidin, a flavonoid and pigment that has potential as natural dye to replace synthetic dyes. (24)
• Toxicity Study / Safety / Flower: Study evaluated a methanolic extract of E. elatior flower for in vivo toxicity using brine shrimp lethality assay. The brine shrimp lethality assay showed no significant toxicity (LC50=2.52 mg/mL) against Artemia salina. The high LC50 signified the plant is not toxic to humans. (25)

Availability
Wildcrafted.